Cone/Chair Dribbling with Traffic
Categories:
Ballhandling / Dribbling
Ages:
All Ages Youth Middle School High School+
Purpose of the Drill:
Improve dribbling and simulate the chaos players will see in a game.
Instructions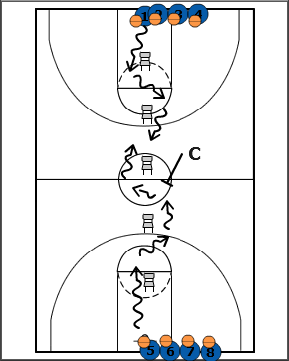 Players can use one or two basketballs. I like to use two basketballs to add a challenge and speed up development. Players in both lines start dribbling and weaving through the chairs.
Players should go as fast as possible.
They will have to keep their head up so they don't run into each other
The next player should start once the player ahead of them is about 12 feet away.
When a player reaches the other end, they get in line and immediately start again. The drill goes continuously.
It is chaotic! This is what you want because players have to keep their head up, change speed, back up, and change direction.
As the coach, I like to join the fun by running at the players trying to steal it. You are essentially overloading them and causing them to constantly adjust.
This is a great drill that teaches players how to handle the ball in traffic and deal with tough situations (much like they'll see in a game). If you do drills like this enough, you'll end up with a team full of point guard caliber ballhandlers. Not a bad thing to have!
After they get comfortable with the drill, tell them they now have to go twice as fast. Getting them to speed up makes it more challenging and better simulates the game.

Comments
Most Likes First
Oldest First
Newest First
---
coach asorock says:
9/10/2011 at 9:40:39 PM


good drill i love d way think

Like
---
Randy says:
12/18/2010 at 7:43:50 AM


Practice in an hour...will definitely try this out!

Like
---
Kyle says:
12/17/2010 at 5:38:50 PM


Can''t wait to try this tonight! This is a major issue with our team!!!

Like
---
caterina says:
12/17/2010 at 4:46:12 AM


I believe that is very intresting drill and i will try in my practice today!!1

Like
---
Coach E says:
12/16/2010 at 12:10:57 PM


I have to try this one in my next practice, it sounds terrific like all the others I''''''''ve gotten from you guys.

Thanks & keep ''''''''em coming.... :-}


Like
---
charles says:
12/16/2010 at 10:44:47 AM


i ran a similar drill and the problem occurred when my 6'4 250 kid and my 5'6 120 kid had a head on collision. luckily they both survived.

Like
---
steve says:
12/16/2010 at 10:39:35 AM


i like this, and wonder if i'd add a race aspect into it - white at one end and black at the other, first team to get entire team back to original location wins...must give the guy in front to second cone before next in line goes

Like
---
Mike says:
12/15/2010 at 10:09:57 PM


Nice, gotta try this one.

Like
---
ralph gauthier says:
12/15/2010 at 9:54:35 PM


makes sense. i am way frustrated as my boys/girls elementary grades 6/7/8 teams NEVER seem to use their less dominant hand after we have run various dribbling/shooting w. dribble drills/passing while dribbling/etc., for 30 minutes, off and on, and then scrimmage. after xmas, i am def going to try this routine. thanks a whole bunch

Like
---
Buddy Hall says:
12/14/2010 at 12:35:45 PM


Love the drill!

Like
---