Three Man LSU
Categories:
Press Breaker
Ages:
All Ages Youth Middle School High School+
Purpose of the Drill:
This drill works on converting a layup in transition, and quickly transitioning to deny defense by face guarding the offensive player.

It can also be used to practice getting open against pressure.


Instructions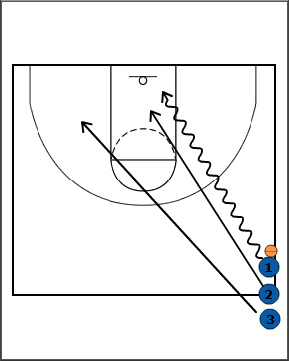 Have players form a line behind half court on the far right or left side of the court.
The first player has the ball and dribbles in for a layup.
The second player takes the ball out of the net, goes out of bounds, and attempts to inbound to the player who made the layup.
After the lay up, the first player faceguards the third player, like in the Raiders drill. [This is a correction to what is being done in the video.]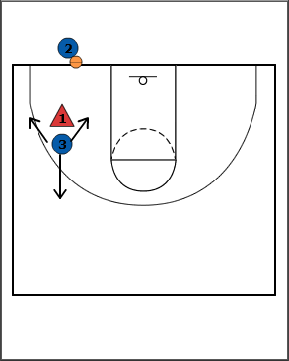 The third player attempts to come to the ball and receive the inbound pass.
At 4 seconds, the offensive player breaks long.
The defender is playing deny defense by face guarding the offensive player and attempts to make the steal or stop the offensive player from scoring.
Points of Emphasis:
If the defender steals the ball, they can go to the basket.
If the ball is inbounded successfully, the offensive player can take it to the far basket and attempt to score.

Comments
Most Likes First
Oldest First
Newest First
---
Ken says:
6/13/2012 at 3:10:49 PM


I agree with Jeff -

I know that I had several kids come into our program that either didn't make their Middle School team or didn't play become very good varsity high school players, some went on to be All Conference.

I had some freshman B players do the same, every kid grows at a different rate. There are always some diamonds in the rough. The centers of today could be the point guard of tomorrow, make sure that you teach every player all the skills necessary to play the game.

As for the drill, it teaches pressure breakaway layups along with teaching kids how to get open when they are being pressured along with teaching how to deny defensively and recover if need be.

Simple to teach.

Like
---
Coach Ramirez says:
6/13/2012 at 2:33:49 PM


Hi from Chihuahua Mexico. Very nice drill to my high school students. I love to make full court pressure and this helps a lot. When I scream DOGS they know they have to do this.
Cheers to all the coaches in America.

Like
---
Jeff Haefner says:
11/19/2010 at 8:10:57 AM


It's a typical group of middle school players. I'm sure that at least one of those players will surprise you and become outstanding in high school. I can't tell you how many times I've seen awkward, low skill, and/or undersized players blossom and become great athletes when they are older. Coaches need to give all players a chance because you never know who will develop.

Like
---
coach kat says:
11/18/2010 at 8:13:00 PM


in this vidio is this a aau team? im just asking because there skill levels are very low

Like
---
Coach Mabry says:
11/3/2010 at 3:27:27 PM


The only problem I have with this is that by face guarding with the defender the player inbounding the ball can simply lob the ball over the head of the defender and that immediately puts the offensive team at an advantage.

Like
---
Joe Haefner says:
9/28/2010 at 8:19:43 AM


You're right on, Coach Mac. Coach Zavada mentioned in a comment above that they got a head of themselves in the video and that the person making the lay up should be the defender.

Like
---
Coach MacDonald says:
9/28/2010 at 8:14:26 AM


I like the drill, but wouldnt it be more game like if the player making the lay up did the face guarding. In this drill you have player number 2 taking the ball out of bounds and trying to inbounds to the player who made the lay up..just a thought.

Like
---
zoltan says:
7/21/2010 at 3:11:33 AM


Could it be done at two half courts? In case you have many players.

Like
---
charles Hudson says:
7/20/2010 at 4:19:04 PM


I like this idea; in reference to JRod's variation, can you be more specific as to how you add the 5th player?
Thanks,
Charlie

Like
---
Nupe3 says:
7/16/2010 at 4:09:16 PM


Great drill !!!!!!!!!!! and love the variations from other coaches.

Like
---
Show More
JRod says:
7/14/2010 at 9:47:20 AM


Hey Vince,

I love the drill too, and have been using it for years. We eventually add a 4th player as a 2nd defender. This player can pressure the passer, or work with the other defender to deny the inbounds pass. If the offensive team successfully inbounds the ball, it becomes 2 on 2 full court. Later, we add a 5th (offensive) player. Now we have two offensive players working to get open against two defenders. If inbounded successfully, the drill becomes 3 on 2 full court.

Like
---
Vince UK says:
7/14/2010 at 4:34:22 AM


Love the weave variation Coach Tenchka - we will definitely be doing this variation too! Thanks,
Vince.

Like
---
Mike Zavada says:
7/13/2010 at 9:24:02 PM


Dear Randy,

You are right to be confused. The player who makes the layup becomes the defender. That way we get the transition from offense to defense. I think we got a little a head of ourselves in the video. I hope that helps.

Like
---
Coach Tenchka says:
7/13/2010 at 11:51:47 AM


We do a similar drill but we do it out of a full court 3 man weave. Shooter becomes deny defender, passer becomes outlet and player who rebounds becomes the inbounder. Once the pass in inbounded it becomes a full court 2 on 1.

Like
---
Mike T. says:
7/13/2010 at 10:04:20 AM


I agree with Randy. It seems like it would make more sense for the player who scored the layup to face guard.

Like
---
Randy Michak says:
7/13/2010 at 9:29:34 AM


One confusion that I have. Does the player who made the layup become the defender or on offense. description and diagram seem backward. What am I missing?

Like
---
Vince UK says:
7/13/2010 at 6:45:47 AM


Nice drill, which fits in with my age group preparing to press next season.
Suppose you could add more players too.
Thanks.

Like
---
Coach Mac says:
7/13/2010 at 5:14:46 AM


Great drill, perfect for a coach that loves to full court press.

Like
---
Big Al says:
7/13/2010 at 5:03:25 AM


Love the drill. GREAT at getting the players to switch on and play defence immediately after they score a basket, rather than celebrate.

Like
---