Two Ball Ladder Drills
Categories:
Agility Ballhandling / Dribbling Footwork Offensive Moves Passing Shooting
Ages:
Middle School High School+
Purpose of the Drill:
The purpose of this drill is to work on handling the ball with both hands, passing, finishing, cutting, and shooting combined with agility ladder drills.
Instructions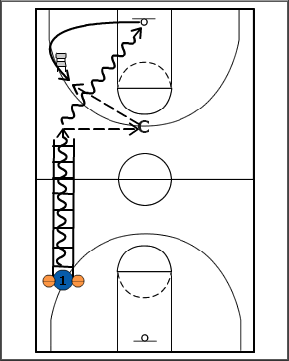 In this drill, the player will handle two basketballs while running through the agility ladder.
At the end of the agility ladder, the player will pass the ball in their right hand to the coach while continuing to dribble with the left hand.
They will then attack with one dribble and finish at the rim.
The player will then run a curl cut around the chair ad received a pass back from the coach for the jump shot.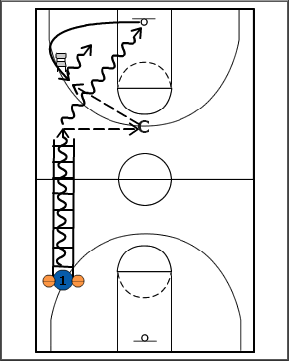 In this step, instead of shooting the ball off the catch on the curl cut, they will put the ball on the floor and shoot a pull up jumper or finishing at the rim.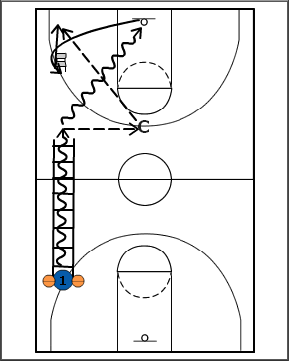 In this step, the player will finish at the rim and then run a flare cut for a jump shot.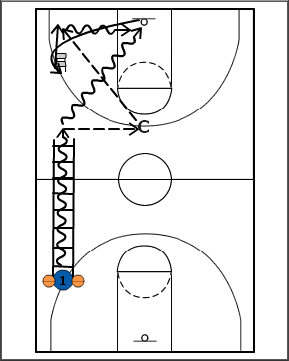 In this step, the player is running the same flare cut as in the previous step but this time they are putting the ball on the floor and taking a pull up jumper or finishing at the rim.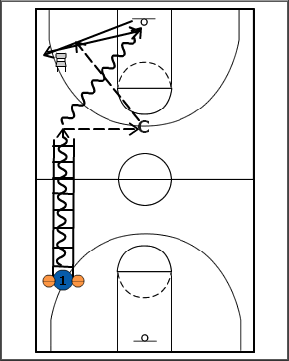 In this step, the player is setting his defender up for either the curl or the flare cut then jamming and cutting backdoor for the pass from coach.
Points of Emphasis:
Stay low while running through the ladder.
Keep your hand on top of the basketball when making the pass to the coach.
Push the ball out in order to get to the rim on one dribble.
Incorporate change of direction moves into the drill when attacking out of the ladder.
Utilize various finishing moves around the rim.
Cut around the chair with your shoulders low and your hands ready in order to catch and shoot.
Follow your shot and finish if you miss the jumper.