Breakthrough Basketball Newsletter:
Ben McCollum and the Art of War on the Court
April 12th, 2022
We have two incredible stories today for you today...
The first one tells you about an amazing coach who has won 4 of the last 5 national championships. And we reveal his amazing mentality approach that he uses with his players that could have a tremendous benefit on your offense, defense, and skill development workouts. It can also be incredibly useful in building resilience in life!
The second is an incredible story about one of his players who actually attended Breakthrough Camps. There are many great lessons that could propel any player at any level. This is also a great story to share with your players and parents in your program.
Here is the first one...
Ben McCollum and The Art of War -
An Amazing Mentality Tip to Teach Your Players to Dominate the Court and Life!
We know how hard coaches work to not only teach basketball skills, but to instill a positive, respectful, aggressive (and hopefully winning) culture.
Some coaches seem to have real knack for creating tough players who go out and confidently take charge...and when you get a whole team of those players, good things are going to happen!
Northwest Missouri State Head Coach Ben McCollum is one of those coaches. And this is a big reason he has won 4 out of the last 5 NCAA DII national championships and has not lost an NCAA tournament game since 2018!
His coaching style and Bearcats players have been described as high-level basketball equal to that of D1 schools:
"I coach Division I basketball, and I promise you they (Northwest Missouri State) were a top-100 team in the country (last season)," Lipscomb head coach Lennie Acuff described the Bearcats. "How they play, what they do, it's high-level basketball — their skill level, their feel, their player development, it's really done in an admirable way."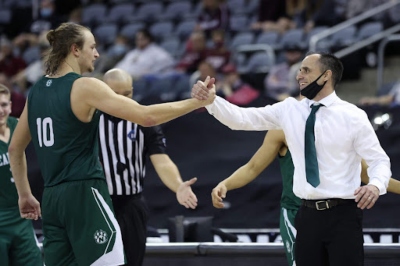 Source: The Athletic
Over the last 13 years, McCollum has developed the "BearCat Way" culture by instilling one important motto that he took from the book, The Art of War...
IMPOSE YOUR WILL.
That book was written by Sun Tzu (probably between 475 and 221 B.C.), a Chinese war general who believed...
The clever combatant imposes his will on the enemy, but does not allow the enemy's will to be imposed on him.
In other words, take control of the game or situation, or your opponent will.
The Bearcats start by imposing their will with workouts. Their preseason workouts are extremely difficult.
McCollum tells his players to IMPOSE THEIR WILL whenever they're tired, pouting, or getting a bad attitude...or they're letting that workout impose its will on them.
He wants his players to attack the workout regardless of external circumstances.
Then the motto and the mindset trickles into every other part of their game, like defense.
Likewise, you can tell your own players - Go out there and IMPOSE YOUR WILL on the opponent's defense. You want to do it to them. You don't want to allow them to run their defense. Be a "clever combatant" and take them out of their game. "Strike" first (but make sure to tell them not to literally get a foul!).
Then you can even apply this belief to other aspects, like officiating. If players get upset with an official's call, remind them that the official's call just imposed its will on you...when what you really want to do is act like it didn't bother you and move on from it and play through some of those calls.
It's basically not allowing any external situations (physical or mental) to affect the way you're playing.
You keep the control.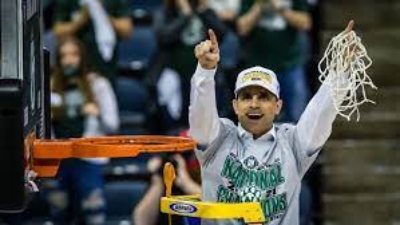 Source: bearcatsports
That motto - that take-charge, confident culture - has contributed to these accomplishments for McCollum and the Bearcats:
McCollum is the first 5-time NABC Division II National Coach of the Year and a 7-time MIAA Coach of the Year.

Over the past 6 seasons, McCollum has guided Northwest to a mark of 193-13...and 4 NCAA Division II national championships (2017, 2019, 2021, 2022).

McCollum has guided the Bearcats to 9 straight MIAA regular season titles and 6 MIAA tournament crowns.

In 13 seasons at Northwest, McCollum has an overall record of 334-83. Over the past four seasons, Northwest has gone 130-8.

Northwest became the first NCAA Division II men's basketball program to capture 3 consecutive national championships in the 2021-22 season.

The Bearcats won their 6 NCAA Tournament games by an average margin of +14.0 points per game.
Why not start in your offseason by teaching your players to IMPOSE THEIR WILL and take control of their basketball lives? It's even a great life lesson they can take with them to be successful in any situation!
Here's another tremendous story that you'll like...
---
This Camper - 2x National Player of Year While Winning 3 National Championships
Former Breakthrough Campers have fared extremely well under Coach Ben McCollum's tutelage at Northwest Missouri State.
For example, one of McCollum's Bearcats, Ryan Welty (who attended multiple Breakthrough Camps), shot an insane 67% from 3-point range and won a national championship in 2017! Some of you may have seen Ryan's brother Hudson Welty as a Breakthrough Camp instructor as well.
Then there's Trevor Hudgins...
Trevor Hudgins has one of the most impressive resumes in college basketball history! It's quite incredible.
However, Trevor wasn't always a great player and a great shooter...
There are some very important lessons that could propel the basketball career of any player at any age...
When Trevor lived in Manhattan, Kansas, he came to a few Breakthrough Camps in Kansas City with Jim Huber. Coach Jim Huber is director of coach development and curriculum development for Breakthrough Camps.
When he first started attending camps, Trevor wasn't near the player he is today.
After that, Trevor actually played on a team for one of our Breakthrough camp coaches, Adam Short, for a few seasons as well.
Note, Trevor never made the elite team for his high school club team and he got very few offers to play at the NCAA level even at Division 2.
Fast forward to now,Trevor is a...
2X NCAA D2 player of the year.
3x National Champion (he didn't get a chance to be a four-time champion because they canceled the tournament in 2020 due to Covid.)
Went undefeated in the NCAA Tournament during his career! He's never lost a NCAA tournament game. He's 17-0 in tournament play over the last 4 years.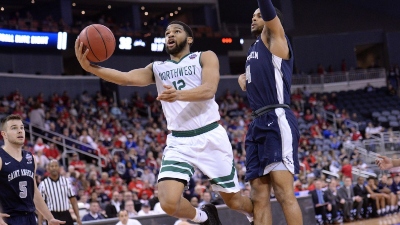 Source: ESPN
And check out some of these crazy stats...
Had two seasons greater than 50% (53% and 51%) from 3-point land (Steph Curry is a 43% career shooter) while still attempting a high volume of 6 three-point shots per game.
Averaged 23 points per game last season (20 points per game career average over 4 seasons.)
Shot 90% from the free throw line the last two seasons.
And the last couple of years a lot of the big time D1 colleges were trying to get Trevor to transfer and play for them. I never got permission to share which schools, but this list includes national champion teams.
But he stayed loyal to Coach McCollum, his head coach at Northwest Missouri State, because McCollum offered him a D2 scholarship and took a chance on him when nobody else did.
In today's world, being loyal sometimes takes a back seat to money or fame, so we think it's pretty cool that Trevor showed that allegiance to Coach McCollum and his fellow Bearcats. Classy.
Well, who cares, right? This is D2 basketball... not D1
This is a HUGE misconception among parents, players, and even some coaches. I even carried this belief as a player. Boy, was I dead wrong!
What many don't realize is that college basketball players at all levels (NAIA, NCAA D1 to D3, NCJAA D1 to D3)... are really really good!
As 1,000 game winner and USA Basketball court coach Danny Miles once said to us, the difference between D1 and the other levels is typically just a few inches in length.
Ryan Hawkins, who was one of Hudgins' teammates last year at Northwest Missouri State, took advantage of the extra COVID year and was a graduate transfer at Creighton (NCAA Division 1) this year.
In Hawkins' only season at Creighton, he led the team in scoring and lost to eventual champion Kansas in a tightly contested game in the NCAA tournament. Note, this is a top team in the country that flirted with being ranked in the top 25 all season.
If you watched the NCAA D2 national championship game this year, you might've heard NCAA Division 1 National Champion and Hall of Game coach Jim Calhoun constantly saying, "Don't let this D2 label fool you. The guys out here are D1 guys! They're really really good."
Even NBA sharpshooter Duncan Robinson spent some time at the NCAA Division 3 level to start his college career.
And many of these top players (that aren't D1) go on to have long, lucrative professional careers overseas and even a few play in the NBA.
I think this illustrates two very important lessons...
1 - All levels of college basketball are really good.
2 - Players can develop a lot during their post-high school years (18 to 25 years old), so don't give up if you're not where you want to be... even at the end of your high school career.
Back to Trevor Hudgins...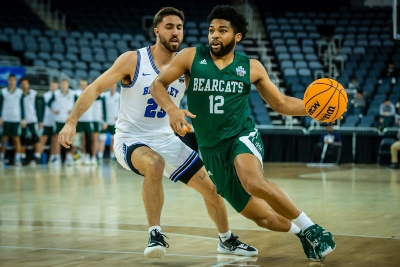 Source: bearcatsports
Jonathan Givony, NBA Draft analyst at ESPN and founder and co-owner of DraftExpress.com, a private scouting and analytics service utilized by NBA, NCAA, and International teams, had this to say about Trevor:
Trevor Hudgins scored 31 points and dished 5 assists to win his third D2 national championship at Northwest Missouri State. The two-time national player of the year finished his career 17-0 in the NCAA tournament, again showing his elite shot-making ability and scoring instincts.
Get a glimpse of Trevor's tremendous skills in action here:
https://twitter.com/BreakthruBball/status/1508434761194381316
Trevor's dad, Sterling, is another class act. He texts Coach Jim Huber after every season expressing his thanks for Huber's guidance and influence in Trevor's development. Check out this recent one.
I just wanted to take a minute to thank you for being the man you are and having the insight, vision, and courage to establish your basketball training.

All those years coming to those fall sessions at elementary school developed Trevor into the shooter, ball handler, and understanding of the game.

The first major clinic you did on character, morals, and being accountable for your actions really reinforced the things that we have been teaching Trevor for many years.

Trevor is the shining example of what your mentorship has brought to the table of his life. You brought skills to the forefront and perfected them to his life.

You taught him the importance of doing it the right way, going hard with passion, conviction, and dedication.

Him being the NCAA DII player of the year and 2-time MIAA player of the year is a byproduct of that.
Sterling Hudgins - Parent of Trevor Hudgins
Now there are no guarantees in life. However, if you work hard, even when nobody else believes in you, stay humble, stay loyal, and remain gracious, many good things will come to you!
It was an honor being part of Trevor's story and we wish him the best in his future professional career and we hope many of you can follow in his footsteps!
If you're interested in receiving the same type of basketball training and character development that Trevor received at our camps, take a look at the Breakthrough Basketball Camp Schedule.
Regards,
- Joe Haefner
Breakthrough Basketball