Due to popular request, I'm writing my recurring post of what we did with our 8th grade girls basketball team.  Apparently at least a few people like this information.  Because a number of subscribers have asked me to continue.
Ok, before getting further, I should explain that I started writing this post many months ago (right after our winter season) — and honestly I got really busy and forgot about this.  Sorry!  I'm now finally finishing up this post of our 8th grade girls winter season.  Ok, back at it…
For reference, here are links to past seasons:
Coaching Youth Basketball – What We Did With Our 3rd Grade Team and Ideas that Might Help You
What We Did With Our 3rd Grade Boys Team – Offense, Defense, Drills, Plays
What We Did With Our 4th Grade Youth Basketball Team – Offense, Defense, Skills and More…
What We Did With Our 5th Grade Girls Team – Offense, Defense, Drills and Plays
Looking back, it appears I missed a couple seasons. Later, I will write up our 6th grade boys season to fill part of that void. And I'll be coaching them as 7th graders this year… so I'll try really hard to get that written up after season is over.
Overview
For the 2018/19 winter season, I coached my son's 6th grade team and my daughters 8th grade team.  (I'll post about our boys team when I get time later on.)
For our 8th grade girls, we primarily played against other clubs playing in weekend tournaments.  We have 10 players on our rosters… all returning players from last year… which is really nice!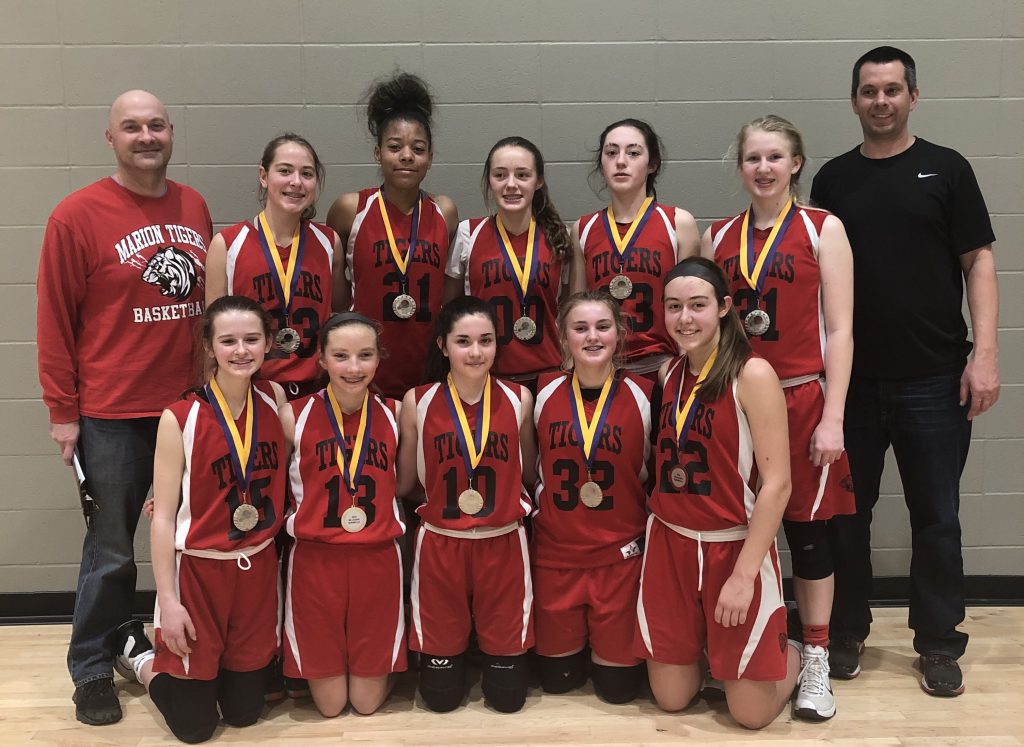 Normally I prefer 8 or 9 players for games.  But due to injuries and schedule conflicts, we usually had 8 or 9 players for games.
We practiced twice a week (usually 90 minute practices) and played in 2 or 3 tournaments a month.  We started in November and finished the first week of March.
It has been bitter sweet coaching them this year.  I love coaching this team —  but this is our last year since I feel it's best for them to transition to a real club (more on that and how I handled below).
I have no problems with this group. They listen, they improve, they win their share of games, they work hard, they get along.  It's just a really fun group to coach!
Did we win games?
We definitely won our share of games…  we made it to championship game in over half of the tournaments we played in.  But I guess when you have been coaching as long as I have, winning isn't something I think about too much at this age level.  With that said, every time we step on the court, we're competing and fighting to win the game!!
But looking at the whole season, I mostly want them to have a balance.  I don't want them to win too many game and I don't want the to lose too many games.  Having that balance allows for maximum development.   Often times you learn more from losing than you do winning — and you of course want to be challenged.
Solid Foundation
All the players on our team have a solid foundation!  I have been coaching them for several years (some of them since 2nd grade).
They already know how to defend, space the floor, cut, screen, pivot, rebound, box out, pass, dribble, and so on.  So I don't have to spend a lot of time this year on basic offensive and defensive fundamental concepts.  Now, if this were a "beginner" team, I would have coached them much differently.  Just something to keep in mind as you read on.
Skill Development
Since all our players returned this past year, we spent 80% of our time on skill development.  I mean we hardly spent time on anything else.  It was awesome and a huge benefit to having all our players returning and many had been with us for numerous years.
Every practice we worked on:
Dribbling
Passing
Shooting
Finishing
Footwork
Free Throws
Many drills were against NO defenders and just getting lots of reps…  and others were game based drills.  I'd say 50% of our skill time was with no defenders and 50% was small sided games with defenders.
This season we spent considerably more time shooting than in past seasons.  In particular we spent more time shooting outside shots.  Almost all our players are finally strong enough to shoot 3s (or close to it) with decent shooting technique.  In past years, they just didn't have the strength to shoot outside with good technique.
With that added reps, it's no surprise we made more 3 point shots this year.
Staple Drills for our 8th Graders
Some of the drills we used most frequently this year include:
Some type of dribbling drill to get touches and get warmed up — we usually picked one of these:  2-1-0 Stationary Dribbling Drills, Tight Cone Finishes, zig zag dribbling, or 1v1 Chair Moves.
Form shooting
Rhythm shooting (to work on more form and improve confidence). You get a partner and we just took 15-40 shots from a hash mark… going to different hash mark on each shot… changing up the distance and location of each shot.
Shooting – Drive and kick 3s (4 lines around perimeter… basketballs in the corner lines or near guard lane.  Drive to opposite lane area and pass to 3 pt shooter.  Rotate.  I made our players communicate and figure out their own rotation for max efficiency.)
Various competitive finishing drills like: 1v1 Hip Pocket Finishing, 1 on 1 Trailing Lay Up Drill, or Corner Finishing
Finishing drill off the catch (consists of high speed back cuts and face cuts, then finishing the layup off the catch).  Players MUST cut/run as fast as possible during the drill to make it challenging.
Spin out post footwork and hooks shots.  Everyone has ball… lots of reps.  Work on various post foot work and finishing.
2 ball partner passing (we also added lots of other challenging passes to improve coordination and passing/catching skills)
1v1 Overlap (this is for defense, agility, ballhandling, and finishing)
Star close outs (I think close outs happen so often in a game that we need to be really good at this).  We just spend 2 minutes on this and then quickly move to small sided games to practice close outs in more game like situations.
Defensive Shell drill
Free throw shooting
Other than a variety of other small sided games and drills, that's about it for drills.  Most of our drills were simple, trying to develop skills as much as possible.
Defense
As always, we played tough half court man to man defense.  In some cases, when we played good teams, we would extend our defense to full court man to man with situational traps.
By playing man to man, all our players developed more foot speed and quickness than they would have playing a zone defense.  They also learned more fundamentals aspects of defense by playing man to man.  These fundamentals will help them no matter what defense they play in the future.  I believe man to man defense is effective and the best defense for player development.
BLOB Plays
We used the same BLOB plays as last year.  They are all from a box set:
Whatever BLOG 3 and 4 used to be, we got rid of those.  BLOB 2 worked against zone but we also had another zone BLOB play which I have not diagrammed yet.
To disguise the plays form our opponents, we would always call out the play using a two digit number.  The first number was ignored and the second number was the actual play.  So if we called 51 or 41 or 21, we were running play #1.  In most cases the inbounder would call out the play.  In some situations I would call out the play but I wanted our kids to get in the habit of communication and get more confident talking on the court.
Motion
We ran a simple motion offense and gave our players a lot of freedom.  We taught them how to space, cut, screen, post, read the defense, play basketball, and make decisions.  Our base rules were simple:
Keep spacing
Share the ball
When you pass, go cut or screen
When you are one-pass away from the ball and not wide open, cut or screen immediately
Closest person crash for weak-side rebounding position on every shot
I didn't care what type of screen they made, whether they were in a 5 out, 4 out, or 3 out, or much of anything.  I just wanted them following the rules above and take good shots.   We did work a little more this year on drive, open windows, and kick.  Otherwise it was very similar to past seasons.  We want a mix of driving, off ball screening, cutting, and ball movement.
Half Court Plays
We had one play that we used for end of half of game situations.  It's a super simple play called low.
Zone Offense
We just ran motion offense when we saw zone.  The only adjustment was to make sure cutters stopped somewhere in the middle of the zone and players must fill to the ball and create passing angles (so we can move the ball quickly).
Sometimes we would go to 4 out and put 1 player in the high post.  In that case, whenever we had a guard to guard pass, we wanted the cutter going to short corner.
Handling Half Court Trapping Zone Offense
Some of our opponents would play a half court trapping defense from a 2-3, 1-2-2, or 1-3-1 set.  They would trap wings, anything near the sideline, corners, and sometimes even the top (usually just when we cross half court).
Often times we'd see this in the second half after we were up.  Honestly, this type of defense caused us some problems.  Sometimes we executed beautifully and other times we struggled… we were less consistent against this type of defense… which is to be expected from 8th graders.
If we were to practice against this more and prepare our kids better during practice, I feel our kids would have tore up these defenses.  But I didn't really care and/or it was not worth practice time preparing for this (I'd rather practice skills like shooting, dribbling, passing, moves, etc).  We probably spent 30 minutes the whole season going over how to handle these defenses.  The rest was handled on the fly during timeouts, half time, or between games on the clipboard.
How did we attack these defenses?
We continued running motion offense and told our players to make the following adjustments:
Use pass fakes to move the defense.
Always give the passer 3 good passing options with good angles.  Often times you need to anticipate and start creating those angles on the flight of the ball.  So when the receiver catches the ball, they quickly have several good passing options to keep the ball moving.  (This takes focus and practice… but when we get this part down we score with ease against these defenses because the defense can't move as fast as we can pass the ball and the double teams lead to wide open shots for us.)
Look for ball reversals after the double team.
Attack the space (when you have an open driving lane… after reversals or anytime…. attack the basket or hit the shot).
As I mentioned before… sometimes we scored like crazy against these defenses and sometimes we struggled.  I usually had to take a timeout (which you don't get many in most tournaments) to remind our players what they needed to do.  At 8th grade, these defenses can be tough to handle and our kids just didn't always have the focus to deal with it… because we just didn't see them often enough or practice against them enough to get really good at it.
Press Breaker – Handling Pressure Defense
Our primary press breaker was this simple 1 up press break.
However as the season progressed we started using a 3 across press break.  It's the same as this 4 across press break except our 5 is always deep.
In most cases our 1 up press break worked fine except against certain teams that had really effective press defense strategies and/or hybrid presses that adapted to our formation (similar to the Haske press).  So we'd switch to the 3 across — and the cutting action open things up for us and worked really well.  We also went to the 3 across when teams would take a defender off the inbounder and double team our point guard.  Our players ran the 3 across extremely well without any practice because they have been learning motion offense for so many years.  They would mix up different screens, cuts, and actions from the 3 across to get open.  They're just good at getting open, setting screens, coming off screens, and using the space available to them.
When also ran this inbounds play a few times at the end of close games to get the ball in against aggressive denial defense.
Their Next Chapter – Transitioning to High School and a New Club Team
I decided to make a change going into high school because…
A few players on our team might have the chance and aspirations to play college basketball some day.  And I'm just not as familiar with the club tournaments at the high school level.  So, even though out of selfishness I wanted to keep this team together, I knew it was best for them to join a real club.  This seemed like the right time.
So I did a fair amount of research and recommended a club for them to join.  I didn't want any of our players left out so I was proactive about this.  Some decided not to play in spring to focus on other sports.  But 7 of our players tried out for and joined Iowa Prep club teams as their next step in basketball.
I feel really good about getting our players into a great situation to continue developing and get in front of college coaches (if that is of interest to them).  It was hard to let our players go, but it was the right thing to do.
I could have kept things going… but it would have been difficult and a lot of work for me to take that next step and do things the right way.
I look forward to watching them all of them play (sometimes against each other) at the high school level.  What an awesome experience it has been coaching our Tigers team since 2nd grade!  I will always remember this team and the positive memories coaching them!
I just hope they learned something and this experience been positive for them!