Here's what we did with our 5th grade girls' team this year.  It's surprisingly similar to how we coached our 10th grade boys team and our 3rd grade boys team this year.
Basketball is basketball.  No matter the gender or age level… you shoot, dribble, pass and pivot.
I keep things pretty simple and focus on player development.  So I end up coaching all levels pretty much the same way.
Overview Of Our Team
Our team consisted of 12 girls with varying levels of skill and experience.  We utilized a hybrid approach in regards to scheduling games and choosing rosters.
12 is too many to have there for every game (too much sitting on the bench).  And since the ability level varied with the players, we wanted to have a mix of tough tournaments and middle level tournaments… so we matched players up against the appropriate level of competition.
I think it's important to challenge players, yet not challenge them so much where they eventually lose interest and confidence.
Due to my time limitations and a couple tournaments getting cancelled or changed… things didn't work out exactly like I had hoped.  But we made the best of it.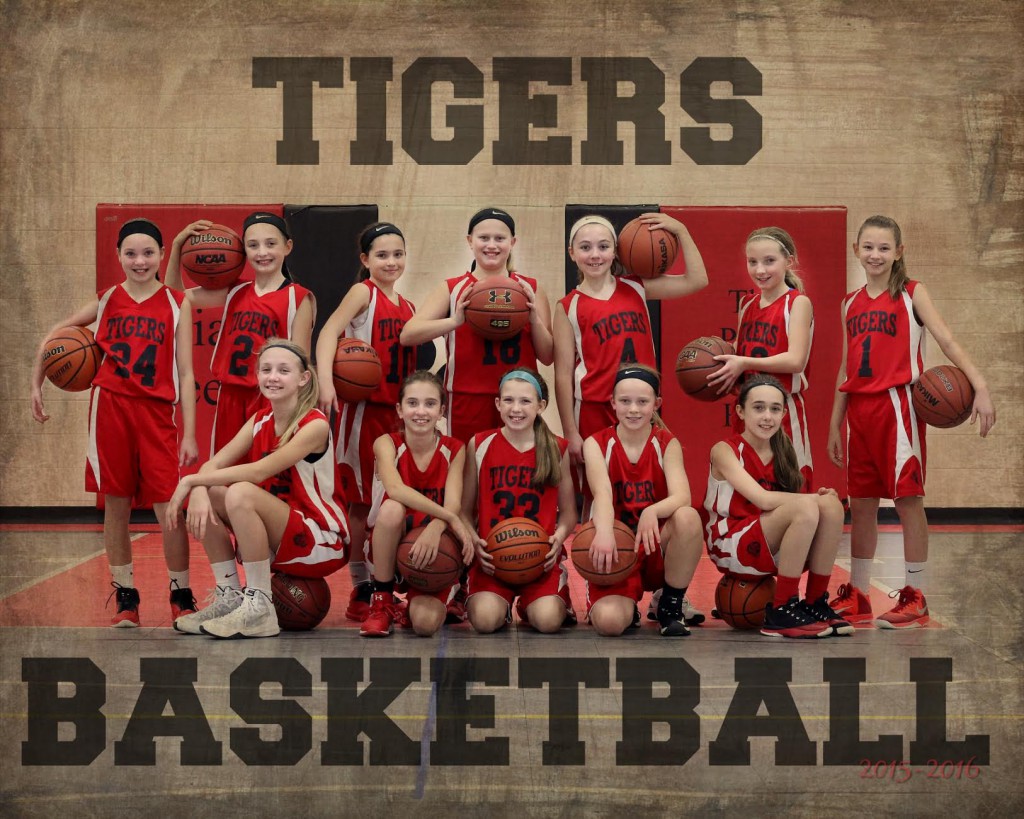 Tournaments and Results
We ended up playing in 8 tournaments.  We tried to limit our roster size to 8-9.  But with cancelled tournaments and messed up schedules, we had to make exceptions in several tournaments and ended up with rosters as large as 11.  Again, we made it work.  Just wasn't ideal and we're making adjustments so we keep our roster size at 8 or less next season.
We played up a little bit against 6th graders and also played in a couple really tough tournaments.  Good experience for us.
We ended up with a nice balance from a win/loss standpoint… won 16 games and lost 12.
I think this is a good balance meaning we're getting challenged but not getting challenged too much and seeing some success.  They ended up with several second place medals and managed to get first place in one tournament.
Dealing with Every Gimmick and Defense Imaginable
This year we saw almost every defense you can imagine…
2-3 zone
2-3 zone that extends into passing lanes and traps
1-2-2 zone
1-2-1-1 full court press
2-2-1 full court press
1-2-2 full and 3/4 court zone presses
full and half court man to man
switching defenses… changing from man to zone
I think the only defense we did not see yet is the 1-3-1 zone.
It is ludicrous that 5th grade teams play all these different defenses trying to get the advantage.  At one tournament we literally faced 4 different presses and 4 different half court defenses!
I sit there watching and thinking how many bad habits these kids (on other teams) are picking up and how fundamentally unsound they are.  They are trying to win so bad and neglecting to teach the fundamentals.
It really hurts them more than it hurts us.
We spend lots of time on ballhandling fundamentals and we have a motion offense that works against anything.  We also have a simple press breaker.  So we don't have to waste much time preparing for that stuff.  For the most part, we just play.
But I feel sorry for some of those coaches that are trying to run plays and different strategies for all those different defenses.
Transition Offense
Here's a link to the transition offense we ran.  Really simple.  Takes about 5 minutes to teach.
Half Court Motion Offense
We ran a simple motion offense that was based on developing fundamentals…
Primary Requirements:
Spacing and ball movement until you get a good shot. Get all rebounds.
General guidelines:
You can deviate from the guidelines below at any time as long as you have spacing, ball movement, take good shots, and go after all the rebounds.
Space to the 3pt line (perimeter spots – 15-17ft apart)
If the ball is dribbled at you on perimeter, back cut. Otherwise if ball is dribbled, move to space and open passing lanes.
3 options when you pass – go left, forward, or right. (In other words: go toward the ball for a ball screen, or to the basket for a basket cut, or away from the ball to set an away screen).
3 options when cutting toward the basket (off a screen or basket cut) – post up, clear to perimeter, or backscreen for perimeter player.
When the ball goes to post, laker cut and fill opposite.
Always fill to the ball on the perimeter (replace open spots).
Get open when one pass away (pop out, back cut, screen away, or ball screen). Read the defense (ex: if defense sags… pop out).
Use weakside flash cuts when defenders cheat up or turn head (lose vision of you).
Look to reverse the ball when you catch at the top.
The offense is both effective from a scoring standpoint and also very effective in regards to player development.  Everyone touches the ball… equal opportunity.  Bigs play inside and outside.  Same with smaller players.
We focus on teaching fundamental aspects of cutting, spacing, and using screens.  In that context we practice fundamental skills too… lay ups, passing, footwork, and shooting.
We have a lot of options in the offense so we can teach them all kinds of fundamentals.  But the offense is very simple.  It all goes back to spacing and ball movement until we get a good shot.  That's all we truly want and we keep it simple.
Zone Offense
We just run our motion with a couple adjustments….
1) Cut into gaps
When you pass the ball, we want them to cut and stop in the middle of the zone.  Stop for a 2-3 count and then clear out.
Players can also cut from the weakside and find gaps.
2) Create good passing angles
This is the key to making the zone offense work.  At first players don't understand.  We walk them through three simple examples and then the lightbulb starts to turn on…
When you pass and cut to the middle… you need to find a good passing angle.  By showing players good and bad passing angles in the middle, they start understanding.  And often times they just need to take a step toward the ball so they are close enough to receive the ball.
When you fill (replace) open spots to the ball… you need to find good passing angles.  Too often players either don't fill quickly and then they hide behind the zone defender.  By showing players good and bad passing angles when they fill, they start understanding.
When you flash cut from the weakside, you need to find good passing angles.  Again, walk them through a couple examples where they can get the ball and where they can't get the ball.
Very simple and works for us. The only hard part is getting players to remember to STOP in the middle when cutting. And get perimeter players to quickly fill to the ball giving you good passing angles. That takes a little practice and emphasis.
We also emphasize ball movement (reversals) but that is no different than our man to man offense.  So it's not really an adjustment.  We do, however, emphasize more pass fakes when we see zone.
Set Plays
We just had one play called low.  Barely spent any time practicing.  The play was used in end of quarter / end of game situations.
I also put in this super simple play we called red for our last tournament.  We only ran it once toward the end of a game and we did get a lay up from it.
I spend very little time on plays because I don't want the kids wasting time memorizing "my system".  I want to spend time on fundamentals and teaching them "how to play".
Inbounds Plays
We used three plays from the box set…
One – screen the screener
Two – they just get in a box and get open (screen or do whatever you want)
Three – scatter and cut for lay up
We used the same plays against both man and zone.
We did not execute our plays very good because I hate spending much time on them.  How is spending time memorizing my plays going to help these kids when they get older?  I'd much rather spend time on player development and fundamentals.  So I chose to spend minimal time on our plays.  As a result, we didn't execute the greatest.  I was ok with that.
With that said, we did score quite a few lay ups off the plays.  If I spent more time on the plays we definitely could have scored more lay ups.
For SLOB situations, we ran the traditional stack play.
Press Breaker
For breaking the zone and man to man presses, we ran this 1 up press breaker.
What I like most about this press breaker is that it works both against man and zone.  And that it makes it easy for the inbounder to make good passing decisions.  Sometimes when you have 2, 3, or 4 up… it's harder for the inbounder to make good passing decisions and requires more practice time.
If a team denied full court and we had trouble getting the ball in, we used this Indian play a couple times.
Defense
We ran half court man to man defense about 90% of the time.
We emphasized constant ball pressure (starting at half court), aggressiveness (dictate what happens), and keep the ball out of the paint (no lay ups). We doubled down any time a player had the ball in the post area.
We also ran a full court man to man on a few occasions… usually in end of game situations, when we faced really good teams, or when a team is pressing us constantly and we wanted to return the favor.
If we faced a mediocre team, we did not press.  Could we have won more and blown up a few scores?  Probably.  But I usually tried to keep games competitive and close.  I'm interested in development… not winning or blowing up scores to make myself feel better.
With our full court man to man, we had defenders behind the offense (no face guarding).  If they could steal the inbounds that was fine, but we did not face guard.  I did NOT want to give up lay ups!!  Then once the ball was in, we pressured intensely on the ball.  And made sure off ball players were always "above the ball" in good defensive position.  If the opportunity arose, they could double sidelines, corners, poor spacing situations, and when players turned their head.
Again, we only pressed at the end of game if we were down or if we were facing a good team that had good ballhandlers.
Defensive Fundamentals
When we pressed, we focused on doing things fundamentally correct.  If there was a good trapping opportunity, we'd allow that.  But it had to be situationally the right thing to do.  We let players interpret what was happening and figure out if/when to trap.
It was 100% man to man.  We never ran zone defense once.
Beyond that, we focused on good fundamental sound defense.  We followed the same progressions and teaching concepts in the Jim Huber man to man defense DVDs.
Emphasizing Core Values
I would be remiss if I didn't mention our core values.  This is a really important aspect of what we do.  With our 5th graders, we chose to emphasize…
Character & Integrity
Sportsmanship
Leadership
We then took the 10 following traits and showed them how these traits made for great character, leadership, and sportsmanship.
Attentive
Proactive
Disciplined
Passionate
Resilient
Selfless
Ethical
Honest
Thoughtful
Positive
I have not shared this with the players yet, but I plan to give players this mini-poster for reference.  It shows how those 10 traits flow into character, sportsmanship, and leadership.
If we can have a positive impact on our players' character, integrity, sportsmanship, and leadership… then I feel I have truly succeeded as a coach. Only time will tell.
Drills We Used
Here are the drills we used most frequently:
Ballhandling warm ups – a variety of stationary dribbling, on the move dribbling, etc
Combo full court ballhandling and lay up drill
Platter / form shooting
Form shooting with weak hand and/or block lay ups
3 and 4 player shooting (off the catch… high reps). Each player shoots and gets the rebound. As soon as Player A shoots, Player B shoots and repeats the process. Player A passes to B, B passes to C, C passes to A.  Players get an average of 14 shots per minute.
Post footwork.  To get lots of reps, everyone had a ball and we usually did spin outs.  I taught same footwork shown in the Attack & Counter DVDs.
1v1 advancement with random traps
1v1 full court
1v2 advancement
Beatem to the left.  Set up cones where dribbler has to speed dribble (race) with weak hand and turn the corner to beat the defender.
Half court scrimmage – no dribble, 1 dribble, and 2 dribble limit
Pass and replace lay ups – we'd move players to corners and have them dribble toward the receiver — so they're working on passing, dribbling, ball pick up, and lay ups
4 corner passing with the dribble – working on passing, dribbling, and ball pick up
Keep away passing – 20 in a row
Screen away shooting.  Just taking a piece of our offense and turning into skill building drill.  Also ran a ball screen shooting drill.
2v2, 3v3, 4v4 with various rules and emphasis — ball screen attacks, screen away, post ups, full court rugby, no dribble, etc, etc.  Many of these drills can be found here.
Defensive shell drill.  Details of shell drill and teaching progressions can be found here.
Basic close out drills.
1 pass away denial drills.  
Cut throat 1v1 close outs.  Split into groups of 3-5 based on ability.  Roll or pass to player near free throw or 3pt line.  Close out and play 1v1.  Make it take it.  Next player in on D.  Loser goes to end of line.