I wanted to share the results from our 3rd grade basketball season and some ideas that might help you and your team.
I hope in some way this gives you ideas and helps you with your youth teams and making a positive impact on them.
Our First 5 on 5 Tournament Experience
I'll start with a story about our first tournament experience….
We decided to have our 3rd grade girl's team participate in a few 5on5 tournaments to end the season.  I was not planning to play in any 5on5 tournaments this year for several reasons…
1)  I think small sided games like 3on3 are much better for them (more touches on the ball).
2)  I'm not excited about 3rd graders shooting at 10 ft baskets and using women's 28.5 inch basketballs.
3)  3rd graders have so much to learn and improve regarding basketball skills like individual defense, dribbling, passing, shooting, and footwork… let alone learning a team offense and the nuances of 5on5.  So to me it just doesn't make sense to play 5on5 yet.
However, I had trouble scheduling 3on3 games during the second half of our season.  So we decided to join two 5on5 tournaments and one 3on3 tournament to wrap up the season.
I thought the tournaments would be fun and be good for team bonding.   I think we would have been fine to skip the tournaments — but the kids do like playing games so we went for it…
It's not a surprise that we struggled in our first 5on5 tournament.  We won one game and lost two.
All of the other teams had already played in dozens of 5on5 games.  We were confused, scared, and intimidated… especially at first.
One of our players even asked… "what is a foul?"  And a couple others were intimidated when the ref called a foul on them and wanted to know their jersey number.  Scary stuff!
But we eventually started to calm down and managed to compete a little bit.
Things Changed Quickly
One week later, in our second tournament.  Things changed quite a bit!!
We played MUCH better and the skills we practiced all season started to show.
Not that winning is all that important to me.  But we won all of our games and won the tournament.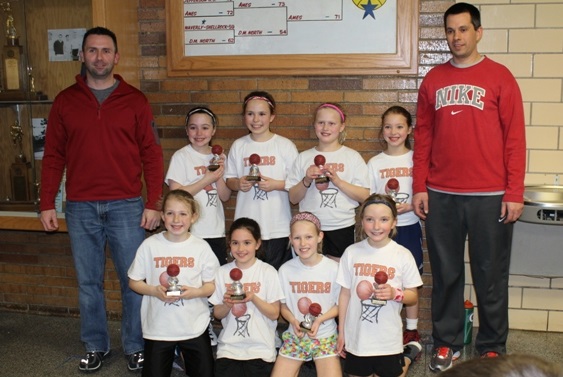 We had pizza during the day and the girls had a blast.
In the picture you can see we're kinda like the Bad News Bears.  All the other teams had fancy jerseys.  We had $10 tshirts and mismatching shorts.
We were by far the shortest team.  Most of the opponents towered over us.
During one of the games, a fan from the opposing  team blurted… "I can't believe we're losing to a bunch of pip squeaks!!!"
I took that as a compliment.
Now I think there are much more important things than winning games and winning tournaments.  But the truth is that everyone prefers to win.
And the purpose of this blog post is to share with you…  what we did this season, what worked, what didn't work, and why you should follow your gut.
I also want to point out that you don't need plays, full court presses, height, or even the most talent to win.
All Half Court Man to Man Defense
We exclusively played half court man to man defense.
We were pressed by a couple teams during the tournament.  We never practiced against a press.  We learned on the fly.  It caused us some problems and made things more challenging.  But we spent enough time on ballhandling skills all season long so our players were able to overcome the full court press.
We probably spent 15 minutes each week on our team defense.  Mostly in shell drill and then we played a lot of full court 1on1 to improve ball handling and defensive fundamentals/agility.
Even though we didn't spend a lot of time on defense, that was probably our biggest strength.  In the last 4 games, nobody scored more than 6 points against us.  In other games those same teams were scoring 15-30 points.  And our games were uptempo with a lot of transition offense.
How did we do it?
To start, we emphasized defense and talked about it a lot during small sided games, scrimmages, practices, and every opportunity.  All the players knew it was important to me and all the coaches.
Second, we gave them a simple goal and rule to follow…
"Keep the Ball Out of the Lane and as Far From the Basket as Possible"
That is the basis of our defense.  We constantly referred to that rule during games and practices.  We were consistently teaching during the context of competitive games and asking questions.
Here's one example.   A player was on the wrong side when defending the post.  I blew the whistle and very calmly asked…. "what's our number one rule on defense?"   The player responded by reciting the rule.
Then I asked, "where do you think you should be so the ball doesn't get passed or dribbled into the lane area?"
After a few second of thinking, the player self corrected and came up with a solution (better defensive position).   Lesson learned and more importantly retained because they came up with their own solution (instead of the coach just telling them what to do).
Basically we tried to make sure the ball never got within 12 feet of the basket.  Sometimes in practice we used cones and tape to create an image of this area for reference.
We also emphasized our core values (hustling, being selfless, and helping each other) consistently.  As a result our help defense was quite good and we were very scrappy!
Couple other points that we emphasized…
If the ball is in front of you or on the ground, GRAB IT WITH TWO HANDS.
At this age, being aggressive and taking advantage of opportunities in front of you is half the battle.
NO Plays – Simple Motion Offense Only
With the exception of our box inbounds play, which we taught during a scrimmage… we have zero plays.
We spent about 4 minutes during one practice teaching our inbounds box play.  Then it was just reinforced and re-taught during games and scrimmages.
Simple.  You get in a box formation.  Players on the ball side screen across.  The other two players blast over.  Seemed to work every time.
If at some point we had trouble, I was going to add an up screen during the game.  But it wasn't necessary.
For team offense, we didn't spend a lot of time on it.  We mostly focused on dribbling skills, passing skills, decision making, and basic footwork (pivots).
All we were looking for was spacing, cutting, and driving.  By far the biggest emphasis was spacing.  We drove when there were openings.  And we passed when a team mate was open.  That's about it.
Now I should point out that our skill development practice drills allowed players to develop some of the decision making and conceptual skills for them to run their motion offense.  For example, we had different keep away passing drills and no dribble passing games that helped them develop skills and naturally taught them to pass to the open player.
We also worked on very simple transition offense too.  I think that's important because youth basketball has lots of turnovers with constant up and down.
Most of our offensive practice was done in the context of scrimmaging or playing small sided games.
Another emphasis for me was developing basketball IQ.  And trying to take opportunities to teach players.  Real simple stuff.  In the context of a scrimmage we might point out things like…
– If you are within 10 feet of teammate… cut to an open area for better spacing.
– If the ball is dribbled towards you… cut to an open spot for better spacing.
– If your teammate is driving or cutting to the basket, try not to cut into them and draw the defense to them.  Keep spacing.
– If someone is cutting toward you, cut to a new area to improve spacing (get out of their way).
– If your dribble drive gets cut off and the defense is in position, look to retreat dribble and reverse the ball.
– Look to attack the defense and make them play you.
– If you attack and draw a help defender, pass to the open player.
Now we did drill and tell the players to backdoor cut when you pass, when you are covered, and when the ball is dribbled at you.  The player did that sometimes.  But of course they forget a lot and I didn't want to make them robotic.  So I was not a drill sergeant when it came to this.
To me the spacing and decision making was more important!
One of my mentors, Don Kelbick, recently told me that when building motion offense he shows players different cuts, screens, and situations.  But he does not govern cuts or try to control that.  He lets them play.  Hearing that from Don gave me reassurance that emphasizing spacing and decision making without controlling the players was the right thing to do.
For the most part I let them run a true free form motion offense and let them play.  It's a little rough at first.  But they are improving fast.
It was amazing to see them solving problems on their own and just learning "how to play".  Show them a few cuts they can do and work on good spacing.  That's it.  It was up to them to figure out the rest.
Little Time Spent on Shooting
We spent a little time on shooting.  We do a fair number of lay up drills.. mostly through multi-purpose drills while we work on ballhandling.
For example, we might set up 4 chairs and do full court lay ups while making dribble moves at each chair.  The moves we used were:
– cross and accelerate
– in/out and accelerate
– hesitation and accelerate (stop and go)
But we shoot very little.  To me it makes more sense to focus on dribbling, passing, and footwork at this age.
As long as they are developing coordination and not developing bad shooting habits, I'm happy at this point.  Once the players get bigger, we'll spend more time on shooting.
90% Fundamental Skills
Little time is spent on "team" offense or defense.  Most of our time is spent on fundamental skills.
We use lots of competitive skill development games because they are fun and much more effective when it comes to developing skills that translate into actual games.
The skills we focused on included dribbling, passing, individual defense, footwork (pivots), and agility.
I should also throw in decision making and basketball IQ.  In other words, we played various 1on1, 2on2, and 3on3 types of games so players learned when to pass, dribble, retreat dribble, move, create space, get open, pivot, etc.
The development of our skills was clearly one of our keys to success.
Maybe in another post I can go into more detail about the skills we focused on.  Skill development is a lot more than just dribbling the ball in a figure 8 and doing a bunch of Maravich drills (although we did do that at times).
Mostly Small Sided Games
As 2nd and 3rd graders, we played almost exclusively small sided games like 1on1, 2on2, 3on3, and a little bit of 4on4.
Players get more touches on the ball this way and our whole team is able to develop point guard like skills.
While everyone else is playing 5on5 we have been playing small sided games.
As a result, we as a team, seem to have better ballhandling skills than the other teams we played in the tournaments.  I also think we're developing better decision making skills and higher basketball IQ by playing the small sided games.
Emphasize Core Values
We really focused on hustling, effort, listening skills, and helping each other.
Listening was a must.  I don't want to say we were mean about it.  But we were fairly strict and if we ever disciplined, it was because of poor listening skills and/or focus.
There were multiple occasions where we disciplined players.  We told them we're going to have a lot of fun — but part of the deal we made at the beginning of the season is that when a coach is talking… your eyes are on the coach and you listen carefully.
In addition to harping on the listening skills… we spent a lot of time emphasizing hustle, great effort, and helping each other.
There are many opportunities within practice and games to teach these lessons.
I was ecstatic to see this carry over into our tournament games.  I saw high fives, they were encouraging each other, and they kept their composure at all times.
I think I'm more proud of that than winning the tournament.
Tracked Hustle Stats
Another way that we emphasized hustle was to track stats.  I think it made a difference.
We tracked rebounds, steals, blocks, and forced jump balls.   We then added up those stats to come up with their total "hustle stats".
It didn't take long and after each game, players were asking if they could see their stats.  So we pulled out the iPad and showed them using the Breakthrough Stats app.
At practice following our first tournament, I gave the 4 players with the most hustle stats a Gatorade.
We also made a conscious effort to verbally praise good defensive effort and passing (teamwork).  Since that requires hustle too and you can't really measure defense on the stat sheet.
Accepted All Players (No Cutting)
I accepted all players that wanted to participate at the beginning of the season.  As second graders it started out with my daughter's close friends from school.  Then it spread a little bit in third grade and we ended up with 12 players.  We had to get a little creative to split them up and schedule multiple games so everyone got plenty of playing time.
At the tournaments and games we limited it to 8 or 9 players on the roster.  That way everyone got plenty of playing time and they didn't have to sit on the bench very long.
12 was a lot to handle.  But I didn't have the heart to cut anyone.  Three dads volunteered to help this season (couldn't have done it without them).  Ended up working out great!
Follow Your Gut
This just shows that you don't need zones, plays, presses, or any of that to win.  You don't even need to play 5on5 games.  After working on skills all season, we just needed three games under our belt and we took off from there.
All in all, I think we improved a ton and the players had a lot of fun.  So I feel that it has been a successful season and very positive.
I hope in some way this blog post helps you and your team succeed.
If you have any questions, let me know.