Site Search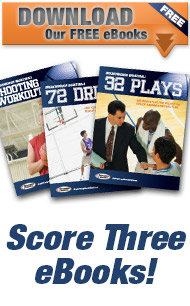 Q & A Forum
Experienced coaches are ready to answer your basketball questions! Visit our forum
All times are UTC - 6 hours
| | | | |
| --- | --- | --- | --- |
| | Page 1 of 1 | [ 6 posts ] | |
Author
Message
brent.hilton

Posted:

20 Jan 2011, 15:13


Posts: 24

I'm coaching a 7-8 year old boys team (all 2nd graders). We're coming up on a game with a REALLY good cast of players. We have just as good players, but the other team's more focused. The last two games there's been times when I have players just jogging back on defense or not even knowing where their man is while playing defense (we are forced to play M2M only in our league). The times this happens, the other team almost always scores. I realize they're 7-8 years old, but is there a method to the madness of focus?




Coach A

Posted:

21 Jan 2011, 08:19


Posts: 191
Location: New Britain, CT.

Unfortunately not much you can do. They are 7 and 8 year old boys with an attention span of about 3 seconds and a beginner's knowledge of the game.

As I can say is to simulate game conditions during your practices stressing focus on their M2M defense, proper spacing, good passing and understanding what is a good shot and what is not a good shot.

Run this fullcourt scrimmage with 5 vs 5, you and your coaches have whistles to stop play to go over things....tell your players that when they hear a whistle during this scrimmage that they must FREEZE so you and your coaches can point out flaws and also praise good things that you observe too!!

Good Luck!!

Coach A




golfman25

Posted:

21 Jan 2011, 15:22


Posts: 176

The only thing boys at that age can focus on is picking their nose.

I think the best thing you can do is get away from the "who is my man" mentality. I have seen that cause more problems because they get lazy, forget, or confused by subs. In practice I would work on running them down the court into the paint and then picking up a man, any man, as the offense sets up. At some point, these kids need to learn to "match up" so it may as well start now. It is great if they can get the man they where assigned to, but if they can't, then guard somebody -- especially the kid with the ball! Good luck.




Coach Sar

Posted:

23 Jan 2011, 07:35


Posts: 3139

This is a tough age group Brent -

Try to keep things simple for them... teach some fundamentals and then let them have fun.

Coach A has some great advice regarding simulating game conditions... we did this through "situations" - Time on the clock, score, foul situation, where and who has the ball and timeouts. We did this with anywhere from 5 seconds on the clock to 2 minutes... these are all mini games and the kids loved it - they love to play games and compete......... best part about it.... they are learning how to play the game.




go_bobw

Posted:

26 Jan 2011, 10:00


Posts: 1

It doesn't give them spacing, but I had my 7/8 year olds put a hand on the player they were guarding. It's easy and they understand it. Then I got them to put a hand on their player, but stay between the player and the basket. It wasn't until the following year that I could teach them "man and a half" defense.




jimbiggs

Posted:

30 Jan 2011, 20:35


Posts: 44

LOL. I coached 4-7 year olds in the fall last year. I know exactly what you're talking about. Very difficult, but fun. The kids that are jogging back watching the offense dribble right past them are the ones that kill me. You have to be very vocal from the sidelines. You have to teach them your "calls" during practice. I didn't have a lot of calls. "Lakers, get back on D." "Stop the ball." "Rebound." "Go, go, go." In practice teach them the positions on the court. They should be very familiar with the court ie. point, high post, low post, wing, corners, sideline, baseline. Basically, you have to direct them every time they go up the court. Some of them will not remember who they are supposed to be guarding. So be very positive, but you have to shout at them the whole game. For example, when getting back on defense I might yell something like this. "Jaylen - white line, Aaron - you got 12. Aldo guard that girl. Eduardo get that little guy on the free throw line. Nathaniel guard that big guy on the low post." I taught my kids that if their man didn't have the ball, then they should have their butt pointing towards the basket and their forearm on their man's chest. If their man has the ball, then they have to bend their knees and move their feet and stay between the man and the basket. Keep it simple. Try not to focus on winning. Try to spend most of your practice time teaching and developing basketball skills ie. dribbling, passing, lay-ups, shooting, and foot work.




| | | | |
| --- | --- | --- | --- |
| | Page 1 of 1 | [ 6 posts ] | |
All times are UTC - 6 hours
You cannot post new topics in this forum
You cannot reply to topics in this forum
You cannot edit your posts in this forum
You cannot delete your posts in this forum
You cannot post attachments in this forum