Wing Combo
Drill Purpose
Teaches footwork, shooting on the move, change of direction, explosion to the basket.
Drill Instructions and Diagrams
Please note: Two balls are needed for this drill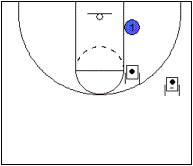 Place a chair at the right elbow.
Place a 2nd chair outside the 3-point line; a little higher than the chair above the elbow.
Put a ball on each chair.
Player starts on the right block.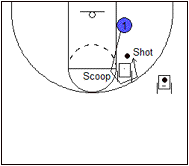 Player cuts up the lane, inside the chair.
Player scoops the ball and turns outside the chair for the jump shot.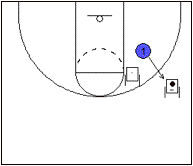 Immediately after jump shot, player cuts to 2nd chair.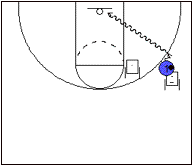 Player picks up ball from 2nd chair, executes a pivot (step-thru, drop step, inside pivot, etc.) and makes a direct 1 dribble lay-up. If a re-bounder is available (2nd player/coach), the re-bounder retrieves the balls and hustles to replace the balls on the chairs. This will allow the shooter to work continuously.

What do you think? Let us know by leaving your comments, suggestions, and questions...
Comments
Most Likes First
Oldest First
Newest First
---
Someone says:
4/11/2014 at 3:30:43 PM


You don't need a two chair and you can do this on dirt if on the second chair you pass then cut for a layin.

Like
---
chathura rodrigo says:
11/25/2013 at 11:09:05 PM


good drill but need some videos to understand well pleas if you put some videos

Like
---
Terrance Taylor says:
9/23/2011 at 6:35:10 PM


Great drill
I have to use this one. It's a must!
Once again great drill and explanation

Like
---
JB says:
2/18/2011 at 12:46:23 PM


Great drill. I prefer to use players instead of chairs so that the shooter learns to recieve a hand-off and execute. It also increases the speed of the drill.

Like
---
player x says:
5/2/2009 at 8:46:08 AM


executes a pivot (step-thru, drop step, inside pivot, etc.)


can anyway define to me what is this?
as in those method and the way of it shown.

Like
---
phil says:
12/24/2008 at 9:24:09 AM


awsome drills for a player who wants to get better.

thanks alot!

Like
---
ricky says:
12/4/2008 at 3:24:56 PM


hi
what is and how to execute a sweep move

thanks more power!

Like
---
PIIK says:
10/5/2008 at 12:34:58 PM


hi, would it be ok if i copied your guides to my team forum so that it would be easier to get them to read it?? please tell me its ok. *prays*

Like
---
hey hey hey says:
10/1/2008 at 4:46:27 PM


nice!!!!!

Like
---
COACH CLIFF says:
3/27/2008 at 11:58:47 PM


DAM GOOD DRILL

Like
---
Show More
Jeff says:
10/24/2007 at 10:38:15 AM


CW -

All the drills and pages on this site are designed to print nicely when you hit your normal Print button. It all happens in the background and there's no need for a special "print link".

If there are specific pages that have problems, let us know.

Jeff

Like
---
CW says:
10/21/2007 at 10:05:51 PM


Awesome. Would like a print button that would print the drill in a nice format.

Like
---