Drill for Guards: Dribble Screens
Drill Purpose
Teaches players how to come off ball screens from the wing and improves ballhandling skills.
Instructions for Option 1: Over the Top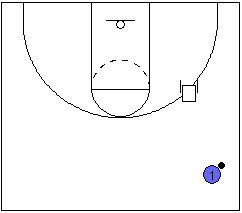 Set a chair 20 feet out at the foul line extended.


Player starts with the ball near mid-court.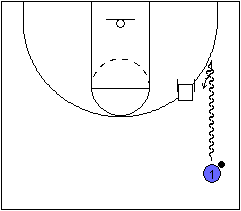 Player dribbles and takes the ball below the chair.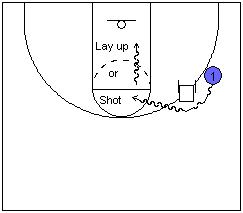 Once below chair, player makes change dribble and comes off the chair, simulating a ball screen.


Player can now finish with a shot or take it to the rim.


Option 2: Turn Down Option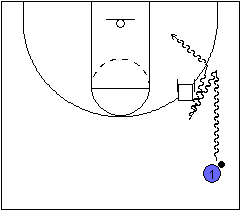 This simulates what the guard can do if the defense beats the ball over the top of the screen.
Once below the chair, player makes a change dribble to go over the top over the screen.


Player then makes a second change to "turn down" the screen and goes below.


Player finishes either with shot or at the rim.


Teaching Points
Set screen on an angle toward the corner.


Ball should be brought below the screen. That, in combination with the angle the screen is being set at makes it very difficult for the defense to get over the top.


Experiment with different change dribbles. Crossover, inside-outs, spins and half spins are all very effective in going over the top or turning it down.


Ball handler should explode off the screen. His first thought should be to get separation off the screen. He should get as much distance as possible off the screen with his first dribble. This will be a major benefit when teams hedge or trap on your screens. When done properly, separating off the screen will force switches and mis-matches.


Do you have any questions or suggestions for this drill? Let us know by leaving your comments...
Comments
Most Likes First
Oldest First
Newest First
---
Larry says:
2/25/2014 at 12:38:59 PM


I love the site. I am coaching 2 teams a 3rd and a 4th grade team. Love all the drills i am seeing. I implement them each week one at a time.

Like
---
tosha says:
1/26/2011 at 3:53:25 PM


i didn't play a guard position last year, and this year i was placed in one and had no idea what i was doing! these are very helpful pointers! and Mr. Question. . . i'm 5" 7' so i don't think you're too tall. :)

Like
---
Mr. Question says:
9/28/2010 at 10:55:52 AM


Hi, i wondered if a player is 198cm tall, I think that is 6''''''''''''''''5 or 6''''''''''''''''6 in America. Is that a suitable/good height to play as a guard? I REALLY HATE CENTER!

Like
---
jonas laboo says:
7/24/2010 at 12:20:59 AM


its good information but it would have been better with a video

Like
---
Clifton says:
11/17/2009 at 8:02:48 PM


Thanks for all the information. I am working with 7/8 yr old boys and can really put this info to good use. All 7 of the players are new to organized basketball

thanks again

Like
---
Coach Petracci says:
6/2/2009 at 2:34:23 PM


I found to be very useful using a pair of old shoes in the chairs legs, to teach the guy with the ball to read screening angles. Good Luck

Like
---
Greg says:
12/7/2008 at 6:56:36 PM


Why aren't people appreciative of your answers? I sure am. Thank you!
Greg

Like
---
striker d says:
4/29/2008 at 5:47:04 AM



THE DRILL IS GOOD . BUT IT SHOULD 'VE BEEN MORE TOUGHER.

Like
---
khotso mohale says:
4/20/2008 at 2:36:03 AM


thanks

Like
---
khotso mohale says:
4/20/2008 at 2:35:05 AM


your site is very helpful

Like
---
Show More
Joe Haefner (Co-Founder of Breakthrough Basketball) says:
4/15/2008 at 9:04:43 PM


Hi Tony,

If you do not have a chair, you can try to use your imagination. You could just choose a spot on the floor pretend that a screener is there.

Like
---
tony sixers says:
4/15/2008 at 2:01:57 PM


pease,is'nt there any other way that i can do it without using a chair?.....thank you!

Like
---
Ariel Rabe says:
10/9/2007 at 1:55:30 AM


My emphasis is also on agility and 1st step explosiveness.

Thank you very much for this.

Ariel Rabe

Like
---