X Jump Shot
Drill Purpose
Teaches footwork, change of direction, shooting on the move.
Drill Instructions and Diagrams
Please note: Two balls are needed for this drill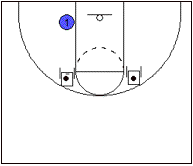 Put a chair on each elbow with the seat facing mid court. Put a ball on each chair.
Player starts on the left block.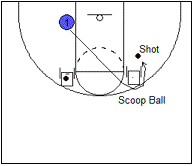 Player cuts through the middle of the chairs, around the right chair. Player scoops the ball and takes a jump shot.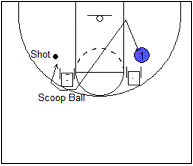 Player then cuts directly to the right block.
Upon reaching the block, player executes step-through footwork, cuts through the chairs and around the left chair for jump shot.
If a re-bounder is available (2nd player, coach, etc.), he hustles after rebound and replaces it on the chair(s) and the shooter can go continuously.
Drill can be run for attempt or makes. If there is a re-bounder, it can also be run for time or for a progressive number of rotations (2 shots the first time, 4 shots the next time, 6 shots next, etc.).
Teaching Points


Make hard cuts
Step footwork on the block to get the player back to the ball, is as important as any other footwork
Lean into your turn to make the change of direction easier and to maintain balance
Step into shot by stepping around the chair with your inside foot
Get low on the turn around of the chair for the jump shot and for the change of direction for the drive
Be sure to finish your shot before taking off for the 2nd ball
Be particular with regard to footwork. Good footwork not only means better shooting but will limit turnovers

What do you think? Let us know by leaving your comments, suggestions, and questions...
Comments
Most Likes First
Oldest First
Newest First
---
gamaliel abregon III says:
8/13/2018 at 5:17:10 AM


shooting is the most infortant of the basketball because basketball many rule of play but shooting is the best because all score give us the man players shooter of the court...!!!that all my comment of the shooter to how give the many score!!and the quality of jump shot as control your self as a player!!

Like
---
sabrina says:
11/6/2015 at 11:43:47 AM


i love you!!!!!!!!!!!!!!!!!!


Like
---
Quamiane Lafleur says:
5/21/2014 at 8:58:57 AM


I am now playing Varsity for my high school basketball team!!!

Like
---
Quamiane Lafleur says:
5/21/2014 at 8:58:20 AM


/

Like
---
Quamiane Lafleur says:
5/21/2014 at 8:55:57 AM


I love the drills....they are very good.

Like
---
Rizgar says:
7/14/2013 at 7:26:46 AM


Good stuff.......I like those drills.....

Like
---
Zach H. PG #22 says:
3/23/2012 at 8:43:26 PM


I love the drills! I've bookmarked every drill. And ... thanks to you ... I made my middle school basketball team.

Like
---
Coach Michael says:
1/2/2012 at 4:13:28 PM


Very creative, be blessed.

Like
---
T.Walker says:
11/30/2011 at 9:44:09 AM


thats some neat stuff...it really helps on my game.

Like
---
Jay Bartling says:
11/14/2011 at 11:24:08 AM


Man I will go home and try this pronto. *Hopefully this get me a better shot (its already pretty good but this will take it to that next level) if this works like i want it to i will give all respect to you

Like
---
Show More
coach ste says:
4/14/2011 at 4:07:05 AM


not good... we have 2 baskets, 2 players working all the others...watching.
good if you have at your disposal few players but not for the whole team

Like
---
Terry says:
12/1/2009 at 7:40:16 PM


My team needs all kinsd of help. I will use several drills to see if we can turn things around

Like
---
Ryley says:
11/23/2009 at 12:11:15 AM


You guys yet to amase me yet again where do u guys think of this stuff? Anyways love this drill me and my friends use it alot helped me a ton!

From Ryley on the coast of fundy

Like
---
cecil says:
10/2/2009 at 2:09:23 PM


great drill i gona use with my team

Like
---
ariel says:
8/22/2009 at 4:41:59 PM


i did it as a timed drill and my coach added a spin and cross-over to it... it works Thanks

Like
---
walter says:
6/23/2009 at 4:41:32 PM


having a great time going through this drills. somebody help!!!!!! cos i`m challenged by ulcers, heratborn, back-pain and the burning passion to play basketball............what can i do? plz send me ur suggestions to walterfai@rocketmail.com

Like
---
tc3 says:
1/5/2009 at 11:25:59 AM


thankz again im liking these drills im still dat 7ttth grader starting 8th averaging bout 20 ..................nyway i do thtese drills everyday 2 improve my skills everyday..im hitting 75% from mid range and 53% from da 3 thankz its helping

Like
---
yo says:
10/4/2008 at 8:07:38 AM


nice i tried this it works

Like
---
david says:
9/17/2008 at 12:26:53 PM


dear coach i have a problem with one player on my team (u12s) who has a very unorthadox way of shooting half bucket shoot with to much back spin the way he shoots is wrong yet he hits half of them and because of this he refuses to shoot normally do u have any suggestions ps he is very small even for his age .

Like
---
john santiago says:
4/13/2008 at 8:17:23 PM


thank very active

Like
---
Joe (Co-Founder of Breakthrough Basketball) says:
3/4/2008 at 7:19:05 AM


Hi Hany,

You can go to our basketball drills link at http://www.breakthroughbasketball.com/drills/basketballdrills.html

You can also sign up for our FREE drills & plays ebooks at http://www.breakthroughbasketball.com/freebooks.html

Like
---
hany says:
3/3/2008 at 1:39:23 PM


i want free basketball drills

Like
---
James Jennings says:
12/23/2007 at 7:13:26 PM


Great Drill. This drill is needed all year.

Like
---
Kenny says:
12/21/2007 at 2:05:26 PM


Nice drill. I will use this over the weekend with my team.

Like
---
Joe (Co-Founder of Breakthrough Basketball) says:
12/6/2007 at 3:46:59 PM


In response to Mojo:

Yes, it's a good skill to teach your players to follow their shot. Although this is true, you want to be CAREFUL when teaching players to follow their shots. Often, players will take off so quickly after their shot that they develop or use bad form. NEVER SUBSITUTE GOOD SHOOTING FORM TO FOLLOW YOUR SHOT.

Like
---
mojo says:
12/6/2007 at 1:16:36 PM


Chairs are always optional as the player tosses the basketball with a reverse spin on it so it will come back to him as he reaches a desinated area to work from.
We work a variety of shots, but nummero uno is following your shot for the rebound, NOT just the shot itself. We work a variety of pivots with the shot so variety becomes more of an obtainable objective with the correct footwork, vs just shooting a ball.
Thanks.

Like
---
Coach Hufferan says:
12/4/2007 at 11:06:23 AM


Awesome,worked with my players efficiently. Thanks.

Like
---
cobbs says:
11/14/2007 at 8:42:07 PM


thanks a lot

Like
---
Lesley says:
10/18/2007 at 3:58:05 AM


good stuff really works

Like
---
eka Dwi Sapta says:
10/11/2007 at 10:27:27 AM


Nice to know this drill, i Think it's usefull

Like
---
Coach D says:
10/6/2007 at 9:52:14 PM


Good stuff ... we added a ball fake to it!

Like
---
shane hendricks says:
10/4/2007 at 12:42:38 PM


very interesting stuff keep up the good work

Like
---
amanj says:
10/4/2007 at 2:54:55 AM


very good thank u very much


Like
---