How I Stopped "Dealing" With Parents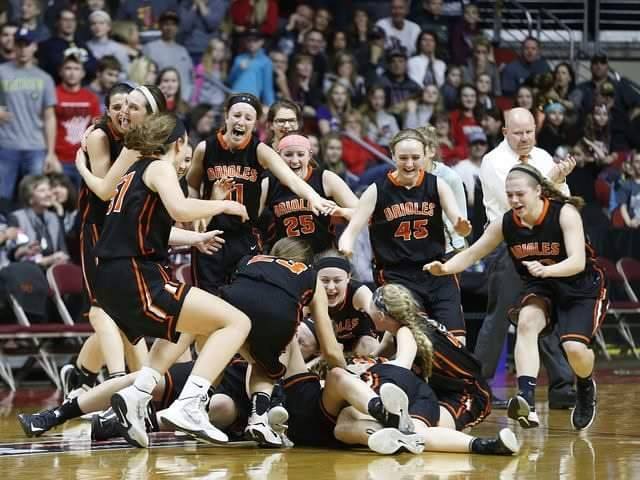 Coach Nate Sanderson and the Springville girls celebrating their 2016 state championship victory.
For the past 14 years I have began every basketball season by conducting a parent meeting. Every one of those meetings had one goal in mind - to insulate myself from parent complaints. I've used all the standard approaches to communicate our policies and expectations verbally and in writing for players and parents prior to the season.
Our 33-page player manual includes information on our coaching philosophy, coaching backgrounds, game day expectations, eligibility policy, "Who Starts and Who Plays," how we make team assignments, lettering requirements, travel expectations, practice rules, charts with off-season hours and shots taken, and more. The purpose of every single item in our manual is to communicate as much information up front as possible so that we will not have to deal with the parents once the season begins.
Interestingly, this is how the parent-coach dynamic is always described. Attend a clinic on the parent-coach relationship, take a coaching class, or have a conversation with coaches from any sport, and the phrase is always the same. It's assumed that if you want to get into coaching, you're going to have to deal with the parents, plain and simple.
Going into this season I started thinking a lot about that phrase, dealing with parents. Generally speaking, we never have to "deal with" things we like. In fact, the very notion of dealing with something invokes feelings of negativity, suspicion, and even dread. We usually deal with things that are unpleasant. We deal with problems. We deal with difficult people. With all those negative connotations, it's safe to say, nobody ever looks forward to having to deal with anything.
That likely describes how most coaches approach the parent-coach relationship. Rooted in fear of conflict and confrontation, we negotiate parent interactions like tiptoeing through a mine field hoping to spend as little time as possible desperately trying to avoid an explosion. At the end of the day, we signed up to coach a sport, not to deal with parents.
In thinking about this, I began to wonder how much this approach to the parent-coach dynamic prevented me from forming positive, constructive relationships with the people who influence our players as much as anyone. I would never walk into a practice thinking, "Today I have to deal with these players again." Rather, we strive to appreciate, love, and encourage our players every day. That's our focus going into every practice. What if we approached the parents the same way?
What if we chose to stop dealing with parents, and tried to coach them instead?
This year we decided to do something completely different during our parent meeting. We still took a few minutes to address important issues such as "Who Starts and Who Plays," but we spent the vast majority of our time doing something far more important.
We invited the parents to participate in our culture.
Our basketball program culture is built on three basic principles:
Play Hard - Love Each Other - Do What We Do
This phrase defines everything we want to be about as a team. It is our identity. Over the years, we have become increasingly deliberate in teaching our players specific behaviors that demonstrate these values. This year, we decided to do the same for the parents by giving them specific things they can do to participate in our culture.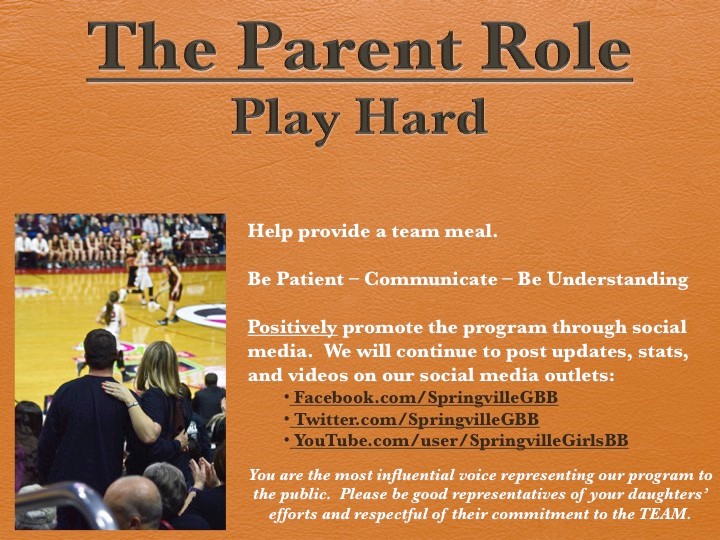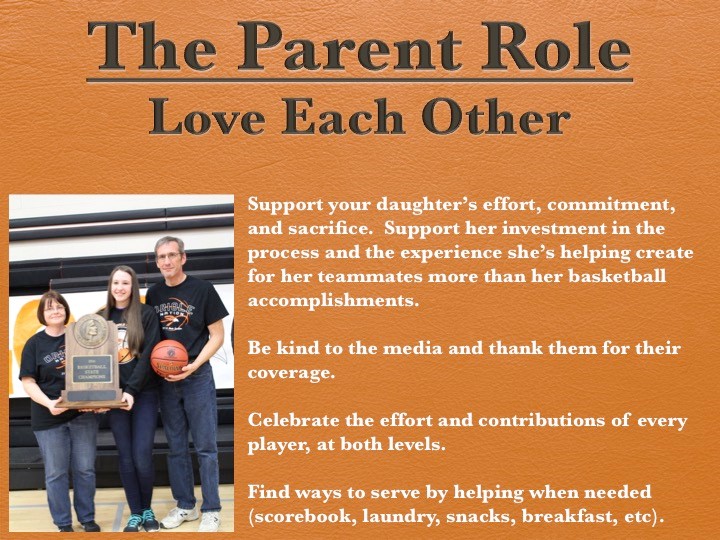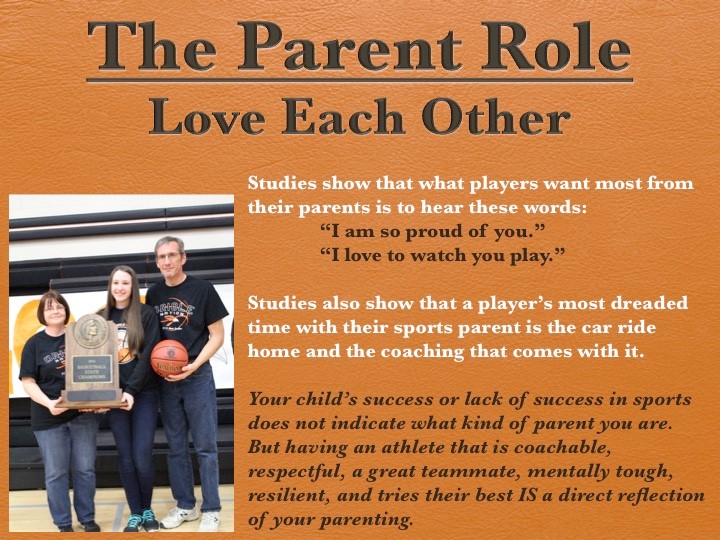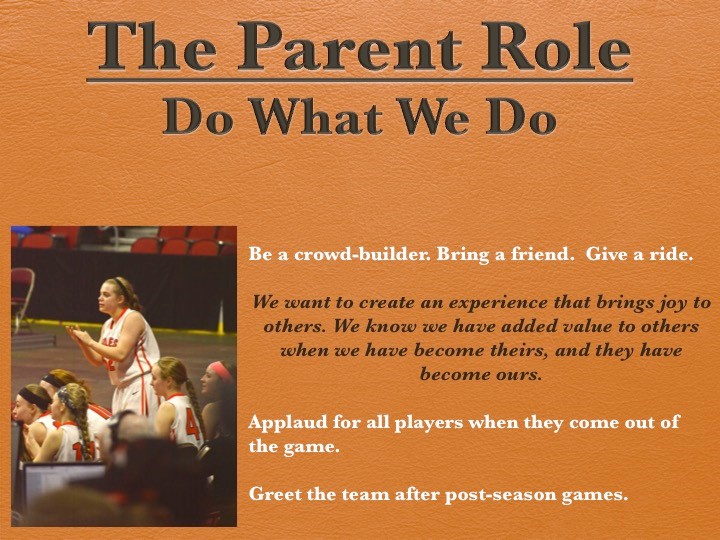 We felt it was important to not only invite our parents to participate in our culture, but to coach them in how to do so just as we do our athletes.
Then we did something crazy. We asked the parents what they think.
Never in my career have I asked a parent what they thought about our basketball program, or what they want their daughter's experience to be like. I just wanted to avoid the minefield, remember?
The more I thought about the sports parent experience, the more I realized, I have no idea what the parents want their experience to be like. So, we created an exercise to find out. Here's what we did.
Each parent was asked to put their name on three different note cards. They would answer a different question on each one, then leave the cards for us to read after the meeting. Then I walked them through each question.
Card 1 (front) - Write at least one reasonable, measurable goal you have for your daughter this season.
Card 1 (back) - Write at least one reasonable, measurable goal you have for our team this season.
The purpose of these questions is to determine the parents' expectations for the team, and for their daughter. If we found something that was clearly outrageous, we knew to address those in a non-threatening way sooner rather than later. The vast majority of the conflict we experience with players and parents is the result of unrealistic expectations. This was a way to identify those so that we could disarm them before the season even started.
Note - it's important that these goals are measurable, performance-related goals. It is not possible to measure hard work, happiness, or getting along with others. We wanted specific outcomes such as being a starter, winning more games than we lose, qualifying for the state tournament, averaging a certain number of points per game, etc.
Then we asked the most important question that nobody ever asks:
What do you want if you can't have what you want?
Card 2 - What do you want your daughter's experience to be like if she CAN'T accomplish any of the goals you wrote for her, or for the team, on the first card?
This question is one of the most significant questions that parents and players should explore. Essentially, we are asking them to consider what will make the basketball experience valuable even if they do not accomplish their goals. What will make basketball meaningful regardless of outcome?
Here are some things that parents wrote in response to this question:
I want my daughter to grow inside. I want her to care, really care, about others. I want her to be less self-absorbed and more others-focused. A true team player... with heart. One who always does her best and NEVER gives up. I want her to be accepted and feel she belongs.
I want her to continue to give 100% and understand that when you don't succeed right away you just don't give up. It is okay she's not the star, there are other important roles on a team.
Have fun.
To walk away from your season filled with memories, friendships, and walk always learning and improving at the game. Take away some life lessons. Learn how to be happy and work through things.
To grow as a team - to play as a team - to have fun!
I want her to be happy with herself and to know she gave it her all. To be a positive teammate!
To have a fun experience and build great memories, memories that she will remember as fondly as a state title.
To become a positive teammate. To become a good leader. To be as coachable as possible.
I want to see her have fun and be looking forward to playing again next year.
To grow as an individual, working as a team. To have fun.
I want them to crate memories that will last a lifetime, friendships that will continue into old age, and life lessons they will take with them after basketball.
Have fun and be a role model for the next group.
Just want her to feel satisfaction that she knows she's done her best, and confidence of being a great teammate and player.
I want her to learn, have fun, get better, and be part of a well-respected program
Before we moved to the final card, we showed them what the players wrote in response to this question when we did this activity with them last summer.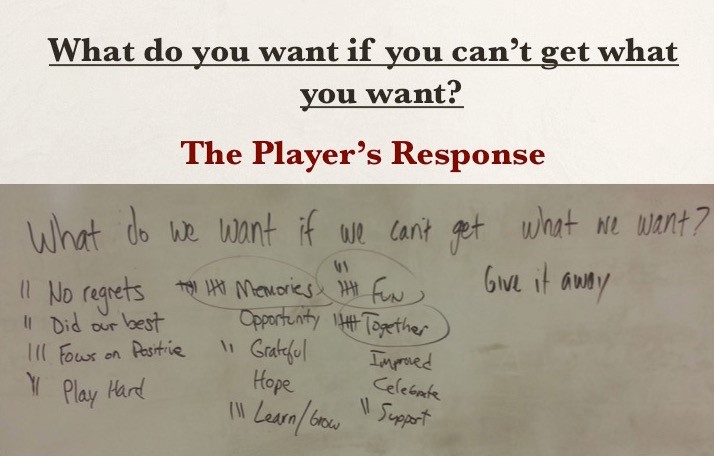 The best feedback I heard in response to this question after the meeting was a parent who said, "The second question really made you think about outcomes."
We are the defending state champions, but we want our season to be about much more than winning another state title, and this question helped parents think about what they really want for their daughter to gain from her basketball experience.
Card 3 (front) - What do you want your experience to be like as a sports parent?
In many ways, the purpose of this question is to validate the parent experience. It acknowledges that parents will have a unique experience in the stands, and provides them an opportunity to think about what they want that to be like.
Few parents were comfortable sharing their answer to this question in front of others during the meeting, so afterwards I compiled their responses and sent them an email. Here's what they wrote:
I would like to enjoy the game whether we are winning or losing. This is easier when everyone is cheering for the team and not criticizing the players.
I would like to feel part of the group, accepted and liked by coaches, parents, and teammates like family.
To enjoy the game without negativity from the coaches / players / fans when things aren't going as planned.
To have fun watching the girls play.
I want to get to know other parents as the season progresses, and would like it to feel like family.
Growing together as a community of parents - creating our own memories. Be a place where everyone wants to be.
Relaxing & enjoyable to watch games. Positive comments toward players, coaches, refs, etc.
To be able to ride along with the experience. Enjoy the ride.
Fun, memorable, positive.
Interestingly, many of the parents wanted a similar experience as the players. They want to have fun. They want to belong. They want to be in a positive environment. It was important to let them create a vision for what they want to their experience to be like together.
Then we asked them how to do it.
Card 3 (back - left half) - What can you do to help create that experience for other parents?
I included answers to this question in the email, as well as the paragraph below:
Be positive ourselves. Congratulate other parents on their children's performance.
Make sure every parent is involved. Be excited and have more people join in.
Stay positive. Trust that the kids are doing their best.
Be supportive. Listen. Have fun.
Be sociable and volunteer for extra activities as needed.
Make positive comments while in the stands.
Be positive and cheer for the team, not just my daughter.
Be positive fans for all the players. Share pictures and stories about fun moments.
Be positive. Be supportive. Cheer!
I am supportive and encouraging, and will do my best to promote unity.
Congratulate other parents when their daughter does something well during the game. Be positive in the stands. Cheer & clap a lot.
Be positive and encouraging and help others see that our kids are learning more than just basketball.
Just as we encourage our players to find ways to create a positive and meaningful experience for their teammates, we encourage you to do the same for your fellow parents. If you can be faithful to the things written above, I have no doubt that your experience will be a special one together.
Card 3 (back - right half) - What can the coaches do to help facilitate that experience?
This question beautifully combines the need for parents to be accountable to one another with the importance of coaches being vulnerable to receiving feedback. By opening ourselves up to criticism in a constructive we were able to build trust particularly as we follow through on some of their suggestions.
Perhaps the best part was that parents were comfortable giving us feedback on a card that had their name on it. Too often parent complaints are anonymous, or done to everyone but the coach in fear that the coach will retaliate on their daughter. The willingness of parents to take ownership of a potentially negative comment was incredibly meaningful to our coaching staff because it communicated trust.
Here's how they answer this question:
Help them learn life lessons and be positive people.
Support and understanding for me, and encouragement for my daughter.
Keep teaching the girls the meaning of team and to enjoy the opportunity they have.
Continue helping through your experiences and continue coaching the way you do.
Keep doing what you're doing - I'm getting the experience I want now. Continue to communicate changes in the schedule as soon as you can.
I enjoy all the YouTube videos that are put together an shared on social media.
Look for individual needs from the girls (meaning to help them stay positive by coming up with little things and sayings to help them out of a slump).
Communicate (which you are good at). Remember that I would like to spend time with her too - get out of practice on time so there is still time with family.
Just engage in short conversations from time-to-time.
Communicate and be positive role models.
Have a positive relationship with the team so they can come to you if they are unsure on things. I think you guys do most of what's needed already.
Coaches will always have their favorites but they should not show it.
Remember that there are more kids on the team than just your starters. They all need attention. They will be happier about basketball and make life at home happier.
This feedback was encouraging, and incredibly insightful. We choose to embrace those few comments that could be perceived as critical because they help us to become better coaches.
The best part of this entire process is it provides us a road map for building trust.
All relationships are built on trust.
The feedback we received from parents after this meeting was tremendous. Many called it the best parent meeting they've ever been to. I hope that they felt valued as we helped them think about what really matters beyond the outcome on the court, and as we welcomed their feedback to help us provide a better experience for everyone.
Does this mean we will never encounter another difficult parent?
Probably not, but when that day comes, our hope is that trusting relationships will be in place that can weather disagreements.
Regardless, we will choose to coach the parent with love, understanding, appreciation, and encouragement just as we would one of our players because our days of dealing with parents are over.
What do you think? Let us know by leaving your comments, suggestions, and questions...
Comments
Most Likes First
Oldest First
Newest First
---
Aubrey Braxton says:
11/7/2021 at 5:06:22 PM


This was great I would never have thought of this. I usually do not have issues with parents but I might have to adopt this.

Like
---
Hugh says:
4/5/2020 at 10:50:39 AM


At J.H. level I didn't cut and carried 20 on my "B" Team and 8 on my "A" Team.
B group rotated every 2 mins, and they loved it, going 100%. A few parents didn't like that I carried 8 on my A Team. I told them that if I carried 14, then that meant very little playing time for some. At least all the B team got a quarter of playing time.
As a Varsity head coach I carried 12. It was understood that the best would get on the court and equal playing time was not in the equation. I'd try to get everyone in if I could. Negative players and talk were not tolerated as well as negative parents as they were indirectly part of the team.



Like
---
Bobby Braich says:
9/20/2017 at 7:09:55 PM


This is a fantastic piece for all coaches. Great that you have put this out there for all to share. The X's and O's of sport are sometimes the easiest part of coaching. Communication is the key and must be valued. If you can build relationships with the players and their families, you will have their trust and be able to work through anything that comes up during the season. In the end, the players, the team and the program are better. I have modified my pre-season planning outline many times over the years and will do that once again to include much of what has been raised in your article. Excellent read.

Like
---
Dustin Sullivan says:
9/19/2017 at 9:51:59 AM


You wrote that, "If we found something that was clearly outrageous, we knew to address those in a non-threatening way sooner rather than later." I''m curious as to how you accomplished this? Did you meet with the parents or player of the parents again privately? If you had for example, a parent who had an unrealistic playing time expectation did you tell them point blank that their child wouldn''t get that much time?

Like
---
Nate Sanderson says:
8/23/2017 at 3:36:06 PM


Last year we had 15 players on our roster. We essentially played a 6-player rotation at the state tournament.

Like
---
Mike Shapiro says:
8/7/2017 at 2:25:53 PM


A great approach to the parents meeting. An open relationship with all team parents, based on trust, will certainly go a long way to minimizing the issues that always arise (usually related to playing time). How many players do you carry on your teams? How many played meaningful minutes in your championship game?

Like
---
Chris Boland says:
8/1/2017 at 10:09:33 AM


What a great idea! It puts a whole new, positive spin on the relationships between parents and coaches. Giving the parents ownership and accountability, just as is done with players, can only benefit the entire experience for everyone involved. Thank you for sharing your terrific ideas.

Like
---
Brian Williams says:
7/31/2017 at 7:06:22 PM


It would have never occurred to me to conduct a parents meeting like this. I wonder if I gave them this assignment and asked to email the responses back or fill them out before they left, how many would fill the survey out and return it. Thank you for sharing.

Like
---
Evelini Gibbs says:
5/15/2017 at 10:10:16 PM


Nate, thank you so much for sharing. I been coaching for quite sometimes for club and JV in high school, but this up coming season I am the head coach for the Varsity Team. I will use these great action plans from you to help with my parents.

Thank you so much.

Like
---
JanGensch says:
5/10/2017 at 3:34:20 PM


Did you grow up in Slater and Ankeny? My daughter was friends with Kristi if that''s your sister. Awesome plan of action to involve parents!

Like
---
Show More
Shak says:
2/22/2017 at 3:05:10 AM


Hi. Will you be willing to share the 33 page manual?
Thanks

Like
1 reply
---
Kyla Bates says:
1/17/2017 at 12:31:21 PM


Great idea. Too often, us parents are told to sit down, shut up, and just hold on. Support for the team and the coach comes from communication and understanding. We have a coach that likes to retaliate against the player if the parent says anything at all. Leads to more and worse issues. Not sure if the coach would even listen if they did this but the other coaches, might.

Like
---
Coach Kevin says:
1/10/2017 at 10:39:24 PM


Great article! Thanks for writing it and sharing.

Like
---
Phil says:
1/10/2017 at 9:23:32 AM


Really well done and lots to think about. I've been looking for something different to do since this past season when I had one of those season ending parent confrontations the night before a championship game which imploded the team.

The frustrating part is when you do all of this and parents still show disrespect or a lack of empathy for the time coaches put in but I guess that is just something we need to realize comes with the territory. I always say that I don't need parents to show appreciation I just need them to not show ungratefulness but this exercise can help them realize the difference between the two.

Like
---
Sherry says:
1/10/2017 at 2:12:21 AM


This is incredible insight to the whole person when the family is fully engaged. While we can not be all things to all people, this article was common sense in having a good understanding of the family unit, not just the individual. These principles of insight and being aware,make me want to exercise them as life skills as well. I appreciate the wisdom behind the knowledge.

Like
---
Kamilla Vaksman says:
1/9/2017 at 7:47:40 AM


Thank you! This is a wonderful idea.

Like
---
Nate says:
12/14/2016 at 2:02:31 PM


Josh,

Those situations are always difficult, and particularly uncomfortable when they happen during a game. One thing that we tried to unpack in our meeting was what the parents wanted their experience to be like as a group of parents. I really wanted them to think about how they would conduct themselves hoping that they might help hold each other accountable when someone starts going off the rails.

The subject of officiating is another issue entirely, but we give our players a quick scouting report on our officials each night if we know who they are, or recognize them when we arrive at the gym. We encourage them to think of the officials like they would a ball with too little air, a gym that's too warm, a locker room that's too cold, etc. It's something we cannot control - it may affect the game - but we play through it.

There are times when I tell them the officiating won't be very good, or that the game is going to be physical, or called very closely. We adjust as we go and play through it. We tell players and parents it would be silly to yell at the rim for being too tight, or the ball for being too flat because yelling won't change either one of those things. Confronting an official is exactly the same. It falls under the category of SICC - Stuff I Can't Control.

To coincide with that, I rarely ever react negatively to an official's call on the sidelines because it doesn't change the situation. I think when players and parents see that calm demeanor, along with a conversation that puts expectations in a reasonable place, some of those over-reactions can be avoided. Certainly not always, but better to address them before they occur whenever possible.

Thanks for the note.

Nate

Like
---
Josh says:
12/14/2016 at 10:19:06 AM


You really presented some great ideas to work with the parents in this article. At the beginning of each season I have always started with a coaches/parents meeting to discuss the usual things such as rules, playing times etc.

I would also hand out small index cards to my players at the beginning of the season asking them to write down two personal goals and one team goal. I would tally the team goals together and present the totals at our next practice so the players would as a team would see what the team wants to achieve. I would also speak with each player individually to discuss their personal goals and my expectations of them.

I like the idea you presented with doing this with the parents to get a feel of what they expect. After all, the parents are a big part of the team as well.

I encountered a situation in a road game last week which I've never encountered in my five years coaching or 8 years officiating. The game was a little more physical than my team was used to and I had a parent in the stands begin screaming about the horrible officiating. Shortly after the parent berating the officials her daughter ran up to an official and began yelling at the official which forced me to burn a timeout and get her off the court. During the timeout the parent began yelling that we should leave and go home then her daughter on the bench starting yelling the same thing. Our team self-destructed at this point and our stats for the 2nd quarter showed it.

Some of my other parents in the stands were very upset and embarrassed with that parent and they were apologizing to me. I informed our AD and the school will be meeting with this parent today to discuss her behavior and give her a warning.

If I would have used your technique at the beginning of the season this may have never happened, it's not a guarantee but it may have helped prevent this type of incident. I have taken notes from Friday night's game and will use that as a talking point at my parents meeting next season. I will also use some of your ideas in your post and hopefully get the parents to be a little more involved.

Thank you so much for sharing your ideas and I couldn't have received this at a better time. I'm always looking for methods to be a better coach on the court but after our last game it is apparent I need to find ways to work the parents better as well.

Thank you!
Josh


Like
---
Coach Tom says:
12/13/2016 at 11:27:30 PM


If you're running laps, it's better to move the hurdles than leave them behind you.... The time spent expanding your culture instead of setting up a "contract" you can wave during disagreements exemplified a higher grasp of what Coaching should be about.

A lot of articles that I read make me "smarter." This one made me "better." Thanks very much Coach!

Like
---
Andrew says:
12/13/2016 at 2:31:25 PM


There are all good but they are motherhood statements.

In the heat of the game, parents are still going to complain or be upset or argue.

There are no "real" answers when two people have opposite opinions especially when one of them is a parent.

Like
2 replies
---
Nate says:
12/13/2016 at 3:50:12 PM


Andrew,

Every situation is different, but I would be reluctant to give up on the possibility of persuasion and the potential of positive communication. We often tell our parents that they do not have to agree with everything we do, or our philosophy on playing time, coaching, etc. We just ask that they try to understand why we make the decisions that we do. I have had numerous parents who have changed from a "win only" mentality to understanding that we are trying to create a meaningful experience for the players regardless of our outcomes. It takes diligence, patience, and thick skin to be sure. I think that trust and mutual respect can still be forged even when a parent and coach may disagree.

Nate



Like
---
Coach Tom says:
12/13/2016 at 11:34:08 PM


Andrew, you're correct in that there are still going to be plenty of "conflicts." The strength in Nate's message is twofold however.
1. You're entering that conflict on an established warmer, or more respectful ground from both sides.
2. You won't be an island. The loss of parental perspective will be much more quickly realized by the parent group, and they'll either police themselves a bit more closely, or be more vocal in supporting you as the coach when you're "under fire" from a disgruntled parent.

Either way, I encourage you to give it a try. It's a true example of Leadership vice Management.

Good luck!

Like
---
---
Coach J.P says:
12/13/2016 at 12:34:14 PM


I really appreciated this information. I normally would just ask my director of the program to talk to the parents. But this has given me new direction, and goals to work towards having a better relationships with the parents and the players.

Great Job!

Like
---
Coach J.P says:
12/13/2016 at 12:34:14 PM


I really appreciated this information. I normally would just ask my director of the program to talk to the parents. But this has given me new direction, and goals to work towards having a better relationships with the parents and the players.

Great Job!

Like
---
Darryl says:
12/13/2016 at 12:00:22 PM


I haven't coached in some years due to work, church, and going back to school. I mainly coached when my kids played sports because I was always present at every practice and the coach always came and asked for help.

I've had my nightmares dealing with parents, mostly those who thought their children were destined for the NBA, and I was the sole person holding them back. I could've used something like this at the beginning of the season so that everyone's expectations were considered. I'll file this one away because I do plan to get back into coaching and I'll definitely use this when I do.

Thanks for sharing.

Like
---
Ian says:
12/13/2016 at 11:46:59 AM


Fantastic, thank you for laying this out so clearly. I plan to adapt it to teaching and working with parents in the classroom.

Like
---
Roger says:
12/13/2016 at 11:25:10 AM


Thanks, Nate. This is excellent, right on point. Definitely, best path is to engage not avoid. We're incorporating some abbreviated versions of these suggestions into the current season. Appreciate your valuable insights and experiences.

Like
---
Coach Nelson says:
12/13/2016 at 11:17:30 AM


Great topic, and one youth coaches don't think enough about. As a travel team coach, I find parents expectations to be all over the place on a sprectrum from "have fun" to "my kid is Kobe." I deal with it in a similar fashion, but working to enroll parents from day one. I made it easier by changing my thinking about myself. My job is to serve families, and help parents raise great kids through sports. Once parents understand I'm there to help them, they accept my process, because they know where I'm going. I reinforce this relationship by walking over to the bleachers immediately after every practice, sharing a small piece of insight into something the team is working on, and simply "being available" to them for questions. This keeps me in touch with issues before they become issues. Enrolling parents is everything to the success of a youth team.

Like
---
Terry says:
12/13/2016 at 11:14:25 AM


I think it is a great exercise, but boy, it would take a lot of extra time. Time I seldom have in the very shortened try-out and pre-season we now have. I am considering a shorter version because I like the group participation. I also (as another above) wonder how and if this would be done in back to back to back years? i really like the positive approach though.

Like
1 reply
---
Nate says:
12/13/2016 at 3:43:19 PM


From our experience, the time we've invested up front in culture building and establishing better relationships with parents and players has benefited us 10-fold.

As an example, the past two seasons we have dedicated 30-45 minutes every Wednesday to what we call "Mental Health Wednesday" where we do activities related to confidence, culture, mental performance, mistake response, etc. We've found this has benefited us in profound ways, even though it is difficult to give up time on the court.

Obviously, this doesn't work in all contexts, but I'd encourage you to adapt something that would work in your situation. I think you will find it to be a valuable investment.

Like
1 reply
---
Scott says:
12/16/2016 at 1:04:50 PM


Nate, could you elaborate on what activities you use for "Mental Health Wednesday"? We have often thought about the importance of mastering mental toughness and focus but struggle with how to get started with our team.

Like
1 reply
---
Nate says:
12/18/2016 at 7:41:03 PM


Scott,

We will be sharing articles about some of our Mental Health Wednesday activities in the coming weeks. Generally, we spend about 30-45 minutes each week doing activities and discussions around issues like mistake response, confidence, poise under pressure, etc. It's been very valuable.

It is tough to go into greater depth here, but stay tuned to the newsletter and feel free to reach out if you have any specific questions.

Thanks,

Nate

Like
1 reply
---
Greg says:
10/23/2018 at 3:11:41 AM


What are the mental exercises or topics you discuss. How do they relate to Basketball? I have a bunch of kids that communicate about plenty of other things except when it comes to the deeper conversations. They tend to stay quiet.

Like
---
---
---
---
---
Nick says:
12/13/2016 at 9:41:17 AM


Nate, will you do this with the parents every year even if some of the parents were part of the program the last year or two? I love this idea.

Like
1 reply
---
Nate says:
12/13/2016 at 3:40:13 PM


Our hope is to have a new activity each year that somehow involves the parents in a culture-building activity. We do a lot of activities during our summer camp for players, so we will most likely adapt some of those for use with our parents.

Nate

Like
---
---
Susan Sanderson says:
12/13/2016 at 9:09:27 AM


Tremendous thanks for putting this together Nate! For three years I have been somewhat tortured by my last "parent nightmare" when the parents of one of my middle school players assaulted me on the floor after a game. I should have called 911 immediately but chose to talk it out in the hallway. That was a season from Hell! I've refused to coach in that type of vulnerable situation since and started a ministry using B-ball instead.
Your article comes right on time as I have volunteered again to coach starting this Friday:) I will use your information throughout this season.

Like
---
Gabriel says:
12/13/2016 at 8:15:07 AM


This was really good and provided some great insight into how I would like to handle my parents next season. My problem will just getting there to come to the mandatory parent's meeting but we will try.

Thanks again,
GJ

Like
1 reply
---
Nate says:
12/13/2016 at 3:38:29 PM


I know many programs that make the parent meeting mandatory and do not allow kids to participate or practice until the parent has attended, or at minimum require parents to sign a document that confirms they have received and understand the policies. Not sure if that would work in your situation, but it's a thought!

Nate

Like
---
---
Coach M. says:
12/13/2016 at 7:16:48 AM


This is a very impressive exercise. Thank you for sharing.

Also loved watching and listening to your clinic.


Like
1 reply
---
Mike h says:
11/5/2017 at 3:49:07 PM


Thank you. I will take and run with it. With all my heart, thAnk you. You are helping change everything

Like
---
---