Six Ways to Invest in Your Summer
With the 4th of July now in the rearview mirror, it might be time to ask yourself, "Are you getting what you want out of your summer?"
Below are five things players and coaches can do this summer that will make a huge difference for you next winter.
#1 Read
The single most important thing I do in the off-season is read. Studies show that 46% of college graduates never read. This is stunning. Nearly every significant change I have made to my coaching style or philosophy in the past 15 years has resulted from something I read. In fact, there are very few things that we do the same now than we did five years ago because we are constantly searching for new ideas to apply to our coaching.
Best-selling author and consultant Joshua Medcalf attributes the majority of his professional success to reading. In his book, Burn Your Goals, he says:
I'm able to provide value and now mentor people who are some of the best in the world at their craft. How? BECAUSE I READ things they haven't read, I've applied them to my life and then I've shared what I've learned and how they can apply it to their life, team, and business.
Are there things that you can read that will give you an edge on your opponents? ABSOLUTELY. As the ancient proverb says, "The one who gets wisdom loves life; the one who cherishes understanding will soon prosper."
If you're convinced that you don't like to read – find something interesting to reopen your mind. Start with something short and sweet – Jon Gordon's books Training Camp, The Energy Bus, and You Win the Locker Room First are full of terrific lessons in an easy-to-read format. You might also enjoy Joshua Medcalf's outstanding fables Chop Wood, Carry Water and recently released Pound the Stone.
There are certainly other ways to learn besides reading, but there is something wonderfully magical about learning from books. If you need a gateway to rekindle a love for learning – get lost in a great story that will challenge you.
#2 Build Your Culture
Every summer we spend a week hosting a basketball camp for our high school players. While we initially set this time aside to focus on skill development and team concepts, we have increasingly spent more and more time over the years building our culture. Specifically, we challenge our players to think about what they want their experience to be like this season regardless of the outcomes they experience.
What does that mean?
Try this simple exercise with your team. Give them three note cards and have them write their name on each card.
Card #1 – Individual & Team Goals
On the first card have them write 2-3 individual goals on one side and 2-3 team goals on the other. These should be realistic and measurable. They might write about averaging a certain number of points per game or finishing the season with a winning record. Those things are measurable and specific. "Playing hard" or "getting along" are not measurable.
While this card is going to set-up the next question, it also gives you insight into what expectations each player has for the up-coming season. That can serve as valuable ammunition to motivate them as the summer goes on, and will allow you to identify any unrealistic goals your players may have for themselves or the team so that you can communicate with them prior to the start of the season. In 15 years of coaching, the number one cause of conflict with players and parents has resulted from unrealistic expectations that went unchecked during the season.
Card #2 – What do you want if you can't have what you want?
We use this question to get players to describe what they want from their basketball experience if they could not accomplish a single goal listed on the first card. If they knew going into it that it would be impossible to average 10 points per game, or be a varsity starter, or win a certain number of games… what would they want from their experience that would still make playing basketball worthwhile?
By framing the question in this manner, you are asking your players to define the experience they want to have on a daily basis. In doing so, they are defining their culture.
Here's an example from our discussion last summer: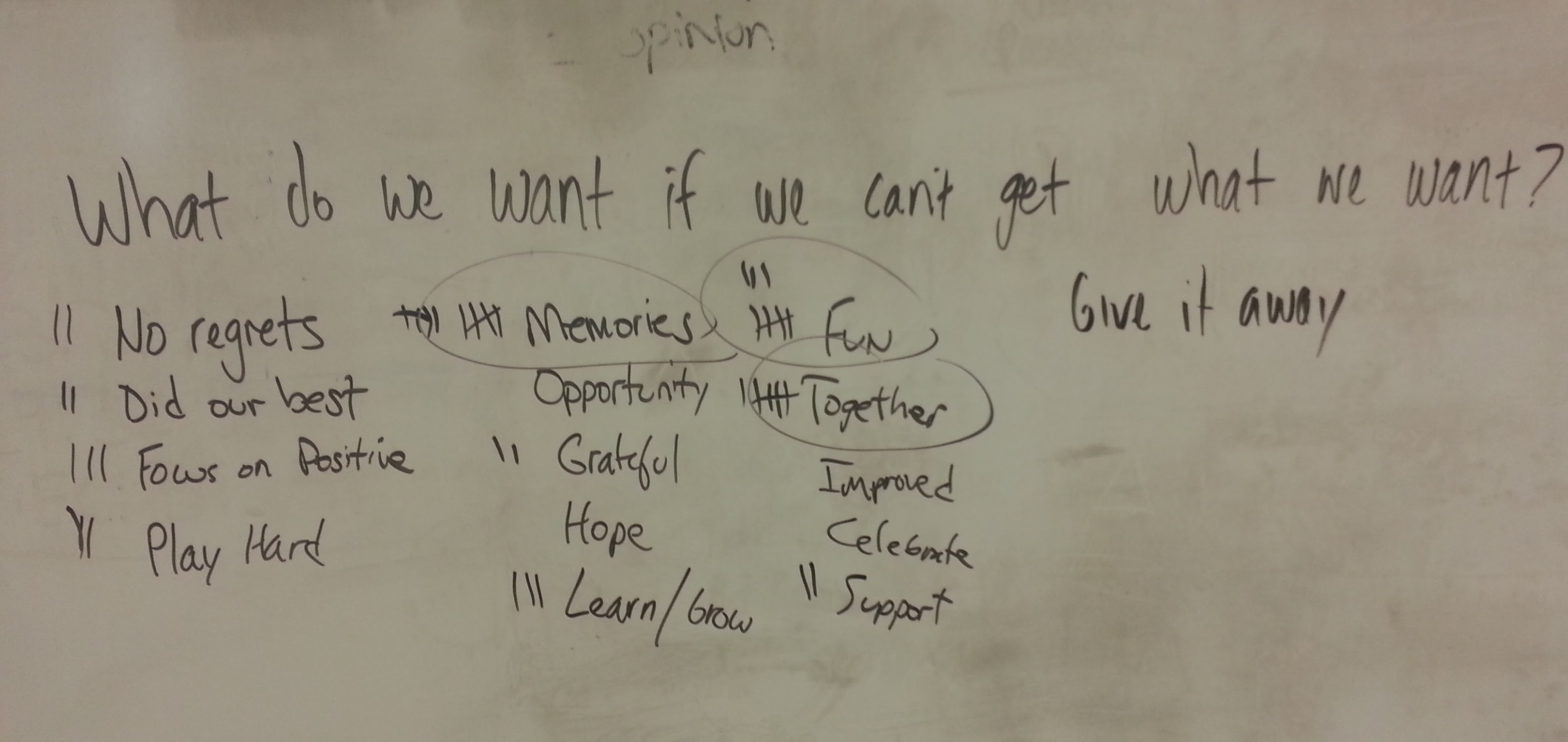 This is arguably the most important discussion we will have all season! The culture is what will make their daily experience worthwhile. If they can get the culture right everything else tends to fall into place.
Card #3 – What will you do to give that experience to someone else?
We conclude our discussion by asking players to identify specific things they will do for one another to help create the experience they described on Card #2. First, we brainstorm behaviors that would build the culture. Then, each player identifies one or two things they will commit to doing everyday for their teammates.
Here are some examples: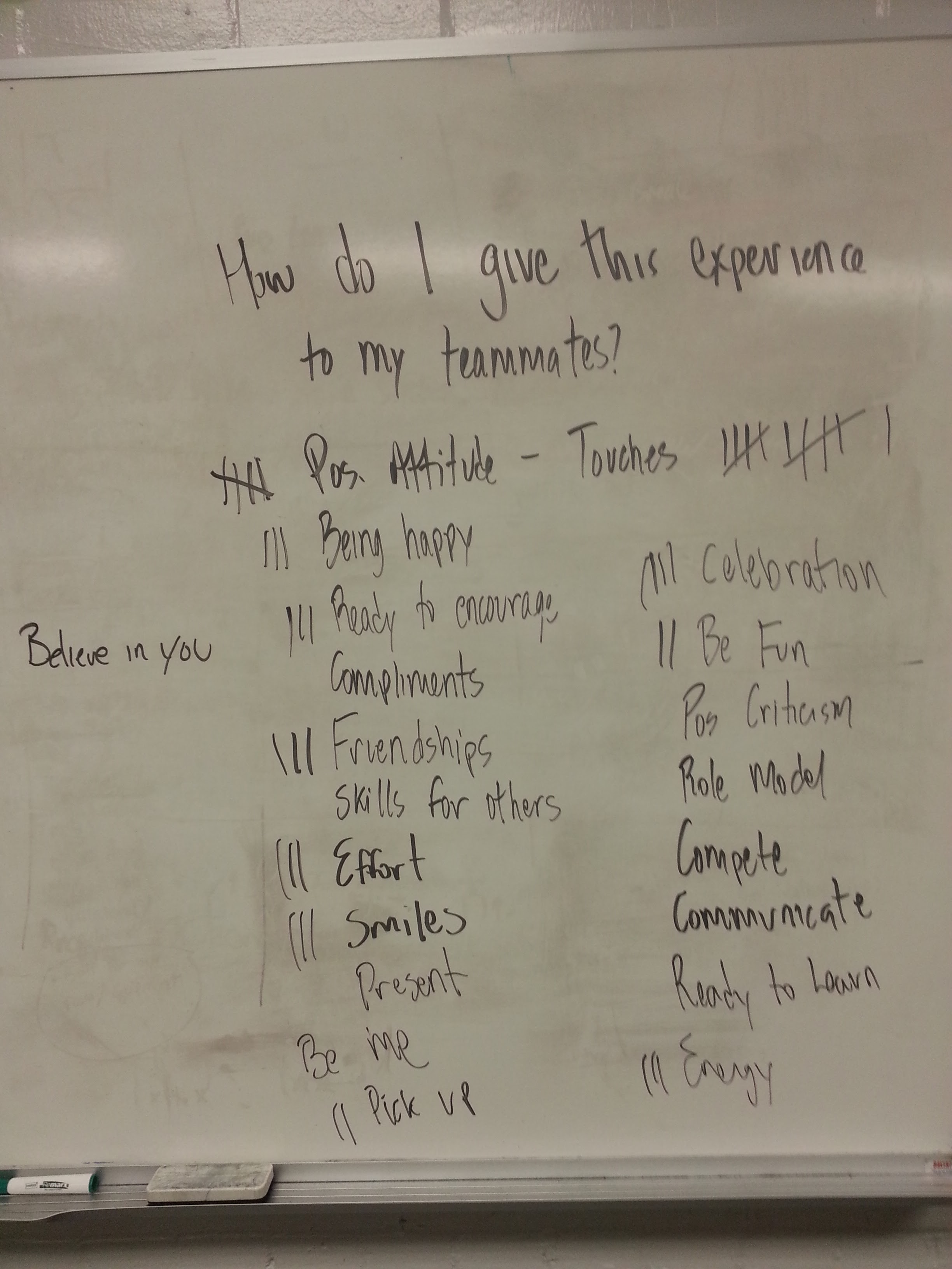 We have our players then read the 3rd card to their teammates before the start of our next gym session as their commitment to being a great teammate. Then, the coaching staff collects the cards so that we can refer back to them as necessary.
#3 Create Opportunities for Individual Work
One of the common criticisms of players is that they play too many games during the summer. Some will travel to numerous tournaments with their club teams, while also playing with their school team. It can be easy for players to assume that because they are playing a lot, they are getting better. However, that's not always the case.
We've found it increasingly important to offer our players opportunities for skill development throughout the summer. To be clear, we are not talking about rolling the balls out at open gym. On the contrary, these are structured team workouts. Typically, we spend the first half of our sessions working on shooting and the second half playing small-sided games out of our offense.
Each of our sessions are usually between 90 minutes and two hours long, and we schedule them anywhere from three to five times per week during the summer.
Fewer and fewer players will make time on their own for individual skill development. It's important for coaches to be proactive in facilitating opportunities for them to do so!
#4 Experiment
Over the past five years, our practices have undergone a radical transformation as we have adopted a small-sided games approach to almost everything we do. This evolution started during our summer open gyms as we were forced to figure out ways to practice our offense with fewer than 10 players at each workout.
Our solution was to create a series of small-sided games that featured various 1v1, 2v2, and 3v3 situations that occur most frequently in our offense. As we tinkered with various actions we developed an entire curriculum for teaching skills within the context of our offense.
To be fair, we have also tried a number of drills and games that we would never do again! However, using our workouts as an opportunity to experiment is a great way to discover better ways of teaching, training, and practicing without losing valuable practice time during the season.
#5 Have Fun
Another advantage of having more time in the summer is finding things to do as a team that have one objective in mind – to have fun. This could be something simple like having a team bonfire or playing wiffle ball in your yard. It might mean traveling to play at a camp and having an overnight experience with the team. The activity is not as important as the team bonding that takes place while doing it.
One of our favorite activities is to do the Spider Web. Use string to create a spider web between two trees, poles, etc. that has the same number of holes as you have players.
All players start on one side of the web. Their objective is to move the entire team to the other side of the web by passing one person through each hole. Each hole may only be used one time. If a player touches the string at any point – they must start completely over (all players return to the original side of the web).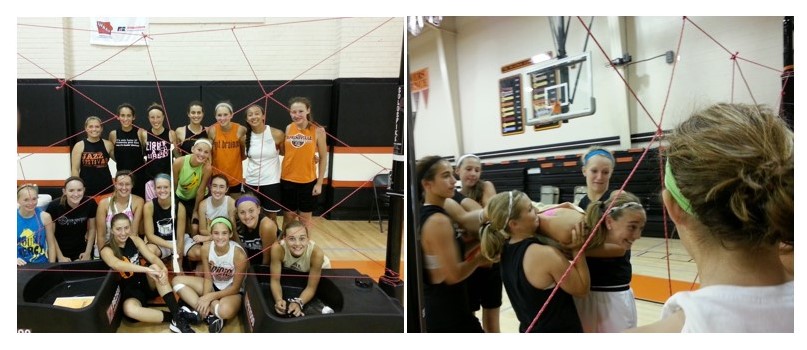 This is a great problem-solving activity and a lot of fun for the team!
#6 Rest
Finally for coaches and players, find time to get away from the game. Whether that's a week, a month, or longer, there is tremendous value in getting away from basketball to recharge your batteries.
Too many players are competing year-round without giving their bodies adequate time to recover. Take a break – do something else – play another sport. When you come back to the game, you will be refreshed and have a new enthusiasm for your training.
Coaches, we know it is difficult to maintain a balanced life during the basketball season. Too often our most significant relationships are overcome by the constant demands on our time to watch film, prepare practice, communicate with athletes and parents, etc. Make time in the summer to renew your relationships with your family and friends. Go on ice cream dates with your kids. Take a walk with your spouse. Remember what life was like before you started coaching! Find time to renew your mind. You'll be glad you did.
Do you have any questions or suggestions for this article? Let us know by leaving your comments...
Comments
Most Likes First
Oldest First
Newest First
---
TJ says:
10/1/2017 at 12:54:24 PM


I would love to know more about your series of small sided games in which you teach specific skills or components of your offense. I'm adopting this approach more and more and would love some guidance.
Thank you.

Like
---
Chris Brown says:
7/28/2017 at 11:35:30 AM


Agreed, getting concrete feedback from the players on team culture is great idea.

Like
---
Douglas Reid says:
7/27/2017 at 6:17:35 PM


I love these ideas. It is one thing to talk about culture and to demand the end results by fiat but to get a map on how to achieve the ends, is gold.
Thank you.

Like
---
Harmony says:
7/27/2017 at 10:49:43 AM


Do you have a video of the Spiderweb game? I love this idea!!

Like
---