How to Run an Effective Basketball Camp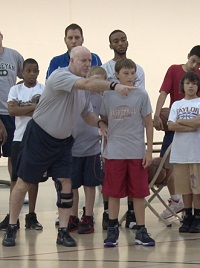 I have run hundreds of basketball camps. Some camps were as large as 700 players per week for several weeks and others as small as 1 week with 20 players. There are common threads that run through all of them. I am not an expert on the finances or marketing of camps, though. So, I'll stick to the administration of the camp...
The Type of Camp Affects Your Decisions
First and foremost, you have to decide what type of camp you want to have. This philosophy will affect every decision you make, from staffing to schedule to equipment. Teaching camps require more staff because it is to your advantage to have a smaller staff to camper ratio. If you are going to have a camp that is primarily "play", you only need 1 coach per team.
Creating an Effective Schedule
Next, you need to organize your schedule. You must plan your activities that not only match your philosophy, but provide enough variation to keep your campers interested and eager to come back.
We used to use activity blocks, as opposed to times. Our blocks would be instruction, competition, scrimmage, choice and games.
Our instruction block would be when we had coaches in front of the players teaching and the players drilling.
Competition would be for practical application of the teaching. They might be shooting or ball handling games or other activities where players had to enact what they were taught in a higher intensity environment.
The scrimmage block would be for team integration of the skills. We would use a 3-on-3 league, control scrimmage (where coaches would stop, teach and correct in a scrimmage type activity) or team practice.
Choice would be where we would have several activities being conducted and the players could choose which one they would want to take part in.
Games would be where we played our 5-on-5 league games.
Then, all we had to do is decide which activities we wanted to conduct inside the blocks and place those blocks in the daily schedule.
How long are the blocks and where do you put them?
How long the blocks are depends on your available time and the number of campers you have. I typically would like to have 2 instruction blocks, 2 game blocks and then one of each of the other blocks per day. By changing the activities inside the blocks, it created an interesting but very organized camp day.
Administration of Activities (Important to Get Right)
The administration of your activities is extremely important. This needs to be flexible and responsive to the participants in your camp. You might like to structure your teaching a certain way, but if the players in the camp cannot respond to your method, you have to look at your method.
Often, the manner in which you teach your team won′t fit the teaching necessary in a camp. This is because you will find a larger variation in skill level, maturity and concentration level in a camp. On your team, you have consistent reinforcement for your teaching, which allows you to progress. In a camp situation this might not be true.
You also have to structure your game rules to you campers. How long are the games, will the clock stop or run, do you shoot foul shots? What are your substitution rules, how many players on a team? There may be rules you like to play by because you feel that they are the best way to play for you. But, often you have time constraints that will prevent you from playing in the matter you like.
Remember, this is camp; everyone pays to come so they should all have equal experiences. You might like to have 8 on a team, but if that creates more games than you have time for, you might have to go to 10 on a team.
Adjust Game Rules to Improve Efficiency
You might like to administer your games as if they are regular season games. But, you may have to play with a running clock. Do you want your campers to spend a significant percentage of the games shooting foul shots while the clock is running? Remember, that lessens the actual time that the campers get to play.
The rules we always played by were, the only foul shots that were taken while the clock was running were shooting fouls. All non-shooting fouls were inbounded. In a situation where there was a shooing foul and the shot was made creating an opportunity for a 3-point play, we awarded 3 points and treated it as a made basket where the other team takes the ball out. With the clock stopped, we shot everything.
These are all issues that need to be solved before the first camper walks into the gym. To conduct an effective, high quality camp that can be enjoyed by all, you need to be prepared and focused on the goals of the camp. Be flexible, but be clear. Confusion is a camp killer.
Find a Basketball Camp Near You
Breakthrough Basketball offers a number of camps across the country. Check out this camp map to find the camp closest to you.
What do you think? Let us know by leaving your comments, suggestions, and questions...
Comments
Most Likes First
Oldest First
Newest First
---
marquis says:
3/4/2021 at 3:05:13 PM


how do I run a cheap, but yet still productive camp, what all materials do I use, in the New Orleans area

Like
---
phil says:
9/1/2015 at 4:21:24 PM


How do I go about starting a basketball camp in my area? My brother and I have been trying to get a program started.

Like
---
Joe Haefner says:
8/5/2014 at 6:06:31 PM


Brian, we found this to be very difficult.

Locally in KC, where I can keep costs low, I will do free workouts and things like that.

However, with our traveling camps, it is impossible.

One thing we have done is offered scholarships to players to try to help low-income families.

This has allowed us to help hundreds of players over the last few years.

Like
---
Brian Sass says:
8/5/2014 at 5:44:55 PM


How would you go about determining cost per camper? I am particularly interested in how to keep costs affordable for kids of low income families in low income areas.

How do we reach kids from those areas and still not run a camp at a loss (recognizing that it still needs to make money).

Is it possible? Or would the two goals be mutually exclusive?

Thanks!

Like
---