In hopes of giving you some ideas and possibly helping your team in some way, I'm sharing what we did with our sophomore (10th grade) boys basketball team this year.  This includes our offense, defense, drills, plays, and so on.
Brief Overview and Results
For the 2015/16 season I coached the Marion sophomore boys basketball team.  It's a 3A school in Marion, Iowa.  The high school consists of around 620 students.
Due to injury, players not going out, and players moving up… we had an unusually small roster.  We only had 7 sophomores to start the season.  After a week into the season we moved up 3 freshman.  This gave us enough to compete yet we rarely had enough to play 5v5 in practice.  We made it work.
We lost our 2nd and 3rd games of the season.  Then we went on an 18 game winning streak to finish the season 19-2!!
Since this was a completely new team I didn't have high expectations. In the back of my mind I would have been happy if we won half of our games. So going on an 18 game streak was a nice surprise!
The season was very successful in my opinion.  We won 19 games but more importantly all the players improved, had fun, got along, played extremely well together, and I hope they all learned some good life lessons.
It truly was a "team" that came together collectively to accomplish some great things…
No one of the team averaged more than 8 points per game —  and 7 different players averaged 4 or more points!!  That is pretty incredible.  It was a very balanced attack, sharing of the ball, and lots of teamwork.  Probably the most balanced team I have ever coached.
It made this season a lot of fun!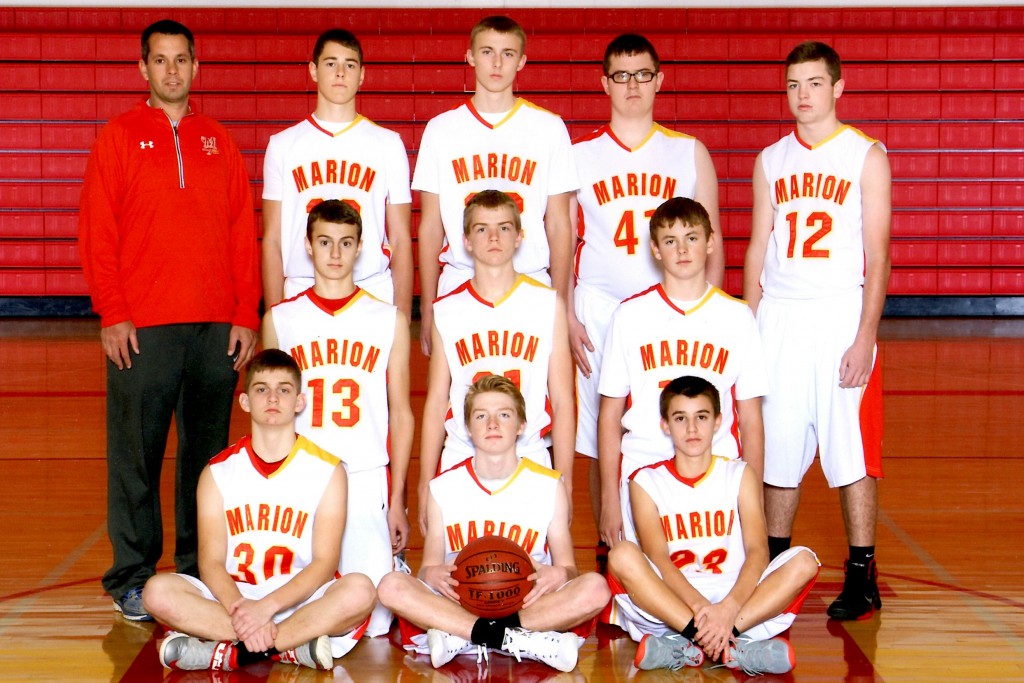 Offensive Stats
As a team we averaged:
49 PPG
48 EFG%
.96 PPP
12 TOs PG
15 FTAs PG
58 FT%
35 OREB% (9 higher than opponent)
74 DREB% (9 higher than opponent)
Balanced Attack
What's most impressive is the balanced scoring and shot distribution…
We had 7 players average more than 4 points per game.  And nobody averaged more than 8 points per game.  It was very balanced scoring.
The shots locations were also balanced.  28% of our shots were 3pt range.  46% of our shots were lay ups or within 8 feet of the basket.  And 26% of our shots were mid range.  Pretty good balance in my opinion.
The following images show our shot chart and distribution percentages.  (To chart shots and keep stats in real time, one of our injured players used the Breakthrough Stats App during the games.)

Transition Offense
Here's a link to the transition offense we ran.  Not much to it.  Rarely practiced it.  Just showed the transition a couple times.
We ran when there were opportunities.  But we didn't push real hard since with our small roster we didn't have much depth.
Looking back, I gave players a lot of freedom.  I never once specified who should take the ball out.  They just figured it out and decided on their own who should take the ball out.
I usually just gave guys a framework and objectives — then let them make decisions and figure things out.
Half Court Man to Man Offense
We ran a motion offense the entire season.  It mostly had a "5 out" look but we posted up quite a bit and we allowed quite a bit of freedom to deviate. It was all based on spacing, ball movement, and taking good shots.  Here's the offense…
Primary Requirements:
Spacing and ball movement until you get a good shot. Get all rebounds.
General guidelines:
You can deviate from the guidelines below at any time as long as you have spacing, ball movement, take good shots, and go after all the rebounds.
Space to the 3pt line (perimeter spots – 15-17ft apart)
If the ball is dribbled at you on perimeter, back cut. Otherwise if ball is dribbled, move to space and open passing lanes.
3 options when you pass – go left, forward, or right. (In other words: go toward the ball for a ball screen, or to the basket for a basket cut, or away from the ball to set an away screen).
3 options when cutting toward the basket (off a screen or basket cut) – post up, clear to perimeter, or backscreen for perimeter player.
When the ball goes to post, laker cut and fill opposite.
Always fill to the ball on the perimeter (replace open spots).
Get open when one pass away (pop out, back cut, screen away, or ball screen). Read the defense (ex: if defense sags… pop out).
Use weakside flash cuts when defenders cheat up or turn head (lose vision of you).
Look to reverse the ball when you catch at the top.
I was extremely happy with our motion offense.  As sophomores it worked great for us and we still have plenty of things we can improve.  I think having plenty of room to improve is a good thing and means your offense has plenty of upside.
I loved the flexibility, effectiveness, and skill development aspects of the offense.
I could go on and on about it.  I'll keep it brief with a couple points of interest…
Most people think a 5 out offense is for when you have lots of guards.  We had several post players.  We could post up as little or as much as we wanted.  We could also take advantage of mismatches if we wanted.  Or go to a permanent post at any time if we chose to (although we never really did).
With two prototypical "post players" most coaches would probably think it's nuts to run 5 out with both of them on the court.  We did it anyway.  I'm glad we did because they improved a ton with their confidence and skill with the ball.  The first several games, they looked pretty shaky.  Had some bad turnovers.  But we lived with the mistakes and they were forced to figure things out.  After a handful of games and their share of mistakes, they developed confidence and skill with the ball — and turnovers were not a problem for them whatsoever.
I feel this was a great offense for skill development.  The versatility was great and we spent most of our time in practice working on both skills and pieces of the offense at the same time.
Fundamental Execution and Emphasis is Key
Our motion offense was really simple.  They keys to the offense were skill development and the fundamental aspects of their spacing, cutting, screening, posting up, and so on.  We literally taught the offense in 20 minutes.  The rest of the season was spent working on both individual fundamentals and team offense fundamentals.
Half Court Zone Offense
When facing zone defense we ran our motion offense with a few minor adjustments…
We switched to a 4 out formation and put 1 player permanently in the short corner / post area.
When players passed, instead of cutting all the way to the basket, they stopped in the middle looking for a gap (3 count) and then cleared to perimeter.
Technically those were the only adjustments.  But to make it effective we had to emphasize:
Stopping in the middle and finding a gap.  Out of habit players wanted to continue to the basket.
Fill to the ball quickly and find good passing angles.  We had to focus on this aspect — otherwise our ball movement stopped and the offense became stagnant. Really important emphasis point for us.
Use pass fakes.
Stay aggressive (attack the gaps — just play basketball).
Move the ball (same thing we emphasize against man to man)
We never really practiced our zone offense since we didn't have enough to go 5on5 or even have players that knew how to run zone defense.  But it was simple enough where they could just learn during the games.  It was a little rough at first but in time it worked well for us.
Half Court Set Plays
We had a few simple set plays that worked as both quick hitters and entries into our motion.  We didn't run the plays very often.  And we didn't score with them very often (maybe 20% of the time).  They usually just gave us a post up or ball reversal to kick-start our motion.
When running set (called) plays I wanted the plays to give us a great shot (lay up or post up) and also serve as an entry into our motion.  I didn't see a reason to run plays for jump shots since we can get those any time we want with our motion.
To be honest, the only reason I added the third and fourth play was because they were new for me and I wanted to test them out. We didn't need them.
BLOB Plays
We ran 3 BLOB plays.  They worked great.  Probably scored an average of 8 points per game just off our inbounds plays.  They were all from the box set.  We disguised the plays with a numbering system and since they all started from the same formation, opponents didn't know what we were going to do.
One – screen the screener (traditional play that just works when executed well)
Two – clear out with diagonal screen (my favorite and our most effective play)
Three – scatter and cut for lay up (simple yet always got us a lay up or the ball entered easily)
We also had another play we ran against zone trying to pin the middle defender.  Otherwise we just ran the plays about and told players to find gaps.  You can find other good zone and man BLOB plays here.
SLOB Plays
Nothing fancy.  We just wanted to get the ball in.  When needed, we used these two plays:
Stack – Traditional stack play.
Indian – We used this when teams denied and pressured.  Allowed us to get ball entered every time.
Press Breaker
We used this 3 across press breaker against zone presses.  Worked great for us.
If a team played man to man or even double teamed the ballhandler, we just cleared out.  We did enough 1v2 dribbling drills so it was not a problem. Our guards on occasion would beat 3 defenders in the open court.
If a team denied full court and we had trouble getting the ball in, we either used a 1 Up Press Break or Indian.  We generally saved the Indian play for the last 3-4 minutes of the game when teams were denying full court and trying to get 5 second calls.
Defense
Our opponents averaged 37 points per game.  I wish I had better stats like our opponents EFG% and PPP… but coaching 3 different teams this year, I just didn't have time to watch film and record those stats.
Considering that we averaged 49 points, which is nothing off the charts, and our opponents averaged 37 points… I'd say our defense was pretty solid.
We play 100% man to man defense.  Almost always half court.  We played a full court man to man press allowing the trail defender to trap on a few occasions.  But 99% of the time we played half court man to man.
We followed most of the fundamentals and concepts taught in this Jim Huber Defensive DVD set.
Regarding some of the details, we chose to follow the same preferences of the varsity.  The assistant varsity coach often spent time with us running the shell drill.  This helped A LOT to develop consistent language and teaching methods throughout the program.  Some of those details included:
Player straight up (no shading) when guarding the ball.
When one pass away, closed stance with one hand a few inches behind the "line".  Not "in the line" but real close.
3/4 front in the post when ball is above free throw line.  Full front with closed stance (forearm in the chest) when ball is below free throw line.
Weakside help defender double teams on any post touch. Ball side perimeter player opens up to dig if needed, yet be close enough to get back out to stop the 3pt shot.
We hedged all ball screens unless the screen was out of shooting range (24 feet or more from basket).  In this case, the on-ball defender went under the screen.
We really emphasized NO lay ups, keeping the ball out of the paint, moving on the flight of the ball, staying down in the defensive stance, and containing the dribble drive.
Core Values
Here's a link to the core values that we emphasized.  I tried to talk about core values in every practice and game.  Tried to use them as opportunities to teach life lessons and build character.  We probably talked about "leadership" more than anything because so many lessons steam from being a good leader.  Examples include…
Listening with eyes
Communication
Celebrate successes – high 5s, chest bumps.
Selfless / help others. Servant leadership.
Sportsmanship
Doing things the right way
Honesty
Kind / thoughtful
Grateful
Humble
Positive Attitude
Effort. Hard working. Proactive. Discipline
Resilient. Toughness.
Asking Questions
Part way through the season, I really didn't coach that much.  During time outs and half time, I would often just say…
"What do you guys see offensively?  What do you see defensively?"
I then might ask a couple other follow up questions.  The players would respond and have good insight.  They knew what they needed to do. Sometimes I'd even learn something from them.  Then once they gave their thoughts I might add something or just say… "Ok.  I agree.  Everybody got it?"  They would coach themselves and they could figure things out on their own.
Honestly, when you put the ego aside, they didn't really need me all that much.  I'm just their coach.  I can't really do anything.  They have to take all the shots, make the stops, and make the decisions on the court.  I didn't even get to score one point this year!!!
Drills We Used the Most
Here are the drills we probably used the most during the season:
Ballhandling warm ups – a variety of stationary dribbling, on the move dribbling, etc
1v1 full court.  Self explanatory I think.  We just tried to use multiple areas to keep everyone active and working.
1v1 advancement with random traps
1v2 full court advancement
Post and perimeter footwork.  To get lots of reps, everyone had a ball and we usually did spin outs.  I taught same footwork shown in the Attack & Counter DVDs.
Competitive post 1v1 (after the pass and cut — or pass and screen).  Many of the full court and post 1v1 drills can he found here.
Form shooting
Rhythm shooting with partner.  Start 8 feet from the basket.  Take 8 shots.  Then take one step back.  Total of 40 shots.
3 and 4 player shooting (off the catch… high reps). Each player shoots and gets the rebound. As soon as Player A shoots, Player B shoots and repeats the process. Player A passes to B, B passes to C, C passes to A.  Players get an average of 14 shots per minute.
1v1 dribble moves followed by lay up or pull up jump shot
Screen away shooting.  Just taking a piece of our offense and turning into skill building drill.  Also ran a ball screen shooting drill.
2v2, 3v3, 4v4 with various rules and emphasis — ball screen attacks, screen away, post ups, full court rugby, no dribble, etc, etc.  We used these drills quite a bit.  Many of these drills can be found here.
Defensive shell drill.  Details of shell drill and teaching progressions can be found here.
Free throw shooting.  Shot an absolute minimum of 20 free throws per practice.  Used all the baskets for efficient use of time.