We run a really simple transition offense.  I run this with our 3rd and 5th grade youth teams.  I also plan to run this with our 10th grade high school team this year.
In the half court, we run a 5 out motion offense.  I mention this because I think it's important for your transition offense to flow seamlessly into your half court offense.  You'll see how our transition offense does just that.
Fast Break (Advantage Situation)
First, if you have a lay up or advantage opportunity (1v0, 1v1, 2v1, 3v2, etc), we want to attack for a lay up.
Initial Transition Offense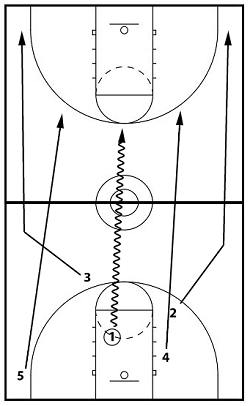 If there's no clear advantage or an opportunity was shut down, then fill the 5 out spots as fast as possible — looking to fill corners first.  If you fill a corner (players 2 and 3 in the diagram), get wide right away (so we have immediate spacing in transition).
The general guideline is to fill the spot closest to you (ex: if you're the closest player to the right corner, fill that spot as fast as you can).
For our youth team, the point guard is whoever gets the ball (via rebound or turnover).  If it's a made basket or dead ball, we have a designated point guard. I don't care what spot the point guard fills.  Just fill open spots and keep spacing.
Head Man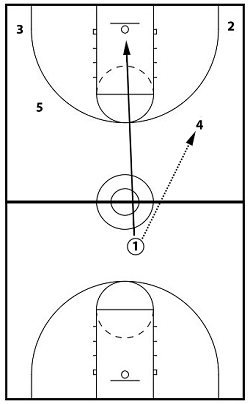 We want our point guard to "head man".  This means… if there is a man ahead of you and open… pass them the ball.
After a pass in our half court offense, the passer should do something (basket cut, screen away, or ball screen).  In transition, I prefer an immediate basket cut to get things going quickly.  So I encourage players to head man and then continue their run with a basket cut. This gets the offense going right away and sometimes turns into layups.
Initiating the Half Court Offense – Players are Covered
If players aren't open, the point guard (PG) has to make a decision.  To initiate the offense, they can either attack the basket or dribble at one of the wings…
Either way, we're getting into our half court offense.  Transition is done and we're flowing into half court as quickly, simply, and as seamlessly as we can (no starting and resetting things).
Even though this next part is technically our half court offense, I'll continue so you can see how it flows from our transition…
Option 1 to Initiate Offense – PG Attacks the Basket


If the defenders are guarding their players tight, I encourage the PG to look to attack the basket (get a lay up). But again it's their decision.  When attacking the basket, the wing and other players will find gaps and spot up.  Our PG will either get a lay up or pass to an open player.
In the example to the right, the wing defender (x4) helps to stop the PG.  The right wing is then wide open and it's an easy pass to initiate the offense.
Option 2 to Initiate Offense – PG Dribbles at a Wing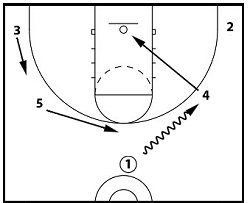 If the PG dribbles at a wing, the wing (4) will back door cut to improve spacing and try to get open.
As the top opens up, players (5 and 3) follow their normal half court rules by filling the open spot closest to the ball.
Then the one pass away players continue with their half court rules to get open (when one pass away, get open and read the defense — either pop out, backdoor cut, or screen away).
Final Thoughts
This post ended up getting longer than I thought it would.  For the sake of being thorough, I tried to show you several situations.  But in reality, this transition is super simple and easy to teach.  Much of what is covered above is actually our half court offense.
Even though our transition offense is very effective and we like to run, we spend little time on the actual transition aspect in our practice.  Most of this transition offense can be taught on the fly during scrimmages and/or games.
In any case, that's how we transition into our 5 out motion offense.  I hope you found this helpful.
If you want to learn more about fast break fundamentals and transition offense, I recommend the Don Kelbick Transition Offense DVD.
Leave your comments and questions below.