Site Search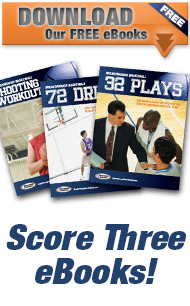 Q & A Forum
Experienced coaches are ready to answer your basketball questions! Visit our forum
Sample Youth Practice Schedule (Ages 11 to 14)
Here is a sample structure of a practice schedule for a youth team. Of course, this is just a sample and things would be different every day, but this is a basic structure of how a practice may look.
Dynamic Warm Up & Athletic Work - 10 to 15 minutes

This is probably the #1 thing missing from most youth practices. It helps prevent injury, improves performance, and improve athletic ability. What good is a basketball player who is injured or is not athletic enough to utilize the basketball skills developed? The better the player moves, the better the player performs. Why not spend time on it?

There are a lot of players who have tremendous SKILLS, but lacked the ATHLETIC ability to make it to the next level.

Because it is the game of basketball, I do try to include a basketball in the warm up as much as possible. I am going to present two different dynamic warm ups. If you are fortunate enough to have enough basketballs for everybody, we have a basketball-related warm up. For those of you who do not have very many basketballs, we include a warm up that does not require a basketball.


Teaching Skills and Using Fun Drills to Improve Skills - 30 to 45 minutes

The #1 reason kids quit sports is because it's not fun anymore. Youth coaches primary focus should be to teach skills and make it an enjoyable experience! This isn't high school, college, or even PRO basketball, so don't treat your practices like it.

Try the skill-fun drill technique. This means that you teach a skill, then follow up that skill with a fun game or drill to work on the skill. It helps break up the monotony of practice.


Drills & Games to Practice Offense and Defense - 15 to 25 minutes


End of Game Drill - 10 to 20 minutes


Cool down with Light Stretching - 5 minutes
Sample Practice Schedule
Dynamic Warm Up & Athletic Work - 15 minutes
Warmup #1 - With Basketball:

Stationary Ball Handling:

Around the World - 30 sec
Figure 8 - 30 sec
Behind-the-back dribble - 30 sec
Two Ball Dribble Crossover - 30 sec
Two Ball Front-to-Back Dribble - 30 sec

Full Court Ball handling: (Incorporate Lay Ups if you want)

1/2 Speed Dribble
Backpedal - 1/2 Speed Dribble
Protect-the-Ball Dribble going backwards & forwards - Switch Hands at Half Court
Crab Walk - Figure 8 while walking. Walk down the court forwards. Come back walking backwards.
3/4 Speed Dribble
3/4 Speed Crossover Dribble
Full Speed Dribble
Full Speed Crossover Dribble
Full Speed Behind-the-Back Dribble
Full Speed Inside Out Dribble
Partner Passing - Shuffle and Pass - Chest, Bounce, & Overhead.

Warm up and Athletic Skill work without ball:

Full Speed Defensive Shuffle without Ball - 15 to 25 feet - twice each direction
Butt Kicks - Up the court
High Knees - Down the court
Lunge Technique - 2 sets of 10 reps
Squat Jumps - 2 sets of 10 reps

Warm up #2 - Without Basketball

Jog.
Backpedal.
Carioca.
Defensive Shuffle - 50% to 75%
Walking Lunge with Hamstring Stretch
Side Hops.
Skipping with Arm Swings.
Butt Kicks
Crab Walk
High Knees
Bear Crawl
Squatting Form - 10 Reps
Jumping and Landing
180 & 360 Degree Hops
Diagonal One Leg Bounds - with 1 second Pause
Tennis Ball Drops - Start on Belly - Get Up & Sprint




Teaching Skills and Using Fun Drills to Improve Skills - 40 minutes
Drills & Games to Practice Offense and Defense - 25 minutes
End of Game Drill - 10 minutes
Use the
end of game drill
to end practice in a fun fashion. It also gets players accustomed to end of game situations.
Cool down with Light Stretching - 5 minutes
Some teams do this after practice.
You can also reference
60 Fun Drills
,
What to Teach 11 to 14 Year Olds
, and
Skills & Fundamentals
Do you have any questions or suggestions? Let us know by leaving your comments...
Comments
---
Ernesto says:
11/18/2008 at 10:36:48 AM


These practice sample and all the drill I have learned are the best. Beats any other website and it was one of the best decisions to become a member .
---
Ariel Rabe says:
11/19/2008 at 3:27:56 AM


Thanks a lot. A blessing indeed.
---
Clara says:
11/19/2008 at 6:07:36 PM


what is carioca, can you explain it to me please. love the site.
---
Joe Haefner says:
11/20/2008 at 12:07:23 PM


Hi Clara,

The player runs laterally. If going to the left, the player crosses the right foot over the left in front of the body, then behind the body. The torso should remain facing straight ahead.


---
Mike L says:
1/27/2009 at 10:57:04 PM


No scrimmage? Our girls love to have a 4 or 5-player scrimmage and we always give them 15 to 25 minutes with minimal stoppage or structure. How do other youth coaches see this?
---
Joe Haefner says:
1/28/2009 at 7:05:12 AM


Hi Mike,

This is just a sample practice. Not something I use everyday. Sometimes, I'll run a scrimmage with minimal stoppage.

However, if you look closer at the sample schedule, the last 35 minutes of the practice is basically a semi-controlled scrimmage to help teach the players. However, you don't want to stop practice for every little mistake to correct. Only the reoccurring mistakes.

---
Rebecca L says:
3/6/2009 at 10:37:39 AM


I have a question for you (5 & 6th grade girls )coaches. On a traveling team at this age level how competitive do you really need to be.
---
Joe Haefner says:
3/6/2009 at 10:45:22 AM


Hi Rebecca,

Focus should be on fun, fundamentals, and life lessons. At this age, sometimes, I wish they would turn off the scoreboard. Not for the players, for the coaches.

I would take a look at this article. It goes into more detail. http://www.breakthroughbasketball.com/coaching/developmental-league.html

It will be posted in our newsletter on March 10th.
---
TL Franklin says:
11/18/2009 at 10:26:56 AM


I'm coaching a 12 and under boys team and our practices are limited to 1 hour. I really love the drills and ideas but, how can I fit all of these into our practices?

---
waleed says:
2/11/2010 at 6:26:51 AM


i need 2 things the first how to defence the tall and big man like shakil onnel if i was short for shakel . another quesion i need teaching film about defence and offence to see it and thanks to all.
---
Terry says:
3/25/2010 at 5:22:29 AM


Hello Joe,
This is a great site!
I live just outside of Toronto and I can't believe some of the stuff I see from coaches at tournaments for young kids. My son is 9 and a few weeks ago his coach actualy yelled at him for taking a jump shot from 10ft. It made him cry and when I heard about it from my wife I was furious.
There is far too much emphasis on winning and not enough on skill development. You see the same players bringing up the ball time after time even though there is a half court rule on defense.
Imagine at the age of 9 you are already telling 8 or 9 kids that we don't think you are good enough to handle the ball. That is pretty much the message when a kid is told to play the wing shift after shift and barely touches the ball during a game.
Our system dictates that coaches go through a certification process before they can coach at the rep level but the problem is the coaches don't have accountability for their behaviour. It's no wonder kids quit and move on to other activities.
Have agreat day!
Terry
---
Ken Sartini says:
8/7/2010 at 12:10:06 PM


TL -
1 hour is tough to get everything in and with kids this age its even tougher because fundamentals are so important now.
Make a weekly plan of what you need to work on and then separate them to daily tasks.

Terry -
That coach should be laying brick somewhere and NOT working with young kids. Its his job to teach them HOW to play, teach fundamentals and especially at this age... for them to have FUN. Good luck, I hope you can find a better situation for your son.
---
waleed says:
9/4/2010 at 2:48:07 AM


thanks for your jenerouse .you help me for the drills what i need.i need the program for training to the players from 11 to 15 yearseold if this program yearly or seasenly ... i need it please and thanks for your interest
---
Sabrina Adams says:
10/27/2010 at 1:25:19 AM


Hi,

My name is Sabrina and this will be my second year coaching. I was an assistant coach for a high school boys team and a head coach for a boys middle school team. I am about to coach a rec team for 17 and under boys and I have a couple of questions. 1) When you warm up boys that age, is it necessary to go through ball handling drills like the ones listed above and if not what will be good exercises for them. 2) Because it is rec ball and there is no pre-season preparation is it important to include agility exercises within the practice and 3) what would be some good advice about coaching young men at that age level?

The reason for these questions are because I do not want my practices to seem elementary to my guys but at the same time I do not want to miss an opportunity to help develop certain players in all areas assuming that at this point its certain things they should already know.
---
Joe Haefner says:
11/2/2010 at 11:07:06 AM


1) You can use those drills above if it fits your team. Otherwise, we have plenty of ball handling drills and tips here: http://www.breakthroughbasketball.com/fundamentals/ballhandling.html

2) That's up to you. If you want to include speed and agility exercises. This is a great resource for drills: http://www.breakthroughbasketball.com/pr/Alan-Stein-130-Speed-Reaction-Drills.html

3) We have plenty of coaching advice on this website. Go through the left-hand menu and you will find plenty of helpful information.
---
Sherrie Griffin says:
11/26/2010 at 7:49:08 PM


I am coaching 8th grade girls basketball. Recently we had two scrimmages; we blew out the first, but lost to the second team. My girls revealed more confidence in effort in the first scrimmage, but looked defeated in the second one. After reviewing your plays and advice, I found some helpful tips for success in this coaching season, but I still feel as though im missing something. I feel like I dont have enough time to teach all that my girls need to know. What can I try to improve upon?
---
Jeff Haefner says:
11/27/2010 at 8:22:49 AM


Sherrie - You will never feel like you have enough time to teach your players what they need to know. Coaches at all levels (youth to NBA) have that issue. It's just part of the job. That's why you need to constantly prioritize and focus on the critical things. I heard this quote from a Dell CEO once and it always resonated with me... "Focus on the critical few versus the trivial many". This was one of his keys to success.

Remember, these are just 8th graders and the most important things are to teach fundamentals, prepare them for high school basketball, prepare them for life (teach life lessons), set a good example, and have fun. Wins and losses don't indicate the success of your season. You won't be able to measure how successful your season was until years later and you see what type of impact you had on your players. So don't get too caught up in wins and losses. Good luck!
---
Jim B. says:
12/6/2010 at 9:44:14 AM


Hi Jeff,

I am glad I found this site and appreciate your views to what should be taught at this age. I coach a 7th and 8th grade girls middle school team and find that the girls always respond better when I tell them to ignore the scoreboard and focus on the little successes during the game. Wins are good, but at this level it is seeing the smiles on their faces when they achieve the small goals we set for game regardless of the score.

Thanks again for this site and keep up the good work.
---
Brandon B says:
2/28/2011 at 12:00:49 AM


The problem with youth basketball is three things: 1.) The parent or guardian who has no idea what he's doing coaching his son and thinks his son should get all of the shots. 2.) The parent who has no idea what basketball is and thinks little johnny has to take every shot. 3.) No certified coaches who teach the fundamentals.

I am a 22 year old who wants to be a collegian coach after getting my degree. I have been coaching youth basketball for 6 years now and it always seems like one parent has to question what I do or complain about something. I have compiled a record of about 75-30 winning back to back county championships and an intermural championship as well......... thats not the point......... I have had about 10 of my players go on and start at the high school level, both Varsity and JV including 1 going on to play Division 1 next year. I teach nothing but the fundamentals and we spend ZERO time scrimmaging. We get about an hour and half a week so there is no time to scrimmage. I make it very fun for the kids running similar drills to the above article. The site is very helpful and please keep up the good work. Parents PLEASE let us do our job and keep all of your unhelpful comments to yourself!!!!!!

---
Leticia says:
3/21/2011 at 11:55:14 AM


Hi,

I was wondering where I could get more information on how to do these warm ups you are talking about, such as bear crawl and defensive shuffle.


Thanks!

Leticia

---
waleed says:
4/6/2011 at 1:27:58 AM


thanks jeff and joe for everythink.. we need this program but is that for everyday to use it or what ...tell me please and thanksssssss
---
Fran says:
11/17/2011 at 6:17:48 PM


What if you only have an hour an 15 minutes twice a week?
---
Joe Haefner says:
11/21/2011 at 6:24:27 PM


Fran, here is a helpful article that you can take a look at: http://www.breakthroughbasketball.com/blog/index.php/coaching-youth-basketball-with-limited-time-1-practice-a-week/

---
Kobe Jessup says:
8/6/2012 at 7:49:18 AM


Hey,
I am coaching a group of 11-12 year olds, but as I train them straight after school, we only get 45 minutes at best to practice. What are the most important drills to work. Also, I have three guys who are keen to learn post moves, yet as I play guard myself, I am ignorant to any particular moves other than the up-and-under. Can anyone help me with this?
Thankyou for this, it will really help out our team who just want to get better, even with an 18-0 record.
---
Jeff Haefner says:
8/6/2012 at 8:12:31 AM


Kobe,

Check out the link in the previous comment for some ideas on short practice times. I would spend most of my time on fundamentals in the context of my offense and defense. You can also work on offense and defense at the same time. For example, have one coach watch offense and the other watching defense. You could practice basket cuts and half court motion, while the defense if focusing on positioning, etc.

For fundamentals I would spend most time on ballhandling, footwork, and shooting. I would try to mult-task. For example, work on down screens (getting open and a piece of your offense), footwork, and shooting at the same time.

For post moves I would teach the footwork from this ebook:
http://www.breakthroughbasketball.com/pr/post-play.html

This footwork in that ebook translates to perimeter moves. So everyone learns the exact footwork and you save a lot of time.


---
Jeff Haefner says:
8/6/2012 at 8:14:13 AM


I would also incorporate man to man defensive fundamentals as well. Again multi task. Man to man is a fundamental that will really help the players and improve their athleticism.
---
Brian says:
11/25/2012 at 12:05:30 PM


too long ...we only get 1 hour, once a week
---
Ken says:
11/25/2012 at 5:05:29 PM


For those of you that have a very short time to practice... I feel for you.... like Jeff & Joe say, there is NEVE enough time to practice..... bottom line... make it FUN.

I used to have a saying with my players
" TAKE CARE OF THE LITTLE THINGS AND THE BIG THINGS WILL TAKE CARE OF THEMSELVES. "

That goes for coaches too.... take care of the most important things... teach a lot of fundamentals and then, let them play.
---
JC says:
9/28/2013 at 1:56:44 PM


I have coached for 3 years before this one. All have been K-2 teams. Now I'm coaching 3rd-6th girls (the league was supposed to be 3-4 and 5-6, but not enough girls signed up). I'm curious if any of you have coached this big of an age gap before. If so, what were your approaches? Thanks!
---
MT says:
10/30/2013 at 3:50:15 PM


JC,

I coached in a division for 4-6 grade last season and we also had 5 3rd graders play up with us for the experience of actual basketball as they were very ready. (the even ended up being better than some of the 4-5 grade girls).

In rec ball, the talent disparity is usually glaring and when you start to combine ages with this big of a gap the talent differences become even more apparent. Just work on fundamentals. Dribbling, various dribble moves, attacking the basket and one on one defense. If you stick with it, you'll see the girls getting better as the season goes on and hopefully all of your players will be contributing by season's end.

Because of the younger ages being involved, it might be a struggle to install any true offense, but you can definitely stress spacing and movement when your team has the ball. Other than that, I told our girls that their first option on offense was to try to score by themselves and if they couldn't do that, then they had teammates to look to for help. Because we spent a ton of time on individual offensive skill development, the girls actually began to trust one another as a team because they wouldn't worry about giving the ball to a teammate.

I liked to scrimmage 4 on 4. The first team to score 5 baskets wins. But each player on a team has to score 1 basket before anybody can score a second basket. It makes them work to get teammates open and stresses sharing the ball.
---
Coach Presley says:
11/3/2013 at 6:56:53 AM


I'm a first year middle school coach and this site is very, very helpful. Thanks!
---