Site Search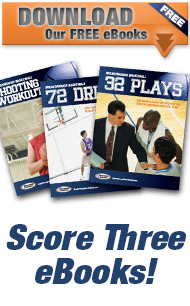 Q & A Forum
Experienced coaches are ready to answer your basketball questions! Visit our forum
Video Clips and Diagrams of Two Ball Dribbling Moves & Drills
Two ball dribbling drills dramatically increase a player's dribbling and ball handling abilities. It also helps a player develop great one on one moves. This happens because after you force your mind/body to perform a really difficult task (dribbling with two balls), an easier task (dribbling with one basketball) becomes much less difficult than it was before. It's sort of a mind trick, but in a good way.
As we all know and probably have heard a million times, a baby has to learn to crawl before it can walk. You should apply this same analogy to two ball dribbling. When a player first practices two ball dribbling, the player should do stationary dribbling. Some players may be ready to start moving with both basketballs within a minute. For some players, it could take a few weeks.
Two Ball Dribbling Videos:
If you want to view the drills, you can click on the links below. A video will pop up on the screen when you click on the link. There is a 3 or 4 second hesitation before the video starts.
Dribble While Catching Tennis Balls
- Dribble laterally while catching tennis balls from a partner.
Two Ball Dribble
- On the way down, alternate the dribbles between the left and right hand. On the way back, dribble the balls at the same time. This is similar to the descriptions of the Two Ball Pound and Alternating Dribble provided below.
Two Ball Low Dribble
- Dribble the balls below your knees while weaving through the chairs. On the way down, dribble the balls at the same time. On the way back, alternate dribbles.
Two Ball High Dribble
- This is the same as the Two Ball Low Dribble, except you dribble the balls at shoulder height.
Two Ball High-Low Dribble
- Dribble one ball below your knees while dribbling the other ball at shoulder height. Switch hands on the way back.
Two Ball High-Low Alternate Dribble
- Dribble low with one hand, high with the other around the chair. Switch low dribble hand and high dribble hand around each chair.
Two Ball Crossover Dribble
- Crossover with both hands when you come to each chair.
Two Ball Weave Dribble
- Weave in and out of the chairs dribbling forward to backwards and backwards to forward after every chair.
Here are some stationary & moving two ball dribbling moves:
Two Ball Pound - Dribble both balls at the same time. You can vary the height of the dribble from ankle, waist, and shoulder heights.


Alternating Dribble - As one ball hits the floor, the other ball should be reaching your hand. You can vary heights on this drill as well.


Crossover - Cross the two balls in front of your body at the same time.


Between the Legs & Crossover - Dribble one ball between your legs and cross over with the other one.


Hesitation - You should act like you're slowing down or coming to a stop, then explode out of the dribble as hard as you can.


Behind the Back & Crossover - Take one ball behind the back while crossing the other basketball in front.


Alternating Heights - Dribble one ball high while dribbling the other low.


Inside out with both balls


Spin with both balls


Behind back with one ball - crossover with the other


Behind back with one ball - through legs with the other


Backup dribble then crossover with both balls and explode forward


You can view a video on two ball stationary drills & workouts . It may also give you some other ideas for two ball dribbling moves.
Personally, I only think you should do the stationary drills for a few minutes before progressing to movement drills.
I like to use the stationary drills as a two or three minute warmup to get the upper body loosened up.
To use these drills in practice:

Have your players along the baseline in 4 or more lines depending on the size of the court.


On the whistle, the players dribble down with both basketballs.

You can have them execute whatever dribble you choose (crossover, hesitation, etc.) at both free throw lines and half court.

Another great way to improve reaction time is to have them perform the dribble on your whistle.

You may have to partner up players to get enough basketballs.




Chairs & Cones:

You can also use chairs or cones. This adds another level of difficulty forcing the players to move side to side while performing the dribble moves.





What do you think? Let us know by leaving your comments, suggestions, and questions...
Comments
---
Vhenz says:
7/17/2008 at 12:38:31 AM


Nice!!!!! Drill..
---
oyewole shola says:
7/23/2008 at 2:30:18 AM


this videos are fantastic. please how can i download it?
---
Joe Haefner says:
7/23/2008 at 9:50:12 AM


Right now, there is not a way to download them. We'll let you know if that option becomes available.

---
James says:
7/31/2008 at 7:07:17 AM


Like the idea of the drills, but the execution in the video is not ideal for transferring to a game situation - the players are doing most of the activities with their eyes down on the balls.

Sure eyes up makes these advanced dribbling drills more difficult, but more game-like as players improve their ability to see the game action while dribbling.....!

Appreciate your time making these available.
---
Kenneth Lindsey says:
7/31/2008 at 3:07:40 PM


I plan on using some of the drill at a sport camp fro special olympics this summer thanks much.
---
KJizzle says:
8/1/2008 at 5:33:02 PM


WOW!!! these drills r amazing... y couldn't i have found your website sooner!!! Keep up the good work!
---
moses scott says:
8/8/2008 at 11:09:57 AM


thanks for the drills but i would love to have some videos to down load for free,thanks to all of u.
---
Janice V. Brown says:
8/10/2008 at 9:20:38 PM


Thank you so VERY much for publishing this website. This site, along with the UIL site (our State governing body) help me to feel better equipped for my first year coaching assignment. (7th grade girls basketball). I am so excited that our girls will be better athletes by the end of this season!This information is superbly organized and presented with nothing left to the imagination! Thanks!
---
nik says:
10/30/2008 at 6:14:52 AM


our sons have gain so much from your site THANK YOU for the video footage it is a great tool to have.
---
Kelsey! says:
11/12/2008 at 6:41:52 PM


I like how you tell us where to dribble our coach tells us nothing!
---
Irv says:
11/18/2008 at 8:25:56 AM


Thanks I'm always looking for new fun drills for the kids!!
---
noble says:
12/19/2008 at 9:01:28 AM


pls could you send me a video tape.
---
Brad says:
12/20/2008 at 1:13:33 PM


Question -- what does the shoulder high dribble work on? I'm constantly reminding players to keep the ball near the waistline, so I'm curious as to how allowing the ball to be so high is helpful. Thanks for filling me in.
---
Joe Haefner says:
12/20/2008 at 3:12:59 PM


Hi Brad,

There are probably more reasons, but there are two that I can think of:

1. In basketball, things never go as you want it. There will be times that the player may lose the ball or just have to start dribbling the ball at shoulder height.

2. Helps improve overall ball handling. If you have ever tried doing dribbling that high, it's very difficult to do.
---
luis herrers says:
12/26/2008 at 7:26:29 PM


all the stuff in your page has helped me, thanks

how often and how long do you think i should practice these dribbling drills? my ball handling is ok right now
---
Joe Haefner says:
12/29/2008 at 4:01:38 PM


Hi Luis,

The amount of time you practice can depend on your weaknesses and strengths, age, position, and so on, but a general number would be 5 to 10 minutes.
---
jut to say for you great tips says:
1/9/2009 at 3:31:18 PM


im training to be a referee and any information come handy
---
Middle GA says:
2/7/2009 at 8:18:46 AM


Outstanding website!! This has helped me improve my daughter's game ten folds. I really appreciate the time and energy devoted to put this out for those of us not fortunate to have dedicated coaches. Most coaches (HS level) don't teach fundamentals, at least in my area. Thank you BTB!
---
Cody says:
2/28/2009 at 7:52:34 PM


Thanks so much! I'm not a coach, but a 12 year old player! This site has helped me out so so much!! Thanks!!!
---
Warren J says:
4/3/2009 at 12:38:24 PM


Great video of drills...I believe it will motivate my eight grader to improve her ball handling.
Are there any specific drills for improving the left hand?
---
Joe Haefner says:
4/3/2009 at 12:46:07 PM


Hi Warren,

Every move or dribbling drill, I would do two to three times as much with the left hand until it catches up with the right hand.

Whenever she is walking around with the ball, dribble with the left hand.
---
alex says:
4/21/2009 at 1:13:35 PM


i like all the drills, very interesting and educational. please let me know how can i download it! thank you very much!
---
TJ Reynolds says:
6/20/2009 at 10:25:18 AM


thanks a lot i'm a 15 year old coach and i need some ball-handling drills for my U14 and U12 boys teams. Not to mention myself as well.
---
hamid says:
8/16/2009 at 10:01:01 AM


I am young couch . iwould like to know some drills and trainings of basketball. if you mind send me some. thanke very much
---
hjgyu says:
8/26/2009 at 4:19:35 PM


nice drilling bro i never seen that in my intire life and just to tell u that was awesome
---
Louie A. Ladaga says:
8/27/2009 at 7:11:12 AM


Its sound good for me and I personally did it. I even introduced this dril and believe or not it improves a lot.
many thanks to you
---
wilmer philippines says:
10/4/2009 at 12:01:41 AM


i think any video can be downloaded if you have real player 11 on your computer
---
evans says:
11/4/2009 at 5:16:35 AM


this is a very good drill
i have been using them is the house

---
St. Fleur says:
11/10/2009 at 12:30:57 PM


There's so much on here I havent really even cracked down to study yet. I appreciate this a LOT though, new to varsity and the team so this helps.
---
Carlos Morales says:
1/7/2010 at 3:43:49 PM


Is this Guillermo Diaz doing the drills???
He is a monster thats for sure...It is great to see the drills being demonstrated by Pro players.
---
Joe Haefner says:
1/8/2010 at 8:12:36 AM


Carlos, I believe it is Guillermo Diaz, because Don Kelbick has worked with him. However, I'm not certain.
---
Robert POnsor says:
1/12/2010 at 3:34:20 PM


My high school has just fired the head coach of the jv team and I became the new head coach and i went ahead and have used almost all of my practices with the drills that you have shared with me, and I must say the girls are so much happier and the drills are fun and i want to thank you for your help. Im new to coaching its just amazing to me to see how the ladys attitudes have changed for the better with most of these drills....thanks again
---
Bulti Kumera says:
1/17/2010 at 8:29:27 AM


Thank you very much.I need your help in the future too.
---
braydan newton says:
2/20/2010 at 2:12:06 PM


hey i just wanted to ask i am a right handed player and i wanted to start using my left hand in basketball i read all of the stuff i should practice but don't know how long i should practice or what i should do on my free time when i watch my dad play basketball when i have a basketball in my hands?
---
Rizgar says:
5/6/2010 at 12:16:51 PM


Wow... this is wonderful!
Great if we teach our players such drills...
Rizgar
---
zuri says:
7/19/2010 at 6:54:49 PM


thanks a lot, Im coaching a school in durango mexico, and all this drills are wonderfull for my guys.
---
Dewi McNamara says:
10/19/2010 at 5:23:24 PM


well that's llok sooo easy, but how if there's a lots of peoples defending? it will be very hard,also hard to pass to your team,because the defender.

---
Per Ekstrom says:
10/26/2010 at 5:33:09 AM


Great web page

I coach a boys team (age 10) in Norway and have used the Breakthrough Drill book a lot. Great Help. However, the big difference in skills (new comers and "veterans" with 2 years playing time) between players make it a challenge implementing drill. I would need a drill where they have to share the ball and spread out. Sometime they swarm the ball like mosquitoes or just try to do everything by them self.
---
Joe Haefner says:
11/2/2010 at 11:03:10 AM


Per, that is very common for that age group. You could try putting marks on the floor for where they should be. You could also run this drill: http://www.breakthroughbasketball.com/drills/basicspacingdrill.html

---
D'angelo says:
12/1/2010 at 12:25:57 PM


i plan on playin for the team at school so will these drills help perform better?
---
andre says:
1/13/2011 at 10:55:39 AM


is there anyway now to download videos of the drills you have?
---
andre says:
1/13/2011 at 10:57:03 AM


i lyk your drills you have too by the way im a player
---
Joe Haefner says:
1/13/2011 at 11:48:48 AM


sorry, Andre. There is no way to currently download the videos.
---
Ronny says:
5/6/2011 at 2:40:17 AM


thanks coach i bring these over to Belgium
---
umar says:
7/30/2011 at 11:52:33 AM


the site is great.it has a lit of moves and drill. can i get it on my phone
---
Francisco says:
2/20/2012 at 8:13:39 PM


I can''t get the videos to play

---
Xavier says:
3/3/2012 at 8:11:46 AM


Can I still do it if the balls have a different feel to them and don't bounce equally as high? Or should I have two of the exact same basketballs? Thanks.
---
Ken says:
3/3/2012 at 9:12:02 AM


Xavier -

I would think it would be better if the balls were the same.. but if you don''t have them.... at least make sure they bounce the same... easy enough to let some air out of one ball to make sure they bounce the same.
---
Xavier says:
3/3/2012 at 10:26:25 AM


Thanks Ken.
---
Ryan says:
3/27/2012 at 2:42:56 PM


I am fast and have a good crossover dribble that is usually very effective. The other day I was playing with a kid who was quick and played good defense. I needed a larger arsenal of moves. Do you know of a place where I can learn these?
Thanks.
---
Ken says:
3/27/2012 at 3:28:17 PM


You're welcome Xavier - let us know how its going.

Ryan --

IF you have a good crossover, add a change of pace to your arsenal.... add the two together and you might be "breaking some ankles."

http://www.breakthroughbasketball.com/blog/index.php/chris-paul-change-of-pace/

The above is one article about change of pace... and there are some others if you search this site.


---
Joe Haefner says:
3/28/2012 at 7:59:59 AM


Ryan, my question to you is.. do you need more moves or do you just need to get better at your current moves?

If you watch the pros play, rarely do you see them have 50 different moves. Typically, they have a couple of REALLY good moves. They have their primary move (blow-by, hesitation, stutter, crossover, behind-the-back, inside-out, etc.), then they have a counter move to it.

When I played, I tried to practice 30 different moves because I thought more was better. Guess what happened, I became mediocre in all of the moves. And because I was only mediocre in those moves, they weren't effective.

It's much better to work on a few moves and PERFECT those moves. Work on them every day. You think your blow by move is good, get faster and get more efficient. You think your crossover is good, make it quicker.

By getting REALLY REALLY good at both of those moves, it will make you much tougher to stop.

Here is a little article on it as well: http://www.breakthroughbasketball.com/fundamentals/Chris-Paul-Hesitation-Move.html

---
Chris Kelley says:
12/12/2012 at 3:37:38 PM


I am borrowing the static drills as the drill of the week' on our team page https://sites.google.com/site/mariancyobantams/
and I'll incorporate the moving drills into one of our practices.

Thanks.
Chris Kelley - Framingham
---
Jakob Daniels says:
2/8/2013 at 4:11:00 PM


this is the best web site to find drills but is not well for career to look for information

---
Ken says:
2/8/2013 at 5:42:34 PM


What do you mean Jakob? What are you looking for?
---
Jack swift says:
4/19/2013 at 4:10:22 PM


why did you ask that

---
kirk olsen says:
2/3/2014 at 3:45:53 PM


I coach 3 rd and 4th grade girls. Are the 2 ball dribble drills age appropriate for them?
---
Jeff Haefner says:
2/4/2014 at 7:36:48 AM


Yes, I have found that 3rd and 4th grade girls can handle 2 ball dribbling. It can be a little ugly at first but with persistence they get it. However if you have an apprehensive beginner lacking lots of confidence, you might want to wait until they are ready.

And just like any drill, use 2 ball dribbling as a tool and a way to mix things up. Not something you want to do exclusively.
---
Ashraf says:
6/8/2014 at 6:49:47 PM


How can I make my left hand dribbling better? My right hand is pretty good but my left hand is terrible
---
Ken Sartini says:
6/8/2014 at 7:03:44 PM


It takes a lot of practice, plain and simple. Maybe spend a little more time with your left hand than you do with your right?

From Joe -

Joe Haefner says:
3/28/2012 at 7:59:59 AM
Ryan, my question to you is.. do you need more moves or do you just need to get better at your current moves?

If you watch the pros play, rarely do you see them have 50 different moves. Typically, they have a couple of REALLY good moves. They have their primary move (blow-by, hesitation, stutter, crossover, behind-the-back, inside-out, etc.), then they have a counter move to it.

When I played, I tried to practice 30 different moves because I thought more was better. Guess what happened, I became mediocre in all of the moves. And because I was only mediocre in those moves, they weren't effective.

It's much better to work on a few moves and PERFECT those moves. Work on them every day. You think your blow by move is good, get faster and get more efficient. You think your crossover is good, make it quicker.

By getting REALLY REALLY good at both of those moves, it will make you much tougher to stop.

Here is a little article on it as well: http://www.breakthroughbasketball.com/fundamentals/Chris-Paul-Hesitation-Move.html




---