Site Search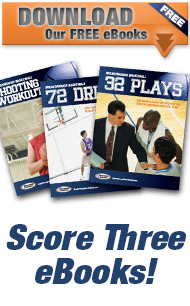 Q & A Forum
Experienced coaches are ready to answer your basketball questions! Visit our forum
3-on-3 No-Dribble Keep Away
Purpose of the Drill
This drill provides a fun way to teach kids to move without the ball to get open for a pass and provides a context for developing an understanding of effective spacing. For the passer, it provides practice in pivoting and protecting the ball from a defender. Obviously, it helps kids overcome dribble mania and to see the court.
Instructions
The team on offense keeps the ball for two minutes, which is one round. Depending on the age range, you might consider finding a fun piece of music that lasts about two minutes to make the drill more engaging.


The team with the ball gets one point every time they complete a pass to a teammate.


There has to be a pass every five seconds. If the team does not pass within the five seconds, they lose a point and the counting starts over. They can get negative points, but this isn't likely (In fact, if this is happening, you should stop the drill and teach the prerequisite cutting skills more thoroughly). The coach will count each five second sequence out loud.


A steal taking more than five seconds to pass, dribbling, or a pass that goes out of bounds erases a point, but the 'offense' gets the ball back for the remainder of the round.


After one round, the offense and defense change roles and you play round two.


Play for two or three complete cycles and provide the kids with positive rewards for their total completed passes. For instance, you could give kids some skittles or the like.


Feel free to adjust the time parameters to suit the age and abilities of your kids.




Points of Emphasis:
Teach kids simple pivoting principles before turning them loose in this drill.
Teach kids how to v-cut and backdoor cut.
As the skill level of the kids advance, introduce screens away from the ball to free cutters.
Provide defenders with the basics of defending the passing lanes effectively. This is a foundational drill for denial defensive techniques.
You can find more fun drills in our
60 Fun Drills eBook.
Comments
---
Tony VanDerlinden says:
12/20/2007 at 12:40:04 PM


My group of boys (9-10y/o) sometimes complain that they never get the ball, although I explain the need to move to open up a passing lane, they don't! So, I can't wait to try this drill on them! Also, the passing and pivoting are also skills they need to practise more. Thanks!
---
zdravko says:
12/20/2007 at 4:52:25 PM


are they can move to open for pass or only with pivoting to find the speace for passing
---
Carl Odom says:
12/21/2007 at 11:51:05 AM


Yow, - Sign me up for this one too. This is likely to help me as much as the spacing drills. You may have just saved me from hanging myself, or at least made the last part of the season more enjoyable. Thanks, C. Odom
---
Bryan P. says:
1/12/2008 at 8:09:51 PM


I was just explaining to my kids the importance of moving without the ball. A lot of them complain that no one passes them the ball. I can't wait to try this drill.
---
a youth coach says:
1/22/2008 at 2:39:07 PM


I "came up" with this drill a few weeks ago and have found it very good. Im coaching 10yo boys and it really does good for them.

Few players can't get to dribble all the time which is very good. We haven't been playing with dribble at all in the practices after the Christmas break and I'll go on with that for a while. Perhaps at some point allow a dribble or two.
---
coach dixon says:
11/18/2008 at 7:05:48 PM


thanks can't wait to try this in practice
---
Austin Bentley says:
12/19/2008 at 8:41:35 AM


im about to start coaching a 7&8 year old team! this will be my first year as a coach and i am looking forward to running this drill with the kids.
---
Dave Rusch says:
2/6/2009 at 9:15:51 AM


For this drill, how can you control the kids staying as close to each other as possible (the opposite effect of what the drill is intended) just to complete a pass and win the game?
I've tried many things with 6th graders to teach spacing and moving without the ball.
---
Joe Haefner says:
2/6/2009 at 1:28:00 PM


Hi Dave,

I would recommend just creating a rule that says you can not be within a certain distance when catching a pass if it is causing a problem. For example, "The receiver of the pass can not be within 10 feet of the passer." You can be lenient with the rule, because you don't want that to be the focus, but you don't want kids doing dribble hand-offs the entire drill.

We also have a great spacing drill at this link: http://www.breakthroughbasketball.com/drills/basicspacingdrill.html

---
Derrick says:
12/15/2009 at 9:25:35 AM


These drills are great and make my job alot easier to perform
---
Coach Ed says:
1/28/2011 at 11:49:13 AM


Great drill. We have introduced two variations - first, you must pass to a different player every 3rd time, as for some teams it was reduced to a 2x2. Also, to help teach protected dribbling (and how to avoid double dribbles), we had a mandatory two dribble rule for every possession.

But what a great drill to keep kids from standing around.
---
Coach John says:
2/8/2011 at 7:53:03 AM


Thanks for this drill. I coach 6,7 and 8 year olds and have been trying to get them to move without the ball.
---
Coach Mike says:
5/1/2011 at 10:07:33 PM


If a few members of your team is playing this game by themselves because either they are more talented or understand how to get open, make them go touch a specific spot on the floor before they can receive the pass again. Hopefully this could give another team member an opportunity to get open for a pass.
---
Mike says:
12/11/2012 at 11:54:47 AM


I have 3rd grade team and developed this drill: I have 5 pieces of rope 15 ft. long and put them in circles around the lane where each position is to show spacing. Offensive players cant leave their circle and cant dribble. They must pass in 2-3 seconds to another player. Start with 2 defensive players who are allowed to go anywhere to try to steal the ball, then put 3 players on defense. I make it fun by yelling "shoot" after 4-5 passes to whoever has the ball. Encourage offensive players to move around in their circle and pivot if a def player is on them. Also, teach them to fake pass one way and pass the other way.My kids love it everytime we play.
---
Joe Haefner says:
12/13/2012 at 11:57:13 AM


Thanks for the drill, Mike!

Here is another great drill to teach how to use footwork to create space:

http://www.breakthroughbasketball.com/playcreator/view.asp?id=139&type=drill

---
dimeji says:
2/14/2013 at 5:51:31 AM


please what are the passing lanes?
thanks
---
Chris Kremski says:
11/20/2013 at 8:27:28 AM


I use a minimum of 5 passes before a shot at practice with my 1st and 2nd grade team. and the 3rd and 4th grade team I tell them everyone must get a pass before they can shoot.
---
Ken Sartini says:
11/20/2013 at 8:37:38 AM


Chris -

Here is another twist to that game...

with 5 players, game is to 6 & everyone must score before any player can hit the game winner.

Might work better for the older kids but it works well, gets everyone involved.
---
Mike says:
9/5/2014 at 11:48:39 PM


I use a similar drill called 50 passes.

A steal results in the defensive team getting posession. No dribbling and the only time the ball can hit the floor is on a bounce pass. At any other time, a ball on the floor is a turnover.

The first team to fifty passes wins.

Make sure you have your defense play proper defense. Hands up, no slapping, etc.

We tell the defense to treat it like a game or it turns into a slap fest.

If you have to, call fouls and award/subtract points, etc.
---
Ken Sartini says:
9/6/2014 at 9:57:08 AM


We ran a simlar game called "50" Make up your own rules... 2 point shot, 3 point shot, lay ups, passes, rebounds etc.
---