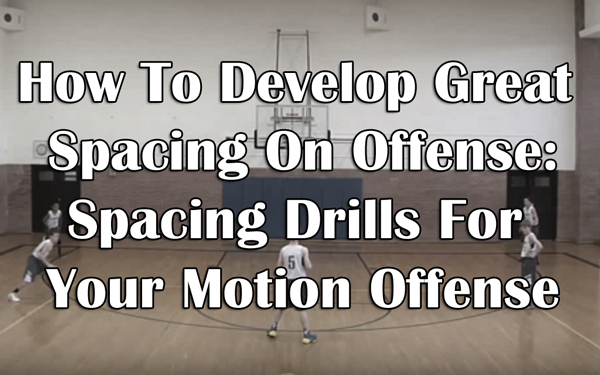 I explain motion offense to our teams in two sentences…
"We want spacing and ball movement until we get a good shot. Get all the rebounds and loose balls."
That's how I explain it to our 3rd graders, 5th graders, and 10th graders.  Everything we teach comes from that.  Those words are repeated hundreds of times and before the season is over all the players on the team can recite them in their sleep…
"Spacing and ball movement until we get a good shot. Get all the rebounds and loose balls."
All of our offensive teaching is based on those two sentences.  Whether it's a turnover, cutting, lack of player movement, screening, or poor decision making, it all comes back to spacing, ball movement, taking a good shot, or rebounding.
The first word in the sentence is spacing.  Spacing is probably what we emphasize more than anything.  I like to give players freedom on offense so they can learn how to play and develop.  When we have a problem with our offense, instead of taking more control of the situation by adding more rules, we often emphasize spacing to solve the issue.
Spacing Drills
Here are the spacing drills that we use.  I'll start with string spacing drills…
String Spacing Drills
I don't know where "string spacing" came from… I believe I originally picked it up from Brian McCormick and the name stuck with me.
In any case, string spacing drills are arguably our most effective and important drills when it comes to developing our motion offense.
When building a motion offense, we start with string spacing drills.  And we use them almost daily the first month or so of practice.
They allow you to work on skills and your motion offense at the same time (efficient use of time).
Here are the string spacing drills that we use:
Dribble At Wing – Lay Ups (we mostly practice variation 1 – back cut)
You can use your imagination to create other spring spacing situations and drills.  But those are the main two drills that we use.
5 v 0 Drills
Next, we run simple offensive passing drills where our team runs the offense without shots or defense.  You just pass and cut.  Pass and screen.  And so on.  You can view the instructions and diagrams here.
Here are a few variations of 5v0 that we run:
Pass and cut
Pass and screen away
2-4 passes (with cuts) and then screen away
2-4 passes (with cuts) and dribble at
2-4 passes (with cuts) and then post up with laker cut
2-4 passes, dribble penetrate, relocate, and kick.
2-4 passes and ball screen.
Player's choice — make any cut or screen you want.
Transition offense drills
Next, we teach our transition offense because spacing should begin as soon as you secure possession of the ball.  Players should have spacing as they transition down the court.  So we run a very simple transition offense drill where 5 players jog in a circle inside 3pt line. Then I pass a player the ball.  That player is the PG and everyone else sprints to their spots in transition.
If you start with great spacing in your transition offense, you at least have a chance to maintain good spacing as your half court offense runs.  So I think spending some time on transition offense is important.  In most cases we only run this drill a few times at the beginning of the season.  Then all our transition offense teaching is done during games and scrimmages.
No dribble drills
Last but not least we use a lot of "no dribble drills" to develop spacing, ball movement, passing, decision making, ball security, and offensive concepts.  I wrote a blog post about no dribble drills here.
Emphasis
The last way we develop spacing is by emphasizing it.  We ask lots of questions and encourage problem solving in the context of competitive drills and scrimmages.
I'd say the simplest tool we use is the whistle and the word "freeze".  Quite often during a scrimmage, I'll blow the whistle and yell freeze.  The word "freeze" is a powerful coaching tactic that can be used for any sport or situation.  In this case, we use it to teach spacing.
So players stop where they're at and you can ask questions in a variety of different ways:
What do you see?
How's our spacing?
Do you have any driving lanes?
What am I going to say?
In most cases, the players will say "our spacing isn't very good".  Then I follow up with something like "what can we do to improve the situation?".
Sometimes we'll give players specific ideas on what they can do better or let them figure it out.  This leads to another powerful coaching word…   "recreate".
Sometimes we'll blow the whistle and yell "recreate".  So we have players recreate a situation and walk through what happened so we can give them ideas on other (possibly better) ways to create spacing and ball movement.
But the bottom line is that we develop great spacing by emphasizing it in everything we do, including games and scrimmages.  We even work on spacing during competitive defensive drills (any time you run offense you can work on spacing).
Motion Offense Resources
If you want to learn more about motion offense, I highly recommend the Don Kelbick Motion Offense DVDs.
Do me a favor.  
Share this post with your friends on facebook and twitter using these buttons…