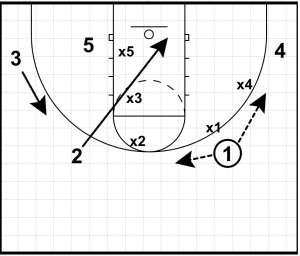 I've tried dozens of new drills this year with both our 4th graders and our 10th grade high school team.  I plan to keep using several of them. I'll start writing up the drills and sharing them with you soon.
But I keep going back to a really simple drill that is still one of my favorites…
This past month we got back to playing "No Dribble Games".   For the most part, we play "half court 5 on 5, no dribble".  We generally play make it, take it.  Check the ball at the top on change of possession.
This drill does so much for your team…
Improves spacing
Improves half court offensive execution
Teaches players to get open
Improves cutting
Develops elusiveness
Improves screening fundamentals
Reduces over-dribbling in games
Improve footwork (pivots to handle defensive pressure)
Improves passing
Teaches players to MEET their pass
Reduces turnovers
And can help defense too if you watch your team's positioning
Playing half court no-dribble has really helped us make big improvements this season…
Our 10th grade team has turned things around, playing much better offensively.   Playing half court no dribble has been a big part of that improvement.  We're on a three game winning streak, after losing all our games to start the season (some of which by 40 and 50 points!!).  Our improvement has been fantastic.
Our 4th grade girls' team is on a 7 game winning streak (won two tournaments in a row) but still struggles to "run offense".  We score lots of points because of excellent ball-handling skills.  But almost all our points come from spacing and the dribble drive.
We could continue relying on the dribble drive, but I want us to be a well rounded team that learns all the fundamentals of the game.  So we just started playing more "no dribble 5on5 half court" this week and we require players to follow their motion offense rules.  I see our team making big strides in learning how to cut better, use screens better, and play a half court game.  The no-dribble really works wonder for us when it comes to motion offense execution.  I plan to keep using the drill the rest of the season.
The no-dribble drill is still one of my favorite drills.  I urge you to give it a try and consider using it on a consistent basis.