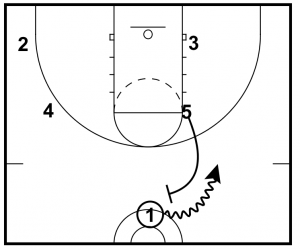 I'd like to share my opinion on a popular ball screen play that I see all the time.
While coaching my daughter's 4th grade team, the high ball screen for the point guard is the most common play I see.  Seems like almost half of the teams run a variation of this play.
I hope I don't offend anyone but I'll be honest.
I think this play is a waste of time and does very little for player development…
Most teams use a high ball screen to free up their point guard and get something going to the basket.
I believe there are better ways to solve this problem.
Now if you have the court spread and two players are applying good pick and roll fundamentals, that's another story. But I'm not even sure 4th graders can execute pick and roll fundamentals and the basic reads.
If they are able to, the rest of the team is missing out on touching the ball and developing. That is why I like our 5 out motion offense (all the positions are interchangeable and everyone touches the ball).
More issues with this ball screen play…
1.  It's predictable.  Teams would set this screen constantly against us and get nothing from it. You see it once and then you know it's coming. Even when they set the second ball screen inside the 3pt line, it still didn't work.  They might get a shot the first time running it.  But never the third or fourth time.
2.  The ball screen is occurring 30 feet from the basket.  If you want to actually score off the ball screen and play some "fundamental" basketball, the screen should occur near the 3pt line or closer.
3. The point guard is not learning anything or developing skill by using this screen near half court.  If you're going to set a ball screen, the point guard needs the ballhandling skill to set up the screen and advance the ball near the 3pt line.  Then they can use the screen properly and utilize some pick and roll fundamentals.
4. Other players on the team rarely get to touch the ball.  The play is dominated by the point guard and maybe one other player.  How are the other players on the team supposed to develop if they are not involved?
Better Solution to the problem – teach players "how to play"…
I'm sorry. But if your PG can't beat a defender 1on1, there is a problem. You need to spend time working with these players teaching them how to beat a defender 1on1 in the open court.  Work on ballhandling skill, changing speed, changing direction, protecting the ball, retreating out of trouble, etc.  That is a much better solution to the problem.  It can be done…
Every single player on our 4th grade team can break down their defender off the dribble at the PG spot. That's because we practice and teach those fundamentals. It was not easy and required lots of practice.  But even if you only practice once a week, it can be done.  In my opinion, this is "step one" in learning how to play basketball. For whatever reason, lots of coaches skip that step.
I see a lot of poor fundamentals out there and this is one example.
When you run into problems with youth players, instead of creating a "play" to solve the problem, I believe you should almost always use "fundamentals" to solve the problem.  To me that is great youth coaching.
Food for thought.