With an inexperienced group of players this year…. bad passes and turnovers have been a problem for us.
This caused me to take a long hard look at our passing drills and refine how we do things.  As a result, I feel like we have made tremendous progress.
Here are some of my favorite passing drills that we have been using this year to improve passing skills and decision making…
Part 1 – Drills to Develop Basic Passing & Receiving Skills
Here are the drills I like to use for practicing the basic skills and getting lots of reps…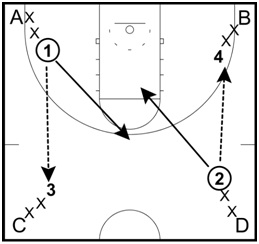 4 Corners Passing
For some reason I have never run this drill in the past because I thought it was "old school". Now it's one of my favorite drills because it's fast paced, dynamic, and flexible.
4 Corners Passing – Follow the Ball
This is a variation of the 4 corners passing that we use to add some variety to practice.
Pass and switch
We don't run this a lot. But this is another good drill that just gives you a little variety and also incorporates a conditioning element.
Nash Partner Passing
We don't use this much anymore. But it's good for all levels. It can be as fun and as challenging as you want it to be.
5 on 0 pass and cut
I like to multi-task as often as we can to save time. So we take a piece of our offense and have players run the offense making perimeter passes. This helps us improve our offense and passing at the same time. We also emphasize good fundamental cuts, setting up your man, and facing the basket in triple threat.
5 on 0 pass and screen
Another drill where we take a piece of our offense and practice passing at the same time.
Shooting, lay up, and cutting drills
When practicing shooting and lay up drills, we often simulate a piece of our offense. So for example we might practice screening away, curling, and shooting. We are also practicing passing and emphasizing good passes (good timing, accurate, etc).
Part 2 – Drills to Improve Passing and Decision Making
I always try to include a decision making drill in every practice.  These drills have helped us tremendously.
Generally I start with one of the "basic skill" drills above.  And then it's followed by one of the decision making drills below…
Continuous 4 on 3 – No Dribble Allowed
This is probably my favorite passing and decision making drill because it's such an efficient use of our time. Players get lots of reps and have to make lots of decisions. The most important aspect of the drill is the "scoring system". That is the key!!
Continuous 3 on 2 – No Dribble Allowed
Same as above but with fewer players. If you don't have 12 players in practice, you can go 3on2 instead.
3 on 2, 2 on 1 – No Dribble Allowed
This is the traditional fast break drill we have all seen — however you add a rule where players are NOT allowed to dribble. In addition, I recommend that each player keeps track of their individual points. 1 point if their group scores a basket. Negative 3 points if their group has a turnover.  After 10 minutes the top 4 guys get a drink, next 4 do 10 burpees, bottom guys do 20 burpees.
3on3/4on4/5on5 Full Court – No Dribble Allowed
You simply play a game where players are not allowed to dribble. I like to use scoring system for this drill too. 1 point for a basket and negative 3 points for a turnover.
Ultimate Touchdown Passing
Instead of 3on3 full court no dribble, I like to use this variation with younger kids. You can play 3on3, 4on4, or 5on5. Players are not allowed to dribble. They must advance the ball passed the baseline to score a touchdown (7 points). If the other team steals the ball, they go the other direction where they stole it. If the ball goes out of bounds, it's a turnover.
Choosing the Right Passing Drills
I feel that some passing drills develop bad habits and get kids passing too quickly (without looking to see the defense).  So I'm usually careful when choosing a passing drill for our practice.
When choosing passing drills, I'm looking for drills that meet the following criteria…
improve catching / receiving skill
improve passing accuracy for all types of passes
improve decision making on "when" to pass
get players LOOKING before they pass (see the defense)
get players to make the easy pass, instead of a "thread the needle" pass through traffic (decision making)
help players learn how to improve passing angles, instead of passing through defense
teach players to pass away from the defense
teach players to meet their pass and then face the basket in triple threat
teach players to use their jump stop instead of getting out of control
So those are some of the criteria I'm looking for when choosing passing drills.  I have found that many passing drills actually get players to hurry more and cause more problems.