Site Search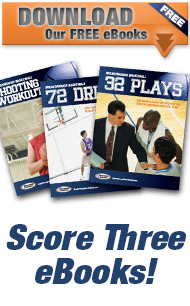 Q & A Forum
Experienced coaches are ready to answer your basketball questions! Visit our forum
Steve Nash Passing Series Drill with Bob Bigelow
- By Joe Haefner
This is the Steve Nash 1-hand passing series drill from
Bob Bigelow's Coaching Middle School Basketball DVD.
This is great for ball handling, hand-eye coordination, catching, ambidexterity, and passing. You can also use a wall if you are by yourself.
Variations:
Catch - Dribble - Pass.
Catch - Crossover dribble - Pass.
Catch - Behind the back dribble - Pass.
Catch - Between the legs dribble - Pass.
You can vary the amount of dribbles on all of the variations as well. For example, Catch - 2 crossover dribbles - pass.
The variations only end with your imagination.
What do you think? Let us know by leaving your comments and suggestions
Comments
---
Coach Atwater says:
10/3/2011 at 12:48:09 PM


These are great drills that I will plan to incorporate this fall. I coach 4th-6th graders and we typically have several new players with little to no experience and this will not only help them but it will also begin to sharpen up the skills of my more skilled players.
---
Coach Isaac says:
10/4/2011 at 5:15:29 AM


I like the drills, i believe the passing drills espercially the one handed drills can help with strengthening a players weaker hand.
---
Coach Banker says:
10/4/2011 at 9:16:16 AM


Great drills! Most of our kids need to work on passings skills. this will challenge especially the older ones!
---
Coach Tom says:
10/4/2011 at 9:51:15 AM


I really like these ... I coach 4th and 5th grade girls and am always looking for "simple" drills that can be taught/explained quickly. I think the chest/bounce drill could be done with the players moving (shuffling down the court 10-15 feet apart), as a warmup drill, too. Thanks for the ideas!
---
Oz says:
10/4/2011 at 3:57:02 PM


Great stuff! Thanks!! Triangles or small squares of 3 and 4 players respectively can also work adding reversals and diagonal passing.

---
sujith says:
10/6/2011 at 2:50:02 AM


Thanks great drills.
---
Patricia says:
10/6/2011 at 4:46:27 AM


Great idea to combine one hand passing and dribbling
---
Keith says:
10/10/2011 at 1:26:21 PM


Very good drills to do.

We did this in one of my classes over the summer, except #5.

Really helps the players to concentrate.
---
lamin says:
10/10/2011 at 4:29:20 PM


oh to the kind people of the world, can someone help me to build my career as a basketarian. i have the ability, talent and height to play basketball but lack of trainer and sponsors. my height 2.3 meter tall. this is my life to become something in world. i also would like to do something in the records of NBA.
---
ronny says:
10/11/2011 at 6:14:34 AM


thanks;great drills- i introduce them in belgium
---
Coach Paul67 says:
10/11/2011 at 5:03:46 PM


Good drill and good comms ......I'll be using it ;-)
---
Coach Lee says:
10/12/2011 at 9:59:38 AM


Nice! I will be using these.
---
Steve SBA Basketball says:
10/12/2011 at 1:52:25 PM


I know I will be using these drills at my next clinic to sharpen my team ball handling skills, especially the new players that just joined the team...keep the drills coming.
---
Coach J says:
10/14/2011 at 10:40:29 PM


Great, simple drills, I will be using these.
---
Coach Mistretta says:
10/23/2011 at 11:48:25 AM


Great drills and I will be instituting them this season
---
Coach Aj says:
10/24/2011 at 11:49:08 AM


Great drills. I will be implmenting into my tryout
drills as well as team practices.
---
Chris Ellersieck says:
11/20/2011 at 9:31:18 PM


I''''''''m not sure about this...I like to teach young players to use both hands because they cannot bring back a one handed pass in a game situation. However, I do see this working well with advanced players.
---
tim bousquet says:
10/2/2012 at 4:21:05 PM


Love the basketball, but almost more importantly is his sense of humor used throughout the series. Refreshing!
---
Coach Hamilton says:
10/28/2012 at 1:36:32 PM


Great drills. I have 4th and 6th grade girls and will utilize them in practice today.
---
julian says:
5/31/2013 at 3:14:22 AM


this good drills it also helps with foodwork and movement with the and ballhandling and speed as well and how quickly to pass the ball
---
John says:
6/6/2014 at 6:58:12 PM


Ball control!! As a young player I was taught that proper dribbling and passing started with ball control. In other words, the better you control the ball at dribbling, passing, shooting, etc., the better you can have the freedom to do what you want on the court. I teach the same to younger players and my son and daughter. Ball control...ball control...ball control!!!
---