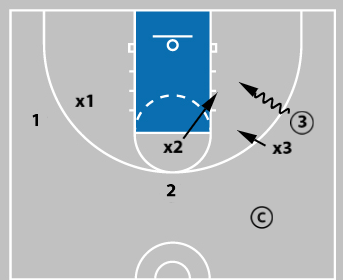 One of my most frequently used drills (with 6th grade boys and 8th grade girls) this year has been Half Court 3 v 2 + 1.
I rarely used this drill in the past, but this year, I started using the drill more often — and I really like it!!
It's a "multi purpose" drill that does a lot for you.  You'll be hard pressed to find ONE DRILL that incorporates more developmental aspects than this one.
Initially we started using this drill because I wanted to work on 3 things:
Practice random and contested game like shots (more on this below).
Get better spacing and off-ball player movement during the dribble drive (more on this below).
Work on defensive communication and close outs (more on this below).
However I found that after using the half court 3 v 2 + 1 drill, there are numerous other benefits… like improved passing and decision making.  This is a great passing drill.
Random Game Like Shots
If you follow Breakthrough Basketball or coaches like Brian McCormick, you have probably heard about the importance for using more than the just traditional "block shooting drills".  You want to randomize shots and utilize defenders to better transfer this skill of shooting into situations that really matter (actual games)!
Half court 3 v 2 + 1 is an excellent shooting drill that randomizes shots, incorporates decision making, and uses defenders (just like a real basketball game).  We often run this after our traditional shooting drills.
Player Movement on the Dribble Drive
If you think about it, one of the hardest things to defend is a player driving to the basket and the off-ball players moving.  As an off-ball defender… should you help with the dribble drive or move with the player you are guarding?  It's very difficult to do both.
It's also difficult to maintain vision of the ball and the player you're guarding.  Few defensive teams are good at this during the dribble drive.
Not to mention, defensive players usually compress on the dribble drive and then have to chase and close out on the kick out.
We teach our players the following on the dribble drive:
Open windows (often times you need to move to open windows / passing lanes for the kick out pass).
Force the defense to make the longest close-out possible, while staying in your shooting range.  We find that too many players compress toward the ball instead of staying spaced wide and forcing the defense into difficult situations.  So we teach players to go where the defense has to make long close outs.
In a 5v5 situations, we allow 1 player to cut toward the basket and 3 players should be spaced to force long close outs.  Often times your defender will lose vision of your during the dribble drive and this is a good time to cut for an easy inside shot.  However, when playing 3v2+1, we want both off-ball players forcing long close outs.
Close Outs and Communication
Watching Loyola Chicago make their run to the final 4 last year, I noticed Ben Richardson and other players would close out with one hand up and then get both hands out wide.  I assume this was intentional to take away the first natural option (the shot) and then the next logical option (the dribble drive).
First, you get a hand up to contest the "catch and shoot" option.  Then get your hands and feet wide to take away straight line drives.  By getting wide hands, the dribbler often takes a wide (and slower angle) going "around" the defense, instead of a straight line drive.
I like this concept and decided we'd be more deliberate in teaching this type of close out.  The 3 v 2 + 1 creates lots of close out situations and is great for improving close outs.
We also feel that if we communicate consistently, our energy on defense improves and we have fewer break downs.  So we really emphasized communication this year.
What You Emphasize Matters
This drill can do so many things for you — or it can be pointless.  It all depends on what you emphasize and how you hold players accountable during the drill.
The concept is simple… give the offense a momentary advantage in a small sided game.  Then use those situations to teach and develop skills.  My brother Joe explains the concept and how to create more advantage drills in this video.
If you have more than 7 or 8 players at practice, I urge you to keep them busy.  You could play 4 v 3 +1 and that is good to mix in… but each player gets fewer touches and reps.  If you have 12 players, get two groups going at once.  If you have 8-11 players, you could have the extra players work on mikans and free throws at the other basket to stay busy.  Rotate them every 2-5 minutes.
I found the half court 3 v 2 + 1 drill to be very beneficial this season.  Our offense, defense, and skills have improved considerably.  I feel this drill has contributed to that improvement.  I hope that by sharing what has worked for us, this will in some way help you and your team!