We lost our first game of the season.  It was against my old team that I coached the last couple years.  So it was bitter sweet.  I was happy to see the players I worked with last year play really well.  But at the same time I wanted to win the game with my new team!!
After the game, I felt like we lost the rebounding battle and that our offensive execution was really bad…
However, after compiling the stats and looking at some game film, I realized I was off base!  Based on the numbers and reviewing game film, it's clear that unforced turnovers and defensive breakdowns were the biggest problem and area we need to improve on.  And we actually won the battle on the boards.
This is why I'm a big fan of statistics and game film. They give you an objective evaluation of your performance and what you need to work on. Without stats and game film, I would have been focused on rebounding drills and our offensive execution instead of what we really needed to improve.
Here are the stats and how they are objectively broken down.  These are the same stats that I give to our players.  This helps them "buy in" to our next practice and our strategy moving forward.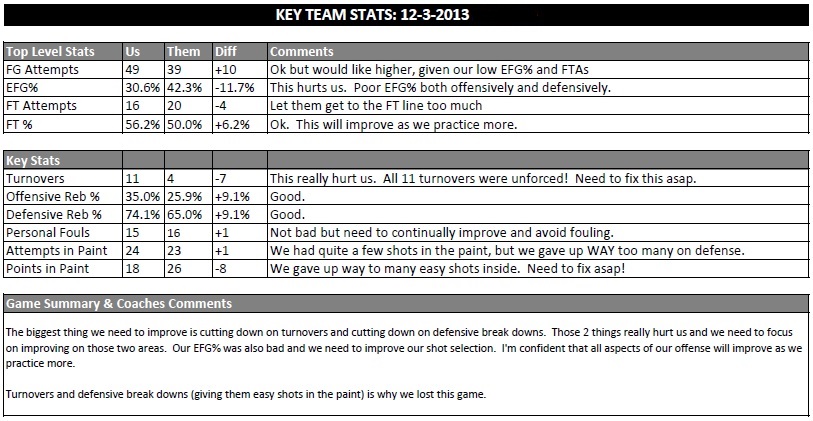 If you'd like, you can view the full PDF and Game Summary that I shared with the players.
It took me about one hour to watch film and collect the stats at the same time.  I used our Breakthrough Stats app, which saves me a lot of time because it calculates all the stats for me.
Improving Defense – Straight Line Drives Will Kill Your Defense
As you can see, turnovers and EFG% really hurt us.  Our opponents EFG% was too high and ours was low (mainly due to poor shooting).
You can also see that we gave up a high number of shots in the paint.  (For me, shots in the paint consist of any shot within 9 feet of the basket.)
We had way too many breakdowns and allowed them to get in the paint too often.
So I watched game video on my computer jumping to each spot where the opponent got the ball in the lane.  It only took about 15 minutes using VLC player.  I concluded that our "on ball defense" and our "ball screen defense" was the biggest problem.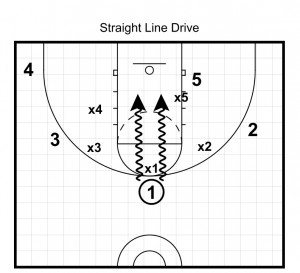 The next day of practice we focused on those two things.  Specifically we talked to players about staying disciplined and "on balance" in their stance.  And stopping all STRAIGHT LINE dribble penetration.  That killed us!
With straight line drives, our help defenders have no time to provide early help and the help is too late (the ball is already in the lane).
So we focused on our on-ball discipline, good close outs, and making sure the defense is pushed east/west (minimize north/south drives).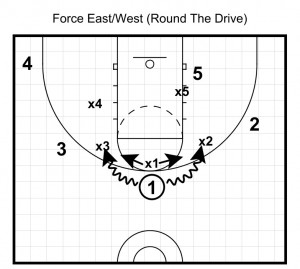 If we can force the defense to take a rounded drive to the basket, our help defense can seal seams and get them stopped early.
Cutting Down on Turnovers
Looking at the report in Breakthrough Stats I can see that we had 7 bad passes, 3 travels, and 1 other turnover.
To solve the problem we did the following in practice…
1)  Read the Defense When it's Loaded Up
We talked to the players about reading the defense.  They need to see if the defense is set and loaded up.  If the defense is in good help position and loaded up, we need ball reversals and player movement.  Then once we get some movement and the defense softens up, look to attack the gaps.
Our guys just weren't looking to see if we had the advantage and attacked when nothing was there.  This resulted in bad shots and some turnovers.  I like the aggression.  We just need to be smarter about it.
We went through a few situations on the court and practiced our motion.
2)  No dribble drills 
Next we practice some "no dribble drills" and emphasize a few concepts…
The drill is simple and one of the best for cutting down on "bad passes".  You can play 3on3, 4on4, or 5on5.  It can also be full court or half court.  But I usually like to play full court.
You play a game to 3 points or for a set time (5-10 minutes).  Players are NOT allowed to dribble.  Each time you turn the ball over, players get 3 burpees for the end of practice.  Keep track of the burpees they accumulate.
Make sure you emphasize the following…
– LOOK before you pass!  You have to see the defense.
– Meet your pass!
– Catch and face the basket in triple threat.
Now players will also have to use their pivot, get open, maintain spacing, and pass "away" from the defense. But if you fix those three things above, you will cut down on most of your bad passes.
After every bad pass I blow the whistle and yell..  "Look before you pass.  Meet your pass.  Catch and face in triple threat!"
It usually takes a week or two.  But players will figure it out and this is the best drill I know for cutting down on bad passes.  It also improves your off the ball movement, spacing, and footwork.