Site Search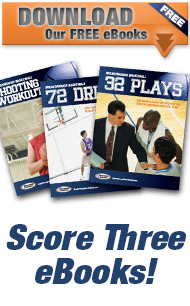 Q & A Forum
Experienced coaches are ready to answer your basketball questions! Visit our forum
The Value Point System and 6 Daily Drills
"Danny Miles Secret to Player Motivation and 1,004 Wins!"
Dear Basketball Coach,
How would you like ONE extremely simple coaching evaluation system that does
ALL of this
for you?
Helps you win more games, guaranteed!
Motivates your players all year round (they'll work harder and smarter than ever before - all season long!)
Gets players to play the "right way"
Improves your team's defense
Improves teamwork
Lowers your team's turnovers
Improves your team's rebounding
Improves your team's shooting percentage
Improves team morale
Puts a stop to issues with parents about playing time
This might sound too good to be true, but I can tell you that Danny Miles'
Value Point System
really does ALL of this. It's an amazingly effective system that he has perfected over the years.
Danny Miles of Oregon Tech credits the
Value Point System
as the biggest key to his success as a coach. Some of his coaching accomplishments include...
1,004 career wins at the college level
2nd most wins of any men's coach in the history of college basketball!!!
Winning 77% of their games over the last 18 years (491-144)
3-time Division II National Champions (2004, 2008, 2012)
Led Oregon Tech to the national tournament 17 times
Most tournament wins of any team in NAIA Division II (33 wins)
3-time National Coach of the Year
4-time Conference All-Sport Coach
11-time Conference Coach of the Year
2-time Northwest Coach of the Year
A.T. Slats Gill All-Sports Coach of the Year
Inducted into the NAIA Hall of Fame
Inducted into the Oregon Sports Hall of Fame
Court coach for the 2011 USA Basketball Men's U19 Junior National Team
We're really excited about sharing this unique system and daily drills with everyone. This system works for all coaches working with 6th graders (11 & 12 year olds), all the way up to the professional level.
It doesn't matter what offense, defense, or style of game you play. It works for all styles of basketball.
You can literally learn and start using this technique in 40 minutes. It's a truly powerful and unique system that we whole heartedly believe in.
What is the Value Point System?
It's a simple statistical formula used in conjunction with simple coaching tactics and practice drills to improve player performance.
The evaluation system was developed by Danny Miles and it's different from most evaluation systems used by today's coaches. Danny created a mathematical formula that computes a player's effectiveness and even has a scale, so you can determine whether a player is playing Poor, Good, Very Good, or Excellent. On your own, this could take many years to develop a similar scale to grade performance.
Another great thing about the Value Point System is that you don't need any high-tech NBA statistical analyses that take forever to calculate and figure out.
At its core, the value point system is a player evaluation formula, but the key is how to implement the formula and use it to your advantage. Danny has not only perfected the formula, but he has also perfected the strategy to use it in games and practices.
Put An End to Arguments with Players and Parents About Playing Time
The Value Point System is a coach's dream because it puts an end to disagreements about playing time. If someone does not agree with your decisions, simply show them the player's rating.
The players will all know why they are not getting playing time. If parents don't like the amount of time their child is getting, just tell them, "All your son or daughter needs to do is raise their VPS score. Here it is right here. If he/she does, then I'll find them minutes."
And if you have a player with a high rating and they're not getting minutes, they probably should be in the game!
Dramatically Improve Player Performance and Provide Constant Motivation
The Value Point System will dramatically improve your players' performance and provide them with constant motivation.
The VPS ensures that your players are focusing on the right things. It's an incredible player development tool. It provides constant feedback and makes it super easy to change bad habits and encourage good ones.
If Your Competition Uses the Value Point System, They Will Have a Serious Advantage Over You
After viewing the video it is clear to us that the coaches using this system will have a distinct advantage. I think the biggest reason is because it improves almost "ALL" aspects play. It improves offense, reduces turnovers, reduces fouling, improves shooting percentage, improves defense, keeps players focused, improves teamwork, and so on.
I really can't think of one single thing that can have a bigger impact on your team than the Value Point System. It will give you an incredible advantage over the competition.
What Age Levels Should Use The Value Point System?
Coach Miles has an unbelievable system at Oregon Tech.
We believe that every coach at the high school, college, or pro level should utilize this in some way
.
For
advanced youth coaches and middle school coaches
(11, 12, 13, & 14 year olds), the Value Point System can be used as a motivational tool to get your players to be complete, team players. The system rewards the great defenders, rebounders, passers, & hustle players. It only rewards scorers that take efficient shots. Best of all, it will show the ball hog how they are hurting the team. You know the kid who thinks that all that matters is scoring 20 points per game even if it takes 30 shots.
Here's What You Get in the Value Point System
42 Minute Online Video Explaining the Entire System and Demonstrating the Drills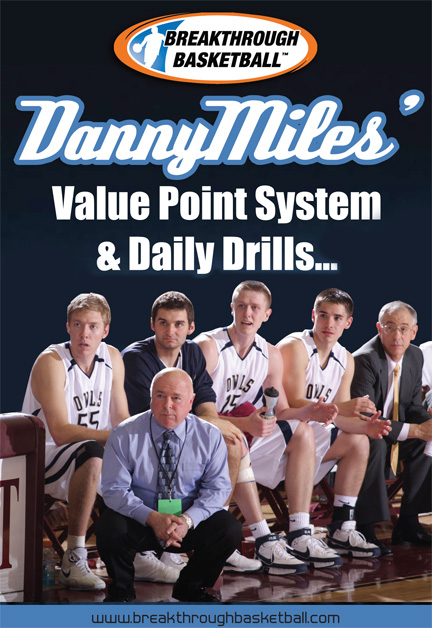 In the video, Danny Miles tells you exactly how to implement the Value Point System and use it effectively.
You will learn about how to motivate players, scout your competition, determine playing time, keep stats, and make adjustments for your team.
6 Favorite Drills Used for 32-50 Minutes in Every Practice
In the video, you'll also get Danny Miles' 6 favorite drills that they run every single day in practice. These are the drills that have had the biggest impact on their success, wins, and value point score. Coach Miles literally runs these 6 drills for 32-50 minutes in EVERY SINGLE PRACTICE. That's how important they are to his success.
The online video is broken down into the following chapters:
Value Point System - Introduction
The Formula & Scale
NBA Value Points
Oregon Tech Value Points
Scouting Opponents
No Garbage Time
Top 6 Daily Drills
How To Pick Starters
Adjustments for Women
Adjustments for Middle School & High School Teams
Questions & Answers with Danny Miles
The video is delivered instantly via online video streaming or download. To learn about the video delivery,
read the video download FAQs
.
49 Page PDF eBook with Diagrams, Formula, and Reference
As a bonus we have included a 49 page PDF ebook that includes diagrams of all the drills, explanation of the value point formula, questions and answers, and the process.
You'll find this PDF ebook extremely beneficial to use as reference. This by no means replaces the video, because you need to see the drills in action and see how Danny implements the system, but you'll find this PDF ebook really handy to use as a reference.
Here's the table of contents:
Page 5 - About Coach Danny Miles

Page 7 - The Value Point System Formula & Scale

Page 7 - Statistics Needed to Calculate Value Points

Page 8 - The Formula

Page 8 - The Process

Page 10 - The Scale

Page 11 - Adjusted Scale for Women and High School Teams

Page 11 - Modifying the System

Page 13 - NBA Players and the Value Point System

Page 14 - Oregon Tech Players and the Value Point System

Page 16 - Scouting Opponents with the Value Point System

Page 18 - Implementing the Value Point System

Page 21 - 6 Daily Drills

Page 42 - Question & Answer With Danny Miles

Sample Video Clip
How Much Does it Cost?
The price for 42 minute online video and the 49 page PDF ebook is $29.95.
60 Day Money Back Guarantee
Just like any reputable bookstore or retail business, we have a 100% money back guarantee too.
If for any reason, your purchase is not what you expected, just
send us a message
and we'll give you a full refund. No questions asked.
"Claim Your Copy Now"
If you'd like to order by telephone, call us at 1-866-846-7892 (toll free).
If you have any questions, don't hesitate to
contact us
.
Sincerely,
Jeff Haefner
Joe Haefner
Breakthrough Basketball, LLC.
Customer Reviews
---

Glenn Clarke says:


1/5/2010

at 8:51:29 AM


The VPS is a great tool and a key reason to our on court success. The system has changed my perspective on what it takes to win and knowing what players i can use in different situations.
---

Coach Simon Parker says:


1/5/2010

at 10:48:02 AM


I knew of Danny Miles' Value Point System before the release of this DVD, so I was able to get a headstart on everybody else. Since i started using the VPS, my winning percentage has increased as a coach and i believe was a major factor in my teams success in reaching last years championship game.. It is a very effective system, and one that allows me to get the right combination of guys on the court
---

Mark O says:


1/5/2010

at 3:22:17 PM


As a 7th grade coach, I feel this product is a bit advanced. However, some of the drills are easily modified and the kids enjoy using them.
I have passed the program up the line to our varsity coach and he in now evaluating it.

What would really be nice is if you would include an excel spreadsheet that has the math already filled out.
So a person could basically open it, fill in the names, and be ready to simply input the data as soon as the game ends.



---

Michael from Grafton, WI says:


1/6/2010

at 6:24:11 AM


Overall, good material though I do feel it's a little light for the price. I am a 7th grade coach and am about to try the VPS in this weekends tournament but it's going to be difficult to get all of the stats without dedicated statusticians - so not sure how that's going to go. I did make an automated spreadsheet with the formulas so all you need to do is plug in the player names and you're all set. That's the easy part. Getting all of the data is what I think will prove to be difficult.
---

Ben Mugford from Machias, ME says:


1/6/2010

at 2:22:36 PM


This product is a great way of scouting teams. It's a quick easy way of showing your own weaknesses as well as strengths, as well with the competitions.
---

Sean M. Hart from Mountain Home, AR says:


1/6/2010

at 3:07:34 PM


I'm a board member for our basketball club and while I feel the VPS is a little advanced for the younger teams, I do feel that our older teams will become better using the VPS but getting all of the data is going to be difficult.
---

I really liked the concept.. from Boise, ID says:


1/6/2010

at 5:47:36 PM


I really liked the theory of the book, and I liked the drills that eliminated a bunch of 'running for the sake of running' at the end of practice. Where I was concerned was with the idea of getting the kids to worry about their VPS score each game. Sometimes it is hard enough to get them to buy into new ideas, without the additional pressure of a 'game' within the 'Game' within the 'GAME!'
---

Don Bost from Colorado Springs, CO says:


1/6/2010

at 5:50:52 PM


I had heard of the VPS system before but was curious about implementing it. It will give my staff and I objective means of evaluating my players and in turn identifying those areas that players are deficient at and thereby lowering their Value Points. It has really opened my eyes as to who is really helping my team and who is hurting the team.
---

Coach Heryford from Klamath Falls, OR says:


1/7/2010

at 1:52:43 AM


As a 12 year High School basketball official, and new youth basketball coach, I was enthused to purchase this product created by one of the nations finest head coaches. I found the method and material to be awesome. I am coaching younger kids this year and the basics are the main focus, but I was able to modify the drills and integrate the philosophy in just 2 practices. My kids can barely hit the rim at times, but they are already responding to the coaching changes and the idea of value points. Can't wait to move up to higher levels and use this tool to win games. Great Job. Varsity Coaches need to watch this DVD and read the book!
---

Kevin Carter from Arlington, MA says:


1/7/2010

at 9:59:50 AM


It's logically a great system, but logistically is almost too great. The biggest problem is getting the raw data, and the only feasible way for me will be to use video and then log that. I'm about to try that because I expect the payoff to be worthwhile (plus the video otherwise can be useful).
---

jim schoenenberger from evansville, WI says:


1/7/2010

at 7:51:38 PM


transition and shooting drills are good drills and the pride drill is a great drill , we use it to practice our secondary break , and half court offense and works your transition defense all in 1 drill
---

Coach Pat from Sollentuna, None says:


1/8/2010

at 4:53:16 AM


I've before used different logics with plus/minus stats to look at offensive performance and defense performance but haven't found a way to look at overall performance for HS varsity level (the work load has been to high). VPS is great in it's simplicity and I find that you can adjust it to fit your program and what qualities you find important.
---

Larry Dean Jackson from Hearne, TX says:


1/8/2010

at 11:42:39 AM


The Value Point System looks like a great way to track player progress and to evaluate playes. We will start using it in our district play and I will report back from experience. I think it is something that every coach should look into. If for no other reason than Coach Miles has been ultra successful and he attributes it to the VPS. When someone with as much success as Coach Miles speaks every coach should listen. Make up your own mind but we should listen to others in our profession, especially those as successful as Coach Miles.
---

Bobby Vacca from Sag Harbor, NY says:


1/8/2010

at 12:33:06 PM


I found the VPS system clear, concise, and inspiring. The drills are all outstanding. I did find it surprising that Coach Miles does not use 2x for missed freed throws and wonder why. I suspect he has a good reason.

Bobby Vacca
Sag Harbor, NY
---

Aaron Toler from Bethany, OK says:


1/8/2010

at 12:33:28 PM


Had I not just received the excel spreadsheet with the product I would not have been satisfied with this product at all. It probably would have been a one or two star without that addition. I think that's great that was added to the prodcut. Because being a teacher and coach it's hard enough to stay on top of grading papers let alone doing the math for each player that accompanies the VPS. I haven't started utilizing this with our team yet, like another poster I haven't quite figured out how to implement it in regards to keeping them from worrying about their stats.

I was kind of disappointed with the book once I received it after paying $40 for it. I felt like it was overpriced. Half the book is drills which I could have received from many of the other coaching books and notes I have. I wish it was like a boat, in that I wish it belonged to one of my friends instead of me so I could have just borrowed it.
---

John Lothrop from Castro Valley, CA says:


1/8/2010

at 12:43:52 PM


I am a new coach. Breakthrough Basketball and the Danny Miles DVD and book have provided me with some great tools to get started. Now I am on my way to developing my own coaching style with solid fundamentals and endurance exercises.
---

Coach Robert Soler from orlando, FL says:


1/8/2010

at 1:24:07 PM


As a 16 year Basketball coach for boys and girls from Recreational Leagues to High school I have always instilled in my players that it is the little things that win the games. The Value Point System clearly adds a numerical value that is very easily identifiable by any age player and can be reached for as a goal by said player. Although it is more work for you as a coach; you will coach your players on what works and how to impact the VPS and better yet how to apply it right away to get measurable and immediate results. Ultimately if you raise the overall VPS score of all of your players just .20 points you will notice a substantial difference in game results. Most coaches focus on 1 or 2 key players to win the game and that the others will support those key players. By teaching the VPS those "support type" of players can determine the outcome of the game. As far as scouting is concerned, I have never been big on heavy scouting of the next team you play but more of a focus on getting my own team to play at its highest capacity. With the VPS in essence I am always "scouting" my own team's weaknesses and strengths and then work on corrections before the next game. I will try using the VPS with future opponents and see how we would match up prior to the up coming game, I'll get back to everyone with an update later. Now with the drills, I did like them but I was already using a variety of similar versions; I too agree with the running for no reason theory and have never asked my athletes to run at the end of practice. I feel that you must always run practice at game speed and if you do that conditioning will always keep up with your game.
---

Llewellyn from 15 Fairview Rd. Kloof, None says:


1/8/2010

at 3:36:36 PM


The package arrived yesterday and fitted in with the stats that I had kept from the 2009 team which left me in early December and it threw up some interesting highlights. Half the team is returning and will start a clinic to-morrow. They will have the advantage of knowing what specific areas to concentrate on in order to improve their contribution to the team's 2009 record of 88% win average.

I created my own spreadsheet and this made the compilation of the results a simple matter.


Will keep you posted
---

Josh from Huntington, TX says:


1/8/2010

at 8:45:25 PM


I enjoyed the Value Point system considerably. It can be used at any level of play. The thing that sets it apart from other systems it gives the overall view of a player. I was on a blog the other day and a coach said he didnt know how much he missed his point guard until he was out with an injury. (9ppg) (6asg), (5rpg), and (4spg). Those stats are not overwhelming, but he does a little bit of it all. If he would have had the Dannt Miles Value system he would have understood his players performance before the injury. It puts highlights on the "little things" in basketball. I have always heard and said that the little things win the game. Coach Miles system highlights the little things and gives you a more accurate performance of a player, or a team. I reccomend it to everyone.
---

Mark says:


1/9/2010

at 10:41:06 AM


If you want your players to get better I suggest you get the VPS.
The numbers don't lie...players understand low numbers lose to high numbers. This has helped them pay attention to detail.
---

Bill says:


1/11/2010

at 3:54:11 PM


The point value system really shows athletes how they stack up against each other and what qualities they need to possess to become better players and earn a higher point value. It is very motivating to the athletes and gives me, the coach, another tool to use to explain playing time and reward those athletes who are unselfish and play well offensively and defensively.
---

Ivan Purifoy from Elmira, NY says:


1/12/2010

at 1:34:15 PM


Great video! I have been utilizing the information from the video and implementing some things in my own practices!
---

jim from mcallen , TX says:


1/17/2010

at 1:21:54 PM


VPS has really improve are individual play and team play. The players are focus more on the positive parts of the game.
---

William Griffin from Fredericksburg, VA says:


2/11/2010

at 9:08:33 AM


VPS is great and it really help me and players know what they need to work on to improve the team and self.
---

Mark Fanjoy from Thousand Oaks, CA says:


5/4/2013

at 1:17:52 PM


Coach Miles' Value Point System is a stats evaluator on steroids! A huge wake up call system for me and my Son. We love the VPS. Every baller knows the basice skill sets and disciplines you need, to be a complete baller. The VPS puts these into measurable meaning and clearly exposes your REAL performance on the court beyond making baskets and "looking good". A real sobering eye opener.



---

Scott Meredith from Klamath Falls, OR says:


7/11/2014

at 5:29:43 PM


Coach Miles Value Point System has changed the way I teach basketball and the direction of my women's basketball program. In the 2 seasons prior to implementing his system, our women's team at Oregon Tech averaged 13 wins per season. In the last 3 seasons, with a full understanding of Coach Miles Value Point System and use of his daily drills (3 Lane Rush, Wide Figure 8 and the Breakdown Drill) we have averaged 24 wins per season. This past season we won our conference tournament and finished #3 in the country in assist/turnover ratio - a stat that was no where on the map for our first two teams. Of course, recruiting has played a part in this turnaround, but I truly believe Coach Miles "System" has been instrumental in developing more productive and efficient players and teams. The VPS has been great in terms of scouting opposing teams and players. It has also been an outstanding tool in determining our playing rotation as our players understand the VPS and what its points mean. It is a solid tool for evaluating player efficency and we can now be very specific in areas where players must improve their game to earn playing time. After 3 very successful seasons using Coach Miles Value Point System and his drills, I don't think I could lead a basketball program without it.
---

Bradley Stonecypher from Hydaburg, AK says:


9/23/2014

at 4:01:18 PM


While I have not used this yet, I am extremely interested in implementing this in our small Alaska town. Most of my players are most interested in scoring as they play a ton of rat ball in the off-season, or so I am told.

Being a first year coach, I sense this is a wonderful opportunity to show them that there is more to hoops than scoring points.

One thing, I am contemplating putting this into a database versus the Excel file. I have a personal thing agains the tabs - LOL

If anyone is interested in my final db product, please let me know. I will be using FileMaker to create it. Also, if you are interested in taking it for a test run let me know as well, the more eyes on it the better.
---