Site Search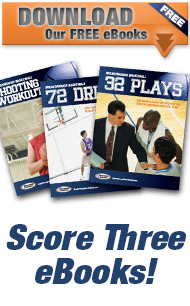 Q & A Forum
Experienced coaches are ready to answer your basketball questions! Visit our forum
Basic Lay-ups
- By Don Kelbick


Lay-ups are the backbone of any team offense and every player's offensive repertoire. Without the threat of a lay-up, all other shots would become next to impossible. Just think, how you would defend if you knew that lay-ups were not allowed? What offense, what screens would be set, what dribble or one – on – one move would you make if you could not take a lay-up?
Interesting food for thought. Yet the lay-up is the shot we spend the least time on and the most technically ignored shot of all.
How do we make lay-ups?
I ask you, what part of the body allows you to make lay-ups? Your hand? Your arms? Your legs?
I think you make lay-ups with your eyes. With all that goes on around you during a basketball game, that activity level increases ten-fold as you get closer to the basket. There are more players, more defenders, more hands, and more contact the closer you get to the basket. The demand for your concentration goes up accordingly. No matter what else you do, you must keep your eyes on the prize. Block out all that is going on around you, and keep your eyes on the target until the ball comes through the net.
What is a lay-up
A lay-up is just what it sounds like: a shot where we lay the ball up on the backboard or over the rim and into the basket. It can be done forwards, backwards, or sideways. It is a lay-up just the same.
Teaching lay-ups
I am a big believer in visualization and pantomime when teaching new skills. They are especially effective techniques when teaching lay-ups.
When teaching new concepts of leg drive and follow-through while handling a basketball and trying to throw it through the basket, consider that it might be very difficult for young players to keep track of all the factors involved. You would be well advised to simplify the process by eliminating the ball at first.
Try these techniques without a ball.
Line up your team in rows.
On the command, "Set", have them stand with their left leg forward and their right leg extended straight back. Knees should be bent and hips low in an athletic posture.
On the command, "Drive," have them step forward with their right leg, without taking their left foot off the floor, and drive their right knee in the air. The visualization phrase that I use is "Try to hit your nose with your knee."
After driving the right knee, talk a little about the feeling they get when they drive the knee. They should feel their whole body lifting.
Next, on the command "Drive," combine the knee lift with a jump off the left leg. It might take a few reps to co-ordinate the knee drive with the jump but it will come quickly.
Next, give the command "Drive," and, at the appropriate time, add the command, "Shoot." Players then go into a right- handed shooting motion. Timing is important, as you want to shoot while the player is in the air. Emphasize holding the follow-through on the shot until after they return to the floor.
Next, in cadence, call, "Set, Drive, Shoot." Explain that this, when done with proper timing, is the action involved in taking a lay-up.
When you feel that the shooters are comfortable with the right hand, alter their stance and have them practice a left- handed lay-up motion.
Once you are comfortable with that action, go to the next step
On the command, "Set", have them stand with their left leg forward and their right leg extended straight back. Knees should be bent and hips low in an athletic posture.
On the command, "Step Back," players step back with their left foot so it is extended straight back and the right foot is forward.
On the command, "Step," players step forward with their left leg. Follow the, "Step," command with, "Drive," and, "Shot," in cadence, to create the rhythm for taking an active lay-up.
When you feel it is proper, switch to a left handed lay-up.
Once you are comfortable with that action, go to the next step
On the command, "Set", have them stand with their left leg forward and their right leg extended straight back. Knees should be bent and hips low in an athletic posture.
On the command, "Step Back," players step back with their left foot so it is extended straight back and the right foot is forward.
On the command, "Step Back," players step back with their right foot so it is extended straight back and the left foot is forward.
On the command, "Step," step forward with the right foot.
Add the command, "Dribble." Players will then imagine they are taking one dribble with their right hand. (This is a great opportunity to teach them about the rules concerning when the ball must be dribbled in order to move their pivot foot without traveling.)
Follow the "Dribble" command with, "Step," "Drive," "Shoot."
When said in the proper cadence and with proper timing; "Set," "Step Back," "Step Back," "Step," "Dribble," "Step," "Drive," "Shoot," will give players a basic feeling and rhythm for taking lay-ups, with and without a dribble
After they are good at taking lay-ups without a basket, move to a basket; teach them the proper angle to approach the basket; and go through the same sequences shooting right-handed and left-handed.
Once they are comfortable at the basket, give the players a ball and go through the same sequences.
Teaching Points
You make lay-ups with your eyes.
Shooting is about rhythm
The power to get the ball to the basket comes from your drive leg. Try to touch you nose with our knee.
Early in the process, success has to be defined in terms of correct form rather than made baskets.
Focus on the process, not the results. Younger kids may have problems with balance and strength. Don't sacrifice form for made baskets
Here's a Good Video by Lenny Wilkins that Illustrates How to Use the Backboard and Finish More Lay Ups
Related Pages and Helpful Resources:

5 Pro Finishing Moves for Guards
Improve Your Ability To Finish At The Rim With The Corner Finishing Drill
The Missing Link To Player Development
Competitive One on One Fast Break Drills - 1v1 Attack

In the DVD below, you will find 12 competitive, game-like drills that will dramatically improve your ability to make lay ups and finish near the basket...
Recommended DVDs:


What do you think? Let us know by leaving your comments, suggestions, and questions...
Comments
---
Michael Newham says:
10/4/2007 at 2:58:44 AM


This drill will alow me to teach 12yo and under the correct methods in the simple layup
Thank you.
All information to help teach the game of Basketball is greatly appreciated.
Regards
Michael
---
abas says:
10/4/2007 at 7:37:58 PM


dear Michael.

great articel, anyway can you provide some pic about lay up or anything else to make this articel become perfect.

thanks.
rgds,
abas
---
Wendy rankin says:
10/8/2007 at 1:18:52 PM


I need more plays.
---
Ariel Rabe says:
10/9/2007 at 1:36:08 AM


The footwork (legs formation) drill is new to me. I do appreciate creative approach to basketball skills development.

Thank again.

Ariel Rabe
---
Al Lively says:
10/13/2007 at 10:04:16 AM


This is a great site.
We coach 5th thru 9th grade girls.
How do you get them to be vocal in a game?
Any drills?
---
Jeff Haefner says:
10/13/2007 at 2:23:43 PM


Al,

A good way to get them to be vocal on defense is to use 5-on-4 and 4-on-3 type of half court drills. When overloaded the players are forced to constantly scramble and help each other. If they don't talk, they will fail miserably. I've found this is a good way to improve communication on defense.

Beyond that you can just make it a point to require communication on all drills. Coach K at Duke incorporates talk on most drills. I don't believe he does anything special other than requiring that they talk. And he also gives some suggestions on what they should be saying in certain situations. Just adding communication as your "points of emphasis" to all drills on you practice plan should help. I just wouldn't suggest useless talk. Everything should have a purpose.

Hope this helps.

Jeff
---
Al says:
10/13/2007 at 2:32:38 PM


Thanks Jeff, Will give this a try.
Another issue is getting them to make contact. Any suggestions?
---
Jeff says:
10/14/2007 at 8:08:31 AM


Al,

If you're referring to post players making contact and not fading away, then yes I have a suggestion. It actually came up during the Don Kelbick interview:
http://www.breakthroughbasketball.com/audio/news7kelbick.html

Just after the 36 minute mark of the interview, Don says that footwork is the key to getting inside players to make contact. Most coaches yell at their players to make contact and be strong. But the problem lies in their footwork. Most coaches neglect to look at their feet. You might want to listen to the interview and also check out this page about post moves:
http://www.breakthroughbasketball.com/fundamentals/postplay.html

Let me know if I misunderstood the question.

Jeff
---
Veronica Walls says:
11/27/2007 at 7:33:23 AM


Hey do you know where i can get step by pictures for my players? I am about to start coaching a team who have little experience and thought that after practice they could take away an information sheet with diagrams of lay-up taking to practice them selves.
---
yo yo yo yo says:
12/11/2007 at 10:18:13 PM


you all are good:":":":":":
---
samantha says:
12/29/2007 at 9:24:11 AM


Thank you
so it more to basketball than get the ball and shoot?mothers like me need to come vist this with there young kids it help me and my son. thanks
---
Deb says:
1/24/2008 at 1:34:51 PM


I really like your ideas for teaching lay-ups...especially leaving the ball out and focusing on mechanics first. But I am missing something...What is the point of the "step back" and "Step back, Step back" moves in this drill?
---
Don Kelbick says:
1/25/2008 at 2:09:51 PM


Deb

The purpose for the "step back" is this. When teaching someone a new skill, you must have a starting point. That starting point, in this case, is "drive," or the finish of the lay-up. When you then teach the next progression, bringing the players back to the starting point and then expanding helps them connect the steps and reinforces previous parts of the progression. Stepping back twice, not only reinforces what you have already taught, but allows you to introduce a new aspect (such as the dribble) when the player has a level of comfort with the succeeding steps. It also allows you to take advantage of teachable moments, such as teaching the pivot foot and traveling violations without changing the context of teaching lay-ups.

In addition, younger players with little basketball experience and less life experience are still learning things that we take for granted, such as relationships between time and distance. How many times have you seen kids take off ridiculously far from the basket and try to take a lay-up? By taking steps back, it is easier to learn how far they can go with 1 step, 2 steps, 2 steps with a dribble, etc.

I hope this helps.

Don Kelbick
www.DonKelbickBasketball.com
Contributing Editor - Breakthrough Basketball

---
doyle says:
2/13/2008 at 12:56:42 PM


love the site it is alot to say about lay ups but you got gist of it
---
muhammad says:
3/2/2008 at 11:32:28 AM


wow that video and the website tech me alot about basketball when i gat a change i will try the video tech me thx
---
jessica says:
4/18/2008 at 8:30:11 AM


i think this is a good website
for anyone
but do more
---
tessa veldhuizen says:
4/28/2008 at 3:48:14 PM


you guys should have your main page with the most important facts and the secound page how to teach and coach and third and fourth comments from people and other web pages and links so its easier for the reader cause its hard to understand what your publisher is trying to say about basketball its not that clear



thanks for listening
---
tessa says:
4/28/2008 at 3:50:08 PM


also thanks for the neat information if we use dthis last year on my team i wouldnt be the only one playing and scoring all the points you have very good information

---
marco says:
5/14/2008 at 6:59:26 AM


good imformation
---
Josh M says:
7/4/2008 at 12:33:28 PM


love this website making me a better player already
---
James says:
9/28/2008 at 11:20:06 PM


This is really informative, it helps me a lot with teaching the basics in basketball. I really appreciate it.
---
Destinee says:
10/22/2008 at 7:18:15 PM


Ok well i read this and then i tried out for basketball for our school team at Hauser Jr. High. Guess what I made it thanks guys for the support with lay-up tips! !
---
jc says:
11/2/2008 at 7:29:49 PM


is there any tips on making left hand layups if your dominant with your right hand
---
jc says:
11/2/2008 at 7:29:49 PM


great article
---
Joe Haefner says:
11/3/2008 at 9:10:35 AM


Hi JC,

I would advise to do twice as many with your left hand as you do with your right hand until you feel that your left hand is as good as your right hand.
---
whats a layup? says:
11/8/2008 at 10:40:19 PM


hi i would just first like to thank the creator of this wonderful website because i am under 15 years of age and i am 5'9" so i am pretty tall i totally stink at basketball. i made it on the basketball team because of my hight and i had no idea what a lay up was during tryouts. i decided to look up some rules and tips about this sport and found this website the most helpful again thankyou so much for this and god bless
---
Sheryl says:
11/13/2008 at 7:12:40 PM


nice site for amateur as well as professional players...
maybe they could add some definition of some terms specially the fundamentals of basketball. Well I'll be needing these informations...geezz..
---
derek moses says:
11/15/2008 at 11:04:54 PM


Hi I played basketball a lot I went to camps and everything but just notice I ve had layup slump all year.now I scared to go to the rim or shoot when I a wide open.also I have major problems shooting with my left side
---
jeff palage says:
11/19/2008 at 3:20:23 PM


hello
---
Unsure Player says:
8/21/2009 at 10:27:23 AM


Could someone tell me what foot does a player step off to do a right hand lay-up ?
---
Jeff Haefner says:
8/21/2009 at 2:27:07 PM


When getting started with right handed lay ups, you jump off the left foot. That is the technically correct way and the best way to start out learning. However, in the heat of a game you can't always control which foot is in rhythm (unless you stutter step and slow down). So for experienced players it's best to practice jumping off your right foot and your left foot. Really good players can finish the lay up no matter what foot they jump off.
---
hamid says:
8/26/2009 at 1:10:15 AM


hi thank you for your important tips about lay up. they were very good and useful to me but if you mind send me some simple lay up exercises to do for beginers. thank you for regarding.
---
asdasd says:
8/27/2009 at 5:12:28 AM


nice

---
Amber says:
8/31/2009 at 6:02:05 PM


dose it matter if your left handed
---
blak ice says:
9/10/2009 at 12:27:07 AM


I have a 5th grade team, what kind of punishment do I give them for missing lay ups. They missed 20.
---
Jeff Haefner says:
9/10/2009 at 8:27:03 AM


I would not punish them for missing lay ups. That just adds to their fear of failure (which is a very bad thing for athletes). There are more effective motivation techniques.

The first question is why are they missing lay ups?

Are they taking they're eyes off the basket? Are they inexperienced? Is the rim too high for them? To put things in perspective, YOU should try shooting lay ups at a 16 foot rim. See how many you make.

How many did they attempt? If they attempted 200, missing only 20 is really good!

The solution to your problem can be answered in one word. REPETITION.

Get your players LOTS of reps. Be patient. Chart their progress. Don't punish them. If you chart their makes, the will surely be motivated to improve. Don't make a big deal about it. Simply chart their makes and share it with them at practice. Keep track over time to see how they improve from week to week. Some weeks will be up and others will be down. But over the long haul they will get better with practice.

Remember, these are just kids that want to have fun. If you punish them for missing lay ups you're just going to drive them from the game and cause them to lose passion for the sport.
---
ariel rabe says:
10/12/2009 at 3:12:00 AM


To build the kids self-confidence in doing the basic lay-up, I first teach them the mikan drill. I even included the mikan drill in our individual mini-skills competition (winner with the highest score under time pressure). Of course, the mikan drill is not for kids who have yet to master the basic skills in ball-handling.
It is really important to strengthen first the kids', shall I say, baby muscles in the arms and legs.

Thank you for this opportunity to share my humble experience.
---
Maackenzie says:
10/13/2009 at 4:14:23 PM


WOW . ! i like to do lay-ups .. but i keep forgetting how to do lay-ups sometimes but lay-ups are sooo fun ! well my basketball game is starting now thnx for the INFORMATION !
---
Dionna says:
11/11/2009 at 12:21:23 PM


After 20 mins of searching on line I finally came across this website. I coach 7th and 8th grader girls and they hammer the ball of the backboard or shoot too far away from the basketball. This is a drill that I will incorparate today at practice I only wish it had pictures to go with the descriptions
---
karrie says:
12/4/2009 at 9:17:52 PM


this is a good idea because it helps me cooroperate with my team to understand how to make more,more,more lay-ups
---
anonomys says:
1/3/2010 at 8:38:03 PM


im a 14 year old girl on a middle school basketball team, what do you think girls this age have trouble on... and how should i improve.
---
misterZ says:
1/19/2010 at 1:44:29 PM


Great info. Lenny Wilkins is so Christopher Walken!
---
ayah says:
3/24/2010 at 11:52:27 AM


I love to play basket ball and all your techniques made me learn alot! thanks
---
Gilad says:
4/21/2010 at 2:33:15 AM


First - this is a great site. great teaching points and drills.
Now I'm a bit confused about the teaching steps here. In a right hand lay up when do you catch the ball (stop dribbling) ? when the right foot is in front or left ? It seems to me that the "dribble" should be before the first "step". It would be nice to have a video showing the teaching steps.
---
Tim Springer says:
8/23/2010 at 2:41:29 PM


I have found success in teaching my players to release the ball with a follow through similar to thier jump shot. This is for several reasons, one is makes their releas accurate. Two, if they lock and load the ball for a clean follow through they then bring the ball high into layup as they should.

Here is a video of a drill I use to to build a soft follow on the back board before going into the layup form.

http://www.youtube.com/watch?v=kW54avaMQ7U&feature=player_embedded

I stress a soft follow so the ball "kisses" the back board and swishes after hitting the glass. I also emphasize hitting the ball on the top corner of the box or even a little higher. This builds accuracy in thier follow through.
---
Joe Haefner says:
8/23/2010 at 3:03:34 PM


Thanks for the tips, Tim! Hope all is well.
---
brian says:
12/7/2010 at 12:15:29 PM


I''m sure for the most part it''s up to the Official''s discretion, but in most instances, just how many steps are allowed after the kids pick up their dribble to complete the lay-up?
---
jenny says:
1/9/2011 at 4:18:16 PM


This really helped me as a new player at age 13. I really didn't know anything about basketball, and when I wanted to try out for my 8th grade basketball team last year, I came here.
---
marie says:
1/11/2011 at 10:23:09 PM


what is the correct name or is there one for shooting a layup down the front of the rim Down the middle of the lane ,instead of left or right side? Front lay up??
---
Rudi says:
3/18/2011 at 6:30:07 AM


awesome
---
peter marino says:
4/14/2011 at 1:51:28 PM


basketball long distance program for 18 weeks
---
taterbug 555-get lost says:
8/21/2011 at 11:35:56 AM


hey its tay-tay here im in 8th gr. and im nervous bout try-outs...so if there anytips bout dunks orjust to teach me how to be a better baller your help will be very appriciated,,thnxz:D
---
ron says:
8/29/2011 at 7:02:27 AM


thanks for the tips
can you tell something about taking advanced layups like double clutch
---
Clint Stockton says:
11/28/2011 at 7:40:25 PM


Considering the first time meeting with my 2nd and 3rd Grade Team, I would love a video that demonstrates the above lay-up commands: from without the basket to with ball and basket...do you know of one that exists or could you have someone demonstrate. My first practice is Friday. I have coached before but not this age level...I hope to find this demonstration to help with lay-ups...also, do you recommend off one leg or two when working with first timers?
---
Jeff Haefner says:
11/29/2011 at 7:49:32 AM


I don't know of videos demonstrating the above technique. Bob Bigelow does break down the teaching of lay ups on his DVD. He uses a slightly different method, both methods are effective.
http://www.breakthroughbasketball.com/pr/bigelow-youth-right-way.html
---
Kevin Monahan says:
2/27/2012 at 1:27:44 PM


I tried this drill with my 8-9 year olds and it was helpful but confusing. It's a great drill but can be very long and the boys sort of lost concentration. One boy, after going through the whole drill and proceding to full layups, dribbled up, stopped then took the 2 big steps backward then did the drive and jump. I realized the last 2 steps of the lay up are similar to skipping so I lined the boys up and had them skip without dribbling, emphazing the leg drive and shooting or ball release motion while holding on the ball. I then had them skip to the basket, again without dribbling, made sure they stepped off the correct foot for each side and had them release the ball. We practiced it for a few months and they all developed great footwork for layups.
If you use skipping for body development, add a ball and have them mimic the layup motion.
---
Anonymous Chaddi says:
3/19/2012 at 6:28:07 PM


This site was really helpful. It's got it all.
---
Darrel Devernichuk says:
12/27/2012 at 2:48:43 PM


I have been using a similar drill for years with my youngest group, but I call it my "Right-Left-Hurray" drill.. I have them line up as described above (left foot forward and both arms back), and when I say go, they step with their right than left while saying right then left. And finally throwing their arms vertically and yelling Hurray to aid with their lift.

When we progress to using a ball and basket, I still have them saying the steps aloud, so that it becomes ingrained.

---
Joe Haefner says:
12/28/2012 at 1:32:15 PM


That's good stuff, Darrel. Thanks for sharing.

We do the exact same thing, except I didn't have them say the steps out loud. Thanks for the tip!
---
Craig McCollo says:
1/7/2013 at 8:22:28 PM


From a standstill with no ball, to "ghost dribbling lay ups" I do "right, left, SHOOT" for my 3rd and 4th graders. Whispering the left and right and yelling the SHOOG in an effort to get them to EXPLODE to the hoop, telling them to hurdle and try and put their right knee through their bottom jaw. Amazing how some kids "get it" and some just don''''''''t no matter how many times you try.

Some kids will just no continue dribbling into the lay-up. Instead they insist on stopping and shooting a set shot. I''''''''ll use this drill and see if it helps.

Thanks.
---
S. Willems says:
11/12/2013 at 11:13:33 AM


Great drill for teaching the basics of shooting a lay-up. I coach 16 (yeah that's right 16....) 3rd grade girls. We utilize the set, step back, etc. However a wrinkle that works great for us it to have the coach on the baseline bounce pass to the player (helps them work on the simple catch) while they are on the block. From there they can go through whichever progression step you are on. As a coach, you can make sure they are at the correct angle, make sure they are looking at the correct spot on the backboard, etc.

Thanks for the Great website!
---
Coach little says:
1/4/2014 at 1:29:25 PM


Thank god for this website!After I did the drills of this website my students were the bomb!Go team Break through basketball!
---
Kaley bowling says:
1/17/2014 at 10:50:55 AM


Hi I am kaley bowling I was wondering how do you dribble a ball without looking at it. I never could been able to do it it seems easy but when I try I can''''t do it.
---
Ken Sartini says:
1/17/2014 at 4:44:39 PM


Kaley -

Check this page out -

http://www.breakthroughbasketball.com/fundamentals/ballhandling.html
---
feven says:
4/16/2014 at 7:00:53 AM


this is vrey helpful
---
Bob says:
10/13/2014 at 11:10:10 PM


I've gotten so many ideas from this website that I wanted to pass on a tip. I was going through this tonight with my 3rd grade girls and the whole "Set, Drive..." wording wasn't working at all. My girls are all right handed so I had them line up to do the drill except I changed it to: "Take a step with the left. Now Skip." It seems using the word "Skip" made a lot more sense to these girls for jumping off one foot and bringing the other knee up. After a few series of this, we moved up to taking steps slowly, "Left. Right. Left. Skip." The skill progression worked great, it was just the wording that needed a tweak to set the light bulbs off for my girls.
---
Joe Haefner says:
10/14/2014 at 9:45:36 AM


Great idea, Bob! Thanks for the input.

Here is another page that shows video of the progression too:

http://www.breakthroughbasketball.com/drills/lay-up-progressions.html

---