Site Search
Q & A Forum
Experienced coaches are ready to answer your basketball questions! Visit our forum
Youth Basketball DVDs - Learn The Proper Skills, Drills, Progressions, & Coaching Style To Use With Youth Players
Bob Bigelow's Coaching Youth Basketball The Right Way -
Focusing on the Fundamentals
Dear Basketball Coach,
We have been lucky enough to form a relationship with Bob Bigelow to bring these content-packed DVDs to you. It covers the basic skills, drills, and concepts that EVERY youth coach should know. If you're a beginner coach or seasoned vet, you'll surely pick up some great tips from these DVDs.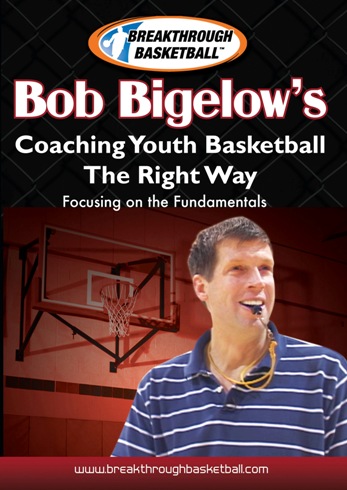 Who is Bob Bigelow?
Bob is a world-renown expert on youth sports and coaching youth basketball.
Former 1st Round NBA Draft Pick.
Played for the Kansas City Kings, Boston Celtics, and San Diego Clippers.
Played for three Top 20 teams at the University of Pennsylvania (Penn).
Played at Penn for Basketball Hall of Fame Coach Chuck Daly - the Coach of the 1992 Olympic Gold Medal "Dream Team".
Conducted over 2500 Talks and Clinics on Youth Sports and Basketball since 1990.
Bob has studied youth sports and youth basketball for the last 20 years and he's a world-leading authority on the subject. His focus is on coaching youth basketball the RIGHT WAY.

His approach is focused on what is best for the players and their future development. Unfortunately, few youth coaches know how to do this or have the expertise to properly handle the unique challenges of developing youth basketball players. In this new DVD, Bob shares his knowledge so we can all develop better players.
What's in the DVD - Volume I?
Introduction
What is a fundamental?
Why coaches should try using a 9 pound ball - it makes them think.
The challenges of young kids playing basketball and putting things in perspective.
The goal of this DVD is to teach better ways to coach youth basketball.
Chapter 1 - The Importance of Pivoting and Movement
Why you can't effectively play without this footwork!
How ball position affects center of gravity.
Teaching footwork and pivoting the right way.
4 drills to teach jump stops and pivots.
The proper progressions to teach footwork and a solid foundation for players.
Chapter 2 - Teaching Dribbling the Right Way
The proper way to build dribbling skills for young kids.
How gravity can impact the skills that you teach.
The 2 most important dribbling concepts for young kids to learn.
Unique progressions to effectively teach dribbling.
When and how to add a defense to improve dribbling and ball handling.
Learning to dribble the ball under defensive pressure (the proper progression).
9 youth dribbling drills with progressions.
Chapter 3 - Successful Passing for Kids
Why young kids are less inclined to "share" and what to do about it.
Challenges for young kids passing the ball and how to handle it.
Why the wall may be your best weapon for skill improvement.
Teaching balance and age appropriate skills.
Learning the 5 passing holes.
Learning how to pass around defenders.
Improving passing accuracy and teaching players to hit moving targets.
12 youth passing drills with progressions.
Chapter 4 - The Right Way to Teach Shooting
No more heaving the ball.
Matching kids' size and strength with the best shooting techniques.
How to teach and determine a player's shooting range.
The 13 spots to start shooting.
Why layups are different for kids than adults -- you have to teach them differently.
The real reason that youth players miss so many lay ups.
How to teach lay ups the right way.
Why you MAY not want to teach shooting to your kids YET.
Simple lay up drills.
Chapter 5 - Simple Offense for Youth Teams
A better way to teach offense.
Understanding the importance and concepts of triangles.
A super simple yet effective screening offense that you can teach in minutes.
Simple motion offense rules for youth teams.
How youth players can effectively move without the ball.
Cutting and simple drills to teach the concept.
Easy drill to teach ball screens.
Chapter 6 - 3 on 3 is the Best Way for Young players to Learn
Why all youth teams should play lots of small sided games (like 3 on 3).
Concepts for playing effective 3 on 3 basketball.
Playing 3 on 3 with a sideline passer.
Chapter 7 - Planning and Applying these Concepts in Practice
Bob's 3 iron clad rules for youth practices.
How to organize your practices effectively.
Practice planning - how to ensure that you and your players get the most out of practice.
Chapter 8 - Coaching Youth Games the Right Way
Coaching the process, not the outcome.
Giving out playing time appropriately.
Why most youth teams have too many players.
What to do on the sidelines.
Can kids really process or hear what you say on the court.
The best time to teach.
Playing the right type of defense for this age group.
Chapter 9 - Final Thoughts and Important Guidelines
Why basketball is a late developing sport and what that means to you.
Playing all year round - why it's a bad idea.
The development process of young players.
Very common mistakes in the game today and the right way to coach youth basketball!
Overall the DVD covers basic skills & has over 30 fun drill progressions for footwork, dribbling, ball handling, passing, shooting, and youth offense concepts.
The DVD is 85 minutes long.
Coaching Youth Basketball The Right Way Volume II
(More Drills & Tips)
Volume II gives you 32 more drills, expands on the topics in Volume I, and covers
more
youth coaching concepts and issues. Volume I gives you all the core tactics and the most important concepts for youth basketball coaches. Once you get through Volume I and have a strong understanding of those concepts, you can move on to Volume II to increase your knowledge and get to the next level as a youth basketball coach!
Volume II includes 2 hours and 10 minutes of footage spanning on two DVDs. It is geared specifically for youth players in 1st to 5th grade (5 to 10 year olds) and
beginner
middle school players (11, 12, and 13 year olds).
Here's what you get in Volume II:
Chapter 1 - Basic Rules and Referee Tips (NEW Topic)
Court dimensions and how the size of the court affects youth players.
Should youth players shoot standard free throws?
Rule differences for boys and girls.
Guidelines on how to referee young players. Special adjustments for youth players.
Chapter 2 - Proper Training Progressions
Learn the order that you should teach skills.
Why it's important to introduce skills by progression.
How to introduce those skills.
Chapter 3 - Ballhandling
10 NEW ballhandling and warm up drills.
Tips and key coaching points for ballhandling drills.
Chapter 4 - Dribbling
How to properly progress through dribbling skills.
Tips for youth coaches when they teach dribbling.
5 NEW youth dribbling drills.
Chapter 5 - Coordination & Footwork
Why skills are often introduced too early and coordination needs addressed.
How to get young players to move at faster speeds and stay under control.
NEW dribbling variations to jump stop drill
3 NEW coordination, footwork, and movement drills.
Chapter 6 - Passing
Passing tips and fundamentals.
3 NEW youth passing drills.
Chapter 7 - Shooting
How to teach shooting form.
When to teach shooting form.
Basic shooting drills.
Chapter 8 - Lay Ups
Why kids miss lay ups and why they are so difficult for youngsters.
The best way to teach lay ups and progress through each step.
4 NEW youth lay up drills.
Chapter 9 - Rebounding (NEW Topic)
Why your best offense is the missed shot.
Rebounding tactics to score more points.
Average rebounds available based on age level.
How to teach proper rebounding technique.
Unique perspective on rebounding at the youth level.
3 NEW and simple rebounding drills.
Chapter 10 - Individual Offense (NEW Topic)
Why this can be a slippery slope for youth players.
How to simplify individual offense moves for youth players.
How to teach jabs and ball fakes to make youth players more effective.
How to teach basic moves.
Chapter 11 - Team Offense
Additional screening and cutting concepts.
How to cut and get open.
3 NEW and simple drills for teaching team offense.
Chapter 12 - Defense Tips (NEW Topic)
Defensive tips for youth players.
How to reduce fouls.
How to lower your opponent's shooting percentage.
Chapter 13 - Individual Defense (NEW Topic)
How to teach the defensive stance to young players.
The proper way to shuffle and guard the ball.
NEW drills and tips for on-ball defense.
Chapter 14 - Team Defense (NEW Topic)
How to teach and play good team defense.
How to teach proper defensive positioning.
How to teach help defense.
Important defense tips for youth coaches.
Using the shell drill to teach youth concepts.
Chapter 15 - Critical Youth Coaching Tips
How to keep practice moving and keep players engaged.
How to structure your practice.
How to discipline kids, handle behavior problems, and keep their attention.
Conducting an effective youth practice.
Game coaching tips.
The player's perspective and why you should be aware of "inattentional blindness".
How to become a better youth coach.
How to keep less experienced kids from getting discouraged.
Stats you should track at the youth level.
Playing time and the problem with cutting kids at this age.
How to provide long term development and success.
What's wrong with youth feeder systems and how to correct the issues.
Common mistake high school and experience coaches make with young players.
What Makes These DVDs Unique?
The biggest thing is that few people in the world possess the knowledge and expertise that Bob Bigelow has about youth basketball. He shares expertise and advice that you just don't hear anywhere else. His concepts are unique and after seeing his clinic we knew he was the perfect person to help us create a youth coaching DVD.


Bob is working with these players for the first time. Nothing is rehearsed, so you will see actual coaching and a lot of the same situations you will face during practice.


The players are actually beginners and not highly-skilled college or pro players like you will see in most DVDs. As a teacher/coach, this makes it much easier to relate what you learn throughout the DVD to your practices.


Not only does Bob teach the critical fundamentals mentioned above, but he also delves into issues that you only learn from years of experience. Most of the time, you don't learn these things until it's too late and you're DONE coaching.


What Age Group Is This For?
We highly recommend this DVD for anybody that works with players under the age of 12. This DVD is for any coach that works with beginners or youth players with a few years of experience. Sometimes, you might coach 13 & 14 year olds who have relatively little basketball experience and need to start with the basics contained in this DVD.
Watch This Sample Video Snippet from the DVD
How Much Does it Cost?
Option 1 - Volume I Only
- 1 DVD that is 85 minutes long
$29.95
Option 2 - Volume I and Volume II
- 3 DVD set that is 3 hours and 30 minutes.
$89.85
$59.95
If you would like to buy in bulk, please
contact us
for special pricing.
60 Day Money Back Guarantee
Just like any reputable bookstore or retail business, we have a 100% money back guarantee too.
If for any reason, your purchase is not what you expected, just
send us a message
and we'll give you a full refund. No questions asked.
"Claim Your Copy Now"
Option 1 - Volume I Only
Price $29.95
Add to Cart
Option 2 - Volume I & II
Regular Price
$89.95
Today $59.95
Add to Cart
If you'd like to order by telephone, call us at 1-866-846-7892 (toll free).
If you have any questions, don't hesitate to
contact us
.
Sincerely,
Jeff Haefner
Joe Haefner
Breakthrough Basketball, LLC.
Customer Reviews
---

Roy from Elk Grove, CA says:


3/25/2010

at 3:52:35 PM


This DVD is GREAT! I will be using Coach Bigelow's drills and philosophy with my 9-10 year old players I am currently coaching. Thanks also to Breakthrough Basketball for all the good insights on how to coach youth basketball.
---

Coach Schwager from South Bend, IN says:


4/13/2010

at 5:41:09 AM


Great video. Nicely put together. Gives really well thought out tips and ideas for workig with this age group. Gets back to the fundamentals. Can't wait to put these ideas into practice next year.
---

Al Lively from Dunbarton, NH says:


4/13/2010

at 6:19:10 AM


It was well done. And at the corect level.
Some additional fun/compeitive drills would have been good.
We are using it with our AAU U10's.
---

Eric Levesque from Nashua, NH says:


4/13/2010

at 7:39:11 AM


I like that he shows some drills I'd never done before, and he does them very age-appropriately. I love the triangle and screen section of motion ofense drills. It was the concept that I tried and failed to teach last year, and will be able to get across this fall.

---

Bill Darroca from Fishers, IN says:


4/13/2010

at 7:46:43 AM


Excellent!!! Started to install Rick Torbett's Read and React system last season. This video is a wealth of ideas to help with our fundamentals to fine tune our offense. Gives great ideas for "quick hitters" to initiate the offense.
---

Michael Borkowski from Menomonee Falls, WI says:


4/13/2010

at 7:53:38 AM


This is an excellent part 1 to youth coaching. I would like to see part 2 teaching team concepts and play at this level. Keep up the good work.
---

Bill from adams, TN says:


4/13/2010

at 8:32:08 AM


All I want is to prepare my players for Middle/High School. This DVD will give me even more tools to accomplish that. It's nice to get a few wins along the way. I believe these fundamentals will help to accomplish that too. Thanx Bob, and thanx Breakthrough Basketball for making it available.
---

mr loser from Findlay, OH says:


4/13/2010

at 8:59:07 AM


Excellent DVD with loads of practical suggestions for successful youth b-ball player development. We will use the wall, triangle and 3-on-3 more next season. Only change: come down even harder on coaches about playing time. Kids "win" by learning fundamentals, getting to play in games, having fun and developing a love for the game, rather than on the scoreboard.
---

Mike says:


4/13/2010

at 1:38:23 PM


I was (and remain) very impressed with the content. I am currently coaching 7th grade boys and will be stepping back and working with 5th graders in the coming years, and I am absolutely going to incorporate much of this into our practice routines.

Probably one of the top 3 purchases I've made as I strive to become a better youth coach!
---

Doug from Glen Ellyn, IL says:


4/13/2010

at 1:54:08 PM


Great DVD. We utilized Breakthrough Basketball.com heavily in this last season of 10 yr old girls basketball and it really paid off, but we often struggled to find age-appropriate drills to teach key fundamentals. I wish I'd had this DVD @ the beginning of the season as it provides great drills and priorities for those of us who start with kids who have very few skills.
The DVD would be even better if it included a little more on defensive drills and skills development. That said, I'd strongly, strongly recommend it for any youth coach.
---

Debbie from Miami, OK says:


4/13/2010

at 5:54:08 PM


I have not reviewed all of the DVD yet. The sections that I have checked out have been quite helpful and age appropriate for my 6th grade girls team. I wish it would have came with a hard copy of the different drills - then I could refer to it during practice.
---

Jeff from Wyoming, OH says:


4/13/2010

at 9:36:51 PM


Great subject matter and presented in a nice format. Very easy to take this straight to the court and practice effectively with your kids. Could use some better editing, as a few times the camera focused too much on Bob, while the kids were demonstrating a skill. I would love to see more!
---

Preston Parker from St.Paul, MN says:


4/14/2010

at 9:10:06 AM


Great video it's everything that's need to become a great coach!
---

Steve Katalinich from minneapolis, MN says:


4/14/2010

at 9:51:29 AM


A great video. The triangle concept and 3 on 3 ideas are excellent and easy to communicate to the kids--that alone was worth the purchase.

I would have liked to see his "shooting mechanics", which he referred to but did not detail. His comments on basket height and ball size were great for the various age groups was very helpful.

The various dribbling, passing drills were very helpful.
---

mike from ringwood , NJ says:


4/14/2010

at 5:04:58 PM


Great way to teach fundamentals. I will be recommending our rec department give this dvd to all the 3rd and 4th grade coaches. It will really help teach the kids the rihgt way
---

Tim Turner from wallkill, NY says:


4/18/2010

at 9:34:50 AM


This was an excellent DVD. Although I don't coach @ this level it was very informative in regards to the progression that is needed in order to master certain fundamentals. I coach in an HS inner city setting and some of the basic drills could assist some of the players. Nevertheless, the one thing that stands out in my mind is that we all crawl before we walk and we walk before we run.
---

Scott Morse from Spokane, WA says:


4/20/2010

at 12:00:36 AM


This was a great DVD for coaches working with young players. While I have coached for many years, I was looking for some good ideas for a group of nine year old boys. This DVD had a lot of good information on all aspects of the game. I particularly liked the section on footwork and pivoting. The analogy of the basketball being like a medicine ball for a child, gave me a good perspective for working with these younger age groups. Coach Bigelow did an awesome job with this video and I would recommend it to other coaches. I would be very interested in one of his clinics or future videos if they are produced. Nice job!!!
---

Scott from MT. LAUREL, NJ says:


4/21/2010

at 10:21:09 AM


Loved it. Particularly liked the parts on pivoting/footwork, running a motion offense (vs. structured/set offense), and running lots of 2on2 and 3on3 during practice.
Also appreciated the emphasis on skill development and fun vs winning games.
Anyway, thanks for the DVD and the other valuable information on your website.

---

Bernard from welkenraedt, None says:


4/21/2010

at 12:21:17 PM


Excellent DVD coach Bigelow. Nice tool for youth coaching. It is plenty of good ideas to guide our young players and gives us a important lesson : we have to respect their level.
---

jim schoenenberger from evansville, WI says:


4/22/2010

at 11:04:38 AM


great dvd would recomend for any coach .Bob breaks down all the fudamental tells you what you should teach and what the kids comprehend . will help me in making my summer camp for grades 1st- 8th better.
---

Patricia Tullen from Beringen, None says:


4/25/2010

at 1:28:13 PM


Sorry, but I am a little bit disapponted.
I expected a DVD for Youth to get better in fundamentals. Not to start learning fundamentals.
---

Christopher says:


4/30/2010

at 10:35:39 AM


This is a treasure for the coaches who handle the very young enthusiastic students. Certain things even though we know and know how to teach, sometime we forgot teach. This DVD makes me understand how important the correct basic fundamentals are. By seeing this DVD at least once in a month may make me refresh. I personally feel this is a treasure for me.
Thanks for the coaches and all involved in this.
---

Nick from Clintonville, WI from Clintonville, WI says:


5/12/2010

at 8:34:25 AM


This is a great DVD for youth. Will help them get started and also develop their skills. Bob shows great drills for any coaches to use. He also explains why he is using them. It is easy for parents and kids to understand Bob. I will refer to this DVD when coaching youth and running clinics.
---

Nelson from Los Angeles from LA, CA says:


12/2/2010

at 6:54:32 PM


Entering my 5th year coaching youth from 5-10 years old, and having read a ton of books and seen a bunch of dvds, i can without question say this is the best coaching advice I seen. Bob's philosophy is right on and he shares a few pearls of wisdom that every youth coach should know. That being said, most of the drills and offensive ideas (Vol 1 does not cover defense) are most helpful to 4th graders and up. Younger than that, creating a fun experience for kids requires some shortcuts like a simple 3-2 zone D and games focused on real fundamentals. For instance, the Steve Nash vid has great ball handling drills you can begin at 5 or 6. But once kids get a little sentient and develop more patience than a hamster, follow Bob's advice. It's brilliant.
---

Yony Epshtein from Herzliya, None says:


1/8/2011

at 11:56:04 AM


The DVD is very low quality - especially the sound. That is too bad since the substance of it is very nice and it kinda ruins the whole experience of learning from bob.

I like the way he simplifies things and his philosophy on kids and kids basketball.

I try these ideas in my practices and think the concepts of bob's DVD are right on the spot.
---

John from TAMA , IA says:


1/8/2011

at 12:17:02 PM


A valuable input to the discussion surrounding "youth" basketball. I'm just getting back into bball coaching, with my grandson as motivation. (He's nine). I agree with most of Bob's conclusions and advice. The balance of his ideas is not a matter of disagreement, but rather hypothesis which I'm now testing. For example, use of weak hand for lay ups is completely out of the question for nine year olds on 10 foot baskets. Who could argue the eight foot baskets proposition? He's also right about zone presses and zones in general. With limited gym time, any time spent countering the zone is doable at the high price of fewer reps on what I consider essential fundamentals. An example of the undecided and testable is his notion of 3 on 3 and half court. I lean toward his opinion, but think the concept of weak side help and transition defense are important to introduce too. All in all, with other inputs available, Bob Bigelow is a must in the mix.
---

steve zapien from wheat ridge, CO says:


1/8/2011

at 2:49:26 PM


Very helpful! I thoroughly enjoyed it and learned an incredible amount. However, I was very disappointed with the shooting aspect of this video. I coach a girls 9-10 year old team and understand the real need to lower the basketball rims to a more acceptable height. This video does not help with the immediate problem of trying to teach these young ladies how to shoot a ball every day at practice or during the game. Very frustrating!
---

Andrew Schweller from TAMA , IA says:


1/9/2011

at 8:41:13 AM


Liked the drills. Wish I could purchase second video separately. Take advantage and buy both a same time..... This guy has a lot of good ideas....


---

Steven Gauze from pilgrim, KY says:


1/9/2011

at 9:38:02 AM


Great video. I coach 7-8 year olds and the video really let's you know what to focus your practice on. I have played and coached for many years but learned so much from this video.
---

Paul from spruce head, ME says:


1/13/2011

at 11:46:24 AM


The DVD offers lots of good ideas on how to teach basic fundamentals to youth players. Quite often youth coaches take for granted that kids know how to do this stuff, and as a consequence they are never taught the basics. This DVD should be viewed by anyone wishing to coach youth hoops.
---

Lonny Hagen, Elem girls basketball coach Glenville-Emmons, MN from Glenville, MN says:


11/15/2011

at 9:30:55 PM


I cannot say enough on how much I learned from the DVDs and how much the elementary girls are enjoying our practices. The drills are so suited to them and the thought process Bob gives really shines through when you can actually see progress in development with skills and their enthusiasm to keep practicing. I have girls asking me all summer when does basketball practice start...and we dont start until November. Thanks Bob. You are truly a sports ICON.
---

Luc Salvas from Drummondville, QC says:


12/10/2011

at 11:45:12 AM


An interesting reminder of the Life of a youngster on a basketball court.

---

Dan Thibeault from Sterling, MA says:


12/10/2011

at 11:51:11 AM


Great resource for me as a first time coach (of any sport). After watching the video, I came to the court with five 6 year olds ready to help them develop appropriate skills with fun drills. The video helped me organize my practice, conceptualize some viable goals for the 3 month season and begin to execute them during the time on the court. Bob's philosophy about youth sports is invaluable. His ideas and methods make for a sound and sane introduction to BBall, but still can/should be transfered to many other sports. Some of the other coaches have also subscribed to the Breakthrough newsletters and we are now "diciples". I hope to attend a coaching seminar with Bob, he really has the knowledge and passion for the sport, but most of all, for what is right for our children.
---

rob smith from Hauppauge, NY says:


12/11/2011

at 4:11:35 PM


Very good DVD.
Well explained.
Easy to understand.
EXCELLENT points made about the right ways to teach young kids.
Also shows how NOT to teach them.
All the drills in the DVD will be beneficial to all young players.

---

Craig says:


11/30/2012

at 3:43:47 PM


Dissapointed - not in the video but myself for buying it. This is VERY fundamental. Great information if you have never played the game.
I was hoping for more coaching tips centered around creating and running an offence for youngsters as well as some half court defence. I should have spent my money on a different video. I'll sell mine back to you?
---

Doug from Portland, OR says:


12/2/2012

at 10:36:14 PM


Excellent coaching aide. As a first time coach for a 3rd grade team, volume 1 been very helpful. I plan on ordering volume 2 soon.
---

Lee Scovern from Seattle, WA says:


12/11/2012

at 12:40:18 PM


This DVD helped me to understand the capabilities youth basketball players have and how to develop drills that can compliment them developmentally.
---

Nikki Bradford from San Diego, CA says:


2/2/2013

at 7:37:44 AM


Excellent instruction on coaching youth players. Every coach should watch to understand the developmental needs of young players and how to best teach them the fundamentals of the game. I played basketball but not at the young level I'm coaching (9 and 10 year olds) and the game really should be introduced and practiced differently than the way many of us might remember our varsity playing days. I will be recommending some changes to our local rec center league and have already shifted my focus as a coach of young players. Highly recommend!
---