This winter I'm coaching a 7th grade boys Iowa Prep club team.  My son Evan is on the team.
I'd like to share what we're doing — and what I consider to be important aspects of both winning and player development…
What I Consider to be Good Club Guidelines for Developing Players
Iowa Prep is one of the few clubs in the state that says "player development" is a priority — and they actually back up that claim with their actions.
Almost every club says "development" is a priority.  But very few clubs have the discipline to see that claim through.
Some of their player development guidelines that I like include:
– 3rd-6th grade must play 100% man to man defense. 7th-12th grade must play man to man defense at least 75% of the time.
– Coaches teach motion offense and universal offensive concepts (UOCs) to players.
– Coaches must spend at least 35 minutes of SKILL training at every practice.
– Once you're in the program, you're in. Since the emphasis is "player development", they do not cut players.  Automatic renewal for athletes on each team from year to year (unless there is mis-conduct by parent or players).
– They require coaches to be USA Gold Certified and have policies in place to help protect children from abuse, bullying, and so on.
This is not a pitch for the club.  This is simply an example of what I think are good guidelines.
And a few things I think you should consider looking for when choosing a team or club for your child.
Coaches:  Why You Need a Team Identity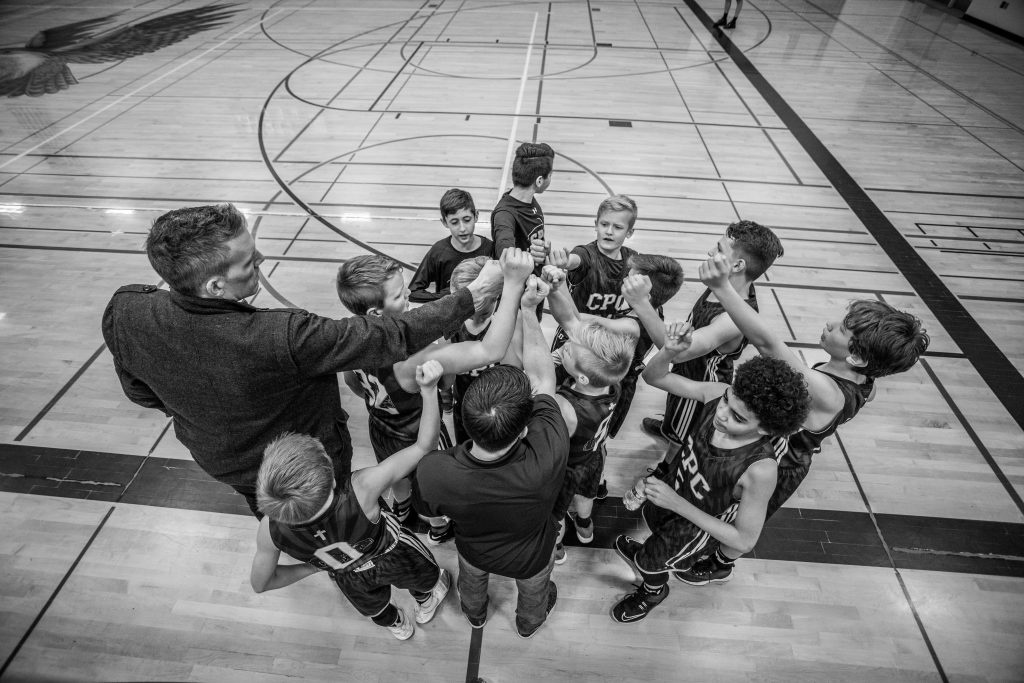 Even with high school teams, when you practice every day, you can't be great at everything.
There just isn't enough time to be a "great" at uptempo transition, half court execution, BLOBs, handling pressure, half court defense, full court press, passing, shooting, driving, screening, teamwork, motion offense, EOG plays, rebounding, zone offense, etc, etc.
If you try to be great at all those things, you end up bad or mediocre at almost everything.
So I try to pick a handful of areas we want to be GREAT at and come up with a team identity.
We want a few things we can hang our hat on.  That doesn't mean we'll ignore the "other things".  It just means we'll put extra effort into being great at a small set of things.
Almost every championship team I can think of at NBA, college, and high school level had an identity.  This seems to be a recurring theme.
I think all the really good teams out there have identities.
Should youth teams have an identity?
Good question.  Should a 3rd grade coach be too concerned about a team identity?
I believe all coaches (including youth coaches) should have a deliberate "coaching philosophy" that guides them… keeping them on the straight and narrow.
But when it comes to establishing a clearly visible team identity, at the 3rd-5th grade level, I don't think that is a super high priority.  But if you take the right approach, it can potentially help.
For example, a good identity at 3rd grade might be "we're going to have fun, be positive, and play hard".  Our identity is we hustle, get after rebounds, and we have fun… we have smiles on our faces and we're giving out lots of high fives!!!
That's a pretty good identity for a 3rd grade team that I think would have a positive impact.
So, in my opinion, the identity should be based on development (fun, fostering a love for the game, and maybe effort)… not tactics for winning like you might see at the NBA level.
Team Identity for Our 7th Grade Boys this Season
With our 7th grade club team we have established an identity.
To come up with our identity, I asked our players for input.
I think it's very important for players and parents to buy in the team identity.
So I started by explaining the importance and asked our players:
What do you think our team should identity should be?
What do you think we should be really good at this season?
What are some of the best teams really good at?
What happens most often during a basketball game?
Their responses (summarized) included:  defense, passing, teamwork, rebounding, shooting, communication, sharing the ball, boxing out.
This is good stuff.
Did I ask them leading questions?  Yes… a little bit.  Did these players have experience to draw from when giving their answers?  Yes, they did.  Otherwise I think it would be hard to get feedback from players.   They need a little experience to provide much input.
Now, I take their feedback, add my own two cents, and come up with our list.
It goes without saying, our focus will be on skill / player development.  So I made sure to incorporate that.
After getting input and approval from our players, here's what we have decided to focus and get really good at this year:
1)  Skill development — Includes shooting, ball security, dribbling, passing, footwork, finishing moves, screening, cutting, creating angles, etc.
2)  Defense – We'll play primarily man to man defense because that is best for long term player development.  This includes our transition defense and BLOB defense, which is important.
3)  Rebounding – On defense, all 5 players must box out on every shot!  On offense, we need 3 players crashing (1 of them with weak-side position on every shot) and 2 players back on defense.
4)  Execution & IQ – We will be great at executing a few key situations, which for us includes inbounds plays (BLOBs and press breaker).  We also need to be great at decision making and strive to continually improve our bball IQ on offense and defense.  (We might not be the fastest or biggest team… we can't change that… but we do have a chance to be more focused and outsmart our opponents with better decision making).
5)  Teamwork – We will share the ball, reverse the ball, communicate with each other, screen for each other, and work together as a team.
Bottom line for this team:
If we can defend, rebound, take care of the ball, play together as a team, and execute our plays…  we'll give ourselves a chance to win some games.
Getting great at these things won't happen overnight.  But that will be our focus for the season.
If players and parents buy into this philosophy (the players should buy in because 90% of it came from them)…  then we'll have a chance to make big improvements this season and maybe win a few games while we're at it.
Why choose "Inbounds Plays"?
I chose to focus on executing inbounds plays for several reasons…
First, I don't like spending much time teaching kids to memorize "plays" or "patterns" during practice.  It takes from valuable time we could be spending on skills or teaching UOCs (universal offensive concepts).
But I'm ok with spending 10 minutes each practice working on a few plays.  There is a little bit of value for kids learning how to run set plays.
I chose BLOBs (baseline out of bounds plays) because I think that gives us the biggest bang for our buck.  They happen all the time, especially with youth teams. And how often do you see teams giving up easy layups from simple BLOB plays?  It happens all the time.
Most teams spend a lot of time practicing half court or full court defense.  How much time do they spend practicing their BLOB defense?  Maybe a couple minutes, if at all.  So that gives us the advantage.  Most teams don't spend much time practicing their BLOB defense.
If our team can get really good at defending BLOBs holding our opponents to zero points and if we can manage to score 10 points by executing our BLOBs, that could be a 20 point swing in the game.
I also chose Press Breaker because we need to avoid turnovers.  We need to take care of the ball.  Our team is kinda short and not very fast.  We're just not going to run teams out of the gym.  Pretty much every team we play will be bigger and faster.  So we just don't have margin for error.  We'll need to take care of the ball, rebound, and defend to give ourselves a chance to win games.
Not to mention, you know most youth teams try to win by pressing and causing turnovers.  So we need to be prepared for it.
Universal Offensive Concepts (UOCs)
Since player development and basketball IQ is important to us, we spend a lot of time on UOCs. Our motion offense is very simple.  There is NOTHING to memorize and takes no time to teach.  It's based on UOCs like:
Spacing
Passing angles
Misdirection and reversals
Getting the ball inside and coming back out
Quick decision making on the catch
Setting screens and knowing how to use them
Cutting and reading the defense
Cutting to space when your defender loses vision
Etc
So you don't see us working on sets, memorizing patterns, or learning a bunch of rules in our motion.  You just see us working on UOCs.  Then we let the players play.  As they play and get more experience, we continually try to improve decision making, IQ, and execution of UOCs.  For the most part, we learn by playing various games… whether they are small sided games or full court 5v5 games.
Emphasize Growth and Improvement
This is not on the list.  But we also emphasize growth and improvement with our players.
Growth is the main thing I'm looking for this season.  Yes, getting taller would be awesome, but that's not what I mean.
I'm looking for team and individual growth in regards to basketball performance and their character.  That means getting better at defense, offensive skills, rebounding, decision making, basketball IQ, resilience, communication, teamwork, discipline, listening skills, and so on.
As much as I like to win, and our team will fight to win every single time they step on the court!!!! … that is not what this is about.
If my primary goal was to win every game this winter, I would coach these kids much differently and use very different coaching tactics.
My primary goal is GROWTH…  and while we're at it, we're going to try to win… but not at the cost of sacrificing growth.
So if I'm being honest, that's all I want for my own son Evan.  I just want him to be in an environment where he can grow as a player, grow as a person, learn lessons from sports, and have some fun.
That's the type of team I want him to be on. Not a team that is the BEST in the state and wins almost every game.  But a team with like minded players that can learn, improve, will work hard, will work together, and grow together.  That is what I think is most important.
Important for Parents to Buy In
I find it to be very helpful for parents to buy in and support the coach's philosophy, whether they agree with it or not.
I will tell you right now.
Having supportive parents (even if they don't agree with the coach's philosophy) is the key to having a team that is successful, grows and exceeds expectations.
Over the years, this is what I have found to be true with young teams.
When parents and players buy in, or at least support the coach, it is an amazing experience.
Parents that are not supportive, only hurt their child and the team.  Nothing good ever comes out of it!
Identity Can be the Difference Maker.. but NOT Always
Players need to work hard and embrace your team identity.
I have seen mediocre team beat more talented teams because the mediocre team had a clear identity, where the more talented team did not.  The mediocre team knew who they were.
I just think it makes the team better, allows for more development, for more team comradery, more passion, and more fun.
Coincidentally, the 8th grade girls team I coached in the spring had a very similar identity.  They bought in and had a very successful season!!  And I've had success with many other teams because of our focus.
But it does NOT always work.
As an example, our boys team started out slow… struggling in their first tournament. Granted, we have only practiced together a few weeks… but we could be practicing for years and it would not make a difference…
Our opponents were at a different level!  It was like men playing against boys.  No team identity or scheming will help us in these cases.
At this age level with boys, the discrepancy can be huge.  Having players that mature early, can make a big difference.  Our team mostly consists of late bloomers.
This is why focusing on "improvement" that I mentioned earlier is important.  Sometimes it just doesn't matter what you focus on.
We did actually improve on day 2… even though we lost by a large margin.  Our execution and decision making was better.
We chalk this past weekend up to learning from adversity.  And know that upcoming tournaments will have more appropriate match ups and closer games.
If we stay the course, it will pay off.  It has paid off for me in past seasons, over and over again.