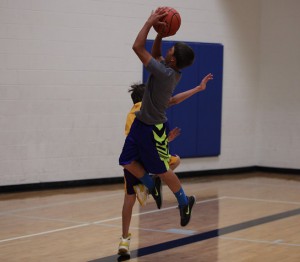 This season we added a new wrinkle in how we present our offense.  We believe it will help improve our shot selection and overall efficiency of the offense.
It's all based on this simple premise…
We only take two kinds of shots:
 1)  WIDE open jump shots.
2)  Shots within 9 feet of the basket.
50% or more should be within 9 feet of the basket.
Someone should be in rebounding position on EVERY shot.
The premise is simple — but the key is HOW you implement and present shot selection to your players.
Before we get to implementation, let's talk about the logic behind this strategy.
The Logic Behind the Rules
Now your "shot selection rules" might be different than mine.  The rules above are what I use for 10th grade boys.
My thought process is this.  Offensively — we want…
Lay ups with rebounders following and weak-side guys crashing
Floaters/runners with weak-side rebounders crashing
Post ups with weak-side rebounders crashing
Wide open jump shots with weak-side rebounders crashing
If those are the ONLY shots we take and 50% of the shots are within 9 feet of the basket, our offensive efficiency is going to be incredibly high!!
These are all very high percentage opportunities.
Even if we only hit 30% of our floaters, we'll clean up at least half of the offense rebounds because we train our players to anticipate the floater and get weakside rebounding position.  Not to mention, if we are able to penetrate within 9 feet of the basket, the defense will be scrambling to "help" instead of boxing us out.
The shot selection rules will get our offense working the ball until we get the high percentage shot and the opportunity we want.
How to Implement the Strategy
When putting in our offense, I start by telling players "here is our entire offense" and then demonstrate the two types of shots we can take…
Part 1 – Have players set up in their offensive formation (ex: 4 out 1 in).   Pass the ball to a perimeter player and have them shoot while a defender is about 8 feet away.  Make sure you have an offensive player in weak-side rebounding position.
Ask the question,"what type of shot was that?"  This will get the conversation going…
It's a WIDE open shot with the player in good shooting position and catching in rhythm for a shot.  It also has a rebounder in weakside position.
(I go pretty slow, ask them questions, and might even show it a couple times to MAKE SURE they get it and understand how important this is.  I also show them what is NOT a wide open shot.)
Part 2 – Next get out the tape measure.   Show them what 9 feet from the basket looks like.  Have a player shoot a floater and/or lay up.  Make sure rebounders are in position when the shot goes up.
Ask, "What type of shot was that?"
Now ask them what are all the different shots you can get 9 feet from the basket.  Go through each type of shot (lay up, post up, runner/finishing move).
Part 3 – Ask them… "how else you can get a shot 9 feet from the basket?".  You can then shoot it off the backboard and let a weakside player get the rebound.  Now they can see another way to get a shot with in 9 feet (offensive rebounds).
That's it.  That's our offense!   We only take two kinds of shots:
1)  WIDE open jump shots.
2)  Shots within 9 feet of the basket.
You Can of Course Adjust Your Presentation
That's a brief and rough explanation of how I presented it to players.  You can obviously present the rules however you'd like.
But I do think it's important to take your time and clearly demonstrate EXACTLY what your looking for.
You need to allocate at least 15 minutes of practice to initially demonstrate the rules.  Otherwise I don't think it will have much effect.
In addition, you'll have to continually have to hold players accountable when it comes to follow the rule.
Defining Player Roles – Who Should Shoot?
For the most part, I don't care who shoots and role definition has always worked out naturally for me.  I don't even talk about it.
I don't mind if a marginal finisher shoots a floater.  It's still a good shot because we're going to get lots of rebounding opportunities.  Any time you can shoot near the basket off penetration, the defense is going to be scrambling and be out of block out position.  So offensive rebounds are easier to come by.
Not to mention, by having a balanced attack from all 5 players on the court, your best scorers get better looks and more open shots.
Progressive Shooting Drills Help with Shot Selection
We also do a lot of shooting drills where players can only move out if they are hitting around 60% or more of their shots.  So most of our shooting drills teach players where they should be shooting from.  If they only make it to about 10 feet from the basket in the drill… well, that's their shooting range (10 feet).
A good example is the "2-up 2-back shooting drill".  For the drill you have a shooter and a rebounder/passer.  Shooter picks a spot on the floor from about 6 feet from the basket.  They start shooting while the rebounder passes back out.  If the shooter makes 2 shots in a row, they take one step back.  If they miss 2 shots in a row, they take one step forward.  They continue shooting for 3-6 minutes.
After the time is up, the player should look to see how far back they got.  This starts giving them an indication of their shooting range.
Hopefully this gives you some ideas on how to improve your teams shot selection and improve your offensive output.
Leave your comments, questions, and ideas below.