Last year I tried something new. We ran a 4-day summer skills camp for my daughter's 4th grade basketball team. It was VERY productive! So I tried it again this summer as 5th graders…
We just finished the camp and it was incredibly productive again. It's one of the best things I have done and I plan to do it again next year.
The 4-day camp is literally equal to a month of regular season practices (practicing twice a week). It's amazing how much you can get done when you practice four days in a row for 3.5 hours each day. It's just so efficient. Amazing.
I don't know why I didn't think of this a long time ago.
Now you might not be able to follow the same schedule that I do (most of you probably have a real job).
But if you coach a youth team, I suggest you consider trying to offer a "team camp" for them.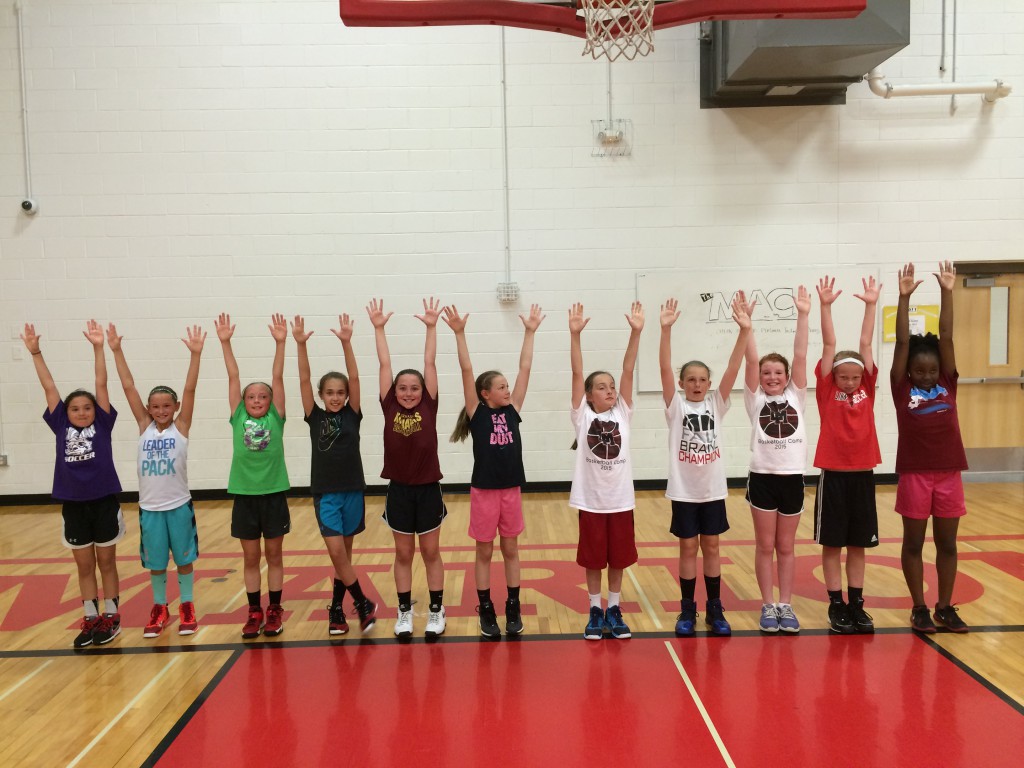 Here's How We Structured the Summer Team Camp
Participants
The camp is for players on the team only. This allows us to incorporate offensive and defensively aspects that might be specific to our team. And allows us to build on previous seasons.
Last year we had 10 players at the camp.  This year we had 12.
I planned way ahead and asked parents to mark the dates on their calendar so everyone could attend.  I also planned around other big basketball camps in the area to try to avoid conflicts.  I considered this camp to be "mandatory" for players on our team.
Schedule
Both summers we ran the camp in late July.  The camp ran Monday through Thursday (4 days) from 8:30am to noon.   We took a 15 minute snack break each day around 10:15am.
If you have a real job and can't take four half days off of work, you could offer the camp in the evenings (ex: 4:30-8pm).  Or if all else fails, you could do two weekends in a row (Saturday and Sunday).
Carpooling
We offered carpooling options so parents could get their kids to camp and still make their work schedule.  There were  a few days where players rode home with us and played with my daughter until their parents had a break from work and could pick them up.
Content
We have a few new players this year.  So we started at the very beginning with basic fundamental concepts, team offense, and team defense.  The camp was mostly skill oriented but we also incorporated some team stuff and tactics. By the end of the first day we had our "base offense" implemented and our defense.  So the last 30 minutes we were able to scrimmage.
Each day we worked on dribbling, passing, post footwork, 1v1, lay ups, shooting, team offense, team defense, and scrimmaged.  We also mixed in some team building activities.
On the final day, the parents organized an after-camp pool party.  And the players were able to go swimming at the pool during the afternoon of day 4.
Overall it was incredibly productive for team building, skill development, implementing our offense, and teaching our defense.  We're literally ready to play games right now!
This will allow us to hit the ground running on the first day of practice in November.
From here we just offer a couple fall practices each month so we "maintain" the skills and remember what we learned.  We made incredible progress during the camp and it doesn't take much to maintain the skills and lessons so they don't fade away.  A couple practices a month learning up to the regular season will do the trick.
Why Did the Team Camp Work So Well?
When you can work for 3.5 hours at a time, you can get through almost everything (skills, offense, defense, etc).  And when you work daily, there is no slippage because everything is fresh in their minds.  Players pick right up where you left off the previous day.
During the regular season, there can be 2-6 days between each practice and sometimes you have to review quite a bit (which is a waste of time).  You don't really need to review much in a 4-day team camp setting.  It's just efficient.
More Info About The Camp
If you'd like me to write more detailed blog posts about the camp, the drills we used, the structure, the practice plans, etc…. let me know by contacting me directly or leaving a comment below.