I found a new twist for a 1 on 1 combo drill that I really like.  It's called High Five 1 on 1.
We used to run a similar drill except the lines were usually around the baseline.  I really like the "high five" twist because it provides several benefits.
It's so simple.  The "high five" in the middle allows you to…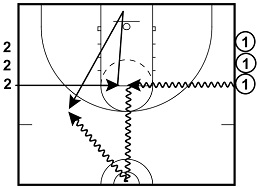 Keep the middle open (no cones needed in the playing area).
Allows you to line up players on the sideline so you can keep them in the half court and get additional groups running (if needed).
Makes it fun for players.
Forces players to keep their eyes up when dribbling.
And last but not least, it keeps the lines moving faster so we can get more reps!   With our old drill it took several seconds to move players to the correct spots.  This new drill is more efficient.
We'll be using the High Five 1 on 1 drill quite a bit this year with both our youth and high school teams.
It's so simple.  I don't know why I didn't think of this a long time ago?!