This season we often find ourselves in the gym with one or two coaches and over 30 kids.  This can be a real challenge and requires some creativity to stay productive.
I think it's important to keep as many of your players busy (and improving) as possible.
How much can a player improve when they are standing and watching?
And don't forget to put yourself in their shoes.  Would you want to play for a coach that keeps you busy the majority of the time?  Or play for a coach that has you standing in lines for half of the practice?
Keeping all your players busy and working on something productive can be challenging with both large and small groups.
Here are a few ideas to keep ALL your players busy….
Use Defensive Lines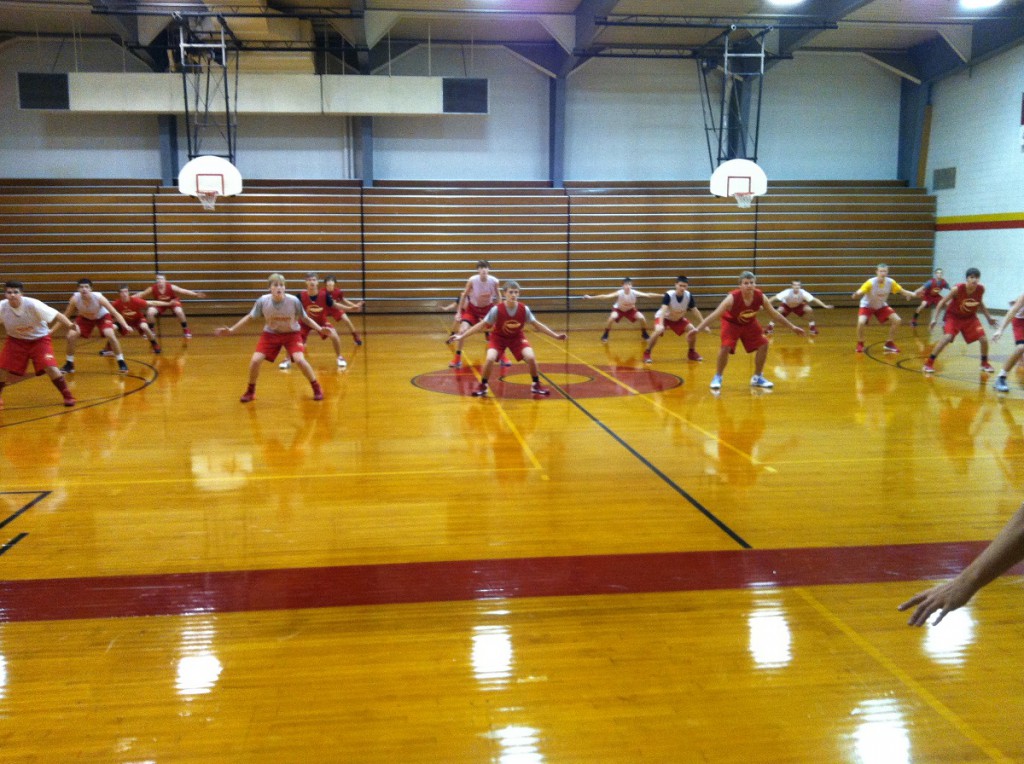 In the picture you can see players lined up in what we call their "defensive lines".  We generally have 30-35 players in 7 lines.  4 or 5 players in each line spaced out fairly evenly.
Not only can you practice defense from this formation, you can also practice a variety of offensive skills.  And the entire group of 30 or more can be led by one coach.  We generally start our season using "defensive lines" quite often.  And then taper off as the season progresses.
On the first day of practice, players learn how to quickly get into formation.  So you can yell out "defensive lines"!!  And they should all be in their formation within 10 seconds.  At first they will fail to get there in 10 seconds.  But after a few practices and some encouragement, they will get there in a hurry.
Defensive Skills
Here are a few defensive skills you can practice from this formation…
1)  Stance.  Simple yell "stance" and have players get in their defensive stance.  They should stay in their stance while you walk around checking for proper balance, making sure feet are outside of knees, butt is down, etc.  This builds their leg strength and allows you to teach them to proper stance.
2)  Footfire, stance, push step.  Next, you can show them the proper way to push step / slide.  When ready you call out "footfire".  Then call "stance".  Then point the direction you want them to slide.  Or even better, you dribble a basketball to the left or to the right and have them mirror you.
3)  Footfire, stance, push step, stance.  Now you run the same drill except you teach players how to keep their hands active in their stance and contest shots.  Teach them to "dig" when the ball is in front and mirror the ball when you move it.  They MUST stay in their stance and not lose balance when they dig and mirror.
Also, teach them to contest when you shoot and stay down when you shot fake.  Players MUST stay down in their stance when you shot fake.  Many of them will raise up out of their stance. They can do push ups when that happens.
4)  Footfire, stance, hip turn.  Next you can practice a proper hip turn when you need to change your angle to defend the drive.  Simple call out "footfire", "stance", and then point the direction you want them to do a hip turn.
5)  Combos.  You can continue teaching all the aspects of on-ball defense…  cross steps, hip turn and slide, etc.  Then you start combining them together and have all 30+ players respond to your voice and body signals.  This helps them develop good defensive habits and all players are developing habits at the same time.
6)  Close outs.  You can also teach proper close outs from this formation.  Have them start in their stance (nice and low).  Then when you point they sprint 10 feet, take choppy steps, get two hands up, and yell "ball, ball, ball".  You can point to the right the first time. Point to the left the second time. Then have them turn around and face the other direction. Tell them which direction to go. Again, you're developing good habits for everyone at once.
Offensive Skills
You can also practice offensive skills from this same formation…
1)  You can of course practice a variety of stationary dribbling drills (figure 8, baby cross, windshields wipers, pounds, etc).  There are hundreds of options, which I won't list here.
2)  Two up two back.  Take two hard dribbles forward, hockey stop, protect the ball, and retreat dribble with two big steps back.  Then repeat with two big steps forward and two steps back.  This is a quick and easy way for everyone to improve dribbling and practice the retreat dribble.
3)  Footwork.  You can practice triple threat position and footwork from the lines.  Practice front pivot, reserve pivot, drop step, step through, and sweep.  As an example, I'll call out… "Right foot step through."  Then I'll pause for a moment to make sure everyone made a good step through and took a long step and tell them… "Back".   Then they go back to their triple threat position.  This allows us to practice good footwork and quickly teach the terminology to all the players.
3)  Rip high and rip low.  You can practice ball security as you practice footwork.  When they step through, have them rip the ball low (never near the mid section).  Then come back and rip the ball high (never near the mid section where it can be stolen).  Again we're developing good triple threat habits and muscle memory.
4)  1 on 1 no dribble.  Now you can add a defender (partner up).  Have them protect the ball while facing you with a defender trying to steal it for 15 seconds.  They need to be strong with the ball, rip it high, rip it low, and use their footwork to protect. Everyone starts at the same time on your whistle.
I'm sure you can come up with many other skills and ways to improve by using the defensive line formation.  The only limit is your imagination.
Full Court Drills
Another simple way to keep all the players busy is to use a variety of full court drills.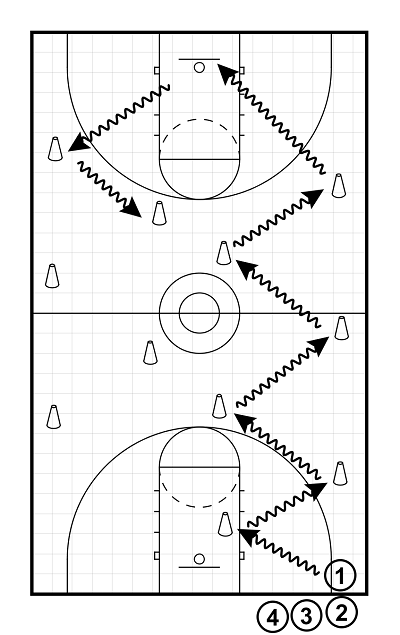 We use the side courts so we can get two groups going full court at the same time.
In the diagram you can see the set up for ONE side court.  You would have the same thing set up on the other side court.
This allows you to get 35 players working and quite tired after about 5 minutes.
The first player dribbles at the cone and makes a good change of direction move (cross over).  Then once he passes the first cone, the second player starts.  When they reach the last cone, they attack the basket for a lay up.
Eventually you'll have approx 20 players working at once.  The rest are in line catching their breath.
It's important to make sure they go 100%.  The drill should also serve as a conditioner.
Here are some progressions for using the full court zig zag drill…
1)  Cross over at each cone.
2)  Through the legs at each cone.
3)  Behind back (snap dribble) at each cone.
4)  Retreat dribble and cross over at each cone.
5)  Spin dribble at each cone.
6)  Double cross at each cone.
7)  Fake cross over (in / out move) at each cone (move them together for this one).
8)  Triple – through legs, cross, and behind back at each cone.
Before you start the full court drill, make sure you let the players know what dribble to use each time down.  For example, I might call out….  "First time through use your cross over.  Second time behind the back.  Third time retreat dribble and cross.".   This allows them to keep going without stopping.
Those are just a couple ideas and things we have done to keep large groups busy.  Hope you find at least one useful idea from this.