This is one of my favorite drills.  I use this drill with both my 4th grade girls team and 10th grade boys team.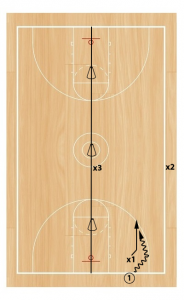 Less experienced players should play basic 1v1 drills first.  Once they master those basic drills and can consistently advance the ball in 1v1 situation, you can add the more advanced drills that incorporate traps or 1v2.
I like 1v1 Dribbling with Traps because you never know when the trap will occur and players have to keep their eyes up.  And it really helps players take that "next step" in their ballhandling skills.