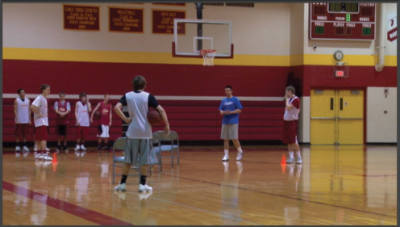 Here's our practice plan from Day 2 (10th grade boys)….
Intro
Explain you have to learn 3 pivots and 3 counters on your own.
Hand out pivots doc to those that need it.
Review core values.
On Ball Defense
Defense lines – Stance, mirror, push step, dig, contest
Star close out drill
Wing Close Out 1on1 – Live (each wing)
Rebounding & Defense
Explain defense goals.  Tape lines on court to show where the ball should never go.
Shell Drill Box Outs – Pass, Skip, Shoot, Box
Footwork and Shooting
Form shooting
Spin out jump hooks
Spin out drop steps
Screening / shooting / footwork drill:
turn down screen (post, drop step, rev pivot)
curl
flare
4 back
Transition offense
5 on 0 sprint to spots (each guy shoots – 5 shots and next group)
(Drill is similar to USC's Five-Man Fast Break Drill)
Ball security / ballhandling
Multi-purpose ballhandling drill (using both courts – two groups)
Free Throws (20 shots)
It was a good practice!  We're making progress.