Site Search
Q & A Forum
Experienced coaches are ready to answer your basketball questions! Visit our forum
2 Great Defensive Tips that Will Lower Your Opponent's Shooting Percentage and Virtually Eliminate Penetration
- By Jeff Haefner
Tip #1 - Try Bobby Knight's defensive tactic...
I'm a big advocate of
man-to-man defense
and that's what I consider to be one the things I'm best at teaching.
For several years, I taught my players to always deny the ball when they are
one pass away
. I taught them to get a few steps away from their man (up the line) and get a hand in the passing lane, with your back to the ball (in a closed stance).
We drilled this almost everyday because it was very challenging for players to do a good job of denying the ball, yet never get out of position, see man and ball, and be ready to help.
My reasoning for denial was to put pressure on the offense to cause more turnovers.
However, after watching a few Indiana games, I finally decided to try something new...
I decided to try Bobby Knight's concept of denying all penetrating passes, but allowing the pass around the perimeter.
The key difference is to allow the perimeter pass near the 3-point arc and use an open stance when one pass away.
Here are a few diagrams to illustrate the change of positioning:
Our old way: Full denial with closed stance
This diagram shows our old positioning with Players 2 and 3 in a full denial position and a closed stance. With a closed stance, the defense is facing the player they are guarding and their back is to the ball.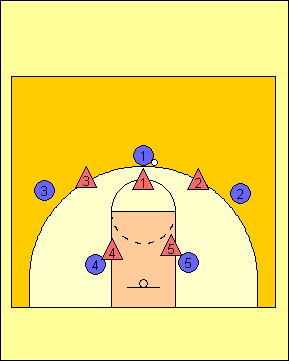 Our new way: Allow the perimeter pass with an open stance
This is our new way. The only difference is that Player 2 and 3 (since they are one pass away from the ball) are now sagging towards the basket and they have an open stance (they are facing the opposite end of the court, so they can easily see the player they are guarding and the ball).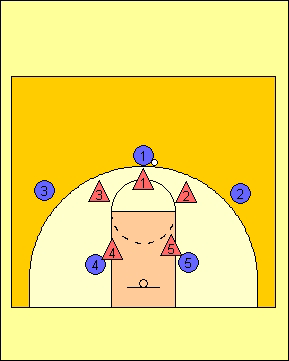 Personally, this was quite a change for me at a weird psychological level. I didn't want to give up my old way of doing things, which I always thought was best. I took pride in our intense pressure defense.
But this change turned out to be a great thing for us at the high school level. It also worked great for our youth teams.
It actually made our defense much more effective because this method is easier to teach and gives you time to work on other things. It just makes it easier to develop a team defense that almost never gave up inside shots. Players that are one pass away can step back a little bit and see everything. You can let them open up their stance a little, instead of strictly facing their man in a closed stance.
This made our
help side defense
much better, because they could easily see the defense and step in to stop the penetration. They were also in better position to help and they had less ground to cover when they stepped in. It's almost like a sagging man defense. But not too much sagging.
All in all, we gave up fewer lay ups and our turnover ratio just changed a little bit.
The other team's shooting percentage went way down and this offset the slightly few turnovers that we caused.
You might want to give this concept a try.
Tip #2 - Improve your man-to-man defense by creating a "danger zone".
To help teach your team how to stop penetration and really reinforce the concept, try this...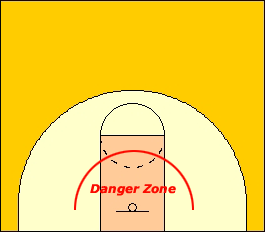 First, bring a tape measure to practice.
Next, have the kids gather round and choose one person to help you measure 10 feet from the basket. Put tape down in five or so places making an arch 10 feet from the basket.
The tape marks show your team where the danger zone is at.
In other words, this is the area where you absolutely never want to allow the ball.
This visual reminder does a couple of important things for you...
First
, it helps reinforce the concept of keeping the ball away from the basket. Most coaches use the phrase, "keep the ball out of the paint". However, I don't agree with this because if a player gets a shot in the post area, that's a very high percentage close shot, yet they are still just outside of the paint. Little things like this can confuse players and limit your defense.
Second
, the tape marks create a physical and mental barrier for your players. It really helps them understand what you, as a coach, are trying to accomplish. It also lets them know if they are doing a good job or not. It's easy to tell if the other team gets the ball in the "danger zone".
Third
, this allows you to add some really effective rules that helps you improve your defense.
For example, you could add a special scoring system when
practicing defense
in the half court. You could do something like:
Every time a player gets a shot in the "danger zone" (made or not), your team loses 2 points.
Every time you take a charge you get 2 points.
Deflections are 1 point.
And so on.
The trick is to make it a competition to keep the other team out of the danger zone.
You'll be amazed how much this improves focus, positioning, and your overall defense.
Comments
---
Kingsley says:
2/13/2007 at 12:26:14 PM


Thanks for the tips on man-to-man defense. Very insightful. Defense can be hard to teach, but this should really help me.
Thanks so much. You guys are doing a great job.
Kingsley
---
Abel says:
2/13/2007 at 12:30:30 PM


i like it very much. We are in the 3rd world so it will help us.
Thank you
---
Coach Berry says:
2/13/2007 at 1:29:44 PM


Nice article... I've taught the open stance on the perimeter for years to increase ball pressure. Also, with an open stance a player can intercept the ball by CATCHING with 2 hands as opposed to SLAPPING the ball and not necessarily controlling it.
---
Zeina says:
2/13/2007 at 3:29:35 PM


Thanks for the tips. Very beneficial.
---
Linda says:
2/13/2007 at 6:35:45 PM


Great to compare the 2 defenses. I would like to use them interchangeable. Thanks for the helpful tips.
---
Nick Dattoli says:
2/13/2007 at 7:21:23 PM


We've always played 60/40 when one pass away, the open stance position will be a nice change especially when we face an opponent for the second time. Thanks for the tip.
---
wilson says:
2/14/2007 at 1:43:51 AM


Great and helpful stuff. Basketball comes to life! Great job joe. Thumbs op!
---
john croom says:
2/14/2007 at 6:34:51 AM


I like the open stance much better when working with young kids. Their ability to focus is limited, as is their ability to shuffle sideways and at reverse angles.
---
Danny Sturgill Jr says:
2/14/2007 at 5:19:47 PM


It is really nice to get these wonderfull tips for teaching great defense.Keep up the good work.
---
colin says:
2/15/2007 at 12:44:13 AM


just trying to start a new type of defense for our tema and im absolutely sure that with these tips,we are going to improve tremendously defensively.thanks for the wonderful work.
---
SEAN says:
2/15/2007 at 1:19:49 AM


I`M FINDING IT DIFFICULT TO UNDERSTAND THESE TIPS WITHOUT ILLUSTRATIONS (DIAGRAMS).
---
Jeff says:
2/15/2007 at 9:45:33 AM


To Sean and anyone unclear about the tips:

I added some illustrations to the article above. Hopefully this will help you to better understand the positioning and the tips!


---
Simon says:
2/15/2007 at 6:15:43 PM


You the Man great tips it's helped my girl's greatly!
---
Tsimeas P. says:
2/16/2007 at 11:44:41 AM


Have you ever thought to change from one to the other type of defense on the same defensive trial after the first or second pass? especially from the "Full denial with closed stance" to the "Allow the perimeter pass with an open stance"




---
Rome says:
2/20/2007 at 10:28:29 AM


We found the concept to be beneficial to weaker opponents. It gave them confidence when we were less disruptive on the perimeter.
---
ahmed says:
6/4/2007 at 6:16:21 PM


what important drills give to basic junior girls basket ball
---
Jeff says:
6/5/2007 at 9:43:34 AM


Ahmed,

Here are some drills and tips to help with your junior girls team:

http://www.breakthroughbasketball.com/qa/q2-basicyouthdrills.html

---
Michael says:
2/4/2008 at 6:03:33 PM


Just recently found your website.

Coach Knight has used his sagging man-to-man/match-up zone defense for decades with, obviously, fantastic results. Through years of coaching everything from YMCA youth rec leagues to AAU-level high school teams, I have found this to be easiest, most understandable defense for the kids to first learn.

Even for kids that had not played organized ball before, the concepts were easy to show and explain and game-to-game improvement was self-evident to all the kids regardless of age or skill level.

For a girls' rec league we simplified the "rules" to an extreme:

1. Always fall back to a 1-2-2 formation - 1 girl at the top of the key; 1 on each elbow; and 1 at each block - before looking to guard someone.

2. Player at key will guard whomever brings the ball across half court. The players on the elbows will look to match up with someone on the wings. The block defenders will take anyone positioned around the lane.

3. The perimeter players will switch on ALL ball screens. If your player does not have the ball, then you slide back to your starting point on the lane to help cut off penetration.

4. The lane defenders must keep at least 1 foot in the lane at all times. Make the guards pass the ball out of the lane. Let the other teams' post players shoot jumpers. No layups.

5. Instead of playing "ball-you-man", the mantra was "player-you-basket". Make the other team shoot over you and then you will also be in better position to rebound when they miss.

My greatest memory as a coach was watching my group of inexperienced 12-year-old girls in a YMCA rec league steadily improve from a 34-4 beating in their first game together to finish with a 3-game winning streak, including a 16-10 victory over that same team.

By the middle of the season, the girls knew that they weren't going to be embarrassed on the court anymore. None of the girls' last 5 opponents scored more than 20 points against us, and - win or lose - you could see the girls' confidence in their abilities grow with each game. By the end of the season the world had 10 new basketball fans.


---
kamel khedhir says:
5/28/2008 at 4:58:34 PM


thanks a lot for yuopr help
---
Mary-Ann says:
6/19/2008 at 4:26:42 AM


Hey guys,sorry to hear about the floods in Iowa,hope things will get better soon.I coach in Italy(under 15 girls),and I would just like to say THANK YOU so much for all the tips and drills and plays,they've been very helpful.They've been that helpful we made it to the nationals:-),first time in my clubs' history!Some of your plays and defensive tips are coming along too!!Thanks again,Mary-Ann
---
yo yo black says:
10/3/2008 at 4:19:00 PM


heey hey hey this isnt bad
---
mac alester adajar says:
10/15/2008 at 12:00:13 AM


thanks for the basic instraction
---
Mark says:
12/30/2008 at 1:38:12 PM


I have 6th grade CYO team in a no-zone allowed league. Will Coach Knight's M2M/matchup zone be considered an illegal D?
---
Joe Haefner says:
12/30/2008 at 8:39:20 PM


I would assume that it would be considered an illegal defense, since it is a match-up zone, but I could be wrong.
---
John says:
1/2/2009 at 10:15:28 AM


How do you teach guys to stop the ball?
---
Joe Haefner says:
1/3/2009 at 4:02:28 PM


I guess it depends what you are referring to. Stopping the ball in 1 on 1 situation, stopping the ball on a fastbreak, stopping the ball from a help defense position, stopping the ball from entering the post, and so on.

We have articles on playing defense on and off of the ball at this link: http://www.breakthroughbasketball.com/defense/man.html

For a comprehensive information on man to man defense, we also have our Man to Man Defense System which you can take a look at here: http://www.breakthroughbasketball.com/pr/mandefense.html

---
Scott Coach says:
2/1/2010 at 12:51:32 PM


I am a Coach that enjoy M/M defense. I have always taught kids about one pass away. This year the team is a bit slower, (new). as i have reviewed your info it is exactly what we need to make our team look a bit faster. Sometimes the simplest things are smart.
---
Maria Fontaine says:
2/24/2010 at 2:09:06 PM


Hey guys I coach a Junior B girls level basketball (grade 7 & 8 ) and have found it somewhat difficult to interpret and show the girls how to carryout various defensive manouvers when they are so new to basketball. I am so happy to have this website to refer for ideas, drills and explanations I can give the girls that make sense and have improved thier defense by 1000% Thank you SOOOOOOOOOOOO much!!!! I also wanted to say that this manouver has helped the girls immensely!! I am not expecting them to carry it out like WNBA players would but I sure am proud of them when they are able to shut out another player that is more experienced !!! The girls are really benefiting from the information!
---
Tash says:
12/7/2010 at 6:58:58 AM


Hey guys,

I coach a group girls that are ages nine and ten, however they are playing up in division b in the 14/u age group. The one problem i have with my girls is that they are only allowed to play man on man defence and they can do thet really well. However now there so used to staying on their own player they dont help each other out. For example most of our opposition score by dribbling straight through the key way, and know one is willing to leave their player and defend them. I just wondering if you had any basic drills or suggestions on how to teach them to play man on man, but they can leave their player to help out another player. Just keep in my mind that half my team have never played basketball before. Thanks.
---
Hondo in Huxley, Iowa says:
2/14/2011 at 11:33:26 PM


As someone who never played organized baskebball, I found much of your web site helpful for learning basics.

The stuff I love most is the photo illustrations of stances, positioning, and certain tactics because I can then see what to model to my players. Also, I can direct their parents to your web site so they can see some of the things we want to try to teach to young players.

I suggest adding more photo illustrations, as they are much more effective for helping players see the right ways to do things.
---
gerard says:
4/4/2011 at 12:54:40 PM


Thx guys this is a verry good deffence and its work verry well, Joe and Jeff keep up this good work on this site
---
C. Turner says:
9/8/2011 at 8:52:23 PM


I will be implementing this for the year. I also purchased Sean Miller's DVD on the pack line defense. Great stuff!
---
Jeffery says:
10/3/2012 at 2:10:11 PM


On the wolf pack d what dies the 4 and the 5 do
---
Chris Kelley says:
1/24/2013 at 3:50:10 PM


I am a proponent on man-to-man defenses for kids. I think it expedites their learning the game. I very much agree with the concept of allowing perimeter passes while denying penetrating passes. Also the idea of not allowing the ball into the 'danger zone'. Seems like all defenses should start with taking away the easiest shots. Thanks. Chris Kelley - Framingham.




---