It's been a while since my last post.  And our basketball season starts up in a few days.  So it's time to start ramping things up with more blog posts.
To kick off the season, I wanted to share what we're doing this year (2017/18) and give everyone an update.
I hope this post gives you some ideas that might be helpful for you and your team.  And gives you a frame of reference for future posts I'll be sharing this winter.
Due to time constraints I won't be coaching at the high school level.  This year I'll be coaching a couple youth teams — my son's 5th grade teams and my daughter's 7th grade teams.
Before getting into that, let's talk about the off season.  I think that's an important part of what we do.
Wrapping Up Fall Season and Playing Other Sports
Over the summer we offered some camps, clinics, and a couple tournaments.  We put in a fair amount of work this summer but always encourage players to make their "in season" sport a priority.  So attendance was optional.
Same goes for the fall. We offered a few skill clinics each month.  Again optional.  But we encouraged players to maintain their improvements from this summer by spending at least 30-60 minutes with the ball each week.
Most of our players (boys and girls) play other sports.  We encourage that!
My son and daughter will be finishing up their club soccer season this weekend.
My son plays baseball, soccer, and basketball.  And spends a lot of time playing (doing kid stuff) in the basement and outside.  I think that is important too (tag, tossing the football, drawing, building, etc, etc).
My daughter has dance once a week during the school year, soccer in the fall/spring, and basketball in the winter/summer.  She also tried middle school volleyball for the first time this year.
For development, I think it's important for players to play multiple sports seasonally.  It doesn't have to be highly competitive for every sport but the variety is good. I won't go into the science or philosophy behind it (that's an article or book on its own). But that is something we believe in.
7th Grade Girls Basketball Program
We have 21 players in our 7th grade girls program.  We split them into two practice groups and three possible teams.
Our goal is to develop players, teach life lessons, and have a positive impact on them.  Our focus is on teamwork, player development,  and character development… winning will hopefully be a by-product of that focus.
If we were focused primarily on winning, that would be counter-productive to the development of our players.
From a tactical standpoint, I coach a high school game different than a youth game. It would be very easy to put our best left handed players on the left side of our fast break, switch our defenses between man/zone/press, get our best players taking all the shots, limiting the touches of our weak ballhanders, spending lots of time teaching tactics, and so on.
We'd win a lot of games. But we resist that temptation.
Just because you win a lot of games, that doesn't make you a good youth coach.
With that said, we still win a lot of games because of our focus on teamwork, player development, and character development.  We spend VERY little time teaching "plays".  To me that is a poor use of time.
A wise man (Don Kelbick) once told me :
"Put learning how to play basketball ahead of learning your system. You should spend most of your time teaching young kids how to play instead of teaching them your system." 
Some of the best advice I have ever received for basketball and has stuck with me ever since.
The Sweet Spot of Development
Part of our philosophy is to keep players in the sweet spot of development.  In other words, we want to challenge them… but not challenge them too much.
If it's too easy, players get complacent and do not improve as much as they could.  If it's too hard, they can lose confidence and enthusiasm.
The concept of the sweet spot is discussed in The Talent Code by Daniel Coyle and the 21st Century Basketball Practice by Brian McCormick: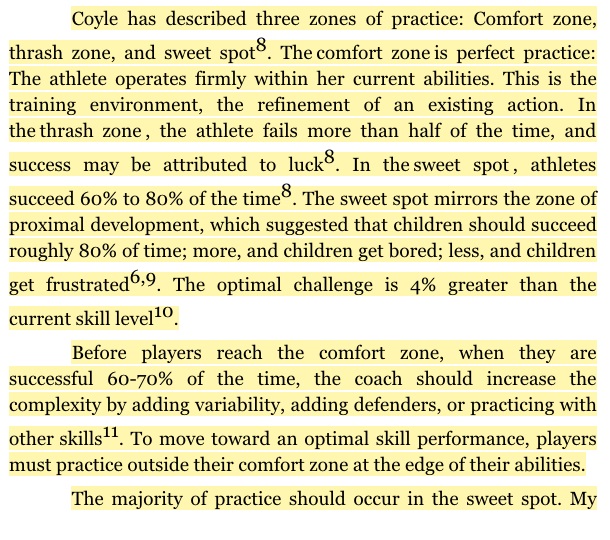 We consciously try to keep players in that sweet spot in both practices and games.
Team Structure
For 7th grade girls, we have 21 players and three different rosters… red, gray, and white.  Red is our best team, then gray, and then white.
Players can play on more than one roster.  Team rosters consist of 8-10 players.  I prefer 8 players for games.  That allows for enough substitutions, yet everyone gets lots of playing time.  But due to logistics and kids sometimes get sick (we generally stick to 9 or 10 player rosters).
I find that by having 3 different roster levels, that gives us a lot of flexibility to challenge players in different ways.
We might take the bottom 4 players on our top team and have them play on the gray (middle) team.
Here's what it does for those players…
When they play for red, those players might only get 2-3 shots per game and might be a little overwhelmed.  But when in gray games, they are primary scorers and the players we want in at the end of a close game.
This gives those players a balance so they're not just stuck in one role or always playing against opponents they aren't quite ready for.  It can also be a confidence booster and/or allow them to try moves they may not be comfortable trying in against a more competitive team.
We can also move players around… if we find a player really improves and they need more of a challenge, we can move them up.
For our particular situation, I feel this is the best way to structure things for optimal player development.
This structure may or may not work for you.  Like anything, there are pros and cons.
Practices and Games
Starting in November, we'll practice twice a week.  Each practice will last 1.5 to 2 hours.
Each player will get two tournaments each month.  Most will also be playing on their middle school teams (which only lasts 6-8 weeks).  But we work around that by practicing in the evening and playing twice a month on weekends.
Our season starts Nov 1 and ends the first week of March.
Defense – now we play 75% to 80% man to man
Since 2nd grade we have played ALL man to man because that is the best defense for development.  For the first time, we will introduce zone defense to our 7th grade team.
For the red (top) team and gray (middle) teams, we will play at least 75% half court man to man defense in games.  And for development and learning purposes, we'll sprinkle in this 2-3 zone defense and some full court press defense.
For our white team, we will play 100% man to man defense. They will practice a little zone but they won't use it in games.  Maybe at the end of the season but I doubt it.  They are not ready and will probably wait until 8th grade.  At that point we might start playing as much as 20% zone defense.
If we wanted to win, we'd play more zone from the beginning.  But this is about developing and this is hands down what I believe to be the best developmental progression.
5th Grade Boys Basketball
For my son, we'll have two separate teams.  Last year we just had one team.  I wanted to wait one more year to create a second team but due to certain factors out of our control we decided it was time to start now.
So we have a "school team" where all the players are from the same school.  We'll practice twice a week and play in 7-8 weekend tournaments.  Season runs November 1st to mid February.
Then later in the season we'll start our "club team".  It's a shorter season — January to first week of March.  We'll practice once a week and play in 3-4 competitive tournaments.  The club team is intended to complement the "school team".
All the boys on our club team also play on their school teams.  I think it's good for kids to be able to do both if they want — but not over do things with too many practices or games.
So I think we have come up with a good balance of both worlds.  Our club team will play against other clubs (which are hand pick teams via tryouts) — tougher competition.  And our school team will play other school teams — medium level competition.  I think this is a good balance for our situation.
I apply most of the same philosophies from our girls 7th grade team to our boys 5th grade teams.  The players are just a little shorter in stature and not ready for as many advanced skills or concepts. Otherwise it's the same stuff.
Defensively our boys will play all man to man.  Later in the season we might introduce a zone defense in practice but in games we'll only play man to man.
Offensive Emphasis – Both Teams
As in years past, we'll continue running motion offense — this year with an extra emphasis on relentless screening and giving players freedom.
I want to give them even more freedom this year and make the offense even less structured.  Super simple. I don't care about structure or much of anything as long as they:
keep spacing
take decent shots
move the ball (reversals and get the ball inside via drive or pass)
cut and screen (with an emphasis on screens)
If they want to post up for a while, that is fine.  If they want to screen away, that is fine.  If they want to back screen and drive, that is fine.  Run some 5 out… sure.  Run 3 out with high post and low post… sure.  We won't even talk about that stuff — but it's fine if that's how our alignment looks.
I don't care as long as they do those "4 things" above.  And this year I really want to emphasize screening, especially with our 7th graders.  I want them to get better at setting screens, using screens, and set MORE of them!
It's easy to get caught up in trying to control certain offensive actions.  That is usually counter productive for us.  And we revert back to simple.
I don't care how, when, or where you screen.  Just set good screens, space, and mix things up.
The only exception is I will choose which players can set ball screens. So for each game, I'll assign 1 or 2 players that can set ball screens.  Otherwise, we get way too ball screen happy and that's all we see.
Not only is learning to screen good for long term development, but any coach that has had to play against a team that sets lot of good screens, know it's only a matter of time before you are asking yourself, "how did that player get so wide open?"
Upcoming Weeks
So that's a quick run down of what we're doing this year.  I could keep typing forever it seems.  But that is a good start and gives you a good reference point for future posts this year.
In upcoming weeks I'll be sharing more details about our philosophy, drills, practice ideas, defense, offense, and more.
In the meantime, if you have any questions or feedback, let me know.