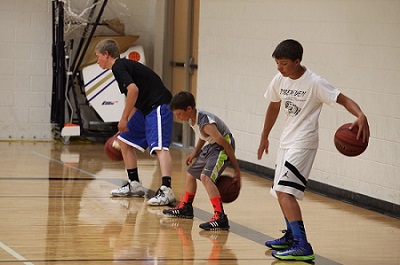 As coaches, we all at some point have players attending practice but can't participate in regular drills because they're injured.
Of course, it depends on nature of the injury, but you should almost always be able to come up with ways for players to work on their game and improve their skills during practice.
The last thing injured players want to do is stand there watching the entire practice (boring).
So below are some ideas on how to keep them productive during practice.  If you have other ideas on what players can do, please share them in the comments below.
1)  When the team is practicing offense or defense, watch and then draw up the plays in your notebook.  Diagramming them and taking notes allows for better retention and understanding.
2)  Practice form shooting with strong hand.
3)  Form shooting with weak hand (to develop strength and coordination in non shooting hand).
4) Weak hand bank shots near the basket.
5)  Weak hand hook shots near the basket.
6)  Stationary dribbling drills.  There are a million stationary dribbling drills with one and two balls.  Here are just a few drills you can do with two balls.
7)  Wall passing —  bounce passes, chest passes, overhead passes, 1 hand push pass and 1 hand catch.
8) 1 hand pound (use a wall instead of a partner).
9)  Tennis ball catch and dribble.  Toss the tennis ball in the air or bounce it off the wall and catch it while you dribble with your other hand.  Good for challenging dribbling and keeping head up.
10)  Footwork.  Practice all your pivots and footwork.  You don't even need to shoot or use a ball.  Just get in triple threat position and practice your front pivot, reverse pivot, drop step, sweep, and step through.  Practice them using different combinations.
Those are just a few ideas.
I find it's best to print out the ideas, give them to the player, and let them work on their own at their own pace.  Then you can get back to focusing on your regular practice with the healthy players.
Now of course you need to use common sense when choosing drills  to make sure you're not aggravating or making the injury worse!!
I'm sure there are hundreds of other safe ways to keep injured players busy and productive.
Please share your ideas on how to keep them busy below.