Site Search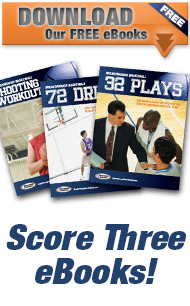 Q & A Forum
Experienced coaches are ready to answer your basketball questions! Visit our forum
4 out 1 in Motion Offense
The 4 out 1 in
motion offense
is for personnel that can play 4 players outside and have 1 player in the post. The post player can be a traditional low post, post up player or a post player who can step to the top of the key and shoot the ball.
In the 4 1 motion offense, the perimeter players space outside the lane (green/yellow area) while the inside area is reserved for the post player (gray area).
| | | |
| --- | --- | --- |
| With the post player in the high post, there is no spot for a perimeter player on the top of the key. The post player is used for ball reversal. | | |
When the post player is low, a perimeter player may move to the top.

Perimeter players can pass, screen, and cut but should not post up in the lane.

The post player plays in the lane and moves according to the perimeter movement. He should not just follow the ball. The post player can take his opportunities in the lane or can flare screen, down-screen or back-screen for the perimeter players but should not leave the post area.

The post player can be used to reverse the ball and post touches should be part of the offensive rules (eg. ball much touch the post at least every 4 passes or no jump shots until the ball touches the post).


Related Articles & Products
How To Develop a High-Scoring Motion Offense
- Instructional Guide To Building Your Motion Offense.
Do You Recommend The Motion Offense To Youth Teams?
Fast Break Offense - Carolina
Motion Offenses, Drills, & Tips
What do you think? Let us know by leaving your comments, suggestions, and questions...
Comments
---
Guillermo Tasso says:
8/28/2009 at 11:27:19 AM


Hi I a coach from Argentina, I looking for notes of Jay Wright 40ut 1in motion offense
---
solomon kabmi allen says:
9/22/2009 at 6:18:39 AM


hello i love u are doing.am a basketballer too.am a pointguard.i have in so many competition pleas i want to be part of this program pleas.i have passion for this game.pleas help me.my dream is to play nba someday.pleas help meeeeeeeee.i will be very great full.i allways dream to play in united state
---
Kelly says:
12/17/2010 at 10:28:54 AM


Is there a similar article for the 4-1 m.o. as I have seen on your website for the 5-0 m.o.?

Above is a general description , but are there rules for the 4-1 like there is for the 5-0?
Possible sequences?? etc.

Thanks Joe.
---
Jeff says:
12/19/2010 at 12:01:05 PM


Kelly - Each motion has different rules. For example, John Calipari's Dribble Drive Motion has certain rules. Bobby Knight's motion had it's own rules. Those rules are what makes the offense unique and "theirs". You can make your own rules that fits your team and situation. This ebook explains all the details of running a motion and gives you lots of ideas for rules to make your own:
http://www.breakthroughbasketball.com/pr/motionoffense.html

I suggest checking out the ebook because that will clear everything up and there's just too much to write here to do a good job of explaining how it works.
---
Kelly says:
12/19/2010 at 4:04:39 PM


Thanks Jeff!
---
Nikki says:
6/11/2012 at 7:47:37 AM


Is this for a zone defense or man?
---
JJ Wan says:
11/12/2013 at 8:11:59 PM


Rockets McHale loves to use 41 offense and put DH as center. But it does not work well till today. What is the problem and the weakness of his offense ?
---