Site Search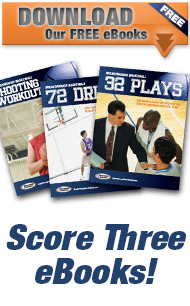 Q & A Forum
Experienced coaches are ready to answer your basketball questions! Visit our forum
To Win More Basketball Games, You Need to be Great at 3 Things!
- By Jeff Haefner
Let me share something I learned by attending dozens of coaching clinics, reading countless books, and constantly studying the game of basketball. All of those experiences have indicated that a basketball team can ONLY be great at
3 things
!
Yet, few coaches heed this concept. In fact, I believe this SINGLE CONCEPT is what holds most coaches back!
The truth is that your team can NOT be great at man defense, zone defense, fast break transition, motion offense, breaking presses, rebounding, passing, taking care of the ball, ballhandling, shooting, scoring in the post, pressing, and so on.
At best, you will be POOR to MEDIOCRE in all those areas. There just isn't enough time in the day. It's not possible to be good in all those areas, even for professional NBA teams.
However, this is exactly what most coaches do. They try to do WAY too much. They try to be good at everything. Well, that simply does not work. There's a common saying in coaching...
"The coach who emphasizes everything, teaches nothing!"
It seems that almost all the successful high school, college, and NBA coaches have figured out this secret. They know they can only be great at a few things and they must develop an "identity" for their team.
Duke is great at M2M defense, offensive transition, and communication. The Celtics are great at M2M defense, rebounding, and teamwork. North Carolina is great at scoring, fast breaks, and pressure defense.
Think about it...
Would you rather be MEDIOCRE in 10 different aspects of basketball - or would you rather be GREAT in 3 or 4 areas?
I firmly believe that you must choose 3 or 4 things that you will be great at. Then you focus on those 3 areas and do what ever it takes to be great. In other words, you focus on the critical few, versus the trivial many.
This will give your team an identity. This will give you, as a coach, more focus. This will give your players a clearer understanding of what you want from them. This will cause other teams to adjust to you, instead of you adjusting to them.
What 3 things should you focus on?
To give you some ideas, my "3 things" are usually (but not always)...
GREAT man to man defense.
GREAT team rebounding.
GREAT half court offense that is methodical and takes high percentage shots.
Also, I usually put some emphasis on a fourth thing - taking care of the ball. This is something that is emphasized in #3 (half court offense).
Keeping turnovers low
and winning the possession game is important and that's why I put "low turnovers" as the 4th most important thing. We don't want to lose sight of taking care of the ball. But much of that comes in our half court offensive execution and our patience to not force things.
This is my personal philosophy for basketball coaching. But you must choose your own three things. Ask yourself the following questions...
To be successful and win games, what does my team need to be great at?
What are my players' strengths?
What are my strengths? Am I very knowledgeable in a certain area (like defense)?
Personally, I chose defense, rebounding, and half court offense because I'm very knowledgeable in those areas. But I also know those are things that winning teams do! Hey, this game is simple. If you score more points than your opponent, then you win. And how do you score more points than your opponent?
Two of the easiest ways to do that are....
Shoot a higher percentage.
Or take more shots than your opponent.
All three of "the things" that we focus on have a huge impact on
getting more shots
and
shooting percentage
.
90% (or more) of our practice is spent on
rebounding
,
M2M defense
, and half court offense. In particular, we do
motion offense
with emphasis on low turnovers and offensive fundamentals.
We do almost ZERO work on fast break offense, pressing, zone defense, and so on. We very lightly cover those things, so we're ready for those games situations. But very little time is spent on it. Our team has an identity and the players know what is expected of them.
Our players know that if they win the battle on the boards, get stops on defense, and
take high percentage shots
-- then we have a VERY good chance at winning. With that said, we rarely discuss winning. Instead we discuss what it takes to be successful in basketball and life.
Youth Teams
Youth teams can have identities too, but if your "3 things" are pressing, zone defense, and fast break offense - then you are RUINING your players' futures!
A youth coaches TOP priorities should be
player development
and
having fun
.
To develop players you run
motion offense
,
man defense
, and teach TONS of
fundamentals
.
Also, winning should be VERY VERY LOW on your priority list. Your priority should be to develop those young players. To do that, you may sacrifice a few wins at first.
Intangibles
At this point, you might be thinking... "What about the intangibles?"
The three things above are simply "tactical" things for you to work on. I believe you can still emphasize a few intangible things (in addition to the 3 tactical things above).
For example, you could stress teamwork, doing the right thing, unselfishness, hard work, being proactive, responsibility, timeliness, competing, and so on.
Intangibles are important too. Just don't try to emphasize too many things.
Overcome
Now go ahead and choose your 3 or 4 tactical areas to focus on. Overcome your fear of skimming over the other trivial stuff. Don't be afraid to make some changes.
Once you start emphasizing the right things and narrow your focus, I promise that you'll be much better off.
Do you have any questions or comments for this article? Let us know by leaving your comments...
Comments
---
Suzie Hardy says:
5/12/2009 at 3:47:04 AM


Thank you! You have a way of putting my thoughts into words. I so believe your views on youth sports and particularly 'winning'. I returned to coaching youth sports (7 -9 year olds) this winter and I have been loving every minute of it! Please keep motivating us, so we can continue to positively influence young, life-long, athletes.


---
Chris Mullinar says:
5/12/2009 at 5:22:56 AM


Good stuff mentioned, something that I can take and study for next AAU season when I should have my own team versus being an Assistant Coach right now. Winning isn't everything as we've taught our kids, it's the effort that they put in.

Having the tools to win doesn't hurt though.

Thanks again for the great info.
---
kitsi avila says:
5/12/2009 at 6:55:11 AM


great article.

i just focused on shooting... i introduced foot works. and im going to show them half court offense and a good m2m defense..i guess this will be my focus... i will include rebounding on my defense philosophy...

im so happy i found this website...

i have a question, my opponents are focused on trapping, fastbreak and zone defense because this league is 12-15yrs old. i also want to win but we always end up 2nd place for a long time.its my 2nd year to handle this team... how am i gona break or win against a team that focuses on trapping, fast break and zone defense, considering they have a dominant player that can score low post and can shoot at the perimter?
---
Brad Page says:
5/12/2009 at 8:24:21 AM


What are some of the basics of your motion offense? Do you have specific rules? Do you limit them to any types of cuts, screens, etc. I am hoping to teach a real basic pass-and-cut-or-screen type motion and am looking for any help out there. Thanks!
---
beau says:
5/12/2009 at 8:59:50 AM


Good article
---
Carlos Benjamin says:
5/12/2009 at 9:17:28 AM


Great artikel Jeff,

Wish I had you coaching my team...back then.

CB



---
Larry K. says:
5/12/2009 at 9:29:42 AM


How old are your players Brad? If they are under 12 then make sure they understand ball handling and passing first. The first rule I teach in motion offense is pass and screen away. This concept will keep a constant balance on the court. Once they learn to balance the court properly introduce a simple cut. The key to the whole thing is court balance. Teach your players to take a deep breath and pull it out to restart if things go awry.
---
Avraham Zilberman says:
5/12/2009 at 1:30:16 PM


Excelent article.

---
Jeff Haefner says:
5/14/2009 at 6:58:09 PM


Brad,

Yes, we have specific rules for the motion offense The rules change from year to year based on personell, age level, player skills, strengths, and so on.

If you teach your players how to play the game, emphasize the right elements (spacing, roles, etc.) they will figure a lot of it out for you. As they play, if you see an action that you think would be productive, make it a rule.

You could start with the rules from this simple offense:
http://www.breakthroughbasketball.com/offense/cutters.html

---
Andreone Germán says:
6/4/2009 at 5:09:57 AM


I agree to incapie only in some aspects of the game, but these must be changed throughout the years to develop players and not half full player.
---
Jeff Slaughter says:
7/17/2009 at 11:48:20 PM


This was a very good article.I wish i would of new that when i was first starting out.
---
hitesh says:
8/4/2009 at 1:06:08 AM


It's a good artical it will help me. thank you
---
coachbrea says:
8/6/2009 at 3:01:21 PM


Basic rules for motion offense:

1. 3 Out - 2 In or 4 Out - 1 In set up (depending on the amount of post players you will use on the floor at one time.

2. When you pass you have the option to (a) Basket Cut or (b) screen away...as they become better you can add an Inside cut, Ball screen, or Replace yourself. But start only with the first two to keep it simple.

3. Spacing - Except during cuts/screens, there should always be 15-18 ft. spacing.

4. Floor balance - teach the players how to recognize floor balance 3/2 or 1/2/2 - Never 4 or 5 players on one side of the midline.

5. Post entry passing and relocation. Have them work on entering the ball to the post and relocating away from the defender. There are rules as far as where to go depending on which way the defender turned, but as long as they enter and relocate to a shooting area they should be fine.

If you use those 5 rules you will have a very basic and efficient motion offense.

Work with the post players on positioning and screening. To begin I would not have the posts screen for the perimeter unless it is a set play. Once they all get the basics, you can teach the posts to set back screens for perimeter players and then turn around and set a down screen (re-screen) for the perimeter player. This will lead to open shots and will also set up great post seals on the low block.
---
fredie says:
1/4/2010 at 11:49:36 AM


I use five basic rules.I tell the players if we do these five things better each day it puts us in a good position to be successful,

1.communicate
2. rebound
3. make easy opportunities ( free throws & layups)
4. play good defense
5. take care of ball (value each possession)
---
Dan Krebs says:
10/24/2010 at 5:01:03 PM


You are spot on with this philosophy. It really is the key to success. Further to your comment about not focusing on winning, we have replaced the word winning with excellence. The idea is to focus on the journey not the destination.
---
Coach S says:
10/28/2010 at 6:33:06 AM


It's good to see. The genuiness on this site and have similar views. As a former football coach & now a basketball coach I felt overwhelmed. In football we were good in 3 areas. When I started coachong basketball I thought we had so much to be good at. I simply decided to be good defensively, on the boards, and take care of the ball. Thanks for th reinforcement. :-)
---
Montoyo says:
1/22/2011 at 12:56:13 PM


Thanks for the great advice. Can you recommend any footwork drills for Big Men, wing players and guards. What are some of the most effective ways to develope great footwork in youg players?
---
mikel says:
1/30/2011 at 12:39:03 AM


good article...my u14 team is the only team in our conference that plays tough halfcourt man defense, and other teams have a devil of a time adapting, but we get lots of practice all year breaking 2/3 zones. thanks coach!
---
Joe Haefner says:
1/30/2011 at 10:00:51 AM


Hi Montoyo,

I would take a look at this article: http://www.breakthroughbasketball.com/fundamentals/individual_offense.html

Also, this ebook is a great start to developing great footwork in all players, not just post players:

http://www.breakthroughbasketball.com/pr/post-play.html

---
Elly Nkwama says:
2/3/2011 at 4:10:28 AM


Good articles they are helping me to establish a new youth team thank you.
---
gerard says:
2/17/2011 at 11:41:25 AM


Like Jeff sait, i work also on a few points where we are verry strong in , like motion--m 2 m deffence and fast break
---
zenzo says:
3/17/2011 at 8:03:26 AM


thank u for the advice really appreciate it
---
Coach D says:
3/17/2011 at 10:54:13 AM


Good artical. I have been coaching that way for years but never really thought about it until I read this. I do maintain however that the best thing you can teach youngsters/beginers are basic skills as without these you cant expect players to run set offenses, play M2M defence, rebound etc. Any player, no matter what age, can always improve their basic skills somewhere.
---
Mohamed says:
3/23/2011 at 8:19:51 AM


Thank you very much. This is VERY helpful!
---
H. says:
8/22/2011 at 12:40:48 AM


Great article. My first years as head varsity coach of the girl's team is in motion. These articles supplements all of my current knowledge. I do have a question or two: which would be more effective versus a 2-3 zone; flex or motion plays?
---
Jeff Haefner says:
8/22/2011 at 10:52:22 AM


This is a tough question to answer because it all depends on your personnel, player strengths, depth, primary offense, your system, coaching style, etc. I have found it's how what you do, it's how you do it. So one guy running the same plays might do a terrible job, and another guy might run the same plays with great success. Personally I like motion offense and/or a good continuity offense versus the zone. But that's just me and there are lots of ways to skin a cat.
---
LV says:
9/25/2011 at 10:52:54 PM


I really like what I have read. I am about to coach my son's 3rd grade bb team. I have been working with him on fundamentals for a year or so before he was able to play for his school this year. But this winter I plan on using the same concept with the team. Fundamentals, I am looking into purchasing, Mr. Bigelow's coaching youth bb the right way. Has anyone used these dvd's yet? If so what did you think? I look forward to learning more and being prepared for this coming season. Thanks alot breakthrough bb. Great job! I can hardly wait, good luck to all on this page.
---
Bobby says:
10/6/2011 at 4:43:17 AM


I would like thank you for all of the excellent basketball tips, coaching techniques, plays, drills etc.

indeed, it helps a lot though we are not able to buy some of your offers nowadays but expect us through later. As of now it would be great if allow us to continue our subscription to your free offers.

thank you.

coach bobby
---
Winston says:
11/10/2011 at 6:16:23 PM


This helps me to focus on areas that I lack as a coach. I will employ these techniques to improve the quality of my team - my 3 from now will be
1. Man defense
2. Better half-court offense
3. Rebounding

Thanks
---
chenhsin says:
12/21/2011 at 5:55:36 AM


Dear Coach,

My name is Chen Hsin, I'm working as (AGENT) with the Chinese Jiangsu Nangang Dragons basketball club,

The management Of Jiangsu Nangang Dragons basketball club, has announced for head coach replacement in the club.This Head coaching contract with the Club is scheduled to start in the Third week of Jenuary 2012.

We are very interested to welcome any experience basketball coach who can satisfactorily create a great impact in the development of basketball with the Jiangsu Nangang Dragons basketball club.

This is a 24months Head Coach contract with the Jiangsu Nangang Dragons basketball club.

Salary $29,000 per month, contract agreement One year. On the receipt of your resume, We shall outline the procedures in completing this vacancy.If you are interested forward your CV for assessment. And contact me directly for further negotiation:my email is chenhsin.cn163@yahoo.cn

http://sports.sina.com.cn/cba/team/jiangsu/index.shtml

We await your response in this regard.
Regards
Mr Chen Hsin
---
Steve says:
12/22/2011 at 7:01:59 AM


I teach 5 out motion - pass cut and replace, forget screens until they understand spacing - youth players need to develop inside and outside game.

We play 1/2 court man to man - on the line up the line my rule is less is more!! Happy to discuss!!

---
Ken Sartini says:
12/22/2011 at 7:19:46 AM


Steve,
That is a great rule... you have to know your personnel before you start adding things.

We ran a 5 out Open Post Offense also... m2m on/up the line and a 1-3-1 Match Up Zone.
( Varsity boys team )

The things that I felt we needed to be good at to give us a chance for the W were -

1- Control the tempo
2- Play GREAT defense FINISH by rebounding
3- Get a good shot every time down the floor
4- Protect the ball
5- Take a charge EVERY time someone drove the lane and get every loose ball.
6- Hold our own on the boards ( we were usually smaller than most of our opponents)

---
Noah says:
3/18/2012 at 7:06:22 PM


nice

---
Noah says:
3/18/2012 at 7:08:38 PM


great advice
---
Reza says:
5/18/2012 at 2:23:09 PM


Nice job.I think it could even lead to winning , with this rule.
---
Rob says:
5/31/2012 at 1:11:48 AM


I've never thought of it that way before and it doe's make sence I'll put that into play thank you
---
Steven Hickcox says:
10/16/2012 at 5:40:28 AM


Jeff, I really appreciate all the great tips and invaluable advice you provide here on this site. However, I have to disagree that teaching young players how to fast break, press and play zone defense will ruin their future as basketball players. IMO, the game of basketball is in constant evolution as players develop and mature. The fast break, for instance, when taught properly, teaches the kids to think quickly, and that effective passing is more efficient than dribbling. Those valuable lessons carry over into other game situations, like in a half court offense, where it is effective passing that breaks down the defense.

Also, teaching them real zone defense is actually more difficult than telling them to stay on one player, because they have to be pro-active and anticipate when to switch from defending a zone to covering someone who has just stepped into that zone, especially in the post.

Young players' do continue to change as the level play evolves and that, I think is a good thing. For most kids up through high school, any time they can pass down court in a fast break, they are playing the game with the highest amount of quick thinking and decision making in a sport that thrives on spontenaity and improvization.
---
Ken says:
10/16/2012 at 9:04:14 AM


Steve -

I think that in order to play a good zone your kids need to be fundamentally sound in m2m defense. JMO A good m2m defense is not just staying on one player, you are playing good on the ball D..... one pass away and more importantly HELP D. This is important in any D that you might play. And, if you are down several points late in the game, somewhere along the line you are going to have to play m2m defense... or you are toast JMO again.

Jeff is trying to make the point that you have to be GOOD in a few areas IF you are going to be successful as a team. Whats that old saying...
" Jack of all trades - master of none. "

If you look back a few posts you will see what I felt was important, each coach has his own ideas and philosophies... thats what makes the game great.

I can tell you that as a varsity coach (now rettired) that I was very happy if the kids came in as freshman and they knew how to play solid m2m defense and could shoot the ball well. We could teach them the rest.
---
Jeff Haefner says:
10/16/2012 at 9:43:03 AM


Hey Steven,

Thanks for the comment. I went back to find the part of the article that I assume you are referencing. You make some excellent points but I do want to clarify one thing.

I want to point out that when done properly, done in the right progression, and when the kids are fully ready it can sometimes can be ok to "TEACH" fast break, full court press, and zone defense.

The key word here is "teach". The article didn't use the word teach. Here's the exact quote from the article:

"Youth teams can have identities too, but if your "3 things" are pressing, zone defense, and fast break offense - then you are RUINING your players' futures!

A youth coaches TOP priorities should be player development and having fun."

I think the key here is that I said if your TOP 3 THINGS (aka: top 3 priorities that you focus on) are full court press defense, zone defense, and fast break offense... then there is a problem.

The point of the article is for you to focus on a few key things and get really good at those key things.

So if you are spending the majority of your youth practice working on full court press, zone defense, and a fast break... then I'm sorry to be blunt but your priorities as a youth coach are out of whack.

With that said, I probably could have clarified a little better. You bring in some good points! I do agree and think the fast break has a place in youth basketball (like you said, when done properly). It can be an important part of the game and once kids are ready should be included. Just like when learning math, kids need to learn how to add and subtract and many other concepts before taking calculus. There is a progression to learning which takes years. Each year you learn a little more.

As a youth coach you want to try and teach in the right progressions. Kids need to learn how to execute in the half court. And sometimes it's easy for youth coaches to skip that part because you can win games just by pressing, running fast breaks, and getting points in transition. I have seen a number of teams rely on that too heavily and then really have trouble in high school because that's all they could do.

Check out this article about youth defense and let us know what you think:
http://www.breakthroughbasketball.com/defense/age.html

Thanks for bring a little clarity to the article.
---
Coach C says:
11/8/2012 at 9:44:31 AM


Good article, this may have just saved my season before it started. I was trying to do too much.
---
Coach Hamrick says:
3/4/2013 at 1:03:58 PM


Good stuff. The tempation is to overestimate what I can do in one practice and underestimate what I can do in a season!
---
Skinny Branstetter says:
4/18/2013 at 12:22:19 PM


I couldn't disagree more. Buy choosing three things you are artificially quantifying a sport that defies quantifying. Coaching should be about constant evaluation and changing our coaching strategies on a daily, weekly, monthly and yearly basis. It should be about lifetime learning and adapting coaching techniques to fit individual situations. I have a list of "Universals" for coaching basketball that are too large to put here. Where would I send them for your perusal?
---
Ken Sartini says:
4/18/2013 at 12:30:57 PM


Skinny -

I think what Jeff is trying to say is that you cant be GREAT at everything. That doesn't mean that you aren't good at everything else ( or a lot more things )

I couldn't narrow my list down to three - here is what I came up with.

Control the Tempo

Play great defense

Take care of the ball and get a good shot every time down the floor (notice I didn't say make it haha)

Hold our own on the boards ( we were usually smaller than other teams )

Take a charge everytime they drove the lane and every loose ball is ours,
( I called these two game changers )

JMO
---
Bprathe1 says:
7/15/2013 at 6:49:44 PM


I coach youth ball. Half my team are great AAU players and travel team. We are in first place in a very competitive league in NC. We run only one offensive play, dribble drive, half court defense. Not because I am smart, but because I really didn't know what to do so I figured lets just do a few things great. lol. Very confirming and I love the advice and the site. Thanks a lot from a 52 year old man who was scared to death to take on these boys. I absolutely love it!
---
Ken Sartini says:
7/15/2013 at 7:44:46 PM


We all started somewhere.... all you have to do is to stay one step ahead of your players.

There were several years that we used the KISS method too.... Keep it Simple Stupid.

You are right about doing a few things well rather than a few things half baked. Its not about what you do, its ALL ABOUT how you do it.

Keep up the good work.
---
alex says:
10/18/2013 at 1:29:48 AM


This is a great article this help me a lot especially that I'm teaching in a bb clinic and sometime coaching U12 bbteam, I agree to coach Jeff's 3 things to focus in order to be successful in every bb game. thanks coach joe and jeff and also ken, I'm very thankful that I subscribe here. God Bless
---
KARLO says:
11/14/2013 at 6:29:29 PM


Thanks a lot for this courageous concepts.
Sir / Maam, can you sent me a copy of half court offense strategy?
God bless.
---
Renee S. says:
3/24/2014 at 12:27:07 PM


I have a question regarding coaching and the importance of coaching as well as practicing together as a team. I have a 13yr old son who currently plays AAU basketball and they're team doesn't practice together as a team, in addition to this factor they do not have a consistent permanent coach. I have expressed concern with both of these matters and I have been told that all players learn te same plays and that it doesn't matter if they practice as a team.

I would just like to know the importance of practicing as a team and having a permanent coach. I understand that all players learn the same plays but what does that matter if the team is unable to gain chemistry amongst each other, learning the strength and weaknesses of each team mate. This is really important to a team isn't it?


---
Jeff Haefner says:
3/24/2014 at 2:40:35 PM


Renee -

I think ideally you play with the same team and have the same coach. But depending on the situation, they may not matter and I personally might not be concerned with having different coaches.

It somewhat depends on the players goals. If long term development is priority, then it may or may not matter depends on the situation.

Now if winning championships is more important and the priority, then having a permanent coach might be better.

Some programs focus on PRACTICE and the skill development in practice. This is when most of the true development occurs. This allows some clubs focus on practice / skill development and then recruit other various coaches to help at the games. I have seen some clubs do this to save money and do an absolute excellent job with developing players.

To me this is not ideal. But it's also not a deal breaker. You have to look at the entire picture when evaluating the team your son plays on.

In addition to player development, there are life lessons and character development to consider. If a club does an incredible job with character development and skill development, that to me is more important than some of the game chemistry my son might have missed out on with a certain group of players.


---
sam smith says:
5/28/2014 at 12:35:06 PM


A very useful article,will prove very helpful to coaches.

---
mj anderson says:
8/19/2014 at 3:27:34 PM


thanks, i learn a lot from these articles and comments, I am a wheel chair basketball coach for a team that is inclusive, however i can take some of the ideas and make them work for my players
---