Site Search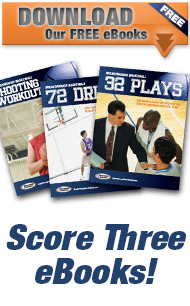 Q & A Forum
Experienced coaches are ready to answer your basketball questions! Visit our forum
Do You Sub To Keep Your Players Fresh And Out Of Foul Trouble?
- By Ken Sartini
Subbing players is a very important part of
game time coaching strategy
. It's important because...
NOT having the proper personnel on the floor in crunch time can result in lost games.
Subbing properly can boost your players moral and confidence.
Subbing keeps key players fresh and out of foul trouble when you really need them.
Subbing can change the momentum and pace of the game.
Keeping players fresh and out of foul trouble.
Keeping players fresh usually keeps them out of foul trouble. Why? TIRED players tend to foul more because they don't move their feet as well and rely on reaching. Subbing gets more players in the game and that keeps them happy and the morale of the team up. You will also have your best players (in the game) on the floor when it counts in crunch time.
There are times when this can be a very difficult decision. The big question is.. Can I keep this game close with my best player(s) on the bench (can my subs keep the intensity level up)? Or do I have to play my best players and hope they don't foul out?
The bigger the game the tougher the decision is going to be.... but IF you have formed a philosophy regarding when you sub and at what time you are willing to put them back in the game, the decision becomes easier.
I will give you two different examples of using subs.
In one game I had only one player that could really score and he was in foul trouble from the first quarter to the fourth. I subbed for him in each quarter to try and save him for the last part of the game (he probably sat 70% of this game).

We went into the 4th quarter down four points... they were in a zone and my best player was on the bench... we held the ball for 4 minutes and I put him back in the game... he ended up hitting four three's in the last 4 minutes to give us the W. This time it worked out.


Another game we had a transfer student from Yugoslavia who was foul prone.... so I never started him until we got to the Regional championship game. I felt that IF we were going to have our best chance of winning he would have to start.. and of course he got in foul trouble. I subbed for him and the sub did a decent job.. no baskets but NO turnovers which I was happy about. When I got the player back into the game with 4 minutes on the clock we were ahead (amazing considering the size of the other team and our lack of it). We ended up down two with less than a minute to go... we got the last shot but it didn't go in. It would have been a great upset. That team ended up going downstate and did pretty well.
The use of subs correctly comes with experience. Sometimes it works out and sometimes it doesn't. We do what we think is the right thing at the time we do it according to our own philosophy.
The pros to subbing are keeping your players fresh - getting more players into the game thus making them happy (great for team spirit) - it makes everyone feel like they are an integral part of the team. THIS allows you to pressure the other team and do more things if the subs are prepared to play that maybe you can't do if they are tired towards the end of the game. It also ensures that your best players are on the floor at the end of the game when you need them.
Pace of the Game
One of the best ways to change the pace of the game is to know your personnel and sub based on what's happening.
For example, let's say your team is looking slow on both ends of the court. They are hesitant on
offense
and the
defense
is slow to the ball. This could be a great time to put in a couple high energy defensive guys to get the team moving. Sometimes you need a defensive leader or two on the floor. The energy and hustle can be contagious. A couple turnovers and fast break baskets can really change things. Let your best players watch for a few minutes. Let the energy pick up. Then put your good players back in to join the energy. You may want to keep at least one of your hustle players in there to keep things going. In any case, this is an example of how you can change the pace of the game by knowing your players and subbing at the right time.
Allowing Players to Get a Rhythm
There's a fine line between keeping your players fresh and allowing them to develop a rhythm. Sometimes it takes a few shots and a little time for players to get a rhythm and feel for the game. Nothing is more frustrating for a player when they get pulled from the game just when they started to "feel it". This bothers some players more than others. I think players with limited confidence are affected most by this. The really confident and mentally tough players don't care when and where they shoot. They always think it will go in.
One of the best ways to overcome that issue is to develop a consistent rotation. This allows players to get comfortable playing at certain times of the game and they know what to expect. If you KNOW you're coming out of the game and will get your 8 minutes every night, then it's not as frustrating when you get pulled. Knowing a head of time certainly helps.
On the other hand, some coaches like to change things up constantly and make changes based on the opposition, pace of them game, and gut feel. There are pros and cons to both methods.
For the super experienced coach, going with your gut might work well. For the less experienced coach, I think having a consistent rotation is the way to go. It allows you to focus on other aspects of them game and keeps you from getting overwhelmed.
Subbing After Players Do Good Things
One thing I picked up from Coach Danny Miles (876 wins at OIT college) is to sub players after they make a shot or do something good. This helps keep players shooting confidence high. If they come out just after missing, they might dwell on the miss. When it comes to
high percentage shooting
, nothing is more important than confidence. It's the little things that can make a difference.
What is your philosophy in regards to subbing? Do you sub players that are in foul trouble? Do use a pre-planned rotation?
Please leave your comments below...
Coaching Resources
How To Win at the End - Volume 1
- Over 35 situational end of game plays.
How To Win at the End - Volume 2
- Over 45 situational end of game plays for different situations than Volume 1.
Tempo Control & Delay Sets
- Control the game and protect the lead with 12 different sets to choose from.
Comments
---
iman says:
5/31/2009 at 2:38:28 PM


thank you.
your articale give me new idea!
---
Mark Witzberger says:
6/25/2009 at 8:56:21 AM


We also like for players to let us know right when they think they are starting to get tired. If they take themselves out we will get them back in quicker. We tell them if they get too fatigued and we have to get them out they will sit a lot longer. Giving them some control on this has worked for a lot of players.

If we sub for other reasons we let the players know when they come out. Also, we may tell players going in why they are going in, especially non-starters. It could be just to give somebody a quick breather. A lot of times we may tell them something like "You're goong in just for a couple minutes. Don't worry about scoring unless it's a layup. Take care of the basketball and let's see how many rebounds you can get."
---
Carolyn Chapple says:
6/25/2009 at 10:43:46 AM


Thanks so much for this article. I coach an 20 and under male basketball team and that is a question I get asked quite a bit. "Coach, why did you take me out". For the most part my players are in foul trouble or it is becasue there is no flow amongst the player''s that are on the floor. I have subbed also to help a player get his emotions under control.
---
Coach Pantoja says:
6/25/2009 at 11:06:07 AM


I coach Middle School Girls Basketball. My district requires that everybody on the team play at least 4 minutes and if you play in the 1st quarter, you cannot play in the second quarter. I play my strongest group in the 2nd quarter in order that they do not sit too much on the bench. To make a long story short, this allows me to use the players that did well in the 1st quarter to give my best players "a blow" in the second half.
---
Coach Davis says:
6/25/2009 at 11:13:07 PM


I coach a 14Uboy's competitive basketball team and I still have not figured out just how to sub. Honestly, I tend to remove them from the game after a couple mistakes or turnovers. I am never too concerned over a missed shot unless it was an easy layup that was missed. I have been told to leave the player in and when I do, more mistakes. I don't intend to blow their confidence, but they leave me no choice. They turn to you and say "my bad," then make another turnover. I usually try to play all of my players except for discipline reasons. And a lot of my most serious problems is parents. We have played many teams this season and a lot of those teams don't play all of their players, yet I have still have complaints. One of the parents even verbally attacked me. I hate to punish the kid, but since then, things just have not been the same. Please advise on how to deal with parents. I will need this for next year.
---
Joe Haefner says:
6/26/2009 at 10:20:32 AM


Coach Davis,

Please understand that in order for players to learn, they will make mistakes. They need to play out of their comfort zone and learn things they can and can't do at this age level. If you take them out whenever they make a mistake, you get a scared, timid player. I highly advise to listen to this interview by Don Kelbick (former college coach and currently trains NBA players) where he talks about the importance of reducing the fear of failure: http://www.breakthroughbasketball.com/audio/news7kelbick.html

For kids under 14, you should try to keep fairly equal playing time. If you don't, you could be hurting the players and the team's future. The reason I say this is that so much happens between ages 14 to 18. Somebody who is riding the bench right now may have the most potential, but is developing slower than others. If this player doesn't get playing time, how does he improve?

And never punish a kid for a disagreement that you have with a parent, that is extremely unfair to the child.

You need to ask yourself. Are you coaching to win games or are you coaching to develop players? At the youth level, this does not always go hand and hand.
---
Joseph Wilson says:
6/29/2009 at 2:37:46 PM


I make out a substitution pattern for all my games. I don't like for my players to have to go more than 3 or 4 minutes without coming out for at least :30 or a minute. This rotation is not set in stone and is adaptable to foul trouble/score of game/how well or poorly a player is performing. I like doing this because it helps me to get more players in the game and also allows me to control who is on the floor making sure to always have each position covered. My backup pg is also my starting 2 guard so this helps me to make sure not to have both of them out at one time.
---
Mark McKinley says:
11/13/2009 at 7:28:55 AM


Coaches,

I'm looking for a 9 man sub rotation plan. I have one PG and have back-ups for the rest (2,3,4,5). My 2G can play the Point in order to rest the starting PG. Concerned about keeping starters out of foul trouble and at the same time getting 4 on the bench valuable varsity minutes.

Please email me at mdmckinley@hotmail.com with any/all suggestions.

Thanks and Good Luck to You and Your Team this Season !!!
---
levi says:
4/24/2010 at 4:56:26 PM


this is a good one
i like to sub players by a number situations like tempo and fatigue ive even used a sub to be able to communicate a strong point to a player in crunch time. So i beleive subs are a very important part of the coachs strategies
---
James says:
11/12/2010 at 1:22:24 PM


I coach 3rd and 4th grade girls. We have 14 kids. How can I get a pattern of substitution that will allow for equal playing time? It is required in our league and I firmly believe in it!
---
Kerry Bar says:
1/25/2011 at 11:53:56 AM


Coach/Parent Relationship: When is it okay to discuss playing time with my daughter's coach. She's on a competitive 4th grade team, and there are many times that neither she or I understand why she is removed from the game. For example, she is a very aggressive defensive player and rarely allows the other team to score. She rarely fouls. But, at the last game she got two fouls on her in the first period (they play 4 periods). The coach pulled her and only put her back in the game for a few minutes. He never gave her an explanation, and since she's only 9-years-old she doesn't understand what she did wrong. Even though she's only 9 - she is also smart and realizes that she wasn't the only girl on the team to make fouls that game. And, that some of the other girls foul every game and they do not get pulled from the game. Shouldn't he have explained to her why she was sitting?
---
Joe Haefner says:
1/30/2011 at 10:30:10 AM


Kerry, I would find a time that believes in fairly equal playing time. A player is never going to develop on the bench. I also don't believe in "competitive" at that age. What's more competitive, the kids or the adults?
---
Benchwarmer says:
2/5/2011 at 10:23:02 AM


I am on a middle school girls basketball team and I don't play that much, sometimes never. But the sad thing is I am first off the bench. So no one plays behind me either. Some games my coach doesn't sub at all unless we have taken a 20 point lead and no less. When I do go in it's with all the bad players so I can't show my true potential. At most in a close game 6 of the 12 people on my team will play including the starters. He only subs post. I don't understand. Then in the locker room he lowers our self-esteem even more by saying he didn't want to risk the game by putting us in or he didn't think we could handle it. Also when we lose he blames it on him saying he shouldn't have subbed in me or another girl. I try to show him in practice but I am put on a team with not as good players so again I can't show him my talent. Please help!! What do I do just take it. I'm only 13 and trying to really get up there, I've been playing basketball since 3rd grade.
---
Basketball MOM says:
11/28/2011 at 1:22:06 AM


My daughter plays for a coach that subs immediatley after any player messes up.
at the very moment of the mistake..the player is called from the bench to run to the table to check in at next dead play.
It is horrible...to the self esteem of the players...to the confidence of the players as well
The team doesnt focus on what is positive. they are trained to look for mistake of teammate and be ready to run to sub in...if the poor one who makes the mistake has to stay in for few minutes before dead play...heaven help them. Because they will only focus on the mess up from 2 mins ago and how they are waiting on sub to come for them. Its like the sub is the grim reaper or something.
It is just a horrible way to coach. but these kind of coaches have no idea how to teach kids...the have no interest in teaching kids anything.
these coaches try to live thur their players. they try to make up for the mistakes they made in life. and try to become the champions that they didnt become when they had the chance.

My daughter is in 10th grade now. She has played basketball since she was 3rd grade. But this is the worst coach she has ever had. And it has effected her self esteem and confidece so bad that I can see a huge problem. What should I do as a parent???
Any suggestions please.
---
Jeff Haefner says:
11/29/2011 at 7:57:35 AM


As a parent there might not be anything you can do. You can try talking with the coach but the odds of that doing any good are pretty low. Start the conversation positive. Ask the coach for advice about keeping your daughters confidence high, versus accusing the coach of hurting her confidence. Coaches like to give advice, hence their ego. Just explain some situations. The best thing is if it ends up being the coaches idea not to sub in that fashion, versus it being your idea.

Maybe talk to the head varsity coach too.

Beyond that you could reinforce that it's ok to make mistakes.
http://www.breakthroughbasketball.com/blog/index.php/improve-your-basketball-mentality-learn-from-derrick-rose/


---
Coach says:
1/9/2013 at 1:26:27 PM


I am a coach of 7th and 8th grade boys travel team and was reading these comments to try to help me figure out how to sub a 10 person squad in 8 min. quarters. There are a lot of interesting ideas and they all seem to make sense depending on the situation. I would have to disagree with playing all players the same times at my level anyway. Half of the kids on my team will be in high school next year and I think the coaching staff has a pretty good idea about the talent level from our #1 kid to our #10 kid. However, we will always make sure even the #10 kid gets at least 8 minutes in a game and if we have a comfortable lead he will get more. The only time this may change is in playoff implications. When people say it isn't about winning but developing players I think there is a fine line. I firmly believe all the kids want to win and the starters may resent the fact that they are given equal time when they know the team has a better chance of winning if they are in more. I believe most of the "bench" players would also agree. This is just my take on the situation.
---
Ken Sartini says:
1/9/2013 at 3:58:08 PM


Coach -

This is what I have seen around here at that age group. 5 players start the game and another 5 players play the 2nd quarter. There might be 13 players on the team ( give or take )

The second half anybody can play, depending on who is playing well that day, it could be a sub.

This seems to work around here - you playing everyone at least 8 minutes sounds good to me with your age group.
---
Eric says:
2/6/2013 at 4:30:48 PM


The coach must always explain to players (Starters and Subs) how and why he allocates different people in the game, especially to Subs why he seldom places him/her in the game. All players have right to know and harm the team spirits.
---
thechief says:
2/10/2013 at 6:56:59 PM


I think the coach forgets the power and influence he/she has in the lives of the kids we coach. Some of the comments above really bear that out. In Australia the highest level of junior basketball is representative, where you play for your local association against other associations in the metropolitan region. As a coach at that level now into my third year, where there is massive expectation from the associations, the kids, and the parents, and coaching 12 and 13 yr old boys, I have seen some unbelievable behavior from coaches. Belittling, humiliating, screaming at what really are just little boys. I have seen good kids, with skills, try something on court, fail, and run back up the court with their head hung low while the coach berates them. So what did that kid just learn? Back himself, trust his ability, try something to build his confidence? No, he learned that if you mess up, you're an idiot, and you let your team down. Infuriates me to see this happen. Yes, at some levels, winning is important. And while sport is about fun, there is no doubt it is more fun to win that get smacked every week, but you can win, while making mistakes, and helping kids find their inner belief. I have one boy in my current team who is a great little baller. But he refuses to take outside shots because of the fear of failure. And what is saddest of all, is that this fear of failure has been coached into him - and he's only 11. Pretty sad. Coaches, encourage, don't belittle.
---
Ken says:
2/10/2013 at 7:11:13 PM


This is a great post Chief! There is no reason to yell at little kids... that will get you nowhere!

The game is made up of mistakes.... your coaches needs to get over it. Coach / teach them the fundamentals of the game and then let them have FUN....

You need to have a little talk with this boy and let him know that you want him to shoot when he is open..... and NO ONE expects him to make them all. Look up some Michael Jordon quotes....

"I've missed more than 9000 shots in my career. I've lost almost 300 games. 26 times, I've been trusted to take the game winning shot and missed. I've failed over and over and over again in my life. And that is why I succeed."
- Michael Jordan

He needs to see this for sure!!


---
Coach Cater says:
7/12/2014 at 12:56:26 PM


It is important for coaches to communicate with players and parents as to expectations of the team, player, playing time and development. This all depends on what competitive level you are playing. General Advise: Coaches like to win, players like to win. Parents and players make sure you develop your skills to contribute to the team/level you are playing. Ask the coach, what does my son/daughter need to do to EARN more playing time. How can I help them get better. Parents must put team before player when having conversations. Do not over estimate player talent, decide what is the correct level for them to play and enjoy the game. If they struggle under pressure, help them in a positive way, ask coach for advise. The most common mistake I see in youth basketball is the lack of personal development of both players and coaches. Too much importance is put on playing vs. learning and developing skills. Great players are not born they are made through correct skills and development. Find a good trainer, coach that can help.
Your child''s development is more important then playing time. Every time I get asked to coach, I try to make each player better and teach them more about the game. Winning and losing is a product of the work we do in practice. Conditioning, Skills, Personal Development, and Team Strategy.

CoachCater

---