Site Search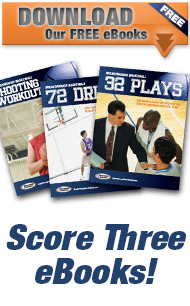 Q & A Forum
Experienced coaches are ready to answer your basketball questions! Visit our forum
Coaching Basketball: Communicating With Your Players, Coaches and Parents
- By Jeff Haefner
Your next important step is to communicate all those important rules, philosophies, and schedules you have created in our previous articles.
This is a critical step to make your season a success and keep things on track.
You need to document your:
Rules
Practice schedule
Game schedule
Expectations of players
Expectations of parents
Have a team meeting to communicate this information. Go over it verbally before the first practice. Ask for questions and make sure that the information is understood. Give them handouts to take home to their parents. In fact, if you can also email the information to the parents or hand it to them directly, you're one-step ahead. Guaranteed, once an issue arises, and they will, at least one parent will claim that they didn't receive the information.
Difficult Parents
Dealing with difficult parents
is part of any coaching equation. This is one of the reasons why I strongly recommend that you hand the parents your season packet.
You can also keep the lines of communication open by sending home weekly notes about what the team is working on. This will help involve parents and they can practice at home with their children. Additionally include the schedule and reiterate any rules or expectations that you have for the team, particularly the ones that parents might have a difficult time grasping.
Like your young players, parents need to know what to expect and some will test you. You need to be prepared to stick to your guns and stand up for yourself. If you have a rule that parents are not allowed to sit behind the bench during games and 'backseat coach' then take measures to prevent this. Remind offenders of the rule and the reason for it.
One last suggestion. Don't feel like you need to defend yourself or convince others of your rules or the reasons behind them. You've written everything down, right?
Great!
Let's move into the fun stuff! Getting ready for your practice.
Comments
---
Ken Starkey says:
11/15/2007 at 10:58:59 AM


I am starting my 3rd year of youth coaching. The best advise I received came from a coach who was just finishing a very successful four year stint as I was just starting.

He recommended scripting your playing time for each game prior to each game. My assistant coach can then get the kids ready for substitutions without me worrying about it. I am an equal playing time advocate, so this also allows me to make sure that happens.

The kids love it because they know when they are going in, instead of worrying about it. The parents love it because they are not worried about playing time for their child. I love it because it allows me to coach the kids on the floor instead of worrying about substitutions.
---
Arun says:
2/7/2008 at 11:12:19 PM


I need the pdf consists of...

* Rules
* Practice schedule
* Game schedule
* Expectations of players
* Expectations of parents
---
patricio bridgewater says:
4/7/2008 at 7:25:48 AM


Love your work. Keep it up. I'd love to get the pdf consisting of

practice schedule

Game schedule

Exspectations of the players

Yours truly

Patricio Bridgewater

patricio@scarlet.an
---
tony montiel says:
9/27/2008 at 8:09:40 PM


Hi
this is my first year as a youth coach and I like the idea of setting up the rules and expectations at the beginning so to avoid uncomfortable situations. This is great help you provide for a rookie coach like me. Is there anyway I can get the template or copy of the practice schedule, Game schedule and Exspectations of the players. Thanks and God bless
Sincerely,
Tony Montiel
chispas_2000@hotmail.com

---
matthew jones says:
10/23/2008 at 12:55:07 AM


This is my first time coaching and this web site is a God sent. I had a great coach as a kid in Indiana as a child. My coach taught me the fundlementals that carried me through my adult life. Yet being a new coach it is hard to try and live up to what i thought i not only remembered but what i have forgott

thank you for this information

Sincerely,

MJ
---
Greg Hartsell says:
12/9/2008 at 4:00:22 PM


This is my first year coaching basketball. I am coaching 6-7 year olds. I have a problem with one of my best players. When he rcieves the ball he will not pass the ball and is insistant upon driving to the basket or shooting regardless of how many defensive players are guarding him or who is open. I have repeadedly reminded him that this is a team sport and as you get more players involved the the better the team plays. He dosen't seam too hear me. I do not want to dampen his effort and enthusiasium by reprminding him but as we all know it is know fun playing with a "ball hog". Any suggestions?
---
Joe Haefner says:
12/10/2008 at 12:56:22 PM


Greg,

I'm more surprised that you have a 6 or 7 year old that has the capabilities to consistently drive to the hoop. That's great. Trying to get a player to play "team ball" at that age should be the last of your concerns at that age. It's hard to get a teenager to play team ball, yet a 6 or 7 year old. You don't want to come down on this kid for this, because he probably doesn't understand the concepts you are trying to teach him. Just focus on having fun and playing teamwork-oriented games to help drive that "teamwork" lesson home. For instance, a great game called "Crossing the River" which involves some blocks teaches kids to work together to achieve a common goal. Just be patient and try to teach him in a fun-manner.

Also at 6 & 7 years old, one of your last concerns should be teaching basketball skills. Rather, you should be teaching movement skills, such as hopping, skipping, running forwards and backwards, squatting, lunging, throwing, jumping and landing, moving laterally and other directions. You don't worry about the technique too much, bur rather whether they can perform the movement or not.

My advice would be to play a lot of TAG. This game is great for so many reasons. It teaches kids how to move forwards, backwards, and diagonally, sideways. It teaches kids spatial awareness and helps develop elusiveness. All of these skills are an absolute MUST in basketball. You could also do race relays of different movement skills, red-light green-light, and so on.

There's an old saying that goes "You have to be able to move properly without a ball before you can move with a ball." If you think about it, how can we expect a kid to run and dribble a ball at the same time if he barely knows how to run. How can we expect a kid to jump and shoot if they barely know how to jump and land.

I hope that gives you a better idea of what you should be working on with this age group.
---
tk says:
1/29/2009 at 11:33:40 AM


Great website....Coaching 5 & 6 year old boys and girls, while they are scrimmaging, they are traveling and double dribbling everywhere, should we stop them to make sure they know the right way to get down the floor or let them play without any correcting? They are young so we do not want to discourage them.
thanks for your help
---
Joe Haefner says:
1/29/2009 at 12:07:05 PM


Hi TK,

Allowing double-dribbling and traveling is okay at that age level. Just continue to teach them the rules and the correct way to dribble. You certainly don't want to correct everything. Otherwise, all of the fun will be taken out of the game.
---
nicole says:
2/26/2009 at 7:59:33 AM


Hi,
I coach girls basketball at a club level and I have parents come to me and say that I need to yell more at their kids. That it will motivate them more. I have repeatedly told them, that is not part of my coaching and not what I do. That I don't believe in yelling or raising my voice at them. I will yell on the the court in a positive way if I think they can't hear me...but the parents don't seem to understand and I am not sure how I can explain this to them. I think they get the perception that I don't care because I am not yelling or screaming at them if they make a bad pass or don't box out.

Instead I'll ask the girls what they thought they did well in game and what we need to work on in the next practice. And that's what we will focus on for our next practice.

Yet, the parents think that I need to be a bit mean to the girls at times, saying, that is the only way to motivate my daughter. My response, (is what I would love to say to a parent, but I haven't, "I shouldn't have to motivate your daughter to play basketball, she needs to be the one to motivate herself, we are here to teach skills and help develop them as players...we are not their cheerleaders).

Please help : )
---
Sergio says:
2/26/2009 at 9:28:27 AM


Hi!
Great website and very good advise and tips on teaching youth basketball.
I have a question: how can you play a 2nd grade boys basketball team that has one tall player on their team and he is good at shooting from the outside?
I am coaching a 2nd grade boys basketball team and we made it to the play-offs. We are playing this coming Saturday against a team that has this tall player and he is good at shooting from the outside.
Can you please send me any tips or help me with some advise on this? Thank you.
---
Joe Haefner says:
2/26/2009 at 6:37:33 PM


Hi Nicole,

As long as you can motivate them, you don't need to yell. If they are a youth team, I would not yell at all. When kids get yelled at, they naturally become stressed. When kids are stressed, things are not fun and learning is inhibited.

So yelling ends up being counter-productive. Unfortunately, these parents see college coaches yelling and don't realize that these are older players and that these coaches have different relationships with these players.

Just stay strong and try to improve the kids as players and as people. Honestly, who cares if you do NOT yell? I'm not a big fan of yelling a lot even at the higher levels.
---
Joe Haefner says:
2/26/2009 at 6:41:55 PM


Hi Sergio,

Glad to hear that you have enjoyed the tips. If I were coaching second graders, I would not worry about defending a particular player. Rather, just worry about improving your players. When you get to the high school varsity level, you can start to worry about scheming for good players.

It's the whole idea of focusing on the 'critical few' versus the 'trivial many.'
---
Jay Pruitt says:
3/2/2009 at 12:42:34 AM


My nine year old son was picked to be on an all star team from his recreation league and I was proud, he was happy and told his other friends of his accomplishment. The all star coach was different than his season team coach and was different in every way. He yelled much of the games and relegated my son as a role player. My son did make mistakes but being yelled at really upset me. I did not approach the coach about it but the yelling bothered my son and he shut down his game and would only pass the ball off immediately after a steal or rebound. I was wondering should have I approached him on this, I was a youth coach myself in the past and never yelled at anyone and my baseball team finished fifth out of thirtynine teams so I know a little about coaching.
Also parents of the other players showed frustration a three second violation that my son committed when their more skilled son was making similar mistakes. I came close to calling them out on this but again refrained. I also took up for a youth player who was a little heavy when a opposing team parent made fun of him, he quickly changed and my teams parents took notice and did not openly critisize my son anymore.
I want some advise on handling this coach for the future or some just like him, and advise for over zeolous parents.
Should I remind them that I coached without yelling and was very successful. Thanks.
---
Joe Haefner says:
3/2/2009 at 7:28:35 AM


Hi Jay,

Don Kelbick (Author of the Motion Offense Book) once told us that youth coaches have bad role models. And he absolutely hit it on the nose. These coaches see Roy Williams or Coach K yelling at their players, so they think it's the right thing to do.

The coach is probably a good guy does not understand child development and just thinks that's how you are supposed to coach, because that's what he sees the good coaches doing and that's what his coach used to do.

Stress actually makes things not fun and stops learning for children which is exactly what we don't want. I'm not in your situation and I don't know the coach, so it's a little hard to say what to do. Maybe, approach him and talk about this study you found and how stress inhibits learning... blah blah blah. If you do it in a non-confrontational way, he might listen. If you're going to sit their and rip him a new one, he'll probably be less likely to listen.

As for the parents, just continue to do what is right. Hopefully, they catch on.
---
Joe Haefner says:
3/2/2009 at 1:56:14 PM


Hi Jay,

I forgot to reference you to this audio by Don Kelbick: http://www.breakthroughbasketball.com/audio/news7kelbick.html

It's one of the best interviews I have heard about coaching.

In the table of contents, you'll see these two headings:

Coaching Basketball: Why Stress Retards Growth 4.30

Common Coaching Mistake & Why They Learn From the Wrong People 6.10

I think those sections apply to your situation.

---
shotzi says:
9/15/2009 at 12:40:05 PM


Here goes my question. I have read all of the posts about how parents are the bad ones yelling at our children from the sidelines of a baseball game. What if the tables are turned and its the coach that is yelling or talking very rough pushing shoving the kids because they struck out or even beat themselves up for wanting to do so good like knock the ball out of the park. Well here is my story my son struck out at the plate he did get upset with himself for it, then coach stomped over to him grabbed his arm and gritted his teeth at him telling him to look at him because he just hit the home plate hard with his bat after he struck out . No he didn't sling the bat to harm anyone, nor did he kick dirt or throw his helmet off he just didn't want to strike out. The coach at this point was so upset for what reason to this day we don''t know why. He told my child still pushing an shoving him if he ever did that he will never bat again.
He scared my son so bad an told my husband dad his face was scarier then yours has ever been. I do understand with 7 yr olds you need to be little stern with them but no need to get that rough now this took place in front of all spectators an his teammates, my opinion no need to embarrass the child. I believe what would have been better to say to him coming from the coach I'm not mad at you so don't be mad at yourself you will do better at your next bat. instead he gets him so upset that he can't think at the next time he gets up to bat. That was the first episode we in countered, after the game the coach took the kids to the side to talk to them about the game instead of saying we lost that's okay no big deal we will practice get better an come back out here with our heads high an play the best we can. This is what our coach tells our kids....You need to tell your parents how to control your behaviors on the field. BIG mistake first off never talk down about a parent to a child through the child. If he has a problem with our parenting skills he might want to confront us not our babies. Second he began talking about the lost and one of the 7 yr olds said yes coach we can't win them all, our loving coach we have snapped his head a said with a pointed finger SHUT-UP NOW!!!!! Well another mistake in my eyes. He immediately put several parents on the defense for their kids. He now believes and has told us this is ok behavior because I talk to my own children this way. If we don't like how he talks to the kids we need to reevaluate our kids on his team. Now this coach as for his teaching and training skills is out of this world couldn't ask for a better opportunity for these guys. I just want some feed back on what you guys think or if we over reacting about this coaches behavior. Now keep in mind these kids are only 7 not grown adults and not MLB players getting paid to have to take abuse or lose their jobs, but it is a competitive ball team not rec ball, so therefore its not cheap we pay alot of money to be on this team somewhere in the neighborhood of 2500.00 just to cover everything these boys will need including travel expenses. please give me some feed back or an article I can read pertaining to coach an their code of conduct. Not on the behavior of the parents I already have read all about parents. I want something on the hidden abuse little league teams take that is wrong or crossing the line with someone's child.
---
Jeff Haefner says:
9/15/2009 at 3:20:45 PM


If I'm being honest, it's tough to give a clear opinion when I'm only hearing one side of the story.

However, if I'm interpreting the situation properly, I would take my son or daughter off the team. I have two young children. I love sports! I want my children to be happy and successful at what ever they do. But I would not put them on a team like that.

Who cares if the coach is GREAT at teaching skill? These are 7 year olds. Steve Nash (NBA MVP) did not starting playing basketball until he as 14 years old. He had zero skill as a 7 year old. Look at him now. There are many sports super stars that didn't get involved in their sport until later in childhood.

If the child does not develop a passion for the sport, they will NEVER reach their potential. That is the key. And it's not something you can force.

http://www.breakthroughbasketball.com/blog/index.php/8-secrets-to-sucess-how-they-relate-to-youth-coaching-parenting/

I would put my child in a situation where they could...

- learn to enjoy sports
- learn "character" and "integrity" through positive role models
- improve athletically (running, jumping, balance, flexibility, coordination, etc)
- have fun
- learn life lessons that are appropriate to their age (a 7 year old probably isn't quite ready to learn about super hard work yet. but learning about honesty, integrity, teamwork, etc is a good thing at this age)

The Positive Coaching Alliance has some great guidelines for coaching and developing young people. They even have an online training course. I think this will take the things I mentioned further and clarify them for you.
http://www.positivecoach.org

Good luck.
---
Mike says:
11/18/2009 at 10:17:00 PM


I am coaching 5-6 yr old basketball in a few weeks and am so looking forward to having fun with the kids. If anyone has suggestions for practices, games, I would appreciate your opinions. We told our 3-yr old that he would be the Assistant Coach and he is the more excited than anyone. I think the previous info about not stressing double dribbles, etc. is great advice. I am looking forward to seeing the simple things like how high they set the goals for this age.
---
G says:
1/13/2010 at 12:25:19 AM


shotzi says: but it is a competitive ball team not rec ball, so therefore its not cheap we pay alot of money to be on this team somewhere in the neighborhood of 2500.00 just to cover everything these boys will need including travel expenses. please give me some feed back

Well, sounds to me that if you really don't want your kids subjected to them kinds of conditions then maybe he shouldnt be signed up to play COMPETITIVE BALL!

Ok, maybe hes's tough. And probably hot the warm and fuzzy type of guys. But your asking him to build a winning team with players that are frankly probably spoiled and coddled and have zero attention span.

btw hitting a plate is the same as slamming a ball down on the floor and is against the league rules as its poor sportsmanship. It comes down to this. Is this coach so bad as a person, that it overshadows his value as a coach? Only you can answer that. Perhaps you should ask your kid how he feels about it first though. I know some parents have a hard time with this but most kids don't mind people being tough with them as long as they are fair.

---
alfonso alvarez says:
1/4/2011 at 7:40:54 PM


If a parent complains that their child is not getting the ball passed to out there, what is your response?
---
Jeff Haefner says:
1/5/2011 at 8:06:06 AM


Is the parents complaint true?
---
Dolphindan1 says:
1/12/2012 at 12:16:38 AM


I am a volunteer coach for the b-team in basketball at a private school...I am in my 3rd year...we get about 8 practices a year but we manage to be very competitive we paly teams that bring down JV players and dont allor kids younger than 7th grade...this year I am having to start a 5th grader (PG) and a 6th grader (PF)...naturally we are 0-3 but have been within 10 points every game and winning two games into the 4th qtr...I teach agressive defense full court trapping...its worked well enough...well my 5th grades PGs parents are very unhappy cause we are losing and questioning every call I make and why I did that an not this and just yell instructions to their son...They make comments about they dont know how much more they can take etc etc etc....They havent approached me personally but have made the comments towards my wife...She wants me to just let it go. DO I confront the parent or do I just continue doing waht I am doing. The kid starts and plays alot so its not a playing time issue...its an 0-3 issue...How do I deal with this? Also what do you teach kids to do when the offensive play breaks down...I teach them to get it back to guard and set it back up or to create their own shot if possible...they are very literal with the plays...They think that if its not run just like we ran it it in practice then its not working...Like I said we have limited practice time to cover it all....thanks
---
Jeff Haefner says:
1/12/2012 at 7:06:59 AM


This is something I would handle very early on. I would communicate with the players and parents very early via meetings, email, and maybe a letter. I would tell them, these are 5TH and 6TH GRADERS!! So our primary focus is on developing players to succeed in the future and improving. We will not work on gimmicks and strategies to win now that cause us to sacrifice the long term development of these kids. At this age, improvement and long term development is most important. Sure when the whistle blows the kids are trying to win. But the score of the game isn't a measurement of whether we are succeeding or not.

Anyway, I would make sure everyone knew exactly what we are trying to accomplish and that right now if they didn't like my philosophy I respect that and they should find another team. I expect everyone to be supportive, etc. Here are my core values for the team:
http://www.breakthroughbasketball.com/coaching/core-coaching-values.html

Talking in the stands has to be positive. There are rules about playing time, etc. Here are more ideas on what to communicate and how to deal with parents. Let us know if this helps:
http://www.breakthroughbasketball.com/coaching/dealing-with-parents.html
---
Ken says:
1/12/2012 at 9:59:40 AM


Great comments Jeff...

Here is my take on situations like this -

Dan -

Welcome to the world of coaching.... I've been retired for several years now and I can tell you that I haven't lost ONE game sitting in the stands... they never do. There are so many Monday morning quarterbacks up there.... every one is a coach. Parents are very unrealistic, usually there only concern is their son ( which isn't a bad thing because it shows they care ) the problem is they need to see the big picture and that is the TEAM. They need to sit back and bite their tongues and let you do what you are trying to do with your team. You are playing some young kids so you are at a disadvantage, hang in there, teach them the game, do the best you can, teach a lot of fundamentals and let them have FUN.

It sounds like you are teaching plays exclusively? Maybe a simple pass and cut open post offense might work better because it is continuous.... you don't have to set things up like you do at the end of a play you are running and haven't gotten anything out of it. This will teach them how to play the game and not how to run plays which will help them in the future. You have to find some way to have continuity in your offense, that way they wont be questioning what they are doing. I don't know if your practice availability would hinder this but that's my suggestion.

You might have a team meeting with ALL the parents and explain your philosophy, team rules etc. Remind them that being positive towards EVERY PLAYER, coach, ref and the opposing players is what you are all about. Yes, we play to win but that is NOT the only thing that is important here. Along with the fundamentals of the game you like to teach some LIFE SKILLS along the way. Since this is the B team I would hope that you are getting every player some playing time.
---
dolphindan1 says:
1/16/2012 at 10:30:51 AM


Thanks for the advice so far....I have scheduled a mandatory parent meeting for this week...I have taken all the advice into consideration and have talked to my Athletic Director on how to handle it also...It looks like he may attend the meeting in support of the team...

Funny thing is we had a game this weekend against a team of all 8th graders and we ended up winning but this woman was just out of control...screaming instructtions to her kid and saying my defense was a mistake and when it broke down she is screaming I told you so...I was in a stall offense with a 9 point lead with about 2 minutes to go...Kids were running it great and she starts screaming to her son taking to the basket....Well he does and he driblles off his leg out of bounds and the other team goes down and hits a 3...I pulled him out of the game and explained that I am the coach and when we are on my court he is to listen my instructions and no one elses...Also we were in a press and we rattled of 3 straight steals which led to 6 points...well the other team sent two guys deep and I told my deep guy how to handle it, He didnt and my front trappers got split and the ball handler hit one of the depp guys but they missed a layup....thats when she starts screaming I told you that you shouldnt be doing that...just crazy

As for a continuous offense...I have a motion offense but the kids do not run it well and they dont look for all the options to develop...basically I have PG, 2 wings, high post and Low post...PG passes to wing and runs off the high post and looks for the ball, if nothing he goes to opposite wing, the high post rolls to low post and the low post who is opposite ball side sprints to high post, the opposite win replaces the PG and the wing with the ball can kick out and we just keep running it....well we just havent had alot of time to go over the details....Like I said we dont get practice...I have had 3 games since my last practice and will have another game before I practice again...so its a tough situation...We have only seen Zone defenses and I have no shooters...I know that "motion" offense would work better against M2M but the options are open against the zone too

The kids play hard with really a lack of talent and no height and lots of youth...we have been in every game, and winning a good part of each game...but sadly 1-4...Most everyone gets plenty of playing time except one kid, he is getting time but its not alot...he cant even catch a basketball or run the offense but does play decent defense so I put him in to attack the PG...or if I need fouls...LOL....He tries hard though...and thats really all I ask for is effort
---
Ken says:
1/16/2012 at 11:03:11 AM


Dan,

Your AD should attend this meeting so it doesn't become an attack on you. Everyone needs to be on the same page.

She is out of control and needs to be reigned in.
This happens on all levels I am afraid... the coach at my old school has the same problem with a set of parents, especially the mother. I usually sit behind them so I don't hear all the yelling right in my ears.

Jeff / Joe... do you have a set of rules for parents behavior at games and how to handle things that they don't agree with? Coach / parent meetings etc. ?? Something they have to sign and turn in ?

Dan, It sounds like you are doing as much as you can with your group and teaching them how to play - hang in there, have fun with the kids and hopefully they are having fun too. Don't worry about your record ... what you want to see is improvement over the course of the season and see them make the next team.

Shotzi -
Jeff gave you some sound advice ..... IF what you are saying is true... take your son off that team and put him on some where he can have some FUN. Even IF he is the greatest coach in the world teaching the game, HE could be turning your son OFF of playing basketball and maybe all sports... come on..... 7 years old and HE is carrying on like a spoiled brat.
---
Jeff Haefner says:
1/16/2012 at 11:31:04 AM


If I had a parent yelling things out that were so detrimental to the team, I would talk with the parent to explain how much it hurts the team, whether she is right about what she is saying to the team or not. The things she is saying should be discussed behind close doors without the kids.

Next I would want the parent to know that if it continues they no longer can attend games. You'll need to talk with administration to make sure they are good with that.

I only have one rule. Don't do anything detrimental to the team. Based on what you are describing, the parent is clearly doing things detrimental to the team.

---
dolphindan1 says:
1/16/2012 at 11:42:38 AM


Hi, thanks again....at what point do you take the kid out of the game...I dont want to punish the kid because of his parents but like you say if its hurting the team and he is ignoring me and doing what the parent says when do I get to that point....
---
Ken says:
1/16/2012 at 1:19:17 PM


Dan -

Before your next practice, sit down with your kids and explain how important it is for everyone to be on the same page in order for your team to do well. Tell them that they have to do what the coaches are teaching them.... not anybody from the stands.

It's not the kids fault that the parent is disruptive so try to handle that with some compassion, he's only 7.

You could take him out of the game, explain what you want done and then put him back in.
Do this as often as you need to... not for mistakes, but for not doing things according to the game plan and what the coaches are telling him to do.
---
dolphindan1 says:
1/18/2012 at 3:45:31 AM


Just an update...

I have talked to the Athletic Director and he has in turn talked to the headmaster of the school....They gave me a parents code of conduct that he said the Varsity and JV are required to sign before the first practice...He told me to hand those out at my meeting and make sure they are signed before the next game and tell the parents if not their child will not play...He also said they would be at my first home game and if they feel the parent is unruly they will talk to her or escort her off the premises....He saidn teh behavior I described is unacceptable and against school behavior policies...He cannot make the meeting so I may just hand them out and get them signed and let them deal with her at out game...Game Thursday and parent meeting Wed so we will see how it goes....

OH I have had 3 games and have not been able to get on the court to practice....We play a 4th game Thursday and again Sat and Monday and will only get to practice Friday....So wed I scheduled practice and we are gonna have a pizza party to celebrate our first win and I have some game tape of me on Varsity...We run alot of the same plays so I am gonna break that down for them....good and bad....does that sound like a good idea
---
Ken says:
1/18/2012 at 2:19:17 PM


Good luck Dan -

I hope this works out for you and the kids. I can see this woman NOT signing the code of conduct form thus forcing you to NOT play her son... more problems on the way. What a shame that they put a 7 year old in the middle of this mess. I have a difficult time with that part.

Tough playing all those games without a practice, no time to correct problems and teach the fundamentals they need.

I like the idea of the Pizza party after practice... what kid doesn't like pizza? That should take the edge off of the problems. Make sure they are having fun. The tape can be good, but remember, their attention span is not big.... show the important things you want and then let them watch and enjoy. JMO
---
dolphindan1 says:
1/18/2012 at 9:16:10 PM


Thanks Ken..

Let me Clarify 1 thing....the kids is not 7 he is a 5th grader so he is at least 10 or 11....not that makes any difference...

All the parents signed no problem but she was the only parent that said I need a copy....LOL...no biggie...Pizza went over good and like you said attention span was short watching their old ball coach play as they put it "Were yall allowed to Dunk back then" age....we watched some and then we just went and shot the basketball nothing else...worked on fundamentals of shooting and some went and played 2 on 2 at the other end....They did ask me alot of questions did you win? How many points did I score? No we lost and it was a waste of 32 points...I asked them if they saw anything any player could have done to help us win that game....They said play better defense....So I threw that back on them about our up coming games....hopefully they got the point
---
Ken says:
1/19/2012 at 8:25:37 AM


Dan,

Glad that things worked out...... giving her a copy is a good thing, that way she cant say that she didn't know. I'm glad she signed the form, this will take pressure off of you and her son wont be in the middle of this.

10 or 11, still pretty young to have to deal with all that and still play ball and have some FUN.

Kids can say the darndest things cant they! Thats why its so much fun to work with them, they are pretty honest in the way they come across.

You might remind them of the game tape and how playing GOOD D can win games for you.
D should be a constant but anybody who has played or coached knows that is not true,,, things can change for whatever reason. All we can do as coaches is to remind them how important playing solid D is.

Good luck.
---
dolphindan1 says:
1/20/2012 at 12:34:08 AM


Just an update....the mom either wasnt there tonight or got the hint....didnt hear a peep out of her...Also her kid led my team in scoring...he played a great game...we won 30-11...thats 2 in a row...

One thing that bugged me tonight is we started out in a press and jumped out 12-0 in the first qtr...the ref told me to back off with the pressure...I didnt that early in the game and he then made me by calling every little tick tacky foul....next thing I know I got 3 kids with 3 fouls early in the 2nd...he also called a travel on my kids almost every time they touched it but allowed the other team to get away with even after I backed off and had all my subs in....How do I approach this with the ref...or do I just leave it alone...Its tuff when my own kids realize what the refs are doing...I never argued but did ask him to call a fair game...Is that about all I can do??? I know its only b-team at a private school but its still school basketball isnt it....not rec...I am not a coacht that will run up a score but 12 points 3 minutes into the first is a bit early to tell me to back off isnt it...
---
Ken says:
1/20/2012 at 9:58:04 AM


I'm not a big proponent of pressing at that age... but, the refs job is to call the game fairly and NOT worry about the coaching part or the score.

If that was me I would have backed off on the press a bit ( IF I could see that they were not prepared to deal with it and I knew I was going to win this ) JMO You know your kids better than me so you have to decide if you are in control of this game.

Next time this situation arises you can back off for awhile and then go back to it here and there, that way you can pacify the refs and still have your game plan.

Dealing with refs is like dealing with parents only they have more power on the floor. I learned to deal with refs with some humor - works a lot better. Some day when you get a chance ask him ( in a non threatening way ) what he was thinking - and if there is something that you should be more aware of.

He might tell you that he was afraid that you were going to run up the score... who knows what was on his mind.
---
Jeff Haefner says:
1/20/2012 at 10:22:58 AM


What type of press are you using? Is this a full court zone press?
---
dolphindan1 says:
1/20/2012 at 11:56:17 PM


Jeff...Yes full court...2-2-1 trapping zone press....We get pressed alot so I put it in last year....like I said its b-team and most teams we play are all 7th and 8th graders but we range from 5th to 8th...I start a 5th, 6th, 7th and 2 8th graders....the press both sides is really chaos...I try to be disciplined when I teach it but it never works they way you practice....

Ken...I agree about not pressing but I felt it was the only way to stay competitive with teams that were pressing in us...
---
Ken says:
1/21/2012 at 9:14:24 AM


Dan -

Thats a shame, you could be spending time on teaching fundamentals. Too bad the other coaches don't see that... but with 8th graders I don't see a problem with pressing.. its tough to be playing with younger kids vs them...

As for the press and press offense... like the rest of the game... its all about repitions. the more they do it, the better they will become.

My first year we lost one of our first games because we didn't handle the press well. I told my players that I would take the blame for that loss.... we will work on this until we can do it in our sleep. My philosophy on that was simple.... you might beat us but its not going to be because we turned the ball over against some Mickey Mouse Press. :-)
---
Jeff Haefner says:
1/21/2012 at 9:16:38 AM


Ok, I totally understand the desire to compete. Been there. However, here is something for you to consider. In my opinion kids should not using zone presses and trapping at that age. I won''t go into a big long rant about it because it would take too long. But kids just don''t learn good fundamentals when they trap and use zone presses. They aren''t learning situational basketball, they are just taking advantage of kids not strong enough to pass out of traps yet. They need to learn how to execute in half court before they press full court. I get kids at the high school level and I can''t tell you how bad some of their habits are and it''s almost all because they pressed at a young age. It''s terrible the habits they learn and many times they can''t break these bad habits.

This year I resisted the urge to put in strategy, junk defense, plays, and various things to compete with bigger schools and teams with much more experienced kids. Most teams we faced pressed us, switched up their defenses, used zones, 1-3-1, traps. You name it, we saw it. All we have is a motion offense, press breaker using the same principles, and man defense. 1 inbound play and 1 EOG play. That''s it. The rest of our time (80%) was spent on fundamentals. Players have a ball in their hands throughout most of practice. To start the year we won 1 out of 8 and we were blown out in several games. We stayed the course. Over xmas break other coaches put in new defenses, etc. We did nothing new. We did 100% fundamentals (finishing at the basket, competitive skill drills, right and left hand hooks, shooting, dribbling under pressure, dribbling moves, passing, fundamental situations, footwork, etc). Boy did we get better. Now we are winning games, almost beating teams that completely blew us out the first time, much higher EFG%, turnovers cut in half, and we are clearly much better team and players. We are a completely different team that can now play with anyone in the area. Everybody else pretty much stayed the same. We took our punishment, now we are a different team by taking care of the ball, executing in half court, improving our quickness, and our players are simply better now. We don''t do anything tricky, just the basics. Sometimes you have to accept short terms losses for long term gains. Just something to consider and this is just my opinion. Good luck!
---
Ken says:
1/21/2012 at 10:15:35 AM


Jeff -

Its good that you could stick to your principals.

My first year at the high school level I was an assistant football coach at the Freshman level.
I asked the head coach why we weren't putting in more of our offense, he told me that right now it was more important to hone our fundametal skills, they are ahead of us right now, but by the time conference play starts we will be way ahead of them... how right he was and a great lesson I learned.

I tell a lot of the coaches that I help that the game is a JOURNEY... NOT a destination. Be patient with your players ( and yourself ) and build your program from the bottom up..... meaning a good solid foundation of FUNDAMENTALS.

Winning is a by product of a sound fundamental team.
---
dolphindan1 says:
1/21/2012 at 10:42:11 PM


Its tough to deal with only fundamentals when i get at tops 10 practices and 6 are before the season starts....i had 4 games before i could get another practice....i am no on another 4 game streak before i will get anymore court time....so its hard to work on stuff we need to work on including fundamentals....its a frustraing situation...we lost today to a much bigger team by 3....winning at the start of fourth and they pressed amd trapped my 5th grade pg and he panicked as did the other guard...good news is this team beat us by 12 a week ago and one guy had 14 pts...he is a 6 foot 2 inch 8th grader....we doubled him front and back and it worked he had 2 points on a put back....game plan worked...we just as a young team couldnt handle pressure...i am happy we improved but we could be alot better with more practice time
---
Ken says:
1/21/2012 at 11:17:31 PM


Youth coaches have a whole different set of problems.... biggest one being practice time.
(not to mention some parents haha - they are at every level)

I cant imagine playing 4 in a row without at least one practice in between games... no way to correct problems so they just keep making the same errors.

Great job on the big kid.... I did that once on a 6'7 center... a page out of Bobby Knights book vs Northwestern, front and back BEFORE he got the ball... this kid was averaging 27 ppg, we held him to 7 and lost by 3.

Hang in there, as long as your kids are improving, thats what is important. When you do get a chance to practice, try to work on more than one skill in every drill.

Things will get better and as long as your kids are learning something and having FUN.... you are doing things right.
---
Jeff Haefner says:
1/22/2012 at 9:17:40 AM


For next year, see if you can get fewer games and more practices. Do what ever you can to improve the schedule and situation.

This year, have mini practices before every game. You usually get 20 minutes to work on skills, correct errors, etc before games.
http://www.breakthroughbasketball.com/articles/basketball-time-management.html

If you don't have a gym, work on footwork before games in the hallway. You can also warm up in the hall so you can start working on fundamentals the second the basket gets freed up. Use substitutions to correct errors and then put the kids right back in. Talk to them on the bench about the situation and send them back. You might already be doing these things, so just a few ideas in case it helps. You are in a very tough situation so sometimes you have to be creative to find time and teach teach teach every second that you can. Good luck!
---
Ken says:
1/22/2012 at 2:15:40 PM


Dan,

Great thoughts Jeff -

Jeff is right, you are playing too many games and too close together. You should have a practice to game ration of at least 3-1 with your age group. Somebody must be in some kind of hurry to play a lot of games and get the season over with. NOT in the kids best interest.

The first thing I did when I took over the program was to eliminate back to back games...no Friday / Saturday stuff. We went to Tuesday - Friday except for tourneys. I caught some grief about it but thats what I wanted and they are still doing that today.

This gave us some time between games to work on areas of concern... and work on our game plan.
---
dolphindan1 says:
1/23/2012 at 11:29:39 PM


Lost by 1 tonight....to a team that beat us by 13 two weeks ago....it was kids best game...they had 4 kids bigger than my center but my center and two small forwards really boxed out and controlled the boards....

Here is something funny....the granddad of the kid all my posts are about wants he kid to play jv next year....lol....as a 6th grader....i told him first of the jv team may lose one player next year....i also told him there are two 8th graders that would start on the bteam that are getting no playing time on jv....i also asked why is he rushing the kid as a 6th grader....i told him it would be better to stay on bteam and play than sit on jv....finally i told him to be honest the kid isnt ready for jv that he cant even handle a bteam press....grandad said well if he doesnt play jv he will go play middle school ball at public school....i told him 6th graders dont play school ball in our area...as i am the bteam and jv baseball coach for a local public school....
---
Ken says:
1/24/2012 at 9:03:39 AM


Tough loss Dan -

But your kids really stepped up their game and that you can be proud of.

You gave the G'dad great advice.. its much better for this boy to PLAY rather than SIT on a level above him. AND you told him straight out that there is no program at the middle school for 6th graders - its the same here... 7th and 8th grade teams at the public schools.

Its a shame that he wants to push this kid instead of allowing him to progress in a program that can help him. Let him go check it out and maybe he will back off.


---
ROBERT E. HILL says:
3/10/2014 at 1:38:02 PM


WHY DO COLLEGE COACHES "SIDELINE COACH"? STANDING ON THE SIDELINE, MAKING GESTURES, YELLING INSTRUCTIONS, ETC - DO THEY WANT TO SEE THEMSELVES IN THE TAPE REPLAY? THE COLLEGE PLAYERS ARE NOT BEGINNERS - THEY HAVE PLAYED THE GAME FOR SOME TIME.
---
Ken Sartini says:
3/12/2014 at 8:25:13 PM


Robert - this is from Jeff or Joe /

Unfortunately, these parents see college coaches yelling and don't realize that these are older players and that these coaches have different relationships with these players.

College coaches have to win or they are gone... there is a lot of noise in those gyms and I would bet that they cant be heard very well unless they yell. As for standing up... I was a high school coach and I was up a great deal of the time... its kind of what we do.


---