Millions of people around the world seek advice from Bestselling Author and Speaker Jon Gordon. NBA, MLB and NFL Coaches want to know what is going on in Jon's brain when it's time to build a culture that leads to championships (not to mention future employment!) During Episode 13 of the Jim Huber Podcast "Listen and Subscribe Here," we wanted to know WHAT IS THE BEST ADVICE JON GORDON HEARD IN HIS LIFE? 
After a thoughtful pause (Jon is a thoughtful guy!), Jon revealed that a Doctor, James P. Gills Jr, gave him the most impactful words and advice he had ever heard. Dr. Gills is one of the most amazing people on Earth that you've probably never heard of. After reading up on him, I can firmly say it's a sad state of affairs when we can all name a Kardashian, but don't know about a man like James P Gills Jr. Dr. Gills has performed more lens implant and cataract operations than any ocular surgeon in the world. A prolific author, he distributes 40 thousand free books a month, many to prisons around the country. His books trail only the Bible as the most requested book in America's prison system. As an athlete, Dr. Gills is the only human on Earth to have completed a record setting six Double Ironman Triathlons, the last one in his fifties! For the uninitiated, yours included, take a full Ironman triathlon and double the distance of each event. That means a 4.8-mile swim, a 224-mile bike ride, and a 52.4-mile run. His other accomplishments are too many to list here.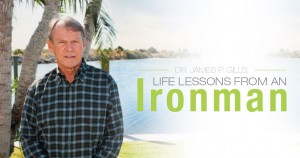 THE ADVICE DR. GILLS GAVE JON GORDON
"You need to talk to yourself, instead of listening to yourself." 
Simple and profound. To complete a Double Ironman in his fifties, Dr. Gills could not afford to listen to that inner voice we all have, that voice that expresses doubts, fears and  the reasons that we cannot go on. Instead, he prepared words that he would say to himself during the incredible stress of the Double Ironman. Jon told us that Dr. Gills would memorize and recite scripture as his body pushed it's human limits, in order to keep it moving forward. The words he chose to say to himself provided fuel and energized him to achieve what would seem to be impossible. Failure is not meant to define you it is meant to refine you, to be all that you are meant to be.  That LOSS, stands for Learning Opportunity Stay Strong.  The challenges we face are not challenges they are opportunities.  See every challenge as an opportunity to learn, to grow, to improve and to ultimately get better.  Jon then asked us, "What are you fueling up with on a daily basis to keep you going?" 
POWERFUL WORDS
It seems obvious after you hear it, but how many of us talk to ourselves with powerful energizing words, as opposed to listening to that inner voice of doubt and fear? Humans are often driven and controlled by their inner fear of failure. To overcome that fear, stop listening to your inner voice and talk to it instead. Pick powerful words that mean something to you, and the next time that inner voice starts whispering the reasons you will fail, shut it up with the reasons you will succeed.
Click Here to Listen to Jon Gordon's Podcast
Click Here to View Jon Gordon's Resources 
Click Here to Learn More About Dr. James P Gills, Jr.