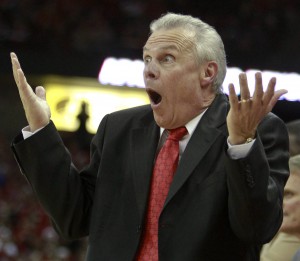 I love Bo Ryan's basketball coaching formula!  And I found an awesome article giving you insight behind his consistent success.
As an Iowa fan that watches a lot of Big Ten basketball, I see Bo Ryan and the Wisconsin Badgers quite a bit.  It's amazing what Bo Ryan gets accomplished every single year.  He has things figured out when it comes to consistently winning basketball games and making deep runs in the big dance!
Unlike most college systems, I think that high school and even youth coaches can learn a lot from Bo Ryan's approach.  Although, I highly discourage mimicking his sideline antics during games.  There is no place for that in the youth or even the high school game!
But out of all the D1 college coaches, I like Bo Ryan's "coaching formula" the best.  It's a very logical approach, which is one of the reasons I really like it.  Nothing flashy.  Simple, logical, and effective.
Even though Bo Ryan is light years ahead me, his coaching philosophy resembles my own philosophy.
Here is a great article that explains some of the keys to Bo Ryan's success and gives you insight into his "formula".  This is a must read for basketball coaches…
https://medium.com/@mrjaycheezy/the-secret-behind-bo-ryans-consistent-success-b610b509621c