Site Search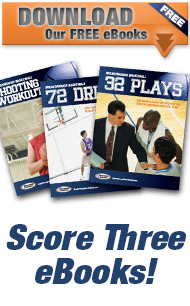 Q & A Forum
Experienced coaches are ready to answer your basketball questions! Visit our forum
10 Basketball Tips Guaranteed To Get You More Playing Time
Ask the coach what you can do to help the team.

This is probably one of the most important things you can do, because it shows you are committed to do whatever it takes to help the team succeed. If you put the team in front of your personal goals, you will be a player that all coaches and teammates love to have.

At the end of the season, remember to ask the coach what you need to work on during the off-season to contribute to the team the following year.



Play to your strengths.

Not everybody can be the scorer, so do what you're good at. If you try to do things that you are not good at it, you'll find yourself on the bench. If you're great at rebounding and playing defense, do those things when you're on the court. Do what you can do, not what you can't do. Strengthen your strengths and work on your weaknesses in practice.

Players have made millions of dollars playing according to this philosophy. Can you say Ben Wallace or Kyle Korver?





Picture by SD Dirk
Always hustle and work hard.

Besides helping you improve, a coach will notice this and pick you above somebody else who may not work as hard. Don't be afraid to get your butt on the ground and dive after some loose balls.



Take charges.

When you take a charge, it provides a defensive stop, gets your team the ball, and puts an additional foul on the opposing team. Not to mention, it can affect the other team psychologically because they will be hesitant to drive the ball in fear of picking up another foul.



Play tough defense.

If you can shut down opposing players, it doesn't matter if you can shoot or dribble. A coach will often find a reason to get you on the court.



Always box out.

Nothing will get you to the bench quicker than not boxing out. Coaches understand the importance of rebounding. If you do it well, you'll rapidly increase your chances of playing.



Take good shots.

A good shot is an open shot that you can make a high-percentage of and nobody else on your team has a better scoring opportunity. If you take bad shots, you'll be on the bench.



Make the extra pass.

Coaches love it when you make the extra pass. You will also find yourself getting more passes from your teammates, because they recognize and appreciate your unselfishness. Basketball is so much fun when played unselfishly. You also win a lot more games, too.

Don't be too unselfish. If you have a good shot, you can take it.



Sprint to the front of the huddle.

Any time you get in a huddle, always sprint to the front and make eye contact with the coach while he is talking. The coach will notice this and know that you care.



Be a great teammate.

If your teammates like you, they will be more likely to play better with you. A coach may notice the chemistry and get you in the game. Why do you think teammates of Kevin Garnett play better?






Picture by Paul Keleher
Related Articles
Breakthrough Basketball Skill Development Camps
Importance of Communication With Your Coach
12 Surefire Basketball Tips for the Off Season - What Should Players Do Between Seasons?
Basketball Tips: How to Get a Basketball Scholarship
Comments
---
TerSiera B says:
8/5/2008 at 6:11:36 PM


Hey I'm an 8th grader at Reeltown High School and I'm playing for the varsity and sometimes i start but i wwould like to be better than and i am and i think that you tips will make me be a better player
---
Basketball player says:
9/25/2008 at 3:23:58 PM


Brakethrough Basketball rocks!
thanks a lot!
---
Matthew Mcdonnell says:
9/25/2008 at 4:11:29 PM


Thanks for the tips, Hopefully i can put them into play the next time im on the court.
---
Aketzali Lopez says:
9/25/2008 at 8:06:06 PM


This we'll improve me in my skills and get the attention of my coach thanks for the tips
---
aniket says:
9/26/2008 at 4:55:56 AM


hey these tips have opened my eyes.i m really thankfull to u:-)
---
EM C will ball says:
9/27/2008 at 8:57:40 PM


I am in 9th grade and these tips will help my coach notice me and i'll make the team, thanks!!!!
---
derek moses says:
11/15/2008 at 10:31:14 PM


Hi I trying to make a high school team called new rochelle. Got any tips
---
b=ball player says:
11/16/2008 at 12:30:43 PM


Last year I wasn't so good at being a team player I didn't listeen or pay attention I was making the team look bad and my coach was so dissapointed I want to be on the team this year but I don't know ifthe coach will pick me what do you think I should do
---
Joe Haefner says:
11/17/2008 at 10:11:04 AM


Hi Derek,

I would do everything provided in the tips above and work on your skills. You can check out tips and drills to work on your skills at this link: http://www.breakthroughbasketball.com/fundamentals/basketballfundamentals.html


---
Joe Haefner says:
11/17/2008 at 10:16:15 AM


Hi bball player,

I would talk to the coach before practice and tell him that you recognized what you did last year was wrong and that you want to be a better TEAM player. Tell him that you'll do whatever you can to contribue to help the team win. Ask him what you think your role could be to make the team. If he tells you, make sure to do those things to the best of your ability. If he knows you care, it'll help tremendously. Also, do everything mentioned in the tips above.

Keep working on your skills and maintain a positive attitude no matter what. If you don't make the team, keep a positive attitude and work hard in everything you do. You'll surely come ahead in the most important game called LIFE.
---
Jane V.W. says:
12/8/2008 at 9:06:30 AM


Thanks for the tips. I'm in my senior year and have only played b-ball for a half a season as a junior. I worked hard all summer at camps and at home and now I feel that I'm good enough to contribute to the team, the only thing that I lack is game experience. I was frustrated at one of our latest games when I was benched through the entire game. I didn't let the coach know how I felt and tried not to look dissappointed, even though she put in some girls whom I know that I'm more skilled than. should I tell the coach how I feel, or just let this one go and work hard at practice so she will notice me?
---
Joe Haefner says:
12/8/2008 at 6:37:12 PM


Hi Jane,

First of all, I must state that it's very difficult to jump into a program as a junior and get playing time as a senior. Very few players can pull this off.

I would talk to the coach. I would set a meeting to talk to him/her. State that you would really like to play and you were wondering what you could do to get playing time.

Do not compare yourself to other players. Only concentrate on what you can do better.

Unfortunately, the coach has to what she/he believes will help the team win and not all of the players can play.

Now, if the coach tells you that you may not get playing time, you should realize that players who do not play during the game can still make a big impact by getting the other players prepared for their games during practice.

Also, get to practice early and stay late. Work on things that coach tells you that you need to improve on. Study the plays, study the defenses. Be prepared as possible.
---
player# 40 says:
12/21/2008 at 9:56:00 AM


this is great i used to get all down that i only got 2 or 3 mins in i am now getting 8min or more
---
Jim says:
12/21/2008 at 3:02:58 PM


I used this tips and im getting more playing time and the coach says Im the teams best player.
---
lol says:
1/17/2009 at 12:28:39 PM


im in youth fith grade upward basketball
---
ronny says:
1/30/2009 at 1:17:39 PM


im an 8th grader at mayfield high school and i play for the modified team and my coach is an asshole i rebound make shot get lots of assists when we scrimmige at practice but i only get 3 mins a game and sometimes i dont even play at all and the people tht do play give up points and dont defend can u guess y he isnt playing me thankj you
---
Jeff Haefner says:
1/31/2009 at 9:31:24 AM


Ronny,

It's impossible to guess why he's not playing you. Coaches can have all kinds of reasons. The only thing you can do is ask your coach... "What can I do to help the team and contribute more? What do I need to do to get better?"

Show that you want to help the team. The coach will appreciate your good attitude and proactive approach. Go take the coaches advice and work your butt off. That's all you can do. Don't stop communicating with your coach. I know it's frustrating (I've been there). But your future is in your own hands and you can't blame the coach. That is life. I'm sure with some hard work and a positive attitude you'll succeed!
---
Jessi<3Bball says:
2/2/2009 at 1:55:05 PM


I am a freshman in high school and I start varsity because of these tips and I understand how people feel when they don't get the attention they deserve. Just follow these tips and the coach will notice you trust me. Thanks breakthrough basketball!!!!!!
---
andre says:
3/27/2009 at 2:44:11 AM


On my football team i was our starter at linebacker, even though my back is a much better athlete than i am. The most important things that you can do to get more playing in any sport time are to always go your hardest because this one of the first things your coach will look at. Next, be a smart player. By this i mean always know what is going on around you and make decisions that will benefiet the team. Last, be consistent. A coach would rather have a player who can get you 13 points every gane than someone who will get 30 one night then 5 the next.
---
Caleb Benson says:
5/20/2009 at 12:12:07 PM


I am in the eighth grade, and I just made the ninth grade basketball team. I have never basketball before, but i am 6' 4''. could this have something to do with it? I am really not that good...
---
Joe Haefner says:
5/20/2009 at 2:04:58 PM


Hi Caleb,

It's great to hear you the made the team. I would like to ask you a few questions.

Do you like basketball? Do you want to become good at basketball?

If no, don't worry about it.

If yes, who cares if you are good or not or how tall you are. Hard work and efficient practice will increase your ability tremendously. We have many great resources on this website to help you. On the left hand menu, you can browse the "Player Tips" menu to learn how to improve your play.

We have a section for players at this link as well: http://www.breakthroughbasketball.com/players/players.html

---
Summer says:
10/1/2009 at 11:05:58 AM


my school team tryouts are in 12 days. The last time i have played basketball on a team was when i was in third grade. I am 12 and 5'5 and many people think i will make the team. I am not awful though i need lots more pracitce. I REALLY want to play on the middle school team but i am afarid im not gonna make it. Do u have any tips for improving in 12 days?
---
Joe Haefner says:
10/2/2009 at 1:52:52 PM


Hi Summer,

12 days is probably too short of a time frame to see any big improvements, but it does not mean you can not improve. I would go to the gym and work on your ball handling and shooting every day. Spend an hour working on skills. Spend an hour playing pick-up games working on your skills.

We have a lot on ball handling and shooting at these two links: http://www.breakthroughbasketball.com/fundamentals/ballhandling.html

http://www.breakthroughbasketball.com/fundamentals/shooting.html

Don't forget to master making lay ups. It could be the deciding factor on whether you make the team or not: http://www.breakthroughbasketball.com/fundamentals/layups.html

I encourage you stay active in multiple sports throughout the year. You don't want to play all of these sports at the same time, but during the sporting season. For example, play basketball in the winter, soccer in the spring (or fall), swimming in the summer, martial arts in the fall. That way, this helps you develop into a great overall athlete which will get you much further in whatever sport you might concentrate on as you get older.

If you want to make the team next year, spend some time during the offseason working on your basketball skills. I think you could make a tremendous amount of progress by talking to a few coaches and have them help you with a long-term plan to get better. Talk to a successful high school or college coach in the area. The fact that you would ask them would make a great impression on them and be a good thing for you in the future. Especially, if you are trying out for that same high school or college team in the future.

At your age, you probably don't need to spend more than 2 or 3 times a week practicing. If you find as you get older around age 15 or 16 and you want to concentrate on basketball, spend more time playing basketball. Possibly, 4 to 6 times a week.


---
Kaila says:
12/11/2009 at 4:34:50 PM


Im in 7th grade and I have never played basketball on a team before. Even though I am 5'6 1/2 and alot of people said I should have, I didnt try out for the 7th grade team in fear of making the team lose. However, I am starting park district to learn. I mentioned to some of my friends on the team my plan to try out for 8th next year and they told me I might not get playing time because I wasn't on the team last year. The season just ended. Do you have any tips on how to play, get better, and try out?
---
Joe Haefner says:
1/7/2010 at 10:52:48 AM


Kaila,

Ask some coaches what you can do to make the team. Come up with a written long-term plan. Write up practice plans to get better. You should probably practice 45 min to 75 min at least 2 to 3 times a week. If you would like, you can practice more.

They are plenty of tips all over this website. Take a look at some player articles here: http://www.breakthroughbasketball.com/players/player-tips-and-articles.html

---
Stephon Edmonson says:
1/20/2010 at 10:13:01 PM


Hi, I'd like to know how can i get moe minutes, I'l explain. From today and last october i've come to every practice possible and even extra one on one practices. Suprisingly we have an 8 man squad and i'm 8th man. Yet alot of games i dnp period. Nor have I scored i know that this is my first year playing team ball. But i think it's unfair that some people on the team that just don't come to practice or are not better tan meplay way more than me. Even, when some of my teammates get in foul trouble or hurt I barely play or might even come out the next dead ball. I've gotten so aggravated that i get angry at my team and just sit on the bench hoping the game will fininsh soon. Sometimes i wish i was never at the game. Some people tell me I should just quit but i love to play. The game is supposed to be about having fun, but what fun is it just sitting on the bench by yourself?
---
Joe Haefner says:
1/26/2010 at 6:14:00 PM


Stephon, I'm sorry to hear about your playing time situation. Getting mad and aggravated is only going to keep your butt on the bench. You should always maintain a positive attitude and cheer on your teammates. Talk to the coach. See if there is anything you can do to improve and help the team. You may not get a chance this year, but there is always next year. Ask him what you can do to get some playing time next year.

Proper communication & staying positive is crucial.
---
rj says:
1/28/2010 at 12:36:07 AM


basketball is eveything to me..i love it,
ill be working hard and getting rebounds and assists,but sometimes ill make a turnover,or my shot just wont fall,and my playing time will decrease.I want to go as far as i can with basketball but in order to do that i need to get better and get more playing time to prove myself to coaches and colleges hopefully...any suggestions?
---
zaynna says:
3/29/2010 at 8:38:46 PM


Hi i'm in 9th grade now and have been playing basketball since 7th grade. I played decent time in 7th grade but at the end of the season i broke a finger causing me to miss all the summer camps. When my 8th grade year started i found it difficult to catch up with my teammates and spent my entire 8th grade season on the bench. The summer after 8th grade i tore my mcl and dislocated my knee causing me to miss another summer of camps and practices. However, i managed to work hard and got decent playing time in most games but about two i got none. i always work hard in practice and am very supportive of my team. what can i do to get more playing time and make the varsity team?
---
UNANIMOUS says:
11/16/2010 at 9:29:10 PM


I m a freshman on the jv team at Rider High School. tonight was our first game, it was pretty rough. Maybe these steps will work and ill get the for sure starting position. I have to battle for the position and the goal between us is whoever can take care of the ball better. What can i do to limit turnovers?
---
dover says:
11/18/2010 at 5:13:01 PM


thnks, these tips and knowledge really made me think on what i need to do to start on my team.
---
Kevin L #32 says:
12/6/2010 at 12:15:01 PM


Thanks alot on the tips this would help me get more playin in the game


Long Reach High
---
Sean says:
1/5/2011 at 7:40:11 PM


Hi I tried out for my jv basketball team but did not make it. even though i know i can compete with many of the other people team. According to the coach i did not play hard enough but sometimes he did not really pay attention I had one good work out where i was put in with people that were already on the team or likely to make it and played good. I was expected to make the team I want to try out for varsity next year any tips?
---
brent says:
1/5/2011 at 10:28:44 PM


hi, i made my schools freshen basketball team, but i dont get hardly any most of the time no playing time. i am one of the smaller kids on the team but i work hard. what should i do to get playing time? thanks.
---
Joe Haefner says:
1/7/2011 at 10:44:05 AM


Sean, listen to your coach. Work your butt off. So what do you do now? Ask your coach what you can do to make the team next year. Go work your butt off everyday for the next year. Get in top-notch shape. Do plenty of ball handling, footwork, and shooting every day. Find a good local trainer if you can.


---
Joe Haefner says:
1/7/2011 at 10:45:11 AM


Brent, ask your coach. He'll let you know. If you can't do anything this year, work your butt off during the offseason. Make every offseason workout, camp, etc.
---
Sean says:
1/8/2011 at 10:05:52 AM


Well I've been practicing at the Y a little and its hard open gym isnt every day its 4 days out of the week and right now im just managing the team he says I mite be on the team soon but i hope he wasn't joking i run track at the moment. I am 6"2 and considered a big man but i don't have that much weight on me i weigh 165 pounds any tips on what i can do to increase my weight as well besides eating more or how should i eat
---
Darius Washington says:
1/10/2011 at 6:54:51 PM


thanks alot this will really help me know when i have a game or a practice i go to Devon Aire K-8 Center i''''ve been on the team for 2 years and my coach say i am a great player he just say i really dont show it but this really helped thank you.
---
John says:
2/19/2011 at 4:25:24 PM


I am a sophmore who tried out for j.v and did not make it i almost did and i was allowed to practice with the j.v basketball team during the season. I am gonna try out for varsity next year is it necessary for me to learn plays like motion offense, a 1-4 set, Duke, 1-3-1 zone shift, offense shuffle etc while working on my game or should i just focus on working on my fundamentals and worry about that after i make the varsity team.
---
Jeff Haefner says:
2/21/2011 at 7:41:36 AM


John -

The majority of your practice should focus on skills. You should ask your coach what you should work on.

Then after you work on skills, if you want to spend time learning your offense and defense that would be great. Just ask your coach what you will be running so you don't waste time learning 50 other offenses.
---
defence says:
4/7/2011 at 8:41:37 PM


hi, im in 7th grade and i play for a select basketball team. i want to get better so i can make varsity in 9th. got any tips
---
vijayinder says:
7/8/2011 at 12:42:29 PM


hi im in grade 6 and i like to score but im not that good but im really really goodin reabounding but i want to score so bad that i dont pay atteion can you help me
---
Michayla B says:
10/11/2011 at 9:30:38 PM


Hi, I'm in 8th grade at my High school, and we have an 8th grade team which is separate from our JV and V teams.

So last year I didn't know very much about basketball and I tried out mostly because my mom wanted me too and I soon learned that I very much enjoyed it. I didn't make the team last year, and I wasn't exactly surprised even though they told me I was close.

So this year I have been working hard and trying to practice, going to weight training, and shooting and going to the Y when I can to practice, but I feel like I still won't make the team. Sometimes I feel like I'm a complete failure and all my confidence disappears and I feel like I suck.

A lot of people seem to think I'll make it, but I think that they just say that because I'm the second tallest girl in our grade, at 5'9'1/2. Most of them haven't even seen me play. I'm not really sure what I'm asking, but can you help me I guess?
---
Jeff Haefner says:
10/12/2011 at 8:12:56 AM


The only thing you can do is give your best effort, practice as much as you can, stay positive, and show perseverance (don't give up).

That's all anyone can ask for. I don't know if you know who Michael Jordan is (best player in the history of basketball), but he was cut as a sophomore in high school! Stay confident and try your best. If you do that then you should feel good about yourself. And keep learning about the fundamentals of basketball.

---
Michayla B says:
10/20/2011 at 5:40:53 PM


Thanks, Try outs are only about two weeks away so I've been practicing and trying to get better. Sometimes it's hard for me to stay positive, but I convince myself to be positive in the end. Ha and Yes, I do know who Michael Jordan is. I know a lot about basketball somewhat, just not as much as how to play it well. Thanks.
---
Rox says:
11/4/2011 at 4:30:05 AM


I love this site
---
Jonelle says:
11/7/2011 at 5:44:11 PM


I am a Junior in High School and last year I was "most improved" and one the "best defenders". Tryouts for our school teams were last week and I felt like I did very well.. but at Saturday's practice I was informed I only made Junior Varsity. It is very discouraging to see some of my friends on Varsity along with Freshman who, without trying to be hurtful, could use some work on their skills. I was told the two things holding me back were consistency and quickly getting to my spot. These I have no doubt about, but I also know of people on Varsity with this problem... How can I keep my confidence from breaking down as I play JV for the second year in a row? How can I prove to them I deserve to be moved up? Is being on JV as bad as I feel it is?
---
Brittany says:
11/7/2011 at 10:08:29 PM


So I had tryouts for the freshman team today . I think did pretty good but the coaches were pointing out my mistakes and no one else's , or it seems like that . I want to know Is there away to see if you made the team by just the way the coach acts around you ? Thanks ( :

Love ,
Brittany ( :
---
Cassie says:
11/8/2011 at 8:32:35 PM


Im am scared of my basketball game tomarrow! My team doesnt go easy on me at all and my coach screams at me when i make mistakes. My friend is mad at me now because i couldnt catch the ball when she threw it at me feet. Please someone help me!
---
Cassie says:
11/8/2011 at 8:39:00 PM


Im a post too and i have to be aggressive but i dont wanna hurt people and then a girl started to cuss at me after school cuz i mess up alot!
---
Cassie says:
11/8/2011 at 9:05:32 PM


CRAP NOW IM EVEN MORE SCARED ABOUT ME GETTING HURT AFTER READING ALL THE COMMENTS!!! poop...
---
Jeff Haefner says:
11/9/2011 at 8:36:25 AM


Cassie - Don't worry about mistakes. Everyone makes them and your coach is just trying to make you better. Don't let it bother you. And ignore the immature behavior of other players cussing. You just be bigger than that, ignore it, and do what is right.

Just think, the greatest players in the world make mistakes all the time. So don't worry about it:
http://www.breakthroughbasketball.com/blog/index.php/improve-your-basketball-mentality-learn-from-derrick-rose/
---
Jeff Haefner says:
11/9/2011 at 8:55:50 AM


Jonelle -

To be a good basketball player, you need to show perseverance. Michal Jordan was cut as a sophomore. Just think if he would have given up. Instead he took that as a challenge.

"In order to succeed, you must first be willing to fail."- Anonymous

"Failure is the opportunity to begin again more intelligently." - Henry Ford

"When the world says, "Give up", Hope whispers, "Try it one more time".

"Fall seven times, stand up eight." - Japanese Proverb

"Perseverance is the hard work you do after you get tired of doing the hard work you already did." - Newt Gingrich
---
Jeff Haefner says:
11/9/2011 at 8:57:53 AM


Brittany - There is no way to know you made the team and until the coach tells you.
---
Cassie says:
11/9/2011 at 5:48:07 PM


Jeff- Thank you so much! Now that you've helped me Im no scared anymore. :)
---
Michael says:
11/21/2011 at 11:26:34 PM


i have always loved basketball since i was in 3rd grade, and have always started, i moved to a new school in 8th grade and got cut from the team, i was then added on later in the season but didnt play good minutes, in ninth grade i made the team and was starting point guard, i averaged around 12 ppg 6 apg and 2 stl. I also had some huge games, now i am a sophomore and my 8th grade coach that cut me was promoted to jv where im playing now and i dont think he sees my full potential and im not even sure ill start the first game, any tips on what i should do please?
---
janice says:
11/25/2011 at 7:40:38 PM


my name is janice and i play on my freshman basketball team and i was wondering how to explain to my coach i want more playing time?
---
Cassie says:
11/27/2011 at 4:40:17 PM


WOW!! I stunk at my basketball game. I got 4 fouls. :) My second one i missed because my mom got sick. But the third one I got no fouls and my coach was proud of me for rebounding the ball. Im not scared anymore a bit nervous but not scared. :)
---
LC says:
12/11/2011 at 9:23:50 PM


Hey, I am an 8th grader on the middle school varsity bball team. I get about as much playing time or more than the person who starts over me. But the guy who starts over me is a 1 trick pony, he can only shoot the ball. I can drive the lane, make some crazy passes that get to the posts for an easy shot, and I am an average shooter. I also play better defense than anyone on the team. I hate being the sixth man and it would mean alot if you could give me some tips on how I can start. I know I might play more, but I truly don't feel like I am the best until I get that starting spot.
---
Ken Sartini says:
12/12/2011 at 7:48:28 AM


LC,

First of all, congratulations on making the team... now, don't take being the 6th man lightly... he is just as important as any starter... sometimes more important.

Let me ask you this.... who is in the game at the end? You or the person that starts over you? You said that you are gettting as much or MORE playing time than the guy in front of you... would you like to be in his spot and start and get less playing time?

Everyone wants to start and I understand that... here is a funny story for you and its true... one coach had a lot of parents complaining about their sons not starting, so one game he put 10 players on the floor and although the ref warned him that he couldn't do that he did it anyway.... he got 5 Ts, he then turned to the crowd and said, see, I can only start 5. :-)

OK, as for getting that starting spot..... work hard in practice - show the coach who is the better player ( but if you are getting more playing time, I think he already knows this ) Work on your fundamentals - defense - shooting etc. I had some kids come into our school who didn't make their 8th grade team end up All Conference players in their senior year.

YOUR ultimate goal should be to make the high school team, so for now, be a team player and bust your butt when you are on the floor. Things have a way of working out for those who have a great work ethic.
---
Lc says:
12/12/2011 at 8:53:16 PM


Ok thanks, it's usually me playing at the end, but ya know, I would love to be recognized as one of the best.
---
Ken Sartini says:
12/12/2011 at 10:29:12 PM


Lc,

You saying that you in the game tells me that he already knows that you ARE one of the best.... otherwise you wouldn't be in then.

Keep playing hard and things have a way of working out..... your ultimate goal should be to make the high school team and play meaningful minutes.

Good luck and let us know how things are going.
---
Basketball20 says:
1/3/2012 at 3:39:18 AM


I''''ve started every year when I''''ve played but this year I''''m not starting. I work really hard in and out of the gym. I haven''''t even had a chance to prove myself since I only play about 1 quarter. After games even when we win I feel teary eyed because I do t help my team. I''''m 5''''9 the tallest on my team. The guy that took my place always jacks around and it really pisses me off. I think ive only scored about 10 points less then the guy who took my place and he gets twice as much playing time. Any ideas how to improve not only my playing time but my skill. And some other stuff u might need to know is. I''''m a great rebounder great post player a hustler and an average free throw shooter and just regular shooter. I would really appreciate it.
---
Ken says:
1/3/2012 at 6:57:09 AM


Bball20 -

All you can do is to take care of your own game... keep working hard, improve all your skills, be as fundamentally sound as you can.

Look at the 10 tips at the beginning of this article and then ask yourself, "Am I doing these things?"

Take a look at what the guy in front of you is doing and then be honest, ask yourself what he is doing that I am not.

I can tell you that as a varsity coach there were a few things that opened my eyes to some players... kids that took charges, dove on the floor for loose balls, rebounded well, were willing to make the extra pass.... you say that you are the tallest? A post player... you need to be able to finish inside and be lights out from the free throw line. Those are the guys I wanted in the game at crunch time.

I hope this helps.
---
Bball20 says:
1/5/2012 at 12:29:57 AM


Ok thanks ken you sound like you know your stuff have a game tomorrow and I'll try to get physical on the boards and hustle.
---
Ken says:
1/5/2012 at 7:27:49 AM


Good luck, I hope you have a good game, and yes, I coached a "few" years LOL

Remember, we learn something about this game every day... same for coaches, just like the players.
---
Bball20 says:
1/5/2012 at 10:41:13 PM


Thanks I played about a quarter more today and had about ten points. The scorekeeper said I was close to a double double. I think I played a pretty good game on defense too but the guy that's starts in front of me still plays more.

---
Ken says:
1/6/2012 at 8:54:13 AM


Ok, a quarter more than the last game? You are making PROGRESS.... stay with it, don't get discouraged and things will get better.

Were you in the game at the end? Like I said before, thats what counts.

My first year as head varsity coach I brought up a sophomore point guard... he was the 2nd best in the program and he didn't start either... not one game.

One day he came into my office, closed the door and sat down..... I didn't let him talk..... I said the answer to your question is that IF I start you over the other kid, we might lose him and then we wont be in any better shape than where we are right now. And I asked him this question... " Who is in the game at the end? "

He shook his head and wanted to know how I knew what he wanted... told him I wasn't stupid (although some might dispute that LOL)
I know whats going through your mind.... he understood and went about his role on the TEAM - I hope this helps you.
---
Joe Haefner says:
1/6/2012 at 9:08:58 AM


Great points, Ken. I've played my 3rd best player off of the bench sometimes as well.

Irregardless, just focus on what you can control. You cannot control whether the coach starts you or how much the coach plays you.

You can control how hard you play, never taking a play off, sprinting to areas, taking charges, diving after every loose ball, making eye contact with the coach whenever he is talking, being a good teammate and being positive (don't be a Debbie downer), making plays for your teammates, taking good high-percentage shots (be a shot-maker, not a shot-taker), and doing whatever you can possibly do to make the TEAM better.

Have you asked the coach what you can do to make the team better?

Are you staying after practice to take extra shots?

Are you cheering for your teammates when you're not in the game?

Are you being constructive with your teammates to help them out?
---
Bball20 says:
1/6/2012 at 4:41:10 PM


I was on the bench with about 2 min to go when I came out I gave him a little eye like wtf are u doing and he didn't put me back in. Also idk if I should talk to him about my playing time and ask him about that stuff because we only have a couple more games. And also thank u guys u have been a huge help.
---
Ken says:
1/7/2012 at 11:16:26 AM


Do yourself a favor, keep a good attitude, work hard, play hard and try to have some fun.

Don't worry about your playing time... just do your best when you are on the floor. I don't have a clue as to what is going through the coaches mind or what the situation is.

Coaches do a lot of things by the seat of their pants, a gut feeling. Maybe they are trying to play more people, whatever ( I hate that word lol )
Just take care of what you have control over and thats how you play in practice and in games and most of all, your attitude which is more important that anything.

Good luck the rest of the way and have some fun.
---
Junior says:
1/11/2012 at 12:43:10 AM


Hey I''m a Junior in our highschool program. We have a small school and team with about 27 people on the roster.

We have 7 seniors and 5 juniors. All 7 seniors are on varsity, and only 1 junior is on varsity. The rest of us juniors "play" in JV.

In practice, I hustle my ass off, and yesterday I almost broke my arm by jumping up and tipping a fastbreak pass while backpedaling.

And I''m not in anyway a bad player, I don''t think I get the credit I deserve. But today in our JV game, I didn''t play a single second. We had freshmen and sophomores playing the whole game, and only one junior played.

I am very frustrated as this has happened for the past 3 nows. I always have a positive attitude, I am a good teammate, but yet I get no playing time. I''ve talked to my coach and asked how to get better and I have improved in the area he recommended but I am getting worse playing time than the past 2 years even.

What else can I do to get more playing time? I''m getting very frustrated and I''m on the edge of leaving the team.
---
Ken says:
1/11/2012 at 9:10:48 AM


Junior,

Take the time to read all of the posts above here and the replies from Joe, Jeff and myself.

I used to give out handouts at the beginning of every practice and the first one every year was this: " IT ALL STARTS WITH A GOOD ATTITUDE." It sounds like you have a good attitude right now, stay with that, it could get you what you want.

You might ask your coach why you didn't get any playing time in the JV game... and what you can do to get some PT. Are there any other areas I need to improve on?

Evaluate your own game and ask yourself - what do these other guys have or do that I am not doing??? Keep working hard in practice, make sure that he notices you.... dive on every loose ball, take charges, rebound etc. Those are all the little things that will catch a coaches eye.

Be patient with yourself and keep working hard. Some times when you least expect it, your time will come.
---
Esther says:
1/17/2012 at 9:36:34 PM


Hey Guys,

I'm on my varsity basketball team.I tried out as a freshman and got in. Now I'm a sophomore. I don't get any playing time and sometimes I wonder why I'm even on the team. I tried out because I wanted to get better at basketball but I feel like my coach doesn't take me seriously. I'm 5' 10 1/2" but I'm uncoordinated and barely make any of my shots. I try to maintain a positive attitude but it's so hard because I want to play so badly. I know I suck badly but I want a chance to prove myself. I'm too ashamed to talk to my coach because I feel like she only picked me because of my height. I feel as if I am a disappointment because I'm not living up to my height, no pun intended. I try and I try but no matter what, I still suck. A freshman gets more playing time than me and I know why. She's good and has been playing for a much longer time. I want to be like that, I want to play that well. Please, I want help. I want to become better so that I can have more playing time.

Sincerely Esther.
Screw the playing time, I just want to get better. Maybe If I get better, the playing time will follow.
---
Ken says:
1/18/2012 at 8:11:55 AM


You answered this yourself.

"Maybe If I get better, the playing time will follow."

A funny thing about this game... as coaches, we cant teach height! :-)

Don't be so hard on yourself.. maybe you will end up as one of theose diamonds in the rough,.
Work hard in practice, focus on each and evey drill and do your best to improve each and every day. We had several players that weren't very good as freshman and sophomores who went on to become very good varsity players. I don't know what the future holds for you.... but IF YOU don't believe in yourself, who will?

Make a list of all the things you need to improve upon.... then every day you go to practice you work really hard on two of them (extra hard) 1 on Offense and 1 on Defense. (along with what the coach has everyone do in practice.

With your size, there is one thing that you can do to get his attention... REBOUND.

Don't worry about what others can or cannot do, be the best player that you can be.

Good luck, stay positive and have FUN
---
Erik K. says:
1/20/2012 at 9:15:39 PM


C'mon, for most coaches all that matters is WINNING, specifically beating the other coach. This is HS Basketball, the MOST IMPORTANT THING IN THE WORLD to them. Why would the coach take a chance with a kid with playing weaknesses -even for 1 minute - and even when up by 15. d'uh? Maybe so that you don't end up with a varsity team with only 5 players who've got floor experience. NOT MY PROBLEM says the freshman and JV coaches who - remember - have lost all perspective and JUST WANT TO WIN THE GAME. There are exceptions to this rule, but of course those JV coaches are LOSERS.
---
Ken says:
1/21/2012 at 8:42:04 AM


Erik -

High school basketball is lot different than YOUTH basketball but please judge every coach the same way - or every program

High school varsity basketball is a about winning... ALL about winning? Not in my book and a lot of other coaches I know. I and some other Varsity coachhes have sat players when their behavior needed to addressed. Yes, we want to win or they wouldn't keep score.. but its NOT the MOST IMPORTANT THING IN THE WORLD as you put it.

I sat three starters in a game that meant the conference championship for us ( that schools AD and some of their parents commended me for doing that knowing what was at stake ) and I know some coaches who have sat their star players multiple times because of various infractions. Those are just two examples.... I sat a lot of players in my coaching career.

It seems like you had a bad experience and I'm sorry for that - but there are good and bad in every walk of life. Are there some that fit your description? Of course and I know a few of them ... but NOT very many. The majority of the coaches that I know and coached against a good coaches that ran or are running a great program

I was the Sophomore coach for 8 years before I took over the Varsity team and the program. MY goal was to get 8 players ready to play on the varsity every year... 3 guards, 3 forwards and 2 post players. This way, the Varsity would be competitive every year.

WE had 5 levels... Frosh A & B, Sophomores, JV & Varsity who practiced together. The JVs had their own schedule and every kid played, not equal time but they played.
---
Ken says:
1/21/2012 at 9:02:58 AM


Erik -

To address this part -

" NOT MY PROBLEM says the freshman and JV coaches who - remember - have lost all perspective and JUST WANT TO WIN THE GAME. There are exceptions to this rule, but of course those JV coaches are LOSERS."

The job of the lower level coaches is to teach FUNDAMENTALS, teach them how to play the game and run the system that the Varsity coach has in place. Its his program so that is his right to dictate what offense and defense the program runs.

IF all you look at is the Ws and Ls you have lost perspective as to what sports is all about.
Most people in the stands don't have a clue as to what they think the players should be doing. Heck, since I've retired I've never made a mistake or lost a game from the stands. :-)

Have you sat in the stands lately and listened to some parents and how they yell / talk / coach their kids? They aren't thinking about team play, they are thinking about THEIR son / daughter.

Everyone thinks that coaching is rolling the ball and watching them play. We have to be coach / friend / social worker / psychologist / counselor and in some cases a parent to them. We have to worry about their grades
( are they going to be eligible?) behavior problems in and out of school, helping them to get along with their teammates so they can play as a team and NOT just for ME.

You have to know how to deal with the rest of the school staff... teachers and administrators for on... but until you have been in this position, you will find out that IF you aren't super nice to Secretaries and the Cusodial staff you won't get a lot done.

You help with scheduling of non conference games / sometimes bus scheduling if its a special circumstance / ordering uniform and equipment - making sure that every level has what they need.. You have coaches meetings so everyone has a chance to voice their opinion and get on the same page and don't forget about scouting your next opponents - Making a sound practice plan and coming up with a good game plan for the next team you play. I'm sure that I have forgotten a few things here but I think that you are getting the idea. Don't forget, coaches have a teaching job to go along with all the above.

Coaching and teaching is like having two full time jobs, believe me, thats how much time it takes. I know that you aren't judging them ALL that way... but there is a lot more than meets the eye when it comes to coaching.

Most coaches do this because they love the game and love working with kids and helping them to grow into young adults. Some are just better at it than others.

AND ALL THIS IS BEFORE YOU SET FOOT ON THE FLOOR.
---
Will Johnson says:
1/23/2012 at 7:48:05 PM


My middle school season is coming to an end. I have been playing on the team for all three grades. I am very nervous about making the highschool team next year, as their is only a JV team. They elminated the 9th grade team a year ago. I am nervous because I have competition with guys in my grade from my school and our rival school. Also, I will have competition with the freshman this year.(10th graders when I try out.)

Any tips on how to make the team?
---
Ken says:
1/24/2012 at 8:56:47 AM


Will -

Congratulations on making this years team and playing... I hope your season went well.

Its a shame they cut the freshman team from their program - thats the foundation for building the system and teaching sound fundamentals.

Sit down with your coach after the season and ask him what areas you need to improve upon - then go to work on them.

Off the top of my head, some things that are important are:
Foot speed and quickness ( helps you defensively and offensively_
Ball handling ( dribbling and passing)
Shooting ( post shots if you are a post player or can play in the post / mid range shots / and the 3 ball if you are comfortable shooting that shot )

Then, make sure that you go to the schools summer camp for basketball, make sure they know who you are by how hard you play,,, diving on loose balls - taking charges - rebounding etc. Get to know those coaches and make sure they know that you are a team player and a coachable kid.

If you can afford it, find yourself a personal trainer and play as much as you can this spring and summer.

Good luck and one last thing... RELAX a little bit, this is supposed to be FUN. All you can do is work as hard as you can and prepare yourself for the next season... just like it was the freshman team - you wont do well if you are nervous, so like I said... RELAX and enjoy this great game.
---
Ashley says:
1/24/2012 at 1:59:33 PM


Hey im Ashley Marie, i love the sport of basketball, basketball to me my life im only 5'2 i know i know im a shawty lol but im a freshman this year and i would love some more tips for basketball :)
Thanks , Ashley Marie
---
Ken says:
2/8/2012 at 5:16:19 PM


Ashley -
Look at the 10 tips above... those are a good start to getting yourself noticed... then you have to work on your game... all aspects. Ball handling, dribbling, passing, shooting and DEFENSE - foot speed/quickness. Good luck

Suzette -
I'm sure there is a lot of political stuff happening out there..... you could be right but I don't know that for sure. IF your daughter isn't getting any playing time you could meet with him and ask him if she could go back down and play with her class because you feel like she would get better by playing. A lot of coaches believe that IF a kid plays up and practices with the Varsity - they will improve faster and be ready for Varsity ball sooner... this could be the case?
---
jbengal10 says:
2/28/2012 at 9:42:41 PM


hi im in 6th grade and i play basketball at recess but i cant make 3 point shots but i can make 2 pointers. do u know why?
---
Ken says:
2/29/2012 at 7:57:52 AM


Jb -

A lot of it has to do with maturity.... right now you should be working on your two point game - in other words, play to your strengths and don't worry too much about the 3 ball...that will come with time and practice.

Some think that the 3 ball has ruined the game, expecially for younger players...
You should be more concerned with your FORM and how well you shoot the 2s.

As you get bigger and stronger your game will change and so will the distance of your shots.

I hope this helps ... so go out and practice the shots that you can make easily and work your way back as you experience success ... and above all HAVE FUN playing the game.
---
vamarp says:
3/15/2012 at 5:59:23 AM


OMG!!! I'm just blown away with my results. I used to be a rough player and just play for the fun of basketball, but when i started applying these tips i improved more and now people are not scared to play ball with me..LOL
---
Basketballmoose says:
4/9/2012 at 5:21:18 PM


Hi I'm kt. I get played a lot on my school team but at my Rec league I never get played? I'm really good at defense and I'm a 6ft 13 year old, I get my rebounds. I do all these things but never get played at the Rec league, why?
---
Ken says:
4/10/2012 at 7:36:05 AM


Kt -

Thats a tough question to answer since we cant see you play. My suggestion is that you find a time to sit down with your coach ( aside from the rest of the players so it can be a personal thing ) and ask him what you can do to get some playing time.

At 6 feet and 13, I would think that you would be important to your team just because you can rebound - and you say you play good defense... thats your side of the story..... but you have to find out what he is thinking.

Does this team ever practice? IF SO, you need to show him that you deserve some playing time when you get that chance. If not, you have to sit down and talk with him.

Good luck.
---
Ken says:
4/10/2012 at 7:37:32 AM


By the way Kt-

Take a look at the TEN items at the top of this page and try to do some of those... if not all.
---
Faith says:
5/25/2012 at 12:26:05 PM


I always have the worst self-esteem.

I'm a very good basketball player, I know this, but I always get tired so quick because I'm out of shape, and that just downs me.

And like in games, I get scared. Down right scared. How do I deal with this?
---
Ken says:
5/25/2012 at 9:30:29 PM


Faith -

IF you are serious about playing the game, you need to make sure that you are in good shape... you cant be successful at this if you are slow and get tired quickly.

It sounds like you get down on yourself because you get tired quickly, don't you think that IF you solve that problem, things will be a lot better for you?

As for being scared ... RELAX and have some FUN... thats what the game is supposed to be about. Practice and become fundamentally sound in all aspects of the game, ball handling/dribbling, passing, shooting, defense and rebounding.

Good luck
---
Ken says:
5/26/2012 at 9:17:24 AM


Faith -

Here is a little quote for you -

"Nothing can sabotage winning like the fear of losing."

Now, have some FAITH in yourself. :-)
---
gabriel-uv says:
9/11/2012 at 9:07:00 PM


i'm really happy on reading this facet of bassketball coz we all know every body wants more playing time.Now i know my chances to learn and to be mature on basketball..

tyvm & god bless always!


cp3-phils
---
Brock says:
12/9/2012 at 2:16:25 PM


I play center for Freeburg Grade School and I don''''t get the playing time that I want but, after reading this, I now know ways to get to play more time
---
Lauren says:
12/11/2012 at 5:11:04 PM


Hey I need help, I'm a varsity player in middle school. I'm not going to say what school but the coaches highly disrespect me sometimes.
I have a ligament problem in my left knee since July 2012 and I try to the best of my ability to get their attention.
I don't do anything wrong in practice, maybe making a few mistakes during plays and such but other then that, I'm okay. I pick up very quickly.
I'm the tallest girl on the court, I'm 5.8 almost 5.9.
And since the season just started, I've realized how much playing time i've gotten. I've have only gotten a total of 2 minutes in one game and 30 seconds in another. Otherwise, I'm just a bench warmer.
I do play center and they don't realize what I'm capable of on the court because they never give me a chance.
Please help!
Thank you!!! <3

---
Ken says:
12/11/2012 at 5:18:56 PM


Lauren -

First thing... look at the ten tips above and start from there.

There are two ways you can go about this....
1- talk to the coaches and ask them what you need to improve upon to get more playing time.

2- Work as hard as you can in practice to get their attention. AT your height, you should be able to get a lot of rebounds and then put backs for scores. Play good defense and try to clean up the mistakes you are making on offense.

Good luck, I hope this will help you get some more playing time.
---
dbatt says:
12/15/2012 at 4:19:11 PM


My daughter for the third year has made the varsity team, and now that shes shopmore she sitting the beanch more than usually. I know its not because she not the best player somethings wrong. She asked me not to speak to coach, she believes it will make things worse.
She is a very quite person, I know she can play she has been looked at from other schools for her skills, I dont know why coach is doing what his doing to her. He looked for her at school this year before try outs asking her to join and now he has her sitting bench. Should I talk to him anyways? Because my daughter has voiced she has lost interest in game now, she is frustated and mad.
What to do, what to do?
---
Jeff Haefner says:
12/15/2012 at 6:48:25 PM


My advice is to always have the player talk to the coach and ask what they can do to get more playing time, improve, and help the team. If she doesn't learn to be proactive and take the initiate, her success will be limited. This is an important lesson that I don't think kids can learn if their parents do this type of thing for them. She can either choose to be mad about it or she can choose to do something about it.

Also, the last thing most coaches want to talk with parents about is playing time. It can be a very touchy subject and personally it annoys me when a parent comes to talk to me about playing time and the player doesn't. So I would first urge my child to talk to the coach and try to teach her the lesson of being proactive. Then if all else fails I might communicate with the coach about my childs feelings. But I wouldn't talk at all about playing time and would understand it's up to them to earn.
---
dbattle says:
12/16/2012 at 8:43:38 PM


Thanks Jeff I will try that but right now she came home from last game and has lost all desire to play. She says she doesnt want to talk to him. I do not understand they practically begged her to join and now not motivated to play.
But I will talk to her about talking to the coach.
I hope it works out because we have been told that she has natural talent and could go futher with the game.
thanks again
---
Charles Kennedy says:
12/20/2012 at 12:54:32 AM


Hey im a senior and i asked my coach and he told me to be a cheerleader on our bench. Yet im his best rebounder and defense player and i can dribble and shoot i also pass I'm unselfish. Unlike the rest of the team there out there for fame and to showboat. And ive done everything i go as hard as i can i start every drill i dont complain. Also i am the only kid that keeps my grades up while the rest are in deep might fail.
---
Ken says:
12/20/2012 at 9:04:00 AM


Charles -

It sounds like you are doing everything right... but thats just your side of the story.... NOT sure what is going on in your coaches mind.

Why don't you talk to the asst. coach? That is a good way of finding out what you need to do and usually, the asst. is the good guy.

Now, As for practices.... I would do everything that I could to do to make sure the coaches see that I am better or as good as player X !!

Do the very best you can, and make sure that you are outplaying the people at your position. Match up against them in drills and scrimmages, show the coach that you are better.. EVERY DAY.

Make sure you talk to the asst. - maybe he can give you some insight on your problem.

GOOD LUCK
---
DD says:
1/4/2013 at 11:55:11 AM


I'm looking for guidance regarding my 13 year old son who lacks confidence and drive while playing with his middle school and travel team.

The frustrating part is that he attends workouts, run by an ex-college standout, on a weekly basis with junior and senior varsity players and excels. He's an excellent ball handler and has a great basketball IQ, but when playing for school he lacks intensity and confidence and his performance suffers. He's a completly different player between workouts with excellent varsity players and the 7th/8th grade teams.

I've tried the yelling thing, the positive motivator thing - I've had other older players talk with him but nothing seems to break through. The only thing he tells me is that I make him nervous - now I don't attend games, but his performance still doesn't match that of his workouts.

I believe one of the issues is the lack of proper coaching - that's out of my hands and he won't be properly coached until next year. He's only been coached by volunteer parents since he started playing. Do you think that's the problem? I only hope that's it.

Any advice is greatly appreciated. Thank you.
---
Ken says:
1/4/2013 at 10:27:30 PM


DD.... If your son has made middle school team and the travel team, he must have some talent.

Sounds like he is afraid of making mistakes... everybody that plays a sport makes mistakes. Baseball players that hit 300 make millions of dollars... and they are failing 70% of the time. Your son needs to know that mistakes are part of the game, if you don't make mistakes it means that you arent trying to make things happen.

Yelling isn't going to help him... just be there for him. You aren't his coach, what are his father and his biggest fan. When you go home after games, don't bring the game up unless he does. Go for a pizza for a pop.

He might be one of a late bloomer types as far as basketball goes. Be patient and make sure that he has fun playing the game. We had several kids come into our high school fathead no confidence and average talent. Then went on to play varsity basketball and in some cases were all-conference.

He is 13 let him move on at his pace. As for his coaches if they are volunteer coaches they're probably doing the best that they can, that's all anybody can ask of them. Hopefully next year things will be better for him.
---
Jordan says:
2/17/2013 at 12:16:33 AM


Hi guys,

I was just wondering when shooting if your release should be to the middle or the side, etc.
It would be great if you could help.
---
Ken Sartini says:
2/17/2013 at 8:34:57 AM


Jordan -

If I understand your question correctly... the ball should come up slighty to the side of your head. As you do it that way, their will be a "WINDOW" where you can say the basket.

I hope that answers your question.
---
JJ says:
3/5/2013 at 5:27:18 PM


im a sophomore in high school. i start for my girls varsity team and i play almost the whole game. the problem is i dont know if my coach hates me or is dissapointed in me or something. in the beggining of the season she was always nice and everytime i did something good in the game she would cheer me on, if i messed up shed say its okay and wouldnt get mad. now she is always on me in practice at the games. everytime i mess up i get yelled at or something.if i have 1 turnover its like i have 30. off the court she jokes around with me about my mistakes like makes fun of them or picks on me all the time. my assistant coach told me its because im better than everyone else and im the best player on team but i dont think thats the case because theres another girl thats pretty good and she could turn the ball over 8 times in a row and she will not say anything to her or take her out the game, she also told her this one time that the team needs her. i dont know what to do it really brings me down when she yells at me says things to me because i dont know if she does it on purpose and i dont know why she does it. she kicked me out of practice this one day because i gave her attitude after she yelled at me but a couple days later she asked me if i wanted to play aau basketball but shes not sure if she wants to put me on her elite team becasue i might not be ready becasue i lack confidence and i give up to easy. please help
---
Ken Sartini says:
3/5/2013 at 6:16:28 PM


JJ -

You must be doing something right.... starting and playing most of the game as a sophomore.

Since I'm not there I can only give you an educated guess...... your asst. coach thinks you are the best player on the team... and the head coach is expecting more from you. I don't know what her personality is like... I gave my players a hard time too, but they knew I was kidding around with them.... heck, I started them and played them a lot. I kidded around with all of them.

Now, maybe she is trying to make you tougher by giving you a hard time.... as for the other kid... maybe she feels that she cant handle harsh treatment. As coaches, we make mistakes some times. One year I was getting all over this 18 year old senior.. I was trying to get him mad at me so he would play harder. Well, that backfired - I saw some tears.... I smoothed out his jersey and said, "let me put this a different way" then we both laughed. Maybe she was trying to do this too?

She asked you to play AAU ball.....this is another plus..... you have to make sure that you let her know that you WANT to play on the ELITE team. Show her every day in practice that you deserve to play on that team..... be a leader..... and if you have any games left.... do your best, leave it all on the floor.

I hope this helps.
---
Jo says:
3/16/2013 at 9:50:57 PM


Hi. I'm an eight grader that wants to get better at basketball. I'm not very strong, fast or athletic but I have a lo of determination and I practice every day for about a couple of hours. I have gotten much better as a shooter, and a free throw shooter and I'm about 5 feet 6 but I feel something is missing in me, and I do much worse in games than in my practices. My goal is to make the high school team, and I don't have a lot of time. Do you know how I could become more athletic and faster? Also are there any tips or suggestions you could give me on my weak spots, which are rebounding and defending bigger guys? Thanks.
---
Amy says:
4/14/2013 at 8:04:28 PM


I'm 16 year old sophomore and I tried out for a 17& under aau team.. So I made the team but I'm a guard and they already have there starting guards they're a year older than me and they played for the team last year so there no chance I will start over them.. The coach gave me an option to play for the 15& under team be the starting point guard and run the team or be the back up point guard coming off the bench for the 17 & under. I need help because I don't know what I should choose.., which way would help me get better more and is it embarrassing and sad playing for the younger team.. does that mean I basically suck.. Please help
---
Ken Sartini says:
4/14/2013 at 8:56:00 PM


Joe -

You are in eighth grade.... you are still growing. So, don't be too worried about that, your time will come. As for getting better, try and go to a couple of camps this summer. They must have one at the high school you are going to... make sure you sign up for that one. You want to make sure that they know who you are. You need to get a little bigger and stronger but that's on Mother Nature... so be patient. Keep working on your game and any chance that you get, play some guys that are older than you are. That will force you to work harder.

Amy -

Let me ask you this question, do you think that you will get better by playing or by being the back up to the two guards in front of you?
I wouldn't say that you suck, but your coach is giving you and opportunity to start and run the show. Here is a chance for you to improve your game and get ready to play varsity ball next year, I would think that this would be your goal, right? Embarrassing maybe, but at least it will give you a chance to show your skills.
IF you make the Varsity team next year, those two players will still be ahead of you IF you don't do something to work on your game. You might surprise yourself and the coaches IF you work on your game this summer, amazing things can happen over the summer if you give it a chance. NOT playing, --- that will get you nowhere.

Good luck and I hope that things work out for you.... same for you Jo
---
Jordan says:
5/14/2013 at 12:26:43 AM


Hi, I haven't played basketball since the 7th grade. I was on a select team 5th and 6th grade and was always a decent player. Well, now i am going to be a Junior in high school and I decided to give basketball another try. I didn't play before because of my grades. My mom said not until I got all A's and B's. I am playing on the summer league and going to all the open gyms. The problem is I have lost contact with the teammates that I used to play with and they are treating me like an outcast. How can I prove myself when they send me over to the gym with the younger players. They only pick their friends for the games. I feel like I am not going to get a chance here. The coaches let these 2 arrogant jerks pick all the teams and of course they pick their friends. The coaches are there and see me shooting and playing. So, do I just keep going and hope that the coaches see I am a good player or do I just walk away and give up? Since I haven't played in 3 years I have lost contact with the guys I used to play travel ball with and now they treat me like I don't belong. The only reason I decided to go out for basketball was because when I play at this community center with older graduates and past players they always say, "Hey you are good, why don't you play on the h.s. team?" what should I do ...hang it up, or keep trying....
---
Ken Sartini says:
5/14/2013 at 8:32:40 AM


Jordan -

Listen, the past is the past! Forget about it!

As a coach, I would find it very hard to believe that your coaches will not see that you are a player if you are one. Every coach wants to win, he wants a successful program....

Keep playing in the summer league, go to the open gyms, do things that will open the eyes of the coaches. Try to be friendly with all the players, play some great defense and do the things that you used to do when you were playing.

Maybe the coaches are just testing you to see that you are going to stick with this? IF you are friendly enough with some of the past players... you migh ask one to just stop by a summer league game or an open gym and "JUST MENTION " to the coach, hey, have you seen Jordan play? He can really play the game!

Good luck and don't give up or you will be kicking yourself in the butt after you graduate.
---
A girl who doesn''''t get enough playin time says:
5/19/2013 at 8:07:15 PM


This is kinda. Tru but I still probably won''''t get as much playin time I can''''t believe it he puts a 4th grader n more than I go in n I''''m only in 7th grade wow it makes me not wanna play basketball wen I get over most of the time I don''''t get in sometimes he puts me in n takes me out right away or if I''''m lucky enough ill get a minute of playing time ugh wish equal timing exist !!!
---
A girl who doesn''''t get enough playin time says:
5/19/2013 at 8:07:16 PM


This is kinda. Tru but I still probably won''''t get as much playin time I can''''t believe it he puts a 4th grader n more than I go in n I''''m only in 7th grade wow it makes me not wanna play basketball wen I get over most of the time I don''''t get in sometimes he puts me in n takes me out right away or if I''''m lucky enough ill get a minute of playing time ugh wish equal timing exist !!!
---
Ken Sartini says:
5/19/2013 at 8:20:38 PM


All you can do is to go out there and play as hard as you can.... AND HAVE SOME FUN.

Practice as much as you can and improve your skills. Remember, your worth in life is not measured by how good a basketball player you are. You sound like a good kid, do the best you can, no one can ask any more of you.

Good luck
---
Ben says:
6/2/2013 at 7:32:01 PM


hi, i had a question about balanceing drills practice with pick up games and which would help me more. I play after school from 2-5 and two days a week i have aau practice from 5-7. I always play better during practice or pick up games, like im varsity but when i get into real games and aau games, i do really bad, why???? and i want to improve my game, so would playing more pick-up games help me play better in real games or more drills? When i do drills, i usually do game-speed drills. So which would help me improve my game and give me more confidence to play like how i do in practice? thanks
---
Ken Sartini says:
6/2/2013 at 7:58:42 PM


Hey Ben -

Take a look at how you are playing and ask yourself.... WHERE do I need to IMPROVE?
Ball handling, Passing, Shooting, Defense etc?


Write down your strengths and weaknesses and then.................
Write down the areas that you think that you need to work on after your games and then get after it. Ask your coaches what they think where you need to spend time improving your game. Playing is fun and is also important... but not IF you CANT do certain things.

Part of this might be you getting nervous and afraid of making mistakes? Not sure since we cant see you play..... so maybe 60% of your time on drills and fundamentals and 40% in games? How tall are you and what position do you play? Relax when you are playing and have some fun.

Good luck and let us know how things are going.
---
ben says:
6/3/2013 at 9:00:49 PM


Hey Ken,
Thanks for the advice, I will do the list as you said, I think that will help me a lot. Im 16 and i play point guard and shooting guard. Because of my shot height of 5'8, i have to rely on shooting and ball handling which im pretty good at when playing pick-up games, but right when I get into a real aau or school game, I mess up, miss my shots, and cause turnovers, especially when the other team presses. I can dribble pretty well and my coach sees it so he relies on me to bring the ball up because of what i have shown in practice, but in the games, I just cant seem to play as well, any tips? and do you have any tips for relaxing during games?

As for the drills and pickup games separation, do you think i should have some days playing only pick up games and others doing drills? And do you think pick up games will help me improve? or will drills help me improve more? or should i find a balance in both?

-thanks!!


---
Ken Sartini says:
6/4/2013 at 8:33:36 AM


Hey Ben -

Presses are designed to do just that.... get you off your game, make you play fast and make bad decisions.
IF this is a m2m press, take the ball to your off hand to that side of the floor, a nice change of pace / crossover to your good hand will allow you to use the rest of the floor to bring the ball up the floor. IF your defender is trying to come up from behind, dribble into his path, he will spend the rest of the time trying to make sure that he doesn't crawl up your back.
IF this is a zone press.... play cat and mouse with them.... take the ball up and if you see a trap coming reverse the ball and keep the ball moving. Remember, for both presses, you have 10 seconds to bring the ball up the floor, thats like an eternity. As a coach or a player, NO ONE wants to see a turnover (they will happen) so if you get a 10 second call, at least you can play D when the put the ball back in play.

Success is a by product of being fundamentaly sound, so keep working on that part of the game. I think you are worrying about making mistakes and therefore, you are making them. Just play the game and have some fun doing it. Know your strengths and play to them. Know your weaknesses and try to stay away from them in games while you practice those fundamentals to make yourself better.

IF I were you, I would work on fundamentals every day 60% and 40% playing in games. Here is the key, IF you are going to play games, you need to play against guys that are better than you. You wont get better playing against patsies. So, BALANCE is the key.

Thanks for the reply and let me know how things are going as you work on your game.

BTW - what are your weakneses? Why do YOU think you are so nervous during games? Remember, KEY word "GAME"... games are supposed to be FUN. No one is perfect... there are baseball players making millions batting .300 and less.... that means they are failing 70% of the time or more.
---
ben says:
6/5/2013 at 9:54:22 PM


Hi, Ken
thanks for the advice, I will work on that, and try to improve everyday. I believe my weaknesses are as you may have said, confidence and im afraid to make mistakes, do you have any tips to overcome that and become more confident? And I think its because i may doubt myslf a little and even get intimidated sometimes, what should i do if i feel like that?
-thanks
---
Ken Sartini says:
6/6/2013 at 8:12:13 AM


Hi Ben -

There is no majic potion for this.... I think its all about relaxing and just doing the best you can. NO ONE can ask for any more.

So, why do you doubt yourself? Do you think you have to be perfect? NO ONE is, not even me as a coach LOL Remember, play to your strengths and work on your weaknesses.

Look at the pros, they make mistakes all the time, even MJ made some. IF you are NOT trying to make something happen (and make mistakes) you aren't trying hard enough. As a coach, there were times that I questioned myself regarding decisions - all we can do is rely on our past experiences and go from there,

Relax and beath - there are 4 other guys on the floor that are supposed to be working with you towards a common goal. Its NOT all on you. Don't let anyone intimidate you, take the game to them if you get those feelings, you might surprise yourself.

I had this saying with my team. Sometimes you eat the Bear and sometimes the Bear eats you. :-) So, don't expect to be perfect, that is a recipie for disaster.

Work on your game, play as much as you can too, just don't make it a job.
Believe in yourself and have some fun out there. Play hard, play smart and have fun.

Now, what are your thoughts?
---
ben says:
6/6/2013 at 8:50:47 PM


Hey Ken,
Thanks for helping me throughtout this week, ive gained more confidence and I can go into my game this weekend with full force. I will continue to practice and use the tips you have given me, thanks!
---
Ken Sartini says:
6/6/2013 at 9:00:04 PM


Anytime Ben.....

Play hard and have some fun. Let me know how things go this weekend.

Good luck
---
Ben says:
6/9/2013 at 6:23:31 PM


Hey Ken...
I just finished up my games and i did okay. I think I was still a little nervous and scared like when i dribbled the ball, i fummbled a little, but i did play a little bit more confidently. I wouldnt say I played like how I do at pracctice, but its slowly getting better.
I did have another question though, i got by the press a lot easier this time, but I also caused a lo of turnovers. Do you think I should work on more ball handling drills this week? Also, do you have any tips to play better under pressure? like my team came back a little today, but when I was put in, i didnt realize it but we lost the momentum, I think this may have been my fault.
Thanks!! and btw, do you have a email where I can keep in touch with you? or should I keep commenting on this page?
---
Ken Sartini says:
6/9/2013 at 8:29:58 PM


Ben -

Glad to hear that you are getting better, kind of tells me that you are on the right path!

Your handles can NEVER be too good. So yes, keep practicing. Ball handling drills and dribbling drills. Here is something that we did every day with my teams (varsity boys) We would start going up the right sideline (using the entire court), use every dribble you can, hesistation, crossover, between your legs, behind your back, reverse dribble, how about fake reverse / reverse? Then do the same using your left hand. Since you are doing this yourself.... you can do this 3-4 times?

As for playing under pressure, just keep playing and practicing. Don't worry about mistakes. I bet there isn't anyone on your team that doesn't make some. Stop thinking that you have to carry the team on your shoulders, you are one cog in the wheel.

One game we were playing for a Regional championship and I had a great point guard... rarely turned the ball over. He is playing a great game, we are beating a team that is huge, 6-6,6-7, 6-8... my biggest kid is 6'3..... all of a sudden I see their PG going the other way, I ask my asst. what happened... he told me, HE GOT PICKED. I couldn' t believe it. WE lost by two but not because of that.... we didn't rebound too well vs them YA THINK!

Be confident, KNOW what you want to do... keep setting up your man for a move to beat him. Heisitate and explode.

Once you get your LEAD FOOT along side his foot, HE is BEAT! Just keep working on your game, make yoursel;f better every time you hit the floor. Go to school on the other team, look for their weaknesses and attack them. Everyone has some..

I wouldn't have a problem with e mailing but this is Jeff & Joe's site so you will have to run that by them........ I would think that they would want us to talk here so that others can learn from my expertise. LOL I couldn't resist that haha

Hang in there, stay in touch and IF you can pick out something in particular that you think you are having a problem with.... let us all know.
---
anonymous says:
8/5/2013 at 1:55:45 AM


What makes you a good basketball player? If you can shoot and make every shot does that make you a good basketball player? you should know if your a good basketball,player or not. I necessarily don't think im a bad player but I don't know maybe I dont have the confidence to be a good basketball player. I was the leading scorer on my girls varsity basketball player with like 12 ppg and thats not alot but considering the fact that we got blown out,every game and we only had like 20 points a game its alot. I'm going into my junior year and I wanna know what I can do to help team win as a point guard and I'm trying to earn a scholarship.. I worked hard all summer but I'm still not sure if I have a chance to play in college
---
Ken Sartini says:
8/5/2013 at 8:41:10 AM


A good point guard makes her teammates better by getting the ball to the open player, by getting the offense started, by being a leader.

Don't feel like you have to do it all, no one is that good. Be the best player that you can be.

Handle the ball with a minimum of turnovers, make a decent percentage of your shots, Know the offense and defense well so you can help the other players when they get out of sync. Be a positive role model and leader.

Have some confidence in yourself and HAVE FUN. Good luck
---
ad says:
8/31/2013 at 10:11:53 PM


My daughter is entering the 6th grade and is very interested in trying out for basketball. She has never played for any kind of league. But she is tall for her age and knows how to shoot. Regardless, I am encouraging her to tryout, but one person said that she doesn't know the rules of the game. All she can do is try out and give it her best, what do you suggest.
---
Ken Sartini says:
9/1/2013 at 9:15:11 AM


Ad -

First of all, take that persons comments with a grain of salt. So she doesn't know the rules YET. Thats what coaches are for.... and you can always talk to her about the game. I don't think anyone knows ALL THE RULES. Get a rule book and throw out some obscure rule to your "friend" and see what he has to say.

I coached for over 42 years and I don't think I know them all... but I learned more about them every year I coached.

IF your daughter wants to play, I would encourage her and try to help her as much as you can. Be positive with her and don't worry too much about what others are saying.


---
Emily says:
10/30/2013 at 1:00:03 PM


Hi, I''m a junior and I''m playing basketball for the first time this year. I''ve lived overseas my whole life and just moved to the states so that''s why this is the first time I''ve had the opportunity to play. I know I''m not going to be able to be the best player or anything, but I would like to be able to hang with the team. Do you have any tips for me?
---
Ken Sartini says:
10/30/2013 at 1:18:51 PM


Emily -

Work hard in tryouts... pay close attention to the coaches and be willing to do whatever they say.

This will be tough, no doubt about it... you might have to be a manager or something to help the coaches and at least show them that you are willing to do whatever it takes. You might ask the coaches if you can workout with the team in drills and whatever. You never know what can happen.

You might even surprise yourself during tryouts but at least you can be part of the team.
---
Ashley says:
11/29/2013 at 12:58:23 PM


So , I'm in 7th grade at Teays Valley West . I'm not friends with most the people on my team , but I try to be nice to them at practice . &' Today at practice I was being really aggressive to get the ball & I got in trouble cause i guess i was " goofying around " because both me and the girl fell & our legs wrapped around eachother and we couldn't walk , but he always says work hard at practice to play in games -_- so what do i do ? he never gives me a chance to do anything cause once I mess up 1 time he screams at me , but this one girl don't know ANY of the plays &' he lets her start !!!! like fr? i need your help ..ctfu . cause i LOVE basketball but im bout to quit ...
---
Ken Sartini says:
11/29/2013 at 2:39:14 PM


Ashley -

I'm not there to see what is going on.... but the best advice I can give to you is to keep working hard on your skills and do the best you can in practice.

Every coach is different and I am sure that some of my players thought I was a jerk too. Try to work your way into a position where you can get a little bit of playing time.... then make the best of it.

Don't let one person keep you from doing something you love - this year will be over before you know it... then you will have a new coach.

I was the Sophomore coach at one time.. this one year we went 19-2 ... the head coach asked me IF I wanted to coach them next year... Varsity job... I said of course.... but don't quit because someone in your life is messing with your head. Quit when YOU are ready. He coached two more years and wrote this glaring letter about me and my coaching abilities and I got the job when he stepped down.

MORAL of the story... be patient and things have a way of working out..
---
Andrew Cruz says:
12/2/2013 at 7:31:01 PM


I work hard at practice every day. I show up to every practice, I dont remember the last time I havent played basketball.. i play every single day. I have a great 3pointer , i can play d and i like to drive and get contact. Im a freshman on my jv team. I don't get any playing time and I dont know why. It hurts me inside when i see other people play more than me. I have a left hand and a very good left hand. Its not average it is a good left hand. I just dont know why I cant get playing time. Some people brag about skills that they dont have online but I know for a fact that I have a shot and all of that. It just makes me sad seeing other people play more than me because I know i work harder than everyone on that team. I even stay extra to shoot around after practice. I dont know what to do to get the coaches attention
---
Ken Sartini says:
12/2/2013 at 8:01:11 PM


Andrew -

I feel your pain....but you are a freshman and the upper classmen will get first shot at playing time. Keep working hard in practice, show the coaches that you deserve some playing time. Take a charge if you get the chance, any loose ball has to be yours. Be the player on the floor that is known for his HUSTLE.

Be patient, somewhere along the line the coach will see your abilities. Not sure why he brought you up if he isn't going to play you??? You might talk to him after a practice one day and ask him how you are doing / what do I need to improve on and maybe get some playing time??

What position do you play? Height? Let us know how things go after a few games and IF you get a chance to talk to the coach, what he had to say to you.

Good luck
---
Mark Moser says:
12/6/2013 at 12:56:19 PM


How do you get a kid who is practicing well to play that way in games? Right now, he is really struggling in the games.
---
Ken Sartini says:
12/6/2013 at 2:31:29 PM


Mark -



A lot of this could be his age... how old is he? Maybe he is afraid of failing, that is part of every sport.... IF he doesn't mess up once in awhile that means he isn't trying hard enough.

I could tell you about some things I did playing different sports where I wished I could have buried my head, but we learn to laugh afterwards.

You have to convince him that its ok to make mistakes once in awhile, it happens.... just learn from them.

Games are a lot harder than practices, the harder they get, the better he will become. Tell him to relax and have FUN.



Take him out after games for a pizza or something, don't bring the game up unless he does... and keep it light. Maybe you have a few examples of your own that might get him to laugh.

I've missed more than 9000 shots in my career. I've lost almost 300 games. 26 times, I've been trusted to take the game winning shot and missed. I've failed over and over and over again in my life. And that is why I succeed.

Michael Jordan


Read more at http://www.brainyquote.com/quotes/quotes/m/michaeljor127660.html#UWbPsfZfW5Z2GUod.99
---
Ken Sartini says:
12/6/2013 at 5:40:37 PM


Mark -

I wanted to add this... I coached Varsity boys and there were times we had kids like this... GREAT in practice and couldn't find the floor with both hands in games.

We had this one kid who was a great shooter, IN PRACTICE.... he drove me nuts..... hard to stop him.... put him in a Varsity game and he would swallow the ball... so to speak.

We were playing in a Regional Championship game... we were down by 9 and needed a few 3 balls..... I put him in the game late and he wasn't shooting. Stoppage in play - I tell him to come over here... he comes, I put my hand on his shoulder and tell him.... " I didn't put you in the game because you are pretty.... shoot the darn ball " He looked at me and smiled... said, well, as long as you put it that way..... he hits several 3s but we still couldn;'t recover.. moral of the story.... find something that you can say to this boy that will make himk relax and smile.-- or even laugh... trust me, it works.
---
Anonymous says:
3/2/2014 at 2:20:32 PM


I go to a small school,that doesn't get noticed because we play on a bad team,the boys basketball coach, baseball coach want to work me out this summer and the athletic director are all trying to get me noticed so i can get a scholarship to play in college. i just finished my junior season of basketball and my school was hosting the state districts so at the district final game there was some college coaches, and scouts there. My athletic director talked to all of them and one of them seemed to be interested and told me to give them a call, the problem is im nervous about the call because i dont know what to expect and i have no game film so i dont know how its going to turn out. Any advice on what to say when i call or what to expect or should i just not call
---
Ken Sartini says:
3/3/2014 at 3:33:53 PM


I did some research for you... hope this helps.

5 TYPES OF QUESTIONS YOU NEED TO ASK A COLLEGE COACH
Be prepared to ask the coach some questions.... relax a little bit, I think its natural for someone to be a little nervous. Talk to your coach and AD about how to prepare for the interview. There is a lot of information here... and you wont know all of it.... and you don't want to ask all these questions... just the ones that are the most important to you.
I would let the coach bring up scholarship information.


First and foremost, PREPARE! While a prospect might not know the exact time a college coach will be calling, every recruit should recognize that phone conversations will be a significant portion of a recruiting relationship. With that in mind, prospects should write down a list of 15 questions that they could ask a coach…and keep it handy! While the conversation should flow naturally, it will only help a potentially nervous student-athlete to have a set of questions prepared ahead of time that they can always ask a coach.
A prospect should never ask if they will receive a scholarship during an initial conversation unless a coach brings up the topic.
Recruits should maximize the conversation by only asking questions that they can find answers to by talking to the coach directly. They should not waste this valuable opportunity by asking questions that can be answered through a brief visit to the college's website. Each conversation serves as a limited chance to develop a real relationship…make the most of it!
Do not be afraid to ask coaches about themselves. Often times, recruits only ask questions that pertain to their life and neglect to find out anything personal about the coach. It's important for a recruit to get to know a coach (their interests, their family, etc…)

Now, let's go over some questions recruits can ask to make the most of the conversation. As we mentioned earlier, every conversation will be dictated the by current recruiting situation, but here are a few topics that should be covered and some sample questions from each…

Academics

Simply put, academics are the most important part of the process. If the college coach does not share your academic goals then it might be time to look at other options. Here are some academic questions every recruit might want to ask:

What are the admission requirements for an athlete?
Will my specific major interfere with the athletic schedule?
What are some of the most popular majors for athletes on your team?
Does your team have a full-time academic advisor?
Do your players graduate in four years?
Can the application fee be waived for athletes?
Athletics / Recruiting

These two topics overlap in many cases, as an athletic evaluation will determine how heavily the coaching staff will be recruiting a prospect. Here are some "must ask" questions for recruits at any point in the process:

Has your coaching staff evaluated me?
Where do I fit on your recruiting board?
Have you offered scholarships to others in my class? At my position?
Have any other athletes in my class accepted the offers?
How many players will you be recruiting at my position?
Where will you be recruiting this season / spring / summer?
What types of off-season activities are expected?
What does the training program consist of at your school?
What is your recruiting timeline?
Is there a good time to come visit your school?
Scholarship

As we noted, it is rarely appropriate for a recruit to ask if they will receive a scholarship in an initial phone conversation, however there are a few questions that will help you gauge your scholarship possibilities at that school…

How many scholarships do you have available for my class?
Am I under consideration for a scholarship?
What types of academic scholarships are available? What about other sorts of grants and aid?
Do I have to apply before a scholarship is offered?
What happens if I get injured?
College Life Questions

Even though athletics will obviously play a major role in the life of a collegiate student-athlete, every recruit should make sure they are going to be happy on campus even when they are not with the team. Make sure to ask about some of the following:

Are the players on your team close with each other?
What is the housing situation like? Do teammates typically live together?
Do student-athletes stay on campus during the summer?
Is it possible to work part-time in addition to playing a sport and studying?
What is a typical "day in the life" like for a member of your team during the season? What about during the off-season?
Important Final Questions

While there are many directions that a conversation might take with a college coach, one key goal should be to find out what comes next:

What are the next steps in this process?
When is the next time we can speak / meet?
Is there anything I can provide you with that will help you further evaluate me?
Hopefully this list will provide recruits a starting point for the types of questions they should ask a college coach. By no means is this list comprehensive, but it should assist a student athlete as they prepare for their first conversation with a coach.

As you can tell, there is quite a bit of information that student-athletes need to gather…This is one of the most important decisions a young person will make in their life. Get as much information as possible! That is also one of the main reasons why recruiting is all about building relationships. This process does not happen overnight, and will consist of a number of different situations in which a recruit communicates with a college coach. Phone conversations just happen to be an important initial step in building that relationship.

If you are prospect, at any age, who has yet to begin developing a relationship with a college coach, you might be falling behind. There are other prospects, starting freshmen year or earlier (your competition), who have already started speaking with college coaches. The earlier you start that relationship, the more time you will have to make the best decision possible. Make sure to get started today!


1380 1611 484 37.4K


http://www.laxpower.com/recruits/Hopkins_Recruiting_Guide.pdf

http://www.usyouthsoccer.org/schellas_hyndmans_dos_and_donts_of_college_recruiting_/
---
Justin says:
3/6/2014 at 8:44:56 PM


Hi, Ive been having a problem with playing basketball in games or in front of my coach. Im a senior in high school and play for the varsity team, but i only play like 2 minutes or none at all. I can play really well in pick up games, but when I enter practice or a real game, I mess up A LOT! Like in one of my games, I was dribbling and lost the ball. I cant make any shots in games, and even if im wide open, I would miss it. Im a pretty good shooter when doing drills outside of school or practice. I can go 10 for 10 from most spots, but when I get into practice with my coach watching or a game, I miss a lot. Especially in games, I tend to not be able to handle as well or shoot as well. I want to be able to play to my full potential, but i dont know why I cant...Is there some tips you could give me to help with this problem?
---
Ken Sartini says:
3/7/2014 at 10:03:03 AM


Justin -

I take it your season is almost over with? Anyway, relax and have some fun, IF you even think you are going to FAIL, you will!

Don't force your shots, let them find you... get yourself open and when you get the ball, let it fly.

You are definately overthinking this GAME... and worrying too much. Of course your coach is watching you, thats what we do. As a coach, there were all these fans watching me and they were all thinking... "he doesn't have a clue" Ask me if I cared! You have to approach them game somewhat like that... of course you have to please the coaches... but just do your best and play... relax and have fun.
---
ginni says:
5/24/2014 at 6:36:07 PM


hi i am not a very good player but i really wanna improve myself i dont know how to do that i practice very hard but i just dont make it . the coach adviced me 1 or 2 times but now he isnt . maybe he knows i wont be able to do better. i try my best but i just cant improve. i cant shoot properly nor i am good at other things . i am really good at dribbling but during the game i am worst than others. can u just give me some tips and suggest me some free books to improve my basketball and even some schedule orsomething to improve THANK YOU SO MUCH

---
Ken Sartini says:
6/2/2014 at 11:12:42 AM


Ginni -

What level are you playing at and how much experience have you had playing the game?
---
Humza says:
9/25/2014 at 11:38:52 PM


Hi, my name is Humza. I'm a 5'3 point guard in 8th grade. I'm planning on trying out for my school's basketball team, and I was wondering if you could help me. Here's the thing. Last year, I tried out and made it in the 7th grade team, and was the starting shooting guard. The thing is, I was on the c team. I found out that it's going to be the same coach coaching 8th grade, and I'm afraid he's still going to see me as a bad player. I've improved a lot in the off-season, and am easily top 15 in my grade, but will he see that? Ps be really liked me last year. Will that change anything?
---
Ken Sartini says:
9/28/2014 at 7:56:12 PM


Humza -

Look at the 10 tips at the top of the page, work on those and you will get better. Work on your f undamentals A LOT.

I'm not sure when your season starts but you better start working on your game now. Take some time to put in some extra work on your dribbling, shooting and passing etc.

IF you have improved he should be able to notice it. Relax, work on your game and have some fun.
---