Site Search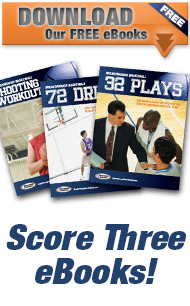 Q & A Forum
Experienced coaches are ready to answer your basketball questions! Visit our forum
12 Surefire Basketball Tips for the Off Season - What Should Players Do Between Seasons?
- By Don Kelbick
The season is winding down. Routines change, friendships have grown, priorities change. As a player, what should you do now? When practice time comes and there is no practice, what do you do? When there are no games to prepare for, what do you do with your time?
Here are a just a few thoughts I had as to how to recover and prepare for the next season.
1. Take 3 - 4 weeks to relax. It has been a long, physically and mentally draining season. If you want to improve, you have to give yourself a chance to recover.
2. Catch up and get ahead of your schoolwork.
3. Talk to your coach and evaluate your season. Talk about what you did well and what you did not. Determine the areas you need to improve on. Discuss the things you would like to do and how to accomplish them.
4. After taking a month off, start on your off-season workout program. The program should be about 75% skill work and 25% play.
5. Develop your
shooting stroke
. If you want to become a GREAT shooter and raise your percentage, it MUST happen during the off season. It's just TOO difficult to develop these skills and improve during the season. It must be done during the off season!
6. Start a strength training program. Your objective should be to gain strength from now until the end of the summer.
7. As you enter the summer, add more play to your workout. You should be at about 50% skill work, 50% play. Don't neglect your weight work. Great strength gains can be made during this period.
8. Go to
skill development camp
. Learn from other coaches, play against different players. The more diverse your summer experience, the better player you will become.
9. When the summer is over, your routine changes. GET AHEAD in the classroom. Once the season starts, it is easy for your schoolwork to slip.
10. Change your workout routine to 25% skill, 75% play.
11. Switch your strength training routine to an endurance and strength maintenance routine.
12. A week before the season, take some time off. Get ready to go.
Comments
---
Nambi Sundarajan says:
3/28/2008 at 1:53:03 AM


need more details for various season
---
DEVAN MCCORMICK says:
2/26/2009 at 1:18:34 PM


A MONTH OFF IS WAY TO MUCH TO TAKE OFF, I DON'T KNOW WHO YOU ARE BUT OBVIOUSLY YOU DON'T AND HAVE NOT EVER PLAYED BASKETBALL, YOU ARE JUST AS STUPID AS THE REST OF THE IDIOTS ON THE INTERNET THAT THINK THEY NOW STUFF ABOUT BASKETBALL. I WILL NEVER USE THIS SITE AGAIN.
---
Joe Haefner says:
2/26/2009 at 6:48:20 PM


Hi Devin,

Actually, the person who wrote this article played at the college level and has coached/scouted/managed/developed players for over 25 years at the high school, college, and NBA level.

If you understand periodization, you'll understand the if you constantly use the same muscles, they are going to become fatigued and that often results in injury. Why do you think so many players in the NBA that played in the Olympics are suffering from injuries now? Many NBA GM's are against their players playing summer basketball, because they know and understand that a player's body can not take that much abuse and hold up.

Not to mention, many players become mentally fatigued after a long season and need the break to avoid burnout as well.

I've experienced both physical injury and mental burnout from playing basketball, so I completely agree with the author.
---
Keith Olson says:
3/10/2009 at 8:56:22 AM


I don't really think you will be missed on this site Devan. If you do ever decide to take time off maybe you should work on your grammar skills. To play in high school and college you have to pass your classes.
---
Charles Hudson says:
3/10/2009 at 9:02:11 AM


I coach high school and have found a similar off-season program to be beneficial. I developed our program with input from several ACC players and former coaches. Our guys look forward to a planned program.
Thanks Joe...
---
Roosevelt Crawford says:
3/10/2009 at 10:18:07 AM


How do this work for those trying to do AAU over the summer. It seems that practice for the summer doesn''t give them a three to four week rest period.
---
Charles Hudson says:
3/10/2009 at 12:14:43 PM


Our season ends 2 and a half months before the end of school. We have a 4 week break before we have " open gym", which is an after school session where anyone can play in a loosely structured program. The other schools and we play in a Spring League that is very low-key. We gradually begin to increase playing time only, going to 1 camp in June. Our guys then have the rest of the summer for AAU or anything else they enjoy.
---
Joe Haefner says:
3/10/2009 at 1:45:40 PM


Thanks, Charles.

Roosevelt, one other thing to consider is that you want to be careful with AAU ball. So many kids get burnt out on playing too much basketball during the summer.

You also have to worry about fatiguing the players. If you don't give them enough time off, they can get injured.

Not to mention, too many teams are playing too much summer games. When are they supposed to improve their skills? The really good players get about 30 to 40 touches and 10 to 15 shots per game. In a practice session about 45 minutes to an hour, the player touches the ball over 500 times and can shoot the ball 300+ times.

Can't improve as a player without practice. That's what the summer is for.
---
dennise says:
3/10/2009 at 3:11:42 PM


I'm a young player and I carry my team on my shoulders. I guess you could say that i need to work on everything-I'm a bit overwhelmed and need a quick and easy workout for the offseason...considering im just worn out- help!
---
William says:
3/10/2009 at 6:07:23 PM


Love the article. But our season ended about 2 months ago and the day right after it ended, i was in the gym working and doin drills. Since then (January 18 to be exact) i havent tooken one day off. Im either playing ball in 5 on 5 pickup games at the gym until night or doing drills. I play non stop and it's like im addicted to the game. I want to make Varsity next year so im working hard but do you think it is too much or should i do "periodization" like u said
---
Joe Haefner says:
3/10/2009 at 6:47:11 PM


Hi Dennise & William,

My first advice would be to read Tip #1. Take some time off. If you feel worn out already, imagine how you'll feel at the beginning of October.

I would also advise to read this article on some tips to develop a workout: http://www.breakthroughbasketball.com/blog/index.php/developing-a-basketball-workout-for-high-school-college-tryouts/

---
Charles Hudson says:
3/12/2009 at 6:49:39 AM


Hi Dennise , William.... As coaches ,we always appreciate when players show the desire to improve.
When our guys lift weights, they will often want to " get back in the weight room" thinking that, the more they lift, the stronger they will become. Our bodies have a logical sequence for growth; " lift, recover, grow". You can't force your body or your skills to skip over the " recover" part of the sequence. Give your skills time to " grow".
Coach Haefner is right, take time off. Your game and your skills WILL improve.

---
hitesh says:
3/24/2009 at 11:44:05 PM


i am coaching under-14&16 yrs girls & boys team. with the help of your tips we learn so many things our teams are performing very well.we won many interschool tournaments. now i have to go for advance coaching for the period of two months(May-June) and in month of july copetition period will start. during my absence my colleauge will take care of team. so how to go through during this period. help.
---
Jenny says:
4/23/2009 at 6:37:40 PM


Ummm.... Devan I agree with tip #1 and think you should follow it, then and take a chill pill. I hate it when people think they know everything about basketball(i'm great at basketball and i dont even know everything about the sport). Unless you are in the NBA you dont know everything. I'm 100% sure you aren't in the NBA.
---
Quan says:
5/11/2009 at 4:35:59 PM


I go outside and i take between 200-300 shots per day every other day, not including free throws. Some people say that I spend to much time in the gym or outside playing basketball, does anyone else agree.
---
Sam says:
1/10/2010 at 1:33:28 PM


This article is so helpful, especially since my season was just cut to an unexpected end. I was just wondering if there are any coaches out there if you have any tips for girls basketball?
---
Sam says:
1/10/2010 at 1:35:24 PM


Quan- ABSOLUTLEY NOT! I not only admire but respect you for such dedication to the game! I was wondering if you have any other tips for girls basketball?
---
Joe Haefner says:
1/26/2010 at 5:45:20 PM


Hi Sam,

I think a lot of the tips on this website would be helpful to you. I don't think it matters if you are a boy or a girl. Take a look at this section: http://www.breakthroughbasketball.com/players/players.html

---
Max says:
5/3/2010 at 1:24:27 AM


Joe whats the quickest way to develop the skills needed to dribble at a point guard level?
---
Ken says:
5/17/2010 at 10:20:44 AM


Joe, I wished I would have read this one earlier..... Devin, YOU are way out of line. You need to show a little respect for other people... especially the people ( Jeff & Joe ) who have put this great site together.
Let me ask you a question - do you have a job? Don't you look forward to a vacation from your place of business?
Everyone needs to take a break from what they are doing and sports are no different. There are some people that are having young kids play the same sport all year long.... and once they get to the high school level, they are burned out, not to mention the injury factor.
Talk to some coaches that have the KIDS best interests at heart..... Don't forget that some kids play multiple sports so they have to balance, academics, home life and sports... and STILL have some time to just be a kid!
That is exactly why some High School associations limit the contact days (26 in our area) over the summer.
---
Issues in Sports says:
9/21/2010 at 2:00:58 AM


The basketball training tips outlined in this article are specifically written for kids playing organized basketball for the first time. Many parents erroneously believe that when they sign their child up to participate in a basketball league that skill development is part of the deal.
---
Jeff Haefner says:
9/21/2010 at 12:32:04 PM


This article was written for players in high school and college. Although it does apply to middle school as well. It was NOT written for first time players.

I'm sure it's true that some parents sign up for basketball leagues and incorrectly think skill development is part of the deal. However, some leagues do teach skill. League administrators should make it very clear on what player do and do not get. They should also offer opportunities for players to develop skill.


---
Sayid says:
10/6/2010 at 5:34:34 AM


thank you breakthrough basketball, you really helped me start to think about how im going to plan my offseason.

you also answered my question with these 12 nifty tips.

thanks again =)
---
Professional Sports Fan says:
12/16/2010 at 12:52:11 AM


Many basketball coaches will have first hand knowledge of the game before trying to coach their teams. But it is possible to use other coaching techniques to teach basketball players effectively. Here are a few of those techniques.
---
Eduardo says:
6/27/2011 at 1:45:03 PM


Hey guys, I had a very bad season last year... I play in Spain and this year I went to a new team in a higher level and that costed me a lot of injuries because maybe I wasn''t physically prepared for that level during the first months of the season....
Now I''ve being resting about 2 months because of the stress my muscles suffered and also hip and left knee.
What do you recommend for me to recover from injuries and at the same time improve my skills and be ready for the next season?
Is it a good idea to try doing some bike riding and soft running before I totally recover or is it a bad idea?
I had knee tendonitis and a hip tendonitis as well.....the major pain has gone away but I am still not at 100%
Thank you guys, and this is a great website.
Very helpful for bball players
---
Jeff Haefner says:
6/27/2011 at 4:44:30 PM


Eduardo - You'll need to ask your doctor about your injury. That's not something we can give advice about. For skills you can do stationary dribbling (standing or sitting in a chair) while you're waiting to heal. You can also study film and do everything you can to learn about the game.
---
savannah says:
2/23/2012 at 1:20:05 AM


i need more imforamtion to help me off season for what i should do for the off season to help me practice
---
savannah says:
2/23/2012 at 1:20:59 AM


i need more info to help me for off season
---
savannah says:
2/23/2012 at 1:24:14 AM


does anyone agree with me because i think that im getting on the right track with me say ing that we all need more info to help us practcie for the off season ........ so please commet back if you agree
---
Ken says:
2/23/2012 at 7:00:58 PM


Savannah -

Look at the top - Don has given some great advice here.....

If you feel that isn't enough, then find a camp to go to for some more training. There are personal trainers that you can go to also.

I'm not sure what level you play at but this is a start. That doesn't mean you cant do more ball handling and shooting on your own... you can always do more.
---
Jordan says:
2/24/2012 at 2:13:13 PM


we just finished our high school season, and I was new to the team and did not get alot of playing time.
Our coach is not a fan of spring AAU league, even though over 1/2 of the team plays it.

I do track and field in the spring at school, so playing AAU would be hard-- because week night practices would conflict with track meets and practices.
I can see where AAU would be good for me to actually play in meaningful game situations. But there will be time conflicts with track.

What would you recommend?


---
Ken says:
2/24/2012 at 2:28:26 PM


Jordan -

Tough call..... which one do you like better? Which one are you more successful at?

Unless the AAU will get you a college scholarship, I would suggest to do things that are school related. High school goes by so fast that before you know it, its over. Enjoy as much as you can.

You only have so much time, school sports, academics and a little time for yourself. Thats a heavy enough load..... so, unless you are willing to give up your free time... stick with track. JMO

Remember that academics are your #1 priority.... family is next - make sure you don't spread yourself too thin.
---
David says:
3/29/2012 at 12:09:22 PM


I''''m playing college ball right now and just ended a 26-4 season for D2 ball. Strength training is a focus for me every summer as well as speed and accuracy. I Have a question for Joe. When it comes to strength training I use a 25 lbs. weight vest while running and a 20 lbs weight belt while doing rebound drills each twice a week. Fot about 2 months. With a one week break before the start of the new season. Is this a safe plan to stick with or am I asking for future injury for training some much?
---
Joe Haefner says:
3/29/2012 at 12:48:26 PM


David, First, I would seek advice from a local athletic development coach. Second, always make sure to ask yourself why you're doing an exercise? Is it going to make you a better athlete?

Those exercises are definitely tools that can be used to improve strength and power. They can beneficial for the right athletes at the right time. But don't become fixated on them. The exercises should be a means to an end, not an end in itself. Bottom line, does it make you better at your sport? If it doesn't, ditch it and work on something that will.

Without being there, it's very difficult to give you advice. Maybe your strength and power are great, but you need to improve your running mechanics? Maybe you don't need to do weighted sprints anymore and need to do more assisted sprints to increase your speed? Maybe you should spend more time on your speed and agility?

Also, maybe these exercises are too advanced for your training age? Not your actual age, but how long you've actually been training.

Everybody's situation is different, so it's tough to say.

Also, how many reps and sets are you doing? How long are you giving yourself to rest? Are you training for endurance or explosiveness? For power and explosiveness drills, you want to keep the reps low at a very high intensity. You also want to ensure that you get plenty of rest. If you don't get plenty of rest between sets, it starts to turn into an endurance exercise.

If you do these a few times a week with proper mechanics, I don't see a problem with it. Also, are you measuring your speed and vertical? Are they improving with these exercises? I would advise to switch to a different routine every 3 to 4 weeks. Your body becomes accustomed to the exercise and starts to plateau. It doesn't mean your focus isn't on improving strength and power, you just use different exercises to accomplish your goals.

I would advise to visit Vern Gambetta's website if you want to learn more about athletic development. He knows this stuff WAAAYYYY better than I do.

http://www.gambetta.com/blog.html

Also, where are you located? Maybe we know somebody in the area that can help you out.
---
Frank Fanucci says:
4/26/2012 at 8:30:53 AM


Devin know is spelled this way, know not now. Maybe spend some time in the classroom you moron.
---
Jeffery says:
5/18/2012 at 9:10:48 PM


I agree to Savannah.
---
Jeffery says:
5/18/2012 at 9:13:24 PM


blba.i like to random type
---
Navid says:
5/23/2012 at 11:55:41 AM


Hi, im a point guard
i need help to evaluate my skills practice. I wanna know how can i mix ballhandling passing shooting into one session? and also what spot should a pointguard should shoot from (for outside shots0?
---
Ken says:
5/23/2012 at 12:23:27 PM


Navid -

Do you have any coaches in your area that can help you get started with this? That would make it a lot easier? Any Bball camps in your area?

If you look at the top left of this page, it will show you drills that can help your game, as for passing, you need someone to pass it to I would think??

As for shooting - we cant tell you where to shoot from, your offense will dictate that most of the time.... as for picking out your best areas ..... practice shooting from different spots on the floor, keep a record of your attempts and makes... This will tell you where you are the most effective... in games, that might be the shot you want to look for. Let the shots find you but work to get yourself open so you can get the shot you want.

Hope this helps.
---
Navid says:
5/24/2012 at 10:51:21 AM


hi again, im preparing for my clg,ill be able to have a coach when i get there.

okay drills on top of page are great im gonnna use em.thanks for yourr tips.

another thing i wanna know is how should i prepare when its game time. i mean how many options a player must have in hi game? like doing what coach say to do on offense and defense?
as a pointguard beside what coach tell us to do .we should look for more passes,move w/o ball, set screen,defense hard,.... Do u think its much better i tell myself the night be4 game ill do these(rebounds, score,screen )in first quarter?
second quarter( pass,find the open man,screen) ... thanks
---
Ken says:
5/24/2012 at 1:14:18 PM


Navid -

You prepare for games when you practice with your team. Listen to your coach, both offensively and defensively. What level are you playing at? High school, middle school or??

If you keep thinking like that - you will never fall asleep. Try and stop overthinking all of this.... Play tough defense and run the team like a good point guard does. Let the shots come to you unless your coach has a set play for you to get a shot.

Practice hard with your team and then just PLAY the game - relax and have some FUN.
A lot of this stuff just has to come natural to you and - you learn your skills through practice and your coaches philosophy.
---
KG says:
6/2/2012 at 4:58:59 PM


Taking time off is a part of all sports it's allows the body and mind a time for healing. It's good to maintain fitness. There's a difference between practicing and competing. Injuries are common and the offseason is not a time to get one. There is nothing worse than be unable to strengthen skills and practice.
---
Josh says:
7/20/2012 at 10:56:48 PM


I am in need of help. I feel good thats its only summer and im doing training with my eight grade team and my coach has already made me a leader and captain. But the thing is my coach wants me to score 20 points or so because he sees my skill on top of passing and defense and everything else but i dont want to be a ballhog what do i do
---
Ken says:
7/21/2012 at 12:17:01 PM


Josh -

Thats a lot of pressure to put on a young player. How many points do you usually score per game?

As a coach, I always wanted my best shooters shooting the ball... but I never put a bounty on the number of points per game. They did the best they could and it is what it is,

So, play your game, IF you are the best shooter, then you need to put up the shots that come your way, IF you get double teamed, find the open man, IF you drive and somebody steps up to help out, find the open man.

Don't be afraid to take the good shots that come your way.... how are you getting your shots by the way??

How do your teammates feel about you shooting a lot?

You seem to be a good all around player, keep that up and set your goals to play high school basketball, Varsity level as soon as you are ready.

Not sure IF I answered your questions.... if not, feel free to ask some more. GOOD LUCK and above all HAVE FUN.
---
Ty says:
8/17/2012 at 7:26:33 PM


Hi everybody,

Some very useful tips up there. I was wondering about after summer fatigue. I was a 3 sport athlete in high school and it worked out perfect after a long summer of bball to jump into football. Fresh sport, fresh ideas, and a fresh mind. Now that I graduated I am goingb to play college basketball so I don't have that sport in between. I am feeling burnt out of to much basketball but I don't want to fall behind now that I have to face tougher compettion. I don't want to completely stop weight lifting and bball. Do you have any tips??

Thanks,

Ty


---
Isabella Owens says:
4/26/2013 at 2:06:54 PM


I think that y''all are doing a wonderful job. You see I''m a basketball player and I show my coach websites of stuff on here and now we are doing way better then we was last year. I appreciate it.
---
Chris says:
7/11/2013 at 2:54:39 PM


I am always the most talented player on the floor i can almost gaurentee it. I'm 16 years old and i'm a 5'9" point gaurd i play basketball 4-5 hours a day i destory the courts around my town filled with ex college players and high school players i take thousands of shots and love it. But when i get to the games, i feel burnt out. I don't want to do my move, i get nervous to make mistakes, my skill is still there. I settle for way too many outside jumpers, it's like i work all week for nothing, and every practice i destroy everyone my nerves and being burnt out just kill me. I feel like my ability to handle the ball as well as i do won't be as good if i take alot of time off. I think about it way too much, time is running out and it's killing me. I'm not where i want to be at this age, i am not being highly recruited.my mental toughness is gonna be my downfall, anybody any advice to help me play to my potential?
---
Ken Sartini says:
7/11/2013 at 7:02:43 PM


Chris -

Do yourself a favor, stop making this GAME a JOB..... its supposed to be FUN.

Remember, when you are playing pick up games its not the same as a regular game. Coaches game plan, defenses are more organized - so, relax a little bit and have some fun. You can keep working on your game.... I do think that you are doing a little too much though.

Work on your ball handling and shooting... and when you play, take what the D gives you. As a point guard its your job to run the team, get the offense started and take your shots when they come.

You are worried too much about being recruited.... IF you are good enough, they will find you.... or your coach will help you find a school that is right for you. You worry too much about making mistakes... you ever see anyone play the game without making a mistake? The BEST players screw up all the time. Just keep playing and do your best.

The author of this article, Don Kelbick says this about the game........... 'IF you don't want to miss a shot, DON'T SHOOT.... IF you don't want to make any mistakes, DON'T PLAY" (sorry to steal your thunder Don)

I hope this helps, ,,,,, have funand keep improving..
---
Justin says:
7/17/2013 at 1:17:49 AM


There is no off-season!!! Just saying...

---
Mike Bacigalupo says:
4/8/2014 at 10:10:02 AM


Has anyone had an opportunity to listen to interviews with Don Kelbick, if not you should. I have been involved with youth basketball for more than four decades and Don's take on today's game is spot on. You Nay-Sayers continue your practice of scrimmages and fail to teach your players. For me I will continue be a follower of all this man has to say and my players will continue to be the better for it. This game will continue to go downhill in the United States but with Don's philosophy the players I coach will be better both in the game and in life!
---
Mike Bacigalupo says:
4/8/2014 at 10:16:35 AM


Has anyone had an opportunity to listen to interviews with Don Kelbick, if not you should. I have been involved with youth basketball for more than four decades and Don's take on today's game is spot on. You Nay-Sayers continue your practice of scrimmages and fail to teach your players. For me I will continue be a follower of all this man has to say and my players will continue to be the better for it. This game will continue to go downhill in the United States but with Don's philosophy the players I coach will be better both in the game and in life! John Wooden once said good players play between October and March, good players become great between March and October.
---
Ken Sartini says:
4/8/2014 at 10:24:32 AM


Mike -

IF you ever get a chance to go to one of Breakthrough Basketball camps that Don is holding and you will see how hard he works at teaching fundamentals.

When we were answering questions on the posts... he asked me a few questions... checking my knowledge LOL We get along well and I always recommend his camps to kids and parents I know.

There are lot of good coaches out there that share Don's philosophies.... the KEY is , how do we get this information across to the YOUTH coaches of today?
---
James says:
4/8/2014 at 9:05:11 PM


perhaps devin is still young and loves to have no break during the offseason.

When i was younger and in my first few seasons coaching i hated when the season finished and the thought of taking a break with no basketball was unheard of but now as im older, i get the benefits and look forward it which makes me a better coach for the future..
---
Drew says:
4/14/2014 at 9:40:06 PM


im a freshman in highschool, and i play football, wrestling, and track. im 6'0 and195lbs and i really want to play basketball, more than anything in the world. What should I do to get ready for tryouts? I need to cut fat too, and tryouts are in about 7 months!


---
Ken Sartini says:
4/15/2014 at 8:43:07 AM


Drew -

You are one busy boy!! 3 sports this year.... you are going to have to make a choice soon... and IF you want to go out for basketball, that means you will have to stop wrestling, they are in the same season, at least where I coached they were. It is really hard to be a 3 sport athlete, trying to balance the sports, academics, family and your social life :-)

Have you ever played basketball before? Which sport do you like the most? Which one or ones are you the best at? Answer these questions and I will look for some conditioning drills for you.

Now - There are a lot of basketball camps around, if you can, sign up for a couple.... including the one at your school. Talk to the basketball coach and ask him his opinion too.
---