Site Search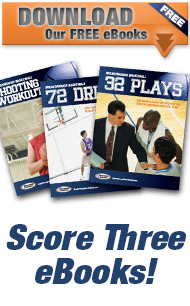 Q & A Forum
Experienced coaches are ready to answer your basketball questions! Visit our forum
Zone Defense Concepts and Tips
In a zone defense players are responsible for guarding an area (zone) of the court. This is an alternative to
man to man defense
where players are responsible for guarding a specific player on the opposing team.
Reasons to Play Zone - Advantages of a Zone Defense
Good zones can limit the numbers of fouls you commit. This means you can keep your better players on the floor for a longer period of time. Zone makes it easier to protect players in foul trouble.
They can allow you to play less athletic players. Promotes aggressiveness in a confined area.
Flexible - works with quick athletic players and slower less athletic players.
Generally protects the basket better and a well played zone causes opponents to rush shots (causes impatience by the offense).
Passing is a lost art. The zone requires good passing and few players possess the passing skills needed to effectively beat a zone.
There are fewer offenses against the zone, therefore it takes less time for you to prepare defensively.
Certain players don't have to work as hard in the zone, making fatigue less of an issue.
Disadvantages of a Zone Defense
Some zone defenses can be more susceptible to the 3-point shot.
Players are limited in their athletic development and foot coordination in the zone (there is less movement, particularly for players in the back of the zone). You can argue that man to man defense is better for the development of players.
The offense can take advantages of mis-matches by putting their best player in the "zone area" of the opponents' weakest defender.
Rebounding from a zone can be more difficult than in man to man defense. It's more difficult to figure out which person to block out when in a zone defense. For help with this see zone rebounding.
Knowing responsibilities and who should guard the ball can be confusing as the ball is reversed, causing the ball to be uncovered at times. There is always some interpretation up to the players. Where in a man to man, you (in theory) always know who is supposed to be guarding the ball.
Zones and Youth Basketball
Everyone here at
Breakthrough Basketball
believes that youth players should NOT play zone defense. There are numerous reasons to teach players man to man defense first, but one of the biggest reasons to play man is so your players develop more foot speed and coordination. Playing in a zone defense will LIMIT your players' development. You might win more games by playing zone, but from a development standpoint do the right thing and play man to man defense with your youth team.
What defense should you teach youth players (zone, man, press)?
Van Gundy - Outlawing Youth Zone Defenses
For The Frustrated Coaches That Turn to Zone Defense
What Is The Right Age To Focus On Wins and Losses and Start Playing Zone?
Types of Zone Defenses
2-3 Zone Defense
3-2 and 1-2-2 Zone Defense
1-3-1 Zone Defense
1-1-3 Zone Defense
Match Up Zone Defense
Amoeba Zone Defense
Zone Defense Tips
Rebounding Out of the Zone
Tips to Run an Effective Zone Defense
Using Slow Footed Players in the Zone
Helpful Zone Defense DVDs and Resources
| | |
| --- | --- |
| | If you'd like to dig deeper and get more information about developing an effective zone defense, we highly recommend Al Marshall's Zone Defense. In our opinion, he runs one of the best zone defenses in the country and it gives you the most thorough explanation of zone defense we have seen. |
Comments
---
Bill says:
2/27/2013 at 11:18:07 AM


I am coaching a middle school team.
wwe are playing a team that has a center that is 6' -1" and 190 pounds which is huge in our league. We have a much smaller team but are very aggressive on defense. What can we do to minimize the big mans affect on the game?
---
Ken Sartini says:
2/27/2013 at 11:44:06 AM


Bill -

That's one big boy!! Ok, I will relate this to a varsity game where they would have a big kid like that.
I would dead front him and have a lot of back side help. I would also pressure the ball IF you can ... and sag a lot and force them to beat you from the perimeter.....

Here is a game where they had a 6'11" center, they were #8 in the state at the time.... we are in the light colored uniforms.

http://www.ihigh.com/osbornecardinals/video_886382.html
---
Dan says:
11/19/2013 at 3:26:38 AM


I'm assistant couch of middle school b ball team. Great kids but not catching on to almost everything I'm couching. Effort low ,skill low, knowledge low and not getting better 15-20 practices in. Our first game 2 weeks away. My question is do I keep trying to teach them or do I let them go and just play. Run around have fun and just play.
---
Jeff Haefner says:
11/19/2013 at 8:04:41 AM


Dan - I think having fun is important. But it's also important to teach life lessons. And you learn life lessons both by succeeding and failing. I don't think the kids are learning much about life by "letting them go". They can do to the playground and play pick up games if they want to do that.

Here are a few intangibles you might want to instill:
http://www.breakthroughbasketball.com/coaching/core-coaching-values.html
---
Ken Sartini says:
11/19/2013 at 2:29:19 PM


Dan -

This is what you are getting paid the big bucks for.... teaching kids how to play a game / have some fun doing it / and as Jeff put it, some LIFE LESSONS along the way.

As for low effort.... kids love to compete.... so make your drills competitive and the losers can give you 3-5 pushups. Keep the drills short

Low skill? Now is where your job comes in... find a way to improve their skill levels through drills.

They are not getting better? Maybe things are too difficult for them right now? You might scale back a bit until they are doing things they can be successful at.

I coached varsity ball for a long time... had some really good team and a few really bad ones.... all you can do is try to make them better at the things they don't do well. It can try your patience, no doubt about it.

But think about it.... as a young kid, how good were you at certain things? I know I was pretty demanding but I made sure that we ended practice doing something that was fun for them... that way they wanted to come back and work a little harder.

Don't take it personally, just teach / coach them.... and try to have some fun yourself... IF you do, they will follow you.
---
Jeff Haefner says:
11/19/2013 at 3:09:38 PM


Also, here are some ideas on motivating kids and getting them to buy in:
http://www.breakthroughbasketball.com/mental/motivate-players.html
---
Clinton R Hannah says:
1/14/2014 at 6:56:21 PM


I would like to share a quote with the coach that was playing a team the he thought had more talent than he did. "Hard work beats talent when talent doesn't work hard."
---