Site Search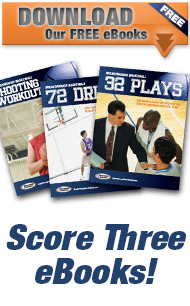 Q & A Forum
Experienced coaches are ready to answer your basketball questions! Visit our forum
Wrapping Up Your Basketball Season: 15 Surefire Coaching Tips to Make Next Season More Successful Than Ever!
- By Don Kelbick
The season is winding down. Routines change, friendships have grown, priorities change. As a coach, what should you do now? When practice time comes and there is no practice, what do you do? When there are no games to prepare for, what do you do with your time?
Coaching is an all encompassing job. It takes time, devotion, and is very crisis oriented. To do it well, you have to plan your year, just as you have to plan your practices. Those outside the profession don't understand it. Don't try to explain it to them or expect them to understand. Coaches are a special breed.
Here are a just a few thoughts as to how to recover and prepare for the next season.
1 - 2 weeks post season
Relax - After every season, there are decisions to be made. Whether they are career, personnel, or personal, immediately after the season is not the time to do it. Take some time for yourself, catch up with family and friends and try to settle back to a traditional lifestyle. Let your mind and body rest.


Organize - collect all of your practice plans, put all your game films in order, and collate your statistics.


Make the most of extraordinary clarity that you have after the season -- If you're like most coaches, you'll have some amazing clarity a few days or weeks after the season is over. It's very important to document what you've learned while it's still fresh in your mind. You'll find that this tip alone can have an enormous impact on your team's improvements next year. You never think it will happen, but it's amazing how much you forget during the off season. And you'll be just as amazed how much documenting these thoughts will help you. Document what you've learned. Document what you should do different next year. Get those thoughts and ideas down so you can reference them next year.


Be sure your players have their priorities straight. Players often let their schoolwork slip after the season. Be sure they are caught up and on time with their classes.


3 - 4 weeks post season
Begin your evaluation process. Interpret your stats and decide what you feel is important and what you can affect by coaching. Start watching your game films and evaluate what you did well and what you did poorly. Evaluate your practice plans and determine what type of practice flow was most effective. Be sure to include your assistants in this process. Different points of view can be very helpful.


Meet with your players. Discuss their thoughts of the season. What do they feel the team did well, what was done poorly? What do they feel they did well personally and what they need to work on? Discuss your feelings in regard to their performance. Talk about expectations for the next season.


Develop an off-season development program. Rules differ from state to state in regard to what coaches can do in the off season. Many coaches also have other responsibilities (teaching, other sports, etc.) so the program should be simple and self moderating, the players should be able to get through it themselves. At least the first half of the off season should be spent on development as opposed to playing. In addition, if you wish to have your team strength train, maximum gains should be achieved during the first 75% of the off season.


A month after the season you are essentially in the off season. Use this period to recharge.
If you can work with your players on skills, do so.


Start to improve your team's shooting percentage. In order for you to have a great team of shooters, you must get started right about now. The off season is the time to fix mechanics, start implementing player development programs, and give your players instructions on how to develop their shot. Great shooters become great in the off season.


Sharpen the stone. In other words, continue to develop your knowledge and personal development. Never stop learning. Read books, attend clinics, talk to other coaches, and gather ideas for the next season.


Shore up your coaching weaknesses by exploring other philosophies and teaching techniques. Expand your strengths by exploring additional areas that you can apply what you do well.


The summer months are a great time of the year for coaches. This is the time you begin thinking about next season.
Experiment in summer league with new ideas. Decide what you can live with and what you can't. Try new offenses and defenses.


Evaluate how your team has improved and how the players have worked on their game. Let them play different positions, allow them to experiment and expand their game.


The summer workout program should be about 50% skills - 50% play. Don't overload your team with summer league games. Don't worry, they will get enough play. On the whole, players don't do enough skill work.


Once school starts again, you have entered the pre-season.
Put together your playbook. Decide what offenses and defense you think you can succeed with.


Build a master practice schedule when are you going to install each aspect of your program. Establish your teaching progressions.


Start your preseason program. Work should be about 25% skills, 75% play. Change your strength training program to one of endurance and maintenance.


Be sure that your players are doing their best in school. They should use this period to try to get ahead.


2 weeks before the season
-- Start to taper off of your workouts.
1 week before the season
-- Everybody takes off. Do some things with your family and friends. It might be months before you get to do it again.
Comments
---
Harry says:
3/27/2008 at 11:08:31 AM


How would this schedule change if you coach girls which begins at the start of school? Thanks Harry
---
Joe (Co-Founder of Breakthrough Basketball) says:
3/27/2008 at 11:55:28 AM


Hi Harry,

All you would do is make our "Summer Months" your spring months. And our "Preseason" would be your summertime.

Joe
---
Tracy says:
3/27/2008 at 5:46:57 PM


Can you provide more detailed information or sources to developing a Master Practice Schedule?
Thanks!
---
Tony says:
3/27/2008 at 5:58:39 PM


I took over a program two years ago, this school did not win a varsity girls basketball game in eight years, my first year we won 1, and last year we won 7, I feel the team has under achieved in both my seasons and you could blame this mostly on team unity and a lack of confidence in themselves and their teammates, So my question to you is, How do I as coach help bring this team together and play a team instead of the individual? Fundamentally we are on the right track, I don't even know if a coach can teach team unity but if you have any suggestions please help.
Thanks
Tony
---
Joe (Co-Founder of Breakthrough Basketball) says:
3/27/2008 at 6:17:32 PM


Hi Tony,

First of all, congrats! It sounds like you have the program heading in the right direction.

Here is an idea that we recently wrote an article on: http://www.breakthroughbasketball.com/articles/lifelesson1.html

For their confidence, make sure to let them know when they make a good play, not only when they make mistakes.

When correcting players, you might want to use the sandwich technique. It's where you compliment them, tell them what they did wrong and what they need to do to correct it, then follow the critique/correction with another compliment.

For example, "Way to hustle back on defense, Sarah. When attempting to take a charge, make sure to get there a split second earlier, otherwise they'll call the foul on you if you're still moving. Keep playing hard. Great job."

Try to say there name when you give them the compliment. This will get their attention and make them feel good. Now, they'll be more accepting to criticism.

---
Martin says:
3/27/2008 at 11:24:06 PM


I usually coach my older boys basketball team, 6th grade, during season, than last year i took on a spring league. However this year I told him I wanted him to get coached by someone else and to take a break. In your experience is this good that I have my boys be coached by others. What is your input, my boys are the majority of the time good students of the game when I coach them.
---
Dean says:
3/28/2008 at 6:30:34 AM


Dean asks,
I ''m coaching 7-8th grd girls that don''t have alot of talent. It''s only my 2nd year coaching and I can''t seem to even get them to move at times. I try to keep them busy in practice but still alot of chatter. I know their at practice more for the socializing than anything. I''ve tryed the basics give and go pick and roll, but they need alot of fundamentals that take alot of time and practice. None of them touch a ball in the off season. I know their having fun because their all coming back to play next year. I probably should take 1/2 of my 2 hour practice and just do fundamentals then easy offence and defense plays. alot of times we struggle just getting the ball over half court. I must admit I struggle on what to tell them to do at times. I talk to other good coaches but nobody lets me in on the big secret. What are some easy grasping plays against man to man and zone defense. I love these girls and the game of basketball HELP!!!
---
Dean, says:
3/28/2008 at 7:06:55 AM


We just finished 6th grade girls and I have coached for 2 years now. We all get to do laps or busters when we don't listen in practice. We spoke to the girls at the beginning of the season on what practice expectations were and what we expected from them. Play time is dependent on how well they practice. We spend soemtimes half of our practice on skills and then drills. I don't worry about scrimmages or practice playing since you can't really help them in a scrimmage on technique unless you stop and point out a player issue to the entire team and possibly another team. We have developed some drills that let them talk while improving dribbling. We let them find a buddy to talk to, they must then dribble the ball while talking to their friend, they are not allowed to look down or any other place except their buddies eyes. If they look down or away the buddy will call them and they do a lap while dribbling. As the coach I call out which hand they must dribble with, they are required to cross over during a hand change without looking or losing control.

It is important to have the girls have fun but maintain some skills and shooting during the off season. This is a challenge though with other sports like softball that need just as much practice during the summer months though.

Kat
---
Joe (Co-Founder of Breakthrough Basketball) says:
3/28/2008 at 10:56:22 AM


Hey Martin,

I don't see a problem with having other coaches coach your children. The only problem would be if these coaches are "bad" coaches. If not, they may learn something new. That's just my personal opinion.


---
Joe (Co-Founder of Breakthrough Basketball) says:
3/28/2008 at 11:08:21 AM


Hi Dean,

It sounds like you're doing the right thing. There is a not a magic or secret play, defense, zone defense, and so on. It depends on the players and how they execute the fundamentals. It doesn't hurt to have athletic ability, either. Remember, Rome wasn't build in a day.

Here is a simple zone offense: http://www.breakthroughbasketball.com/plays/yo-yo.html

Here is a simple man offense: http://www.breakthroughbasketball.com/plays/youth-offense-2.html

Here is a simple press breaker: http://www.breakthroughbasketball.com/plays/linepressbreaker.html

For more plays, offenses, drill, etc., you just use our left hand menu.

Hope that helps.

---
Ali says:
3/28/2008 at 12:55:30 PM


Hi

Any Asian coach like to talk one on one.
These days lot of free time.

Thanks
alinaseer90@hotmail.com
---
choc says:
3/28/2008 at 1:07:03 PM


Can you provide more detailed information or sources to developing a Master Practice Schedule?
Thanks!

---
Don Kelbick says:
3/30/2008 at 4:56:11 PM


Choc

Developing a Master Practice Schedule is one of the few things in life that are better done backwards. Here is what I mean.

Think about the end of your season. what offenses, defenses, special plays, etc. would you like to have in your arsenal at the end of the year. Then, go backwards and determine when you would like to start putting those things in. So, if you would like to have 4 offenses, 3 defense, 2 pressures, etc. in at the end of the year, you might want to put in one aspect in Feb, 2 aspects in Jan, 1 aspect in Dec. and start the season with 2 offenses, 2 defenses and 1 pressure.

Continue to look backwards and determine how long and in what manner you are going to install and practice these aspects. If you are going to start the season with 2 offenses, 2 defenses and 1 pressure, on day 1 you might put in the first option of one offense, 3 aspects of your first defense. Day 2 add one aspect of the offense, 2 more aspects of the defense and the first trap on your pressure. This will help you construct you practices and determine your teaching progressions. It might also help you to figure out if you might be doing too many things, or if you have time and ability possibly adding some additional things. Your schedule might have to be constantly adjusted. Remember , the object is to teach and play well, not just to stay on schedule.

You can develop a Master Schedule for all aspects of your program, weight training, conditioning, skill development, etc.

Don Kelbick
www.DonKelbickBasketball.com


---
Douane John says:
5/2/2008 at 12:05:13 PM


Thanks for the infomation. It will go a long way in helping my team.

Hi, Don is it possible to contact me about running a program in Trinidad and Tobago. Something like you did in Puerto Rico. I would like to know if that is feasible. I can see a program like this beening of great benefit to basketball in my country.
---
yassir lotfy says:
5/6/2008 at 5:02:21 PM


IAM VERY HAPPY TO SEE THIS SAID ITS USUFUL
---
John says:
3/10/2009 at 6:15:53 AM


In the Michigan man offense what do you do when the defense starts cheating on the first pass to the wings?
---
Joe Haefner says:
3/10/2009 at 7:53:51 AM


Hi John,

Try having your players on the blocks sprint to the high post (elbow area). Pass to whichever side is open or if both are open, the passer should just pick one. Once the pass is made, the post player pivots towards the player on the wing and the wing does a back cut towards the basket. The back cut should take place at the same time as the pass is received. The post player hits the wing player who is cutting to the basket with a bounce pass for a lay up.

This usually helps relieve some pressure once you get a few easy baskets.

If you need to, put a really good passer and cutter on the same side, so this will work.
---
Charles Hudson says:
3/10/2009 at 9:19:55 AM


Joe, Thanks for the Master Schedule breakdown suggestion from Don Kelbick.
We did something similar last season and were pleased at how effective and efficient our coaches became. We improved from 5-17 to 12-12 with a regional #1 seed and a win in that regional. We planned to succeed .
We are " refreshing" ourselves on the golf course and actively planning our Spring Program!
Thanks,
Charlie Hudson
---
Phillip Key says:
3/10/2009 at 11:37:32 AM


I am a first year teacher and coach. I have really enjoyed everything that you web site provides. I'm soaking it all in. The off season is very important.Thanks for including it. It is a valuable resourse. Former Alabama Coach Wimp Sanderson used to say:"You're only as good as your off-season".
Thanks again,
Phillip
---
David Anderson says:
3/10/2009 at 11:40:13 AM


I just finished up my second year as the varsity girls basketball coach at a very small high school. The school had a lot of success back in the late ''70s and early ''80s in girls basketball. However, girls basketball has been pushed to the back of the line in the last 20 years or so. I have been fighting hard to get more girls involved through camps and open gyms. With all of this, I still seem to be pushed to the rear behind softball. I need some advice or help on how I could possibly rejuvenate girls basketball. Any help would be greatly appreciated.

Thanks,
Dave Anderson
---
Joe Haefner says:
3/10/2009 at 6:44:47 PM


Unfortunately, I don't think anything replaces winning. If the kids are winning and having fun, it creates a buzz. Everybody wants to be part of it when you're winning.

Also, think of some fun things you can do during the offseason that only the basketball team is a part of. Try to create a positive vibe about the team. Maybe, athletic girls who are bored will go out for the team if other girls say it's fun. Go on a trip. Attend some summer camps and make it extremely fun.
---
Joe Haefner says:
3/10/2009 at 6:49:36 PM


Hi Dave,

Another thing is to take a look at your youth program. Are these coaches playing tons of games and burning out the players before they even get to you? Are they making things fun? If not, the kids will burn out and have negative feeling towards basketball. That's nearly impossible for you to fix.
---
kitsi says:
3/13/2009 at 10:32:53 AM


this website is very useful..tnx again... btw, im planning to do a man to man defense:full court pressure(always limit the dribble of your man) and deny 1 pass away when i need to force a TO. my team is small. so i want them to run.like the run and gun of the suns. my only concern is my def require a very high energy and stamina. if i include the run n gun offense or the 10 secs offense(high school style of 7secs offens of d'antoni) would this overkill my players in my summer camp? since this offense also needs a high energy and stamina. or i should focus my offense first then def during preseason or the other way around?

tnx

kitsi
---
Coach C says:
8/22/2009 at 11:49:17 AM


I just got hired to be a head coach for a junior varsity boys team at a local high school. Although tryouts are months away, we are working with those interested in off season work-outs. What would you recommend I concentrate on that would be beneficial when try-outs come around.
---
Jeff Haefner says:
8/22/2009 at 1:42:38 PM


Coach C,

I would mostly work on shooting, footwork, and some ballhandling skills. I would try to incorporate footwork and shooting drills that use the same cuts/movements used in your offense. Example, curl cut, pivot, jump shot, repeat.

I would also do some fast paced drills that get them in condition for the season. I wouldn't do sprints, just skill building drills that condition at the same time.

Have you check out our Basketball Workout Guide?
http://www.breakthroughbasketball.com/pr/workouts.html

It offers some great skill drills, off season workout tips, and skill/conditioning drills.
---
James carr says:
8/25/2009 at 4:49:21 AM


Any tips or articles that I can get to form a master schedule plan?


---
Joe Haefner says:
8/25/2009 at 10:45:16 AM


Hi James,

We have an article for you. Check it out: http://www.breakthroughbasketball.com/coaching/pre-season-tips.html#chapter2

---
gerard remacle says:
3/26/2012 at 5:46:43 AM


Great article,Jeff , its a great help for a lot off coaches , greets from belgium
---