Podcast: Play in new window | Download
Subscribe: Apple Podcasts | RSS | More
Why You Should Listen?
"University of Windsor Head Coach Chris Oliver has literally traveled the globe like Indiana Jones, seeking training and coaching treasures hidden in faraway lands. In this Jim Huber Podcast, we sit down with Chris after he recently arrived back in Canada after trekking through the USA, Europe, Hong Kong, New Zealand and Australia on an extended sabbatical with one mission, to learn everything he could by attending hundreds of NBA, College and Overseas Professional and Club practices.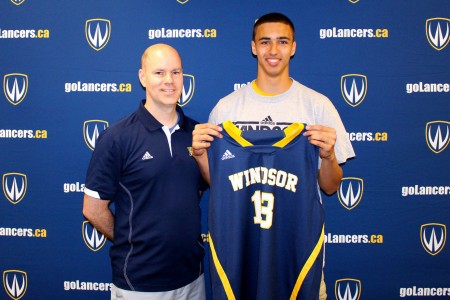 We will also go into Coach Oliver's innovative Basketball Decision Training (BDT) and Zero Seconds Training.  These systems will enable you to create game like situations that will drastically improve your players' decision making and skill sets at the same time.
This approach has helped Coach Oliver win an impressive seventy-five percent of his conference games and capture five OUA West regular season titles, two OUA West playoff titles, a Wilson Cup Ontario Championship, and earn two berths to the CIS National Championships.
Coach Oliver is the founder and operator of Basketball Immersion. Basketball Immersion is a one-stop website dedicated to all aspects of playing and teaching the game of basketball. He is also the founder of COBA Basketball Camps and a camp director for Breakthrough Basketball.
Enjoy this episode of The Jim Huber Show!
What You will Hear In This Podcast
0:59- Chris Oliver used year sabbatical to travel the world and study basketball
2:11- The reason European basketball teaches the one handed pass
4:18- Importance of focusing on the process instead of outcomes in player development
5:49- A major difference observed from European and American practices
7:17 – The value of BDT (Basketball Decision Training)?
9:55- Using small sided games to teach players how to play and improve skill sets at the same time
11:49- Coaches need to be conscious of speaking for their benefit instead of the players' benefit
14:08 – What coaches did to impress Chris at the practices he observed
16:36- Creative ways to ask specific questions to stimulate players to communicate
18:48- The need to be comfortable with silence when asking a question
20:29- How to use questions to get the buy in of your team?
21:48- Something that Chris took away from the Northern Iowa vs Texas A&M NCAA Tournament game
24:01- Ways to hold players accountable during practice and keep it flowing
26:30- A coach's job is to challenge players and help them grow
27:51- What is Zero Seconds Training?
31:05- How do you use BDT in skill development work?
33:35- The value of mixing drills to practice in context of the game
34:33- The desire for Chris to share the game with others and stimulate thinking
35:58- How you can use music to teach rhythm in ball handling
Follow on Twitter: @BBallImmersion 
Find information on coach Chris Oliver at www.basketballimmersion.com
Click Here to Get information on Chris Oliver's camps with Breakthrough Basketball 
Hit me up @jimhubershow or reply back to this email
Remember: "Let's Make The World Better Through Sports"